Last weekend was the South Downs Way 100 mile Centurion event, which runs from Winchester to Eastbourne along the bottom of the country.
I had earmarked the SDW100 as a goal race for 2017 earlier this year, but I wanted to get a bit of an idea of the course before fully committing to run it next year.  When I saw that Centurion were still requiring marshals for the event and that all marshals working longer than an eight hour shift would be 'paid' in the form of a 2017 entry, I put my name down to help out…before really thinking about the logistics of marshaling an event right down in the South of the country between two working weeks at school!
A fortnight before the event and the first shift draft was emailed through to the volunteers.  There were a lot of volunteers on that rota!  I was down to be at the start on the Saturday, with a very early start time!  This was then followed with a stint at checkpoint 3 (Harting Downs – mile 27) out on the course.
A 4am start time down in Winchester on Saturday morning meant an incredibly early bedtime for me on the Friday evening.  I planned to get my head down as soon as I returned home from school, but ended up having about an hour of work to do before I nodded off – heading to bed around 7pm and setting my alarm for 1:30am the following morning.
By 9:30 I was wide awake though.  I tried getting a drink, going to the toilet, counting sheep, moving onto the sofa.  Nothing did it, so in the end I gave up and read until 11:30pm, before getting a further two hours of sleep.  Not ideal, but my body wasn't co-operating, and I figured it was all good practice for lack of sleep at the event the following year anyway!
Unhelpfully the venue did not have a postcode, and equally as unhelpful were the couple of new roads along the way which my satnav didn't recognise, resulting in a few eeny-meeny-miny-moe moments.  At one point, after having arrived in Winchester I stopped at a garage to ask for directions.  The guy inside the garage said he didn't know where I was trying to get directions to.  I read the directions out from the set I'd received from Nici the week before, taking several minutes to do so, but he wasn't even listening, just waiting to tell me he didn't know where I wanted to go.  Feeling rather desperate by this stage, and very aware that the time had already passed 4am, and was heading ever closer to 4:30am and the time I was supposed to start my shift, I even brought up the map on my phone which had the venue labeled on.  He barely glanced at it before telling me he didn't know where the garage was on the map!  Very exasperating!
Eventually I made it, pulling onto the car park at 4:29am!  At least next year I will have removed the problem of locating the start.  Hopefully it will be a nice straight-forward journey down!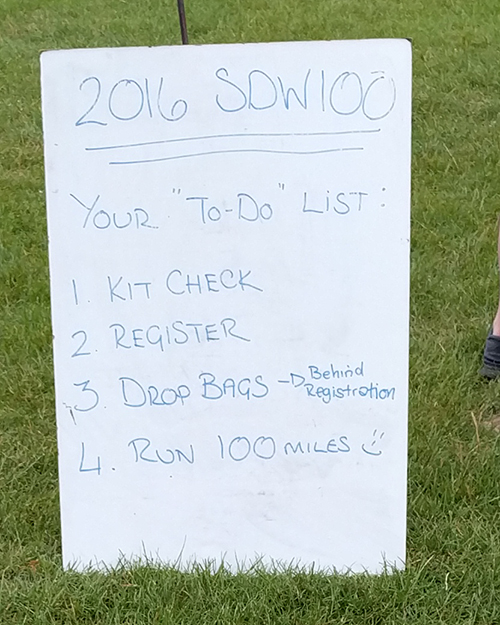 I was introduced to Nici, who had emailed over the rotas and was in charge of us volunteers, given a crew t-shirt and then placed out on the car park to help direct the traffic as runners made their way to registration.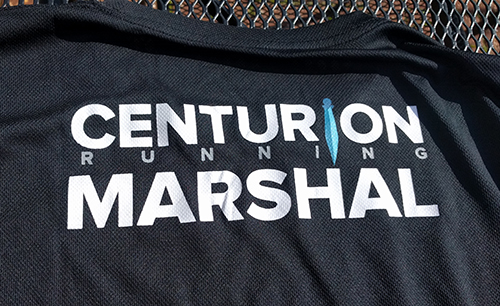 All runners who were leaving their cars at the start venue overnight, to be collected the following day after the race were to park their cars up on the grass alongside the football pitches.  Everybody that was just dropping off runners or was just there to see runners over the start line were to park on the hardstanding tarmac car park out front.  Apparently last year Centurion had got into a bit of trouble with the footballers the morning following the race when their car park had still been filled with cars and they couldn't access their grounds!  (Hence why so many of us had been placed on car park duty for this year.)  There was a guy at the entrance to the car park directing cars in, one at the far end of the tarmac and one up on the grassy piece of land by the football fields.  I stood at the far end of the car park and would catch drivers on their way in, directing them either to the far end of the tarmac, or up onto the grass depending on whether they were heading off again afterwards.  Fairly straight forward, right?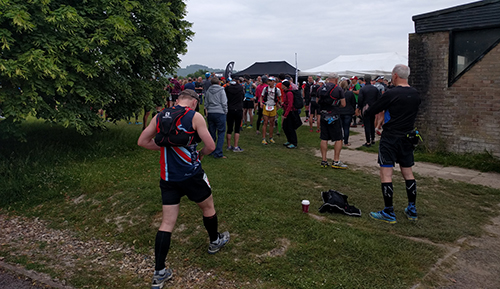 Thirty minutes into this and the guy at the front of the car park raced over to tell me I was doing it all wrong, that cars staying overnight were to park on the tarmac, NOT the grass.  I debated this with him for several minutes before agreeing to clarify with the guy who had been assigned grass duty.  The poor chap I had been in the middle of directing was redirected onto the tarmac by the other marshal but looked so confused as to what was happening!
I rushed over to the chap on the grass, who told me that he had been under the same impression as me, that overnight parkers were to go on the grass.  I confirmed with James, the Race Director and, we had in fact been parking people correctly!  Panic over!  A few minutes later, the runner who had been caught in the confusion trotted past again with a grin saying "So, it was up on the grass that I was supposed to park then?!"
It was tight, but we managed to fit all the cars in.  Car parking duty is stressful!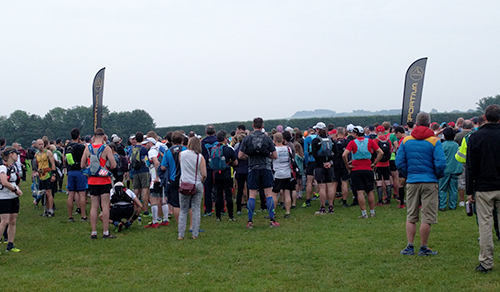 We were finished up just in time to head over for the race start, where I got talking to another marshal who had recently run a 100k and was also looking to enter the race for 2017.  A major part of me wanting to marshal last weekend was so that I could chat to more experienced ultra runners and pick up some tips about the SDW, and also ultrarunning in general.  It was great that other volunteers were so eager to do the same.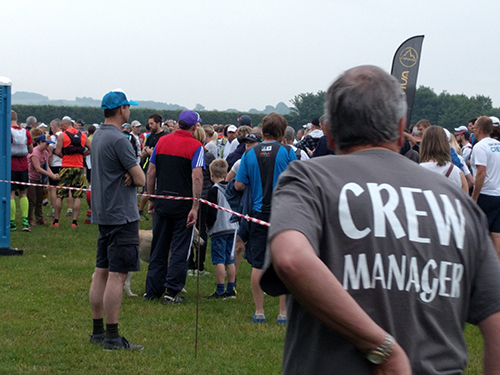 The race set off on time and runners headed out on a large lap of the field so we were able to see them for several minutes before they all disappeared off into the distance.  Then it was all hands on deck to break everything down and clear up before marshals relocated to their next stations.
I was off to checkpoint three at mile 27, where I met up with Emma, who was managing the aid station there.  Another volunteer, David, arrived with bagfuls of food for the runners and between us we loaded these into Emma's car while we waited for the van to arrive with our checkpoint supplies.
It wasn't long before the other three guys turned up, along with the van containing our supplies.  We were eager to set up ready for runners, as we were very conscious that they could appear at any time now.  Us girls headed to the busy road junction to mark out 'Runner Crossing' signs, leaving the guys to erect the two large tents on the field by the side of the footpath.  Emma and I then got to work making sandwiches and laying out the food on party plates ready for runners to snatch on their way through.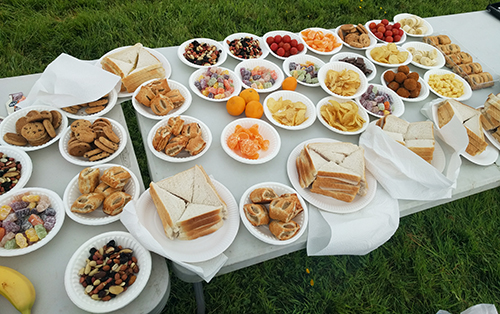 The guys prepped the drink – a choice of electrolytes, water or coke from our aid station.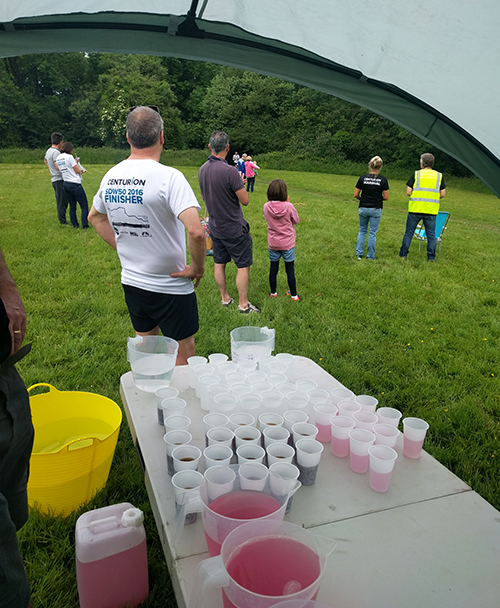 Once the food and drink were prepped we had a proper chance to chat ultras and experience.  It turns out that the others had all run at least one 100 mile event before, with two of the guys having attempted the South Downs 100 the previous year.  I was worried that I would be shunned when they found out that my experience only amounted to two 70 milers but they were just as interested in my experiences and what I had to say, as well as offering loads of advice about their first hundred mile events and about the SDW100 course.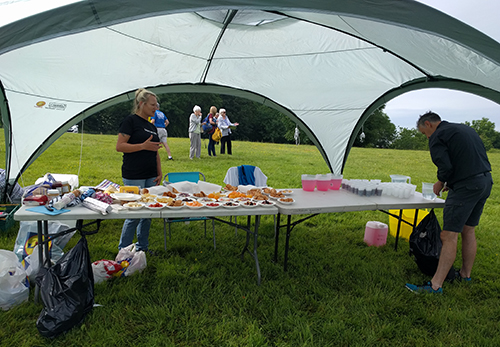 Runners had quite the view as they ran past our checkpoint as we were up rather high, looking down over Harting Downs.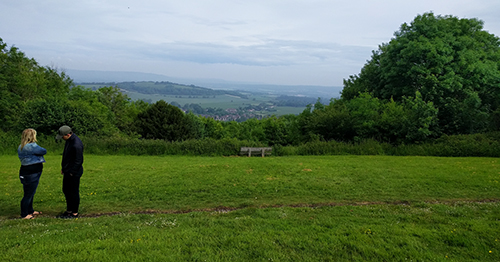 Having a checkpoint of all ultra runners was great, and everybody pulled their weight into ensuring the checkpoint was super efficient for runners as they came through.  Although we weren't one of the main timing checkpoints, we still needed to log all runner numbers and times as they came through, in order that if anyone went missing whilst out on the course we would be able to narrow down when they had last been seen.
The weather was incredibly muggy, with only spots of occasional rain during our time on checkpoint 3.  This meant that the majority of runners coming through were on the sweaty side, and they were coming through much slower than we had initially predicted.  Our top 'seller' on the feeding table became the fresh fruit, and runners could not get enough of the sweet melon and pineapple that I was constantly chopping up into bite-sized pieces.  I even heard rumours that there had been watermelon dished out at checkpoint 2!  We had mountains of tangerines on our table, and these also went down well.  I peeled the skin off from so many tangerines that my hands had turned into a dirty orange colour by the time we packed up!  Topping up the food supplies was my full time job and every so often I would call Emma over from her station where she was helping the timekeeper identify runner numbers so that she was able to help top up our supply of sandwiches on the table.
A fab day, an awesome team and I learnt loads from marshaling at the event.  I definitely recommend marshaling at an ultra before running it.  There is always so much to be learnt from other runners.
I was exhausted by teatime when I arrived home.  Quick few hours of power-napping before waking up to get some more school work done.  If only school didn't get in the way of running fun…!
Do you have any tips for getting to sleep when you don't feel tired?
Any tips to remain awake whilst running long distance events?
Do you tend to often talk to other runners you don't know at events?