I'm a few weeks behind with pregnancy running updates.  Partly because I haven't run a whole lot just lately, and that has mainly been due to my school workload, rather than issues with the baby this time.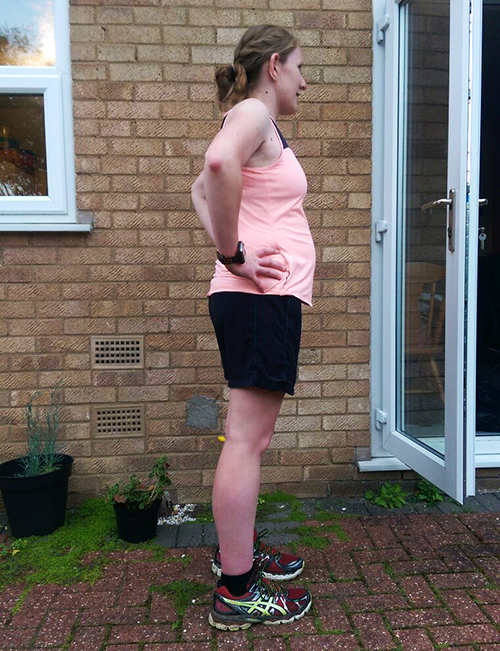 (Above picture taken at 23 weeks pregnant)
I've discovered that running in tights or compression shorts is much more comfortable than running in my regular loose-fitting shorts.  I think perhaps because skin-tight clothes kind of hold the bump in place?  My tights sit comfortably underneath my bump and I can then tighten the drawstring as much or as little as required so that my belly is supported without adding pressure where the string ties.  There were several weeks (around sixteen weeks onwards) as my belly started to grow where the feeling of my belly jumping up and down during runs was just so uncomfortable that I struggled to run for much more than a mile at a time.  Changing my bottom half seems to have helped though, and I think with all the walking I've been doing lately, my stomach has remained fairly firm, and doesn't jump around like Santa's belly quite as much as it perhaps used to! 😉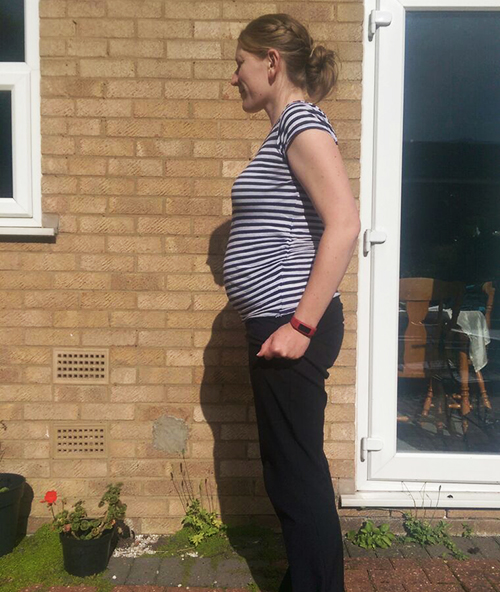 (Above picture taken at 24 weeks 2 days pregnant – starting to look more 'bumpy')
Every time I head out for a run now I'm nervous that it's not going to go well, it's going to be my last run for a while, I'm going to need twenty-seven loo stops or that I'm going to hold people up out on the run.
I headed out on a club trail run last Sunday morning and was terrified that I would end up right at the back, desperately needing the toilet and puffing and panting the whole way round.  As it turned out, last Sunday we had gorgeous weather, resulting in 21 runners attending from various different ability groups at the club and I didn't end up at the back of the pack.  With so many runners out, it meant we bottlenecked occasionally at stiles and gates, whilst waiting for everyone to file through openings, and giving me the chance to have a bit of a breather!
It was a nice chatty run, with the hot and muggy weather affecting everyone that day, meaning I wasn't the only one who wasn't enthusiastic to be running all the hills out on the course!  The group were running ten miles, so to stay on the safe side I had arranged beforehand to turn off after just three along with another runner so that I didn't overdo things, resulting in my run coming somewhere between five and six miles.  I don't mind calling Dan up to collect me from a run if I'm out on my own but if I'm out with others I don't want them all to feel like they have to wait with me to be collected.  To be honest I would probably have been alright out there running the ten on Sunday though.  I'd purposefully not had a huge amount to drink that morning, made sure to visit the toilet at least twice before leaving home and had a minimal amount of breakfast before leaving so as not to fill my ever-shrinking stomach.  I'd been able to chat the whole way with ease and was enjoying running with others again after a few weeks of missing out.
I actually walked down to the Co-op in our town the other night after work to get a few things for tea.  The supermarket is about a 20 minute walk from our house, but by the time I had done the shopping, paid and headed out of the shop door for home I knew I would never be able to make it back without a toilet stop!  Luckily Dan was home by that point, so came to rescue me in the car!  I really must remember to visit the loo before leaving the house every time now!
On Wednesday evening this week I headed out for another trail run with a friend.  We set off on a route which was new to me and at a slightly faster pace than I had been prepared for.  (Still, really not quick, but closer to 9mm than 10!)  The night was fairly muggy when we began our run, and resulted in me taking a few more walk breaks than I had intended to, but it turned into a really nice night, and cooled off dramatically towards the end of our run.  I could feel my face getting redder and redder as we ran and every time I felt unable to chat we would walk for a little way until I had reined my pace back in again.  It's very difficult to judge a pace which is comfortable at the minute as it seems to vary so much even within each run.
I had my next midwife appointment this past Thursday at 25 weeks and 2 days. Unlike earlier appointments which appeared to mainly just be data collecting, this appointment was jam packed with information and booking of future appointments and when I left half an hour later it was with dates for my next midwife appointment at 29 weeks, three dates for antenatal appointments in July, a whooping cough vaccination date and instructions to book an appointment for antenatal physio at a time that suited me!  No social life for me next month then!
Everybody has been telling me how small my bump is, particularly when I've been out running.  In fact, at my friend's birthday last weekend it wasn't until a couple of hours after arriving that he came over to say that he had just remembered he had seen on Instagram that I was pregnant and 'Congratulations!'  He hadn't spotted that I was pregnant despite me being more than six months so!  To be fair, my dress wasn't particularly fitted, but even so!
It's only really been the past fortnight that strangers, or people I wouldn't normally talk to on a day-to-day basis have been commenting on the shape of my belly.  Although it would be fantastic if this meant my baby remained a nice small size ready for delivery in a few months, the large number of people commenting on my size did make me question it with the midwife.  Turns out, I was due to be measured at this appointment anyway, so she pulled out a tape measure and  declared that at 25cms I was spot bang in the middle of the 23-27cms that my belly should be at this week.
At each appointment now the midwife also listens to the heartbeat of the baby.
…or at least she tries to listen to the heartbeat.  This time, whenever she would find the baby and begin to focus in on it's heartbeat, it would squirm and move away from her.  After 5 minutes of playing hide and seek around my insides she gave up, having heard snippets of a healthy heart several times.
I'm not too concerned anymore about waiting to hear the heartbeat at visits, as I can feel the baby all the time.  On Wednesday morning I was at the back of a classroom assisting in a lesson.  I was leaning back against the wall, with my iPad loosely in my hand and lightly touching the top of my bump (which is now not far from my boobs…it feels like I'm becoming one big round blob, despite apparently not being noticeable by others!)  The baby had been very active all morning and I had been able to feel it squirming around inside for several hours already.  All of a sudden, from nowhere there was a massive kick from inside, and I lost the grip on my iPad as it flew sideways from my bump!  I'd never felt a kick quite like that before and glanced around to see if anyone else had noticed.  They hadn't – and it was a silent lesson.  Such a weird sensation though!
Currently missing; having a wide range of clothes to choose from, being able to bend forwards without it being uncomfortable, racing, having a training plan to work with, not being able to join my friends on long social runs, not being able to carry my boxes of books between classes and being able to finish meals.
Currently loving; that I only have eight teaching weeks left at work before maternity leave, still being able to run, planning out my training calendar for 2017 (seems so far away though!), looking forward to being able to finally sort our house out over the Summer and raspberry lemonade (my pub drink replacement!)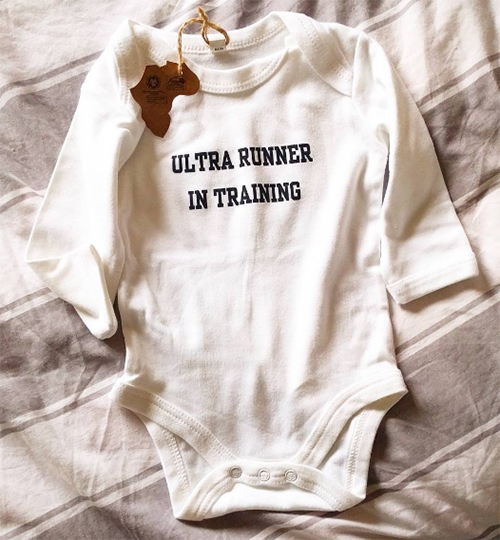 Dan came home with this for me one evening last week.  I'd spotted one on Naomi's Twitter feed the week before and thought it would be rather fitting!
Just 99 days left until my due date now…
You can read all of my previous pregnancy posts here.