Last week – 27 weeks pregnant – was the week that people started to tell me that I 'popped', that I had begun to actually look pregnant.  Two strangers came up at separate points during a wedding at the weekend and asked me how my pregnancy was going.  Two strangers that, as far as I was aware didn't 'know' that I was pregnant other than by looking at me.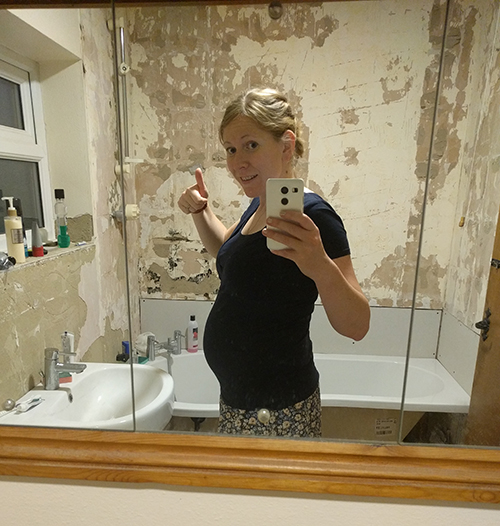 Excuse the state of our bathroom – I am so ready for our house to be 'done' now, apart from all the actual decorating!  I do love a house project, but living in the house whilst doing the work on it, and both Dan and I out at work full time and with our own hobbies to slot in, and adding in a baby-deadline has meant that we're relying on getting a lot of work done this Summer, with me currently looking like I might topple face-first at any minute!
Our new bathroom suite is all set in the bathroom – we just need the ceiling skimmed, the bath panel added, tiles on the wall and flooring down.  Just a few hours of work along with the work that still needs doing on the rest of the house then(!)
Last Thursday I headed out on a run with group 6 from my running club.  I usually run in group 4, two groups faster than group 6, and I don't know very many of the ladies in group 6, but they were all very friendly and accommodating to this rather large looking stranger – eager to ask me questions about my pregnancy and my intention to run through it.  As always, I was worried before running with others (What if I need the loo?  What if I've gotten really slow since the last time and can't keep up with anyone?…etc) but there was no need, and I found that I could comfortably run the 10k distance at the front of the group still, despite the humidity of the evening.  I do miss my social chatty runs…and my pushing-it parkruns…and my tempo sessions…and my progression runs…
Still, I really don't think I can moan.  I'm so happy to be as comfortable running as I am during my 28th week of pregnancy.  I know there are so many women who have had to give it up before this point.  I know that I really am pretty lucky.
I took the Friday night off and hoped to get to a speedy parkrun on the Saturday morning.  I was due to travel up on the Saturday to a wedding in Knutsford, an alleged 2h 15m journey.  As the wedding was for one of Dan's best friends he was playing usher, so had driven up the evening before, giving me the freedom to parkrun on the morning, and then travel up alone afterwards, making sure that Bella had been fed before I left home.  When he sent me a message on the Friday night to tell me that his journey had actually taken him over 4 hours to complete due to roadworks and accidents on the motorway I decided to play it safe and give parkrun a miss instead.  From Dan's commentary I expected to have a longer journey than the satnav had shown, but not quite as long as his had been, as I would be travelling mid-morning Saturday rather than during rush hour on Friday evening.
This little fact didn't actually seem to make any difference though, and I ended up arriving after the bride.  

 (Sorry Lynn!)  It was a stressful journey, especially when I was sat in non-moving traffic with more than 50 miles left to travel, watching the expected arrival time on the satnav creep ever closer to the time I knew the wedding would be starting.
Luckily, I didn't miss too much – apparently arriving just five minutes after the bride herself.  Although I then stood like a wally at the back of the incredibly hot service room, with a sweaty face and bursting for a wee as I'd just spent the last four hours sat in traffic before legging my way down a steep, cobbled hill in heels at seven months pregnant.  Not my finest moment!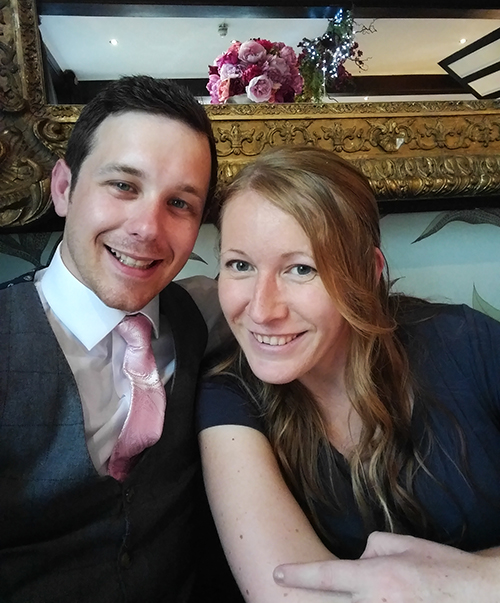 I didn't take very many pictures at the wedding – mainly food related to be honest(!)  The food was some of the best wedding food I've had though…
…Butternut squash soup with pumpkin seeds and a bread roll on the side…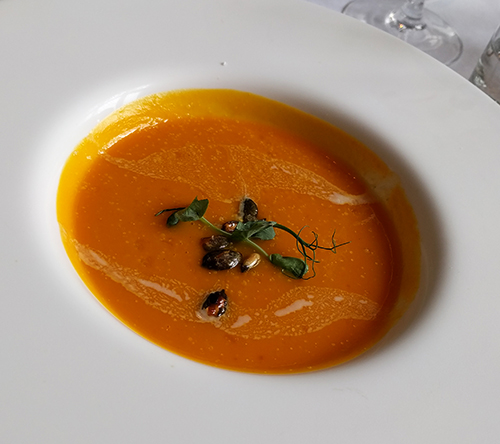 …Wild mushroom gnocchi…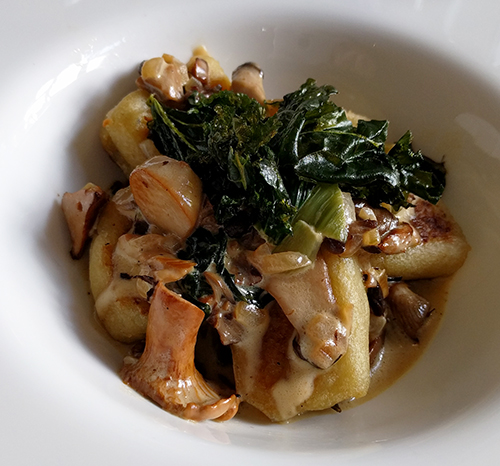 …and Chocolate fondant…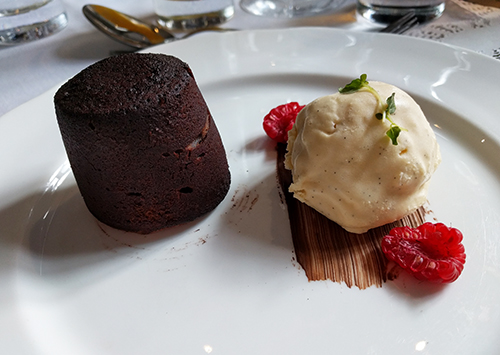 Lovely food!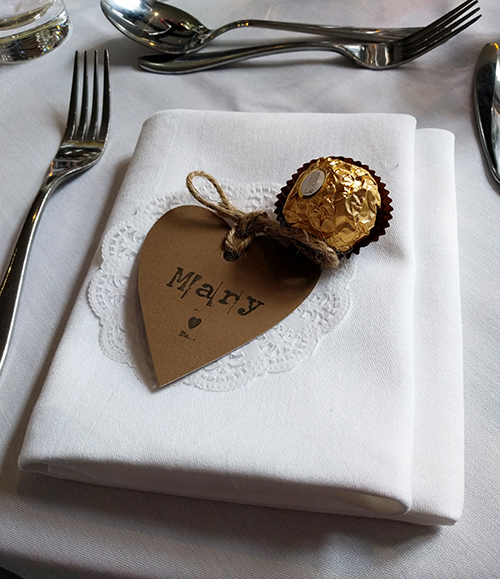 I regret not remembering to ask one of my bridesmaids to photograph the food we had on our wedding day, as I don't have any pictures of it and our caterers had done a really good job.
Anyway…back to the topic of this post…!
This week was the week that my antenatal classes began.  Frustratingly, the first two weeks of classes run on a Wednesday evening – my trail running night!  When a friend messaged on Monday to see if I wanted to head out for a run on Tuesday instead this week, I quickly said yes!
We headed out for what was supposed to be a fairly straight forward 10k route around Stanwick Lakes near to where we both live.  We'd run a 6-7 mile route around there a few weeks back and know the area fairly well.
It wasn't long before I needed the toilet though.  Stupid pregnancy bladder!  All fine, as there are visitor toilets outside at Stanwick Lakes…
…which were locked by the time we arrived!
The thing about needing to pee when you're pregnant is most of the time you don't actually really need to pee.  It's the baby crushing your bladder inside that gives you that impression.
We ran on, and the urge passed – although we kept a look out for suitable coverage along the paths.
Then the urge returned!
It actually took me a while to find a secluded spot that wasn't covered in knee-high nettles and didn't have groups of people passing by.  Guys have it so easy!
All fine after that though.  

…
…until we decided to experiment with a different path back.  One which involved balancing over an iron beam and being no-where near we needed to be!  Haha!
All in all with the tree-toilet divert and the iron beam (that I found an alternative route for!) our 10k of trail became just short of 10 miles!  It felt really good to head out for a social, chatty 10 miles on a weeknight though.  I've felt really restricted in which runs I can say I'll join in with lately, but it's nice to know that I can still cover the distance and my legs remember what to do!
I'll just have to suss out a few well-covered outdoor loo stops for future runs!  😉
I wasn't sure what to expect at our first antenatal class the following evening.  I still don't really feel pregnant yet if I'm honest.  It hasn't kicked in that actually I am now in the third trimester and not a huge amount of time away from giving birth.  Perhaps over the Summer when I have time off work and there is less going on reality might start to kick in?  It needs to at some point.  We have bought nothing yet!  People keep asking what colour we have decorated the room.  Several times I've not been sure what they've meant and talked about how we're still waiting for a plasterer to come in before we can decorate several of the rooms in the house.  People want to know if we've bought baby furniture or put together the crib we've been given yet.  But, right now my priorities are getting a carpenter in for the doors, fitting the new kitchen and thinking about what type of carpet to lay down!
A baby is classed as viable after 23 weeks, so technically as I'm more than a month past that point now things could progress at any time…  :S  I like the idea of having the baby as soon as possible rather than being stuck in pregnancy-limbo for longer than needs be (obviously I know I have no say in this!), but we are so nowhere near ready or prepared yet!
It's a very bizarre feeling to be sat down minding my own business and all of a sudden be able to see my stomach moving all over the place!  Movements are very visible from the outside now!  The baby moves around all the time and has started to wake me up in the mornings with movement just lately.  Baby movements or cramp are usually my get-up call now.  The middle-of-the-night cramps I've had over the past few weeks have been agony.  So much worse than when I don't stretch after a run!  I never seem to get it in just one place either.  It's always my left foot and right leg, or both legs, or both feet at the same time.  Apparently it's really common to cramp up in pregnancy because the hormone progesterone affects the muscle tone in your legs.
There were three other couples and a lady without her partner at the antenatal class on Wednesday evening.  We didn't do a huge amount to be honest, and most of the information shared with us I had already researched online or in books myself.  We were shown an American video about pre-labour, were each given a pack of information about planning for the birth and then told that we really should have packed our hospital bags by now.  I haven't even thought about packing my bag yet.  I know we own nothing off the list that we were given.  Except snacks.  And I'm sure that if I were to pack those now, I would have eaten most of them by the time we made it to the hospital!
Any tips for outdoor calls of nature?!
Have you ever missed the start of a wedding before?
If you have been pregnant before, when did you pack your hospital bag?
You can read all of my previous pregnancy posts here.