Feeling the need to head out for a bit more parkrun tourism this past weekend, Laura and I decided to head over to Bedford – a course new to Laura and one I had only run twice before.
Traveling to any races in the Bedford region always makes me feel like a runner – from where I live I have to drive along the Paula Radcliffe Way dual carriageway, – it gets you in the running mood before you even arrive!
Bedford is a two and a half lap course and has similar numbers of runners to the Northampton course.  It is also about the same distance away for me to travel, but less of a parking headache at the other end!
Despite saying the other week that I feel that I am running better in the mornings at the moment, I'd like to retract that statement after recent morning run attempts!  Because I now can't really eat or drink before leaving for a run (baby leaves me no room in there!) I find myself rather lacking in energy on my morning runs as I've just been in bed asleep for the past seven hours (slight exaggeration on recent night's sleep!) without food or drink.
Getting dressed for a run is also a chore at the moment.  I have just two sports bras that fit and that I can do up on my own now and some of my running tops look ridiculous or ride up over my bump as I run, so washing is frequent at the moment and I am limited as to what I can wear each time I head out!  I've stuck to wearing long tights for runs too, as they offer more support for the bump than my preferred loose-fitting shorts do.  The humidity of late has not really called for tights though, and I do find myself getting rather warm early into a run now.
I arrived at Bedford in time for the briefing and Laura and I also met up with a couple of other runners from our club who were there for some Saturday morning tourism.  The briefing is a short walk away from the start line and after receiving the briefing, we returned to the start and to the back of the already-formed crowd.  Always better to be overtaking people than to be overtaken yourself.
The course is two full laps of the park before a half lap which then cuts down through the middle of the park from the cafe and down to the finish line.  We were overtaken by the first male after just one lap, and the first female stormed past us through the middle of the park towards the finish as we ran past the cafe on our second lap.
On the bright side though, my running was pretty consistent for being 28 weeks pregnant, we chatted the whole way round and I still managed to achieve a Royal Flush negative split. (11:04, 10:52, 10:47, 9:27mm pace)
On the not so bright side, I was desperate for the loo before even reaching mile 1 and we were overtaken at the end of the first lap!  The past few weeks has gone from me running with Laura through her injury to Laura running with me through my pregnancy.
Garmin time: 34:18
Official time: 34:20
Position: 289/367
Gender position: 100/143
Age category position: 8/9
On the last lap we ran past someone who had used to work in Laura's office, who then asked if she could tag onto the back of our little group to keep her going.  She crossed the finish with us, introducing me to her husband at the end.  Until she mentioned, he hadn't realised that I was seven months pregnant!  I hope everyone doesn't just think I'm lacking in effort and am rather chunky because I like my post-parkrun cake! 😉
Although parking at Bedford park hadn't been a headache, remembering which side street I had left my car on was, and it actually took me the best part of 30 minutes to find my car again at the end!  Whoops!  Will take a better mental note of where I parked next time!
Laura alerted me to this link on the parkrun website, where runners who have run the highest amounts of different parkrun courses are listed.  One of the runners at our club features on the list having run 31 different parkrun locations during his 54 parkruns.
I'm a fair way off his impressive total.  My 53 parkruns have been run over just seven different courses:
Northampton – 28 runs
Peterborough – 10 runs
Sheringham – 6 runs
Corby – 4 runs
Bedford – 3 runs
Huntingdon – 1 run
Daventry – 1 run
This coming Saturday is the first Linfood wood parkrun event in Milton Keynes which I'm hoping to be able to attend, taking my total up to 8 parkruns.
The other negative about running in the mornings at the minute is that I often then find myself wanting to nap in the afternoon at the moment.  I did succumb to a 90 minute nap later on in the day before heading out for a veggie burger for dinner with Dan that evening.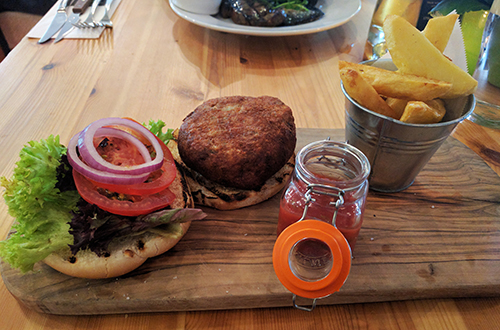 Side note: I hate food served on a wooden board!
How many different parkrun events have you run?
Which is your favourite parkrun event and why?
Food on wood – yay or nay?