I've left the 'Running at…' part off from my post title this week, as these pregnancy countdown posts have been more general just recently, although I still fully intend on mentioning the running!  School finishes for me on Thursday afternoon (finally!) and so after that I should hopefully be able to blog more frequently and about individual runs during the week after that anyway.  I'm also hoping to get more on track with these posts as I'm falling behind each week.  My 'changeover' day for each week of pregnancy is the Tuesday, and with me posting my weekly recap on Sunday this week, I'm actually pretty much into my 30th week already!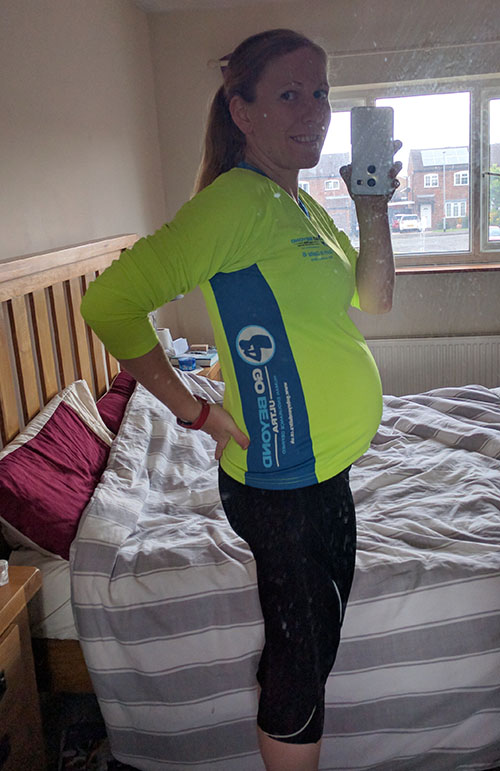 This was me before heading out for a run on Tuesday evening at 28 weeks pregnant.  As you can see, the bump is getting harder to hide now!  (If you can see me behind the dirty mirror glass in our bedroom that is.  Whoops!)
We had the dreaded, but not unexpected, call from Ofsted at school on Monday afternoon, so I only managed to get in two runs this week.  Bedford parkrun last Saturday morning, and then just short of 8 miles of trail with a friend on Tuesday evening.  Somehow this week I managed to feel more comfortable on the trail run at a slightly faster pace than I have done just lately and despite a couple of walk breaks and some rough ground on the route we managed to complete the course in an hour and a half.  I was convinced that by now I would be running 15 minute mile pace on all of my runs, if I was even still able to run at all!  The urge to pee every five minutes seems to have disappeared this week thankfully as well.  Perhaps because my belly has grown so much over the past fortnight so the baby is no longer pressing on my bladder as much?  I managed to run the whole 8 miles without having to duck behind any trees this week anyway!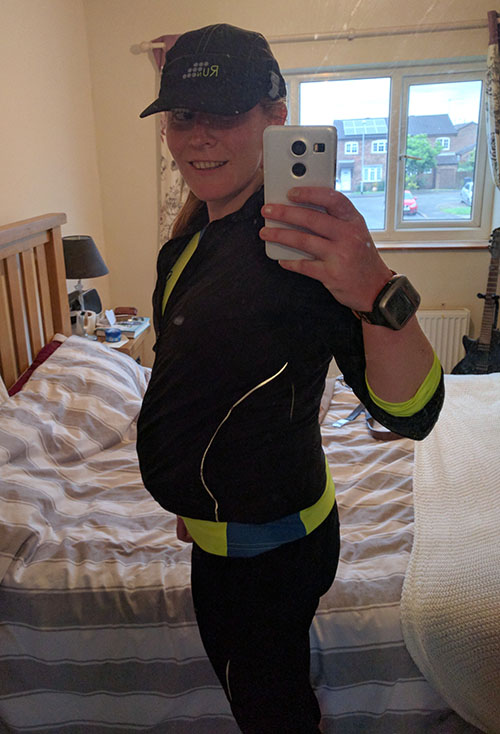 It did spit with rain slightly on our run, but it was quite nice and refreshing to be honest.  The weather we've had just lately has been bizarre.  Most of the time it's been super muggy, but every so often we've had a flash rainstorm, or I've been freezing when I've woken up in the morning.  I never know how to dress each day!  I saw my first double rainbow in years from out of our home office window last weekend.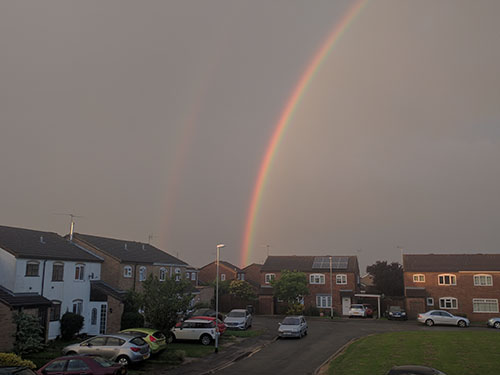 This week was a busy one in terms of baby-related things.  Not buying of baby related things mind you, – we are still yet to do any of that.  Something which I only really thought we perhaps should think about a little more about when a friend who is just 14 weeks pregnant told of how she had already filled a room with baby items and been practising wrapping nappies for when her first baby arrives in January!
On Tuesday evening after work I had my whooping cough vaccination.  For someone that isn't a fan of needles I can't praise the nurse enough.  As soon as I'd mentioned that I don't like needles she jabbed it in my arm so that I had no time to react and then I was sent back to sit in the waiting room for 10 minutes just to make sure all was OK.  By Wednesday morning I had a proper dead arm though.  It doesn't help that I sleep on my left side and had kept waking up during the night from the dull ache in my arm on that side.
I had been given permission to have the day working from home as an inset day on Wednesday as I was having a visit from the local Health Visitor in the middle of the day.  I only had one lesson during the day anyway due to school trips, year 10 work experience and interform activities so had been granted to spend the day at home marking and catching up on new schemes of work for next academic year.  Luckily my request was granted before the Ofsted visit was declared, otherwise the school might not have been so lenient!
Our house is currently in a state of…well, just a state actually!  Our lounge was looking something like this on Wednesday morning…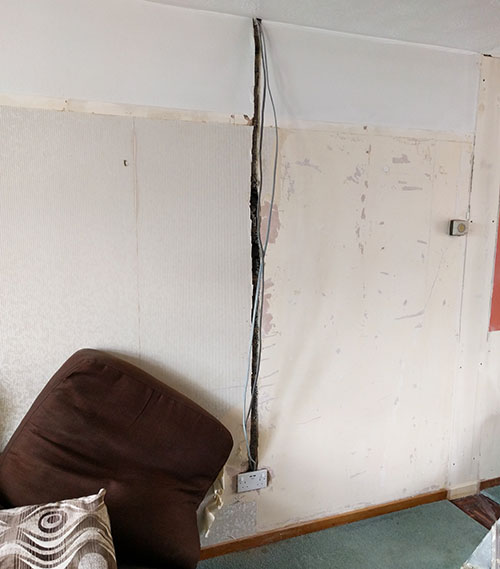 …with huge holes in the wall cut in for electrical sockets, half stripped wallpaper and the majority of the skirting removed.  I wasn't quite sure what to expect from the Health Visitor visit, but knew the main purpose of the visit was to introduce themselves and to ensure that we were preparing ourselves and our home for when we return from hospital with the baby in the Autumn.  Before I even let her in the house I apologised for the state of redecoration and she made it clear that as long as it was clean that was the main thing.  Which it was.
The visit ended up lasting less than an hour and consisted mainly of me answering a series of questions to reassure her that Dan and I had thought through how things are going to be different next year.  I was asked what Dan did for a living, if we had bought any baby items yet, what my plans for maternity leave were, whether or not we had looked into childcare, how far our families lived away…and various similar questions.  I was left with several leaflets of information and details of when I would next be visited again. (Between 10-14 days after birth, 6 weeks after birth, 8 months after birth and 2.5 years after birth!)
Later that afternoon was the second of our antenatal classes, which Dan returned home from work for.  Despite arriving with just a minute to spare we were the first to arrive for our class and for a while thought it might end up being just us.  A few minutes later though we were joined by a lady who had also been there the previous week, and then 15 minutes later another, whose partner also joined us just before the end of the class.  It's scary to think that some of the ladies from the previous week might not have been there because they had already had their babies!  The three of us there this week are all due in October.  Me with the smallest bump though it seems.
This week's class was all about the actual giving birth part.  We watched a video and the midwife explained in detail what to expect.  Dan made me laugh when he turned to me after the video and exclaimed that he thought they were going to blur out the actual birth part, not show it!
I must admit I haven't learnt a huge amount from the antenatal classes so far – although I did discover that each midwife is only assigned to one expecting couple in hospital, not multiple couples.  I don't know if that's just a local thing though?
I weighed myself for the first time this week since falling pregnant to see how much weight I had put on since doing so.  The scales showed as me having gained about 19lbs in total so far.  I've used my pre-pregnancy starting weight as my weight from just before Christmas, as I would have fallen pregnant early January and didn't weigh myself when I first found out.  I used this pregnancy calculator to work out if I was roughly where I should be in terms of weight gain at this point and I'm at the lower end of the expected weight gain based on my starting weight apparently.  I could weigh up to 9lbs more than I do and it would still be classed in the 'normal' range.  Not that I'm concerned, as I don't feel like I've put on loads of weight (despite 19lbs sounding like a lot!) and I still feel fairly comfortable considering that I am in the third trimester!
One of my biggest concerns at the moment are the varicose veins that appear to be popping out of my right leg from the side of my knee.  I meant to talk about them in my post a few weeks ago but kept forgetting.  I first noticed them when I was about 15 weeks pregnant.  They are blue and purple, large, raised and very ugly.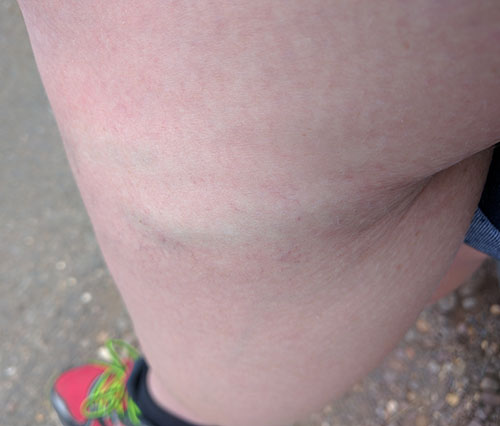 They are almost impossible to get a shot of, and this photograph does not reveal the full horror that they are.  

 I'll try and get a better image later this week.  I haven't spoken to my midwife about them yet (I intend to do so at my 30 week appointment this Thursday), but from researching online myself it appears that the extra pressure during pregnancy often results in veins being pushed to the surface of the skin like this, particularly on the right side of the body as the uterus grows.  They appear much worse if I have been on my feet all day, like at our year 7 interform event on Friday this week, when they were really sticking out.  

Have you had varicose veins before?
Are you a fan of needles?
You can read all of my previous pregnancy posts here.