I've grouped these two weeks together as I kept falling behind on my recaps.  I'm 30 weeks today, as my weeks change over on a Tuesday (eep!  Three quarters of the way through now!), so hopefully I will be able to post a little more in sync with where I am for the remaining weeks.
29 weeks pregnant…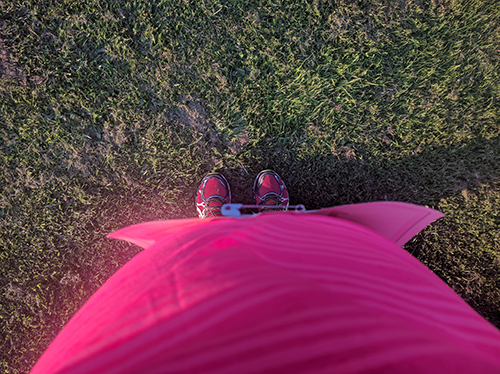 Running:
I ran the Linford Wood parkrun on the Saturday, and then the Race4Life event on the Tuesday.  Just 2x 5ks this week, and my Mum and I walked almost all of the Race4Life event.  (Hottest day of the year, hello!)  Event recap to follow in a later post.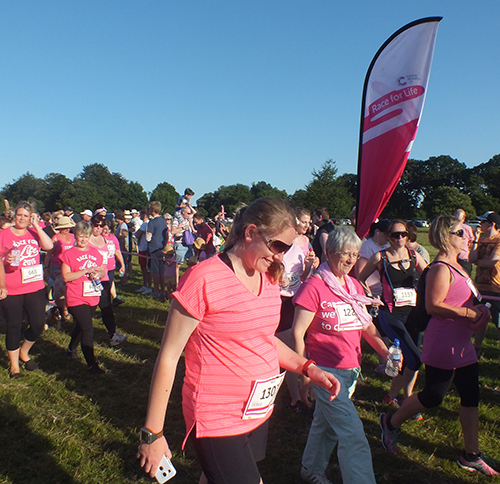 It wasn't a huge amount of running this week.  I had a high workload at school as year 10 students returned from work experience placements and I was busy pulling students in to catch up with coursework projects before the Summer holidays began.  Things weren't helped by Ofsted visiting us the previous week and with a member of our department leaving, the remaining members of our team were desperately scurrying around trying to ensure that everything was ready for the two new members of our team starting in September amongst all the other events taking place.
I started wearing shorts on runs again during this week.  In the early pregnancy days my loose-fitting shorts didn't provide very much support and the baby would uncomfortably feel like it was bouncing around all over the place.  Now, I guess my belly has gotten a little bigger and everything stays in place a little better.  Plus, it has been WAY too hot for full length tights just lately!
Movement:
Baby didn't move a huge amount this week.  I wasn't overly concerned, as I could still feel movements now and again.  The weather was ridiculously hot and when movements picked up the following week I put the lack of movement I had been having down to the weather.
30 weeks pregnant…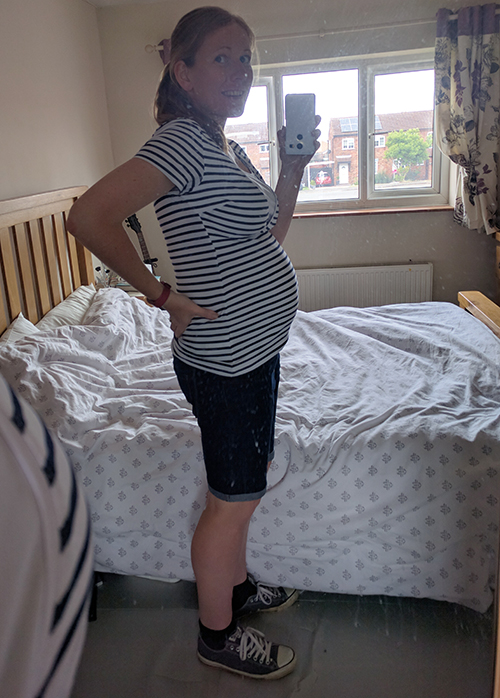 Running:
3 times this week finally!  Now that the Summer holidays have begun I should hopefully be able to fit more runs in again over the coming weeks, even if they end up only being short 5k distances as I slow down.
Run #1: 10k trail run with friends on the Wednesday evening.  (Me wearing bright blue in the middle.)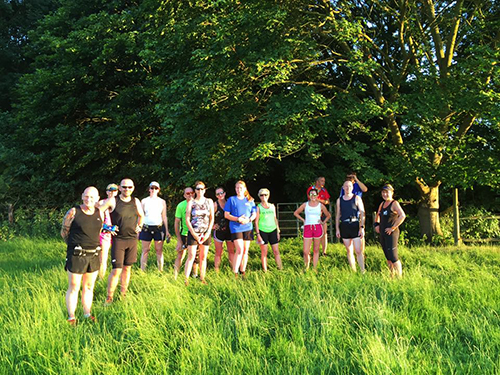 It was still super warm on Wednesday evening, although nowhere near as warm as it had been on the Tuesday night.  Fifteen of us headed out on a local trail for a really nice run along tracks that I hadn't been down for some time.
Our trail run turned into a bit of an adventure though when our path crossed through a cow field.  A cow field which contained cows to the left of the path, and then several calves and what we realised was a large bull on the right!  We made it through that field rather quickly and out the other side again without looking back!
Parts of the fields we ran through were very overgrown, and at one point (not long after the bull incident!) I discovered it was just more straight forward to run through the high nettles rather than attempt to dodge my way through them.  I was going to get stung anyway!
One of the fields we ran along the outside of was filled with crops that attacked our legs and ripped my legs to shreds, depositing seeds in all of our trainers to taunt us further on our run!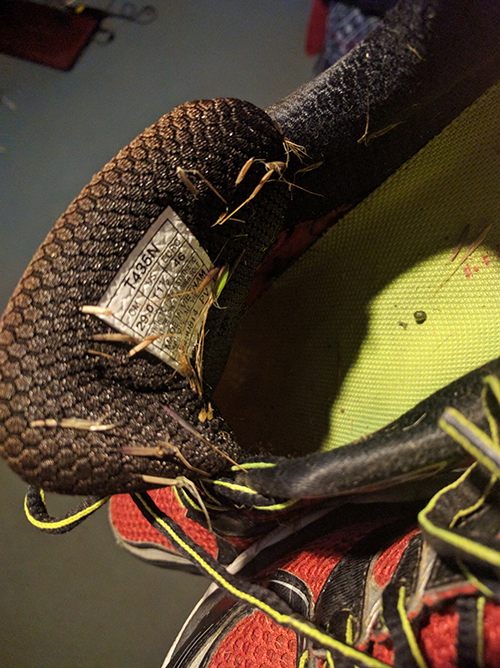 I'm still not completely at the back of trail runs, which I am very grateful for.  I really did not expect to still be able to run out with friends at 30 weeks pregnant.  Long may it continue!
Run #2: Huntingdon parkrun on Saturday morning with Laura (post to follow).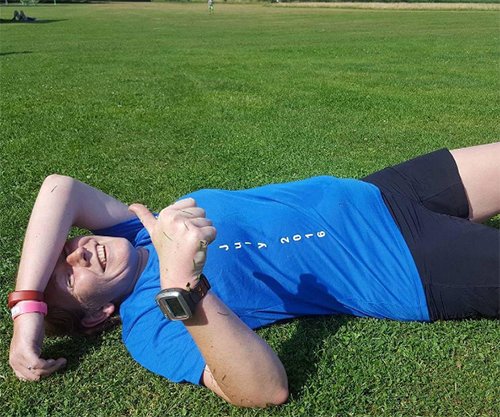 (I am totally aware that I don't even appear to have a bump here – definitely not a 29w 4d one at least – I just look kinda lumpy!)
This was a very hot morning but parkrun #55 for me ticked off the list!
Run #3: Planned – 5m easy run on Monday afternoon.  (Actual – 1.5m run/walk fail.)
I decided to head out on an easy 5m trail run alone in the afternoon.  I haven't run alone for a long while now and rather than take all precautions before a run as I have been doing just lately (no food or drink beforehand, two loo trips before leaving the house and tight shorts/tights as kit to ensure bump stays in place) I was a little lax.  I'd just drunk a pint of water, only had one loo visit and wore a pair of size 14 shorts (I usually take a 12, or a 10 in some makes so the 14s were way too loose, despite pulling them up well over the widest part of my bump).  Something in that combination didn't work for me.  I'm pretty sure it was the shorts.  I had barely gotten two streets away before I realised that my run was not going to go well.  I walked for a little while, initially thinking it had been drinking the water so close to setting out on the run.  It wasn't until I crossed over the road and was the other side that I realised it was probably the less restricting shorts that I was wearing that were affecting my run.  When I cupped my right hand tightly around the base of my bump my running felt OK, but whenever my hand wasn't in place I could strongly feel the jiggling and almost stitch-like sensation at the very bottom of the right side of my stomach.  I covered most of the first mile by holding my stomach tightly, but I realise I must have been quite a sight for the local business park I ran past just as shift change was occurring…A 30 weeks pregnant woman with a look of half-determination, half-frustration clutching at her bump and desperately trying to swing her left arm to compensate for the right not playing a part in the run!  Eventually I gave up before getting too far and vowed to rethink my wardrobe choices the following day!
Sleep:
Sleep was awful this week.  Dan headed to Wolverhampton for a suit fitting at the weekend and I always struggle to sleep properly on my own.  It's a mixture of being out of routine; having no set bed-time and my meals being all out-of-whack as I struggle to get motivated to cook for one.
I went to bed at about 11pm on the Saturday night, woke up at 2am to the baby kicking really strongly, couldn't get back to sleep so faffed around reading bits on the internet for a couple of hours before finally dropping back off again at 4:40am.  It was actually light outside by this point.  I was destroyed!  I then didn't naturally wake up again until 9:45am.  Unheard of for me and I was glad that I had no set plans for the day.
Appointments:
This week was our final antenatal class.  For some reason it was held at 2pm, rather than 7pm as the previous weeks had been.  It meant that Dan had to work from home for the day and I had to leave school a couple of hours early.  It was the most interesting of the classes though, and based on breastfeeding and life after hospital with the baby.  There ended up only being Dan, Me and another lady who was 34weeks pregnant as this class, but this made for a more personal touch and we were able to ask lots of questions.  The first two classes were taken up largely by watching videos which, to be honest, I could have sat at home and watched on YouTube!
Our first task this week was to examine a doll that had been placed in a Moses basket and work out everything that had been done wrongly in the way of putting the baby to sleep.  Between us we managed to get everything right – teddies in the basket, placed with head to the top instead of feet to the bottom, a pillow in there with the doll, and several other 'mistakes'.
The midwives then gave us a run-down of what to expect sleep-wise, poo-wise and feeding-wise over the first fortnight after being discharged from hospital.  I actually had a few questions about breastfeeding baby as a runner as I had heard that the taste changes if you run long distances due to the lactic acid build up.  Neither midwife was able to answer my questions though, or point me in the right direction frustratingly.  They seemed to think it would be OK to run a few miles a week and not notice any change, as she had seen Mums who had run a few miles a week before but that isn't what I want to do.  I want to return to marathon training and working out and being 'me' again!  I'm obviously not going to begin marathon training straight away after the birth, but instead after a sensible time frame and after having been checked out and cleared to do so.  However, I still intend on breastfeeding whilst training later in the year.  Nobody seems to be able to answer any of my questions when it comes to running and baby.
I had my 29 week midwife appointment this week on the Thursday after finishing school.  (So glad the Summer holidays are finally here now!)  I measured at 26cms, which I believe is slightly small for the number of weeks I am?  I was under the impression that you are supposed to measure 2cms either way of the number of weeks you are so I should be between 27-31cms in size?  The midwife mentioned that she would check my size on the baby growth chart though, and didn't seem too concerned.  I also had to have more blood taken at this appointment to ensure that my iron levels aren't dropping too low.  I have felt more lightheaded than usual just lately, and I become exhausted much easier in the evenings, but I've put it down to just being further along in my pregnancy.  My remaining midwife appointments fall fortnightly, and Dan should be able to make the next one for the first time, as he has booked a week off in August for our wedding anniversary.
We actually sat down and sorted out our birth plan at the weekend.  I don't feel like there's any huge rush for it to be sorted particularly, but I also don't think my views are going to change overly, so it made sense to get it out of the way and be able to tick it off the baby to-do-list.  Basically I would like to remain as active as possible throughout labour and for everything to remain as natural as possible throughout.  If there is the opportunity to go into the birthing pool I've decided that I would like to do this, despite initially being concerned that I would not have the energy to hold myself up in the water after a while.  Dan quite liked that I added to my plan that I wanted him to tell me if we had had a boy or a girl (as we decided not to find out at our 20 week scan).  Whilst we were at it we also checked that we were able to fit the car seat into Dan's car so that we would be able to bring the baby home from hospital!  No problems there.
So there we have it…30 weeks pregnant.  Just 10 to go until my due date.
You can read all of my previous pregnancy posts here.