Last Tuesday I managed to sneak out of work on time (I never manage to get away from work until late!) so that I was able to make the drive back to Norfolk and run the Houghton Hall Race for Life event with my Mum.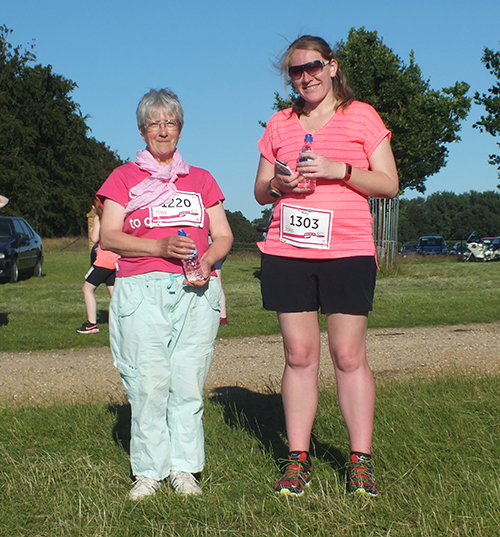 (I realise I look like a giant next to her here!)
We first ran the event together back in 2014 and several weeks ago now Mum asked if I would enter it with her again this year.
Tuesday was the hottest day of the year so far.  The radio announced the temperature as reaching a high of 32 degrees at one point(!)  Even though I'd been sat in a classroom all day in a loose-fitting dress with the fans on full, I just could not cool down, and being sat in a car for a further two hours in the blazing sun meant that by the time I rolled up at Tesco in Kings Lynn to get changed in the customer toilets I was sweaty and fed up of being stuck in traffic.  I was very glad to arrive at Houghton Hall and escape the heat of the car!
The event is set in lovely grounds and there were plenty of white deer grazing along the entry drive on my way in, seemingly oblivious to the scores of cars streaming past them.
Once I arrived, I realised I had no signal on my phone and from catching snippets of other conversations it appeared nobody else did either.  Unable to call my parents to arrange meeting up, I was now not sure how I was going to spot them with the thousands of other runners there and with the majority of people wearing pink!
I sat out on the boot of my car and the lady in the car next to me got out and nervously asked if I had run the event before.  She had been let down by the person who had planned to run with her and was feeling rather nervous about venturing over on her own.  I (hopefully!) reassured her that everybody had been very welcoming at the event when I had taken part a few years earlier and that there had been several people out there on their own – everyone spoke to everyone else.
In return she helped me car-watch for my parents' bright green car!
Eventually, after about half an hour, we spotted them stood at the entrance looking for me and I wished the woman luck and we parted ways as she headed over to join in the warm up event.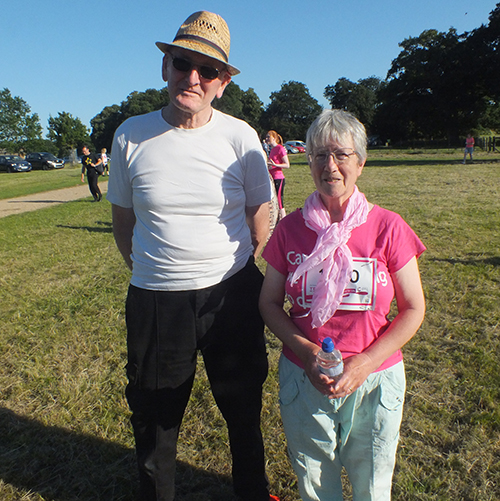 I changed into my trainers and pinned my number on the front of my pink t-shirt.  First time I'd not actually been able to see a race number due to the bump getting in the way!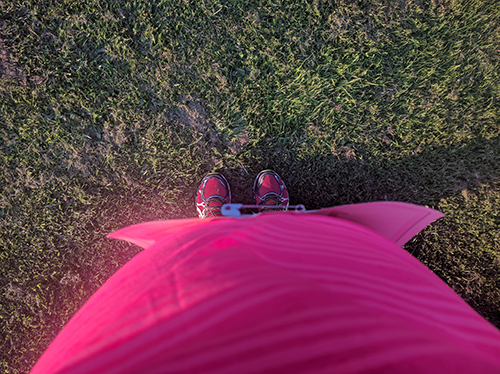 There was still a warm up this year, although Mum and I didn't partake as we were already pretty warm!  I did think it was rather silly to begin a warm up 45 minutes before the start of the event though and the warm up also started with static stretches – a pet hate of mine as this is asking for injury!
Sensibly though, the race organisers emphasised that due to the heat, all runners needed to rethink their plan for the evening, and if the initial plan had been to run the event, there was no shame in walking.  It was all about getting round safely and staying safe in the crazy heat of the day.
Mum hadn't trained for the event this year, and so armed with a bottle of water each we sensibly decided to walk the majority of the event, with just a run towards the end on the way to the finish.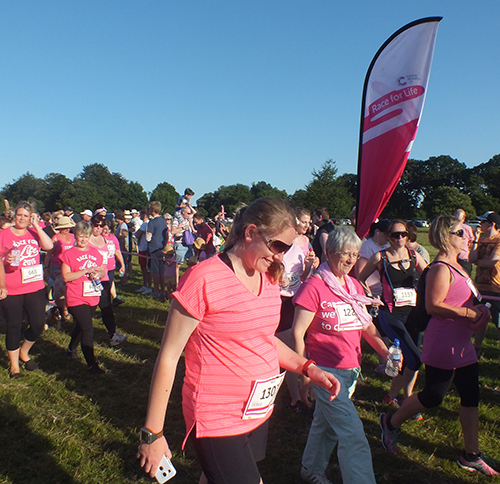 To be honest, the ground was very rough going.  I had worn an old pair of road shoes and, even if I hadn't been 29 weeks pregnant at the time I would have been concerned about tripping up.  The grass had been roughly hacked at, but was very springy and still several inches high, yet curved over the top of itself, making it hard to judge your footing in several places out on the course.
Like last time, we were directed to the start line in groups of runners, then joggers, then walkers.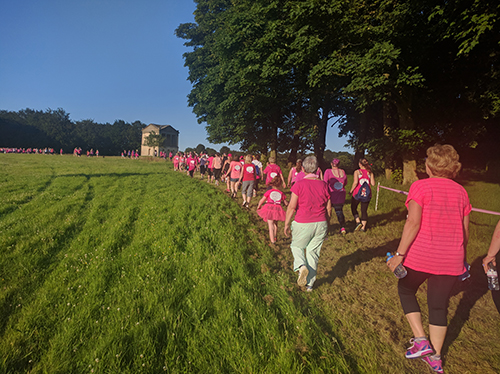 It was really great that everywhere you looked all you could see was a giant sea of the colour pink and so many different women of all ages and sizes out there.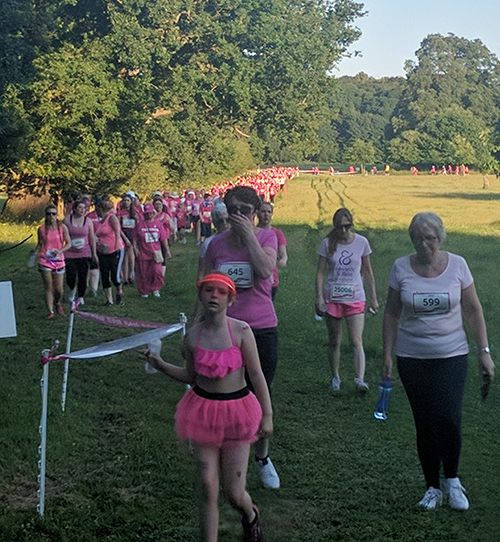 On the way out and on the way back in we passed a large group of singers on the side who were very enthusiastically singing and keeping people moving on their way past.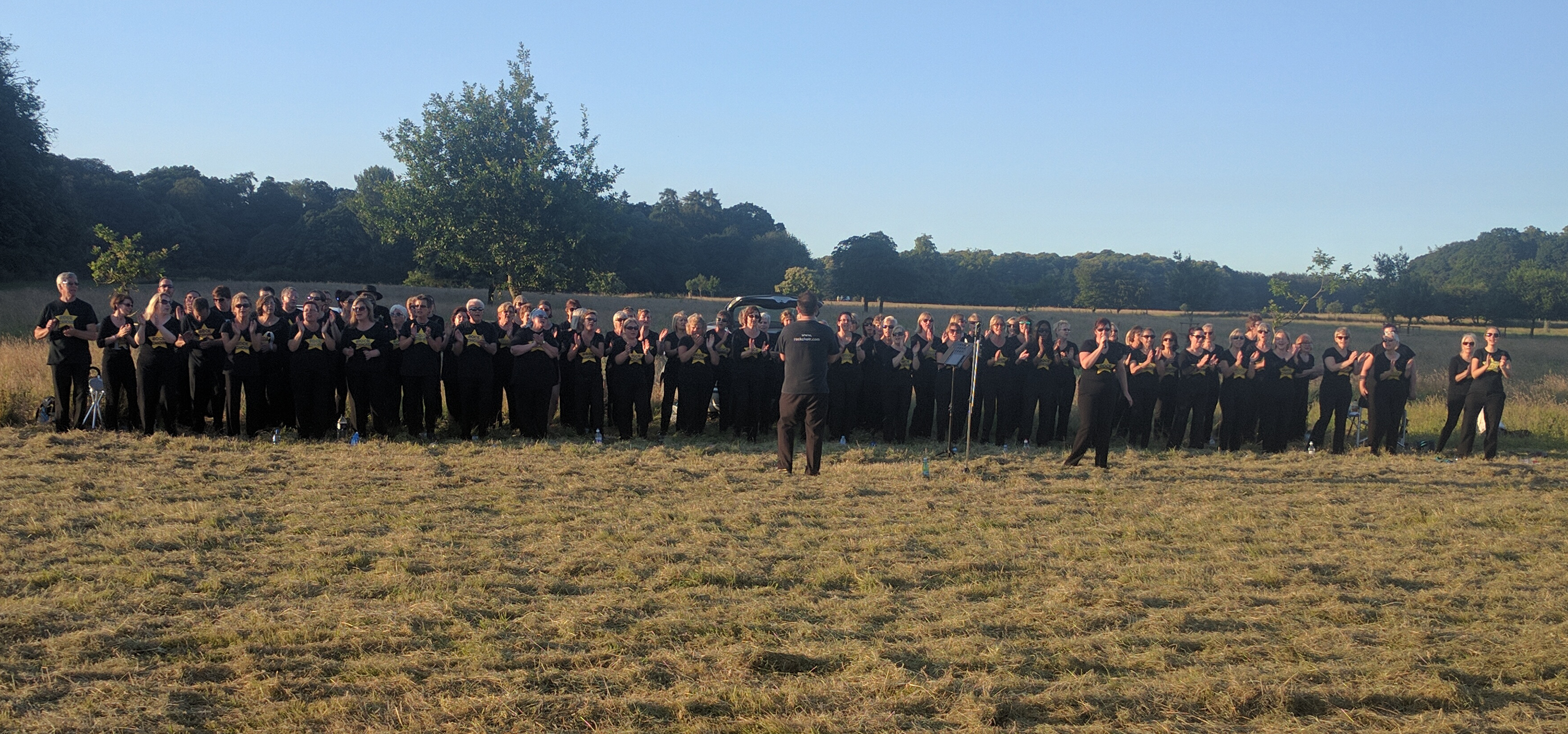 The event took us 1 hour and 19 seconds before we crossed the line at the finish and there were still hundreds of other women behind us.
We were each handed a bottle of water, a chocolate croissant and our race medal once having crossed the line and we made our way back to the cars.
I followed my parents home and enjoyed a lovely salmon salad before an early night.  I had to be back out on the road by 5am the following morning to ensure I could manage the trip back to school in Cambridgeshire to be there for 7am.
Super organised and I left on time.  What I hadn't realised though was that I would not have enough petrol to get back to school…
4th petrol station I've stopped at, 4th one that doesn't open until 6am. Out of fuel now. Guess I'm just gonna have to wait it out…

— Mary P (@ahealthiermoo) July 20, 2016
Panicked driving between every petrol station I knew of along the A148 wasn't how I had wanted to start my morning off before 5:30am!  Eventually I ended up sat in Sainsbury's petrol station in Kings Lynn along with two other rather desperate looking motorists waiting for the magical 6am when the pumps kicked in with fuel!
Have you taken part in any of the Race4Life events?
How close do you leave it to the line before topping up your petrol?!