There are plenty of things that you can try your best to prepare for on race day.  Is it going to be sunny? – Do you need to take suncream?  Have you packed enough fuel for the race?  Do you need to take a drinks bottle or will there be drinks stations along the way?  How do you intend to pace the course?  Do you have to navigate the route?…
All of those things are relatively straight forward when it comes to preparing for a race but just how do plan to adjust pacing when you get Braxton Hicks contractions during mile two of the event?!
The Cakeathon is an event which has been penned into my calendar for months now.  I booked my place on it last August, twelve whole months ago, and long before I got my positive pregnancy test.
I'd already tried and failed to enter two other Cakeathon events, after lusting over Anna's Cakeathon medal last year.  The guys at Saxons, Vikings and Normans put on another event though and I managed to get signed up before all the places went on that one!  When I got my positive pregnancy test back in January, I knew that unless something happened I still intended on getting to the start line of Cakeathon.  Even if I only ended up walking one or two laps in the time limit, I wanted that medal!  Look at it…!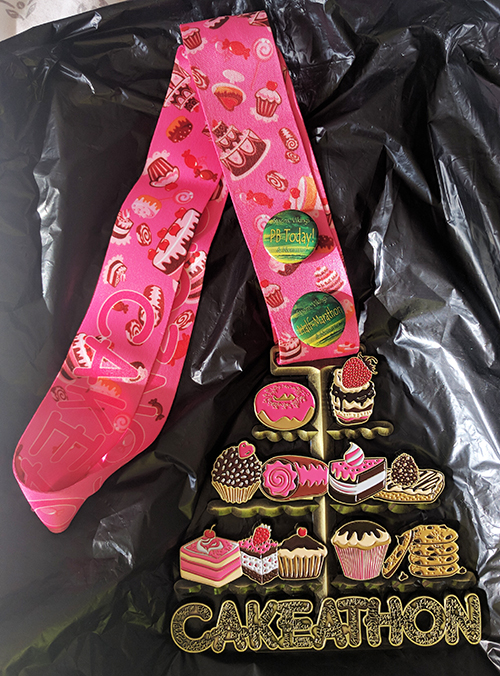 In my eagerness to get signed up for the event, I didn't really look at how far away it was…Down in Kent, so nearly a three hour drive on Bank Holiday Monday!  I figured it would be alright on the day though, and when I posted about it on Facebook, another lady from my running club – Jenny – decided to also come along for the event.  (Annoyingly, in the past month, SVN has now also put on a Cakeathon event in Northampton for next April!  A half hour journey from me!)
So, at 35 weeks pregnant, I picked Jenny up at 6am and we made the (relatively stress-free) journey down to Betteshanger Park in Kent, arriving just before 9am.
I've never crossed the Dartford Bridge before and had no idea how it worked.  Luckily Jenny said she'd sort payment for that, as I only caught a glimpse of one sign which said 'Look for us online.  Pay within 24 hours.'  That was it!  No web address, no details of fees…nothing!  I guess it's more straight forward if you are aware of the charge or regularly travel down that way, but had Jenny and Dan not mentioned anything to me I would have been completely oblivious to having to make any kind of charge!
I love that we passed a place named 'Ham' on the drive down, and a few minutes later, passed a place called 'Sandwich'!  We were on the lookout then for 'Tuna' and 'Cheese'!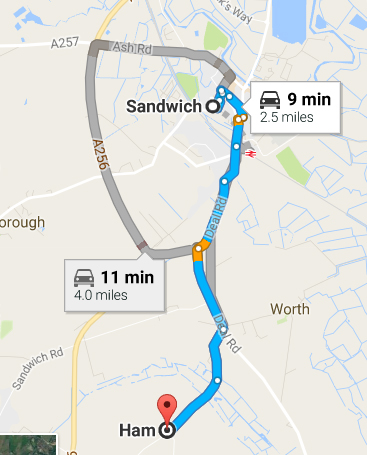 Race briefing was due to start at 9:20, with the actual start of the race at 9:30am.  Just time to plait my hair up out of my face, nip to the loo and grab my race number from race registration.
The event lasts for six hours, and you can complete as many laps as you wish during that time.  Each lap consists of 4.4 miles.  If you just wanted to run one lap, then stop and claim your medal, that would be fine.  Whereas, some runners completed eight laps on the day.  As long as you had begun your last lap before the six hours were up, you would be allowed to finish it, so some finishing times would be more than 6 hours.  (Follow all that?!)
As you'd expect at an event like this, there were a lot of runners from the 100 Marathon Club, and quite a few people hoping to achieve marathon distance, as there is no pressure of a DNF (Did Not Finish) at an event like this.  You could stop after just one lap, and still be classed as a finisher with a recorded time and distance.
It was a really hot day.  I'd managed to prepare for the event pretty well, remembering a towel, change of clothes, hoodie, Garmin, cap…but forgotten any form of suncream for the day.  I should have known the day would be hot.  That's how all the races I enter seem to be!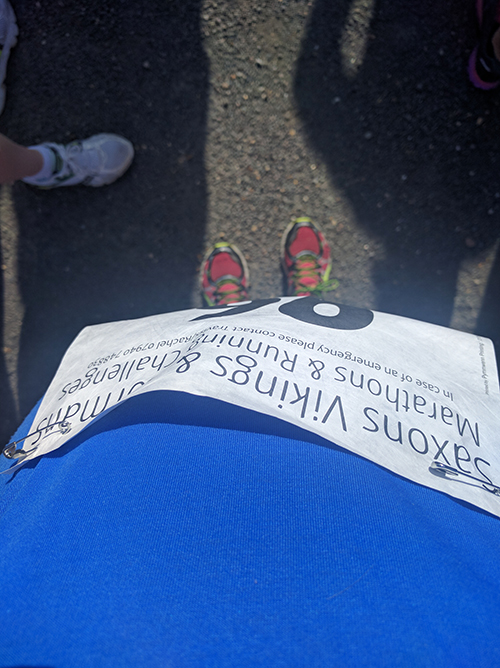 (Number looking daft perched on the front of my bump!)
There were just over 100 runners on the start line when we set off for our first lap of the park.  We headed round in a clockwise direction and the route set off along a narrow man-made dirt track along some water. and over a couple of little flat bridges.  I did think the race organisers were rather trusting of runners on the course, as we ran out for about a mile and a half before taking a large loop and then coming back along the same mile and a bit to the checkpoint again.  There wasn't anywhere to dip in or be checked off for having reached the far end of the park and it would have been fairly easy for runners not to complete the full lap.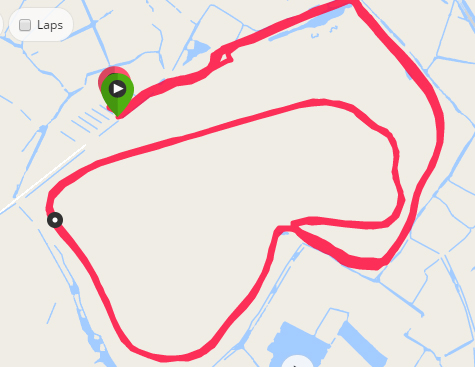 Some of the runners had made a real effort in their outfits.  There were a couple wearing cartoon-cake-adorned vest tops or tights, and one woman even came dressed as the Marshmallow Man!  Although it must have been boiling in that suit.  I didn't see her again after the first lap so I'm not sure how many laps she completed in the end.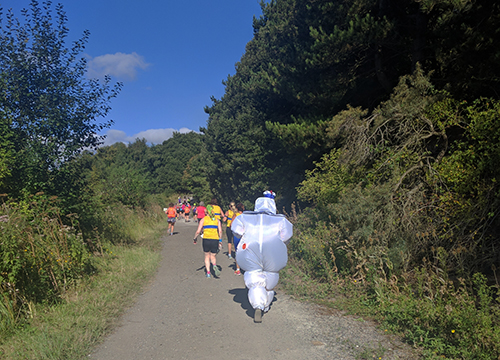 My game plan for the day was to start off by running as much as I was able to – knowing that the day would only get hotter and I would only become more tired as the race went on.  I've not run more than 20 miles during my pregnancy (and this was quite early on).  I ran a half marathon in May, but other than that the majority of my runs have been parkrun (5k distance) or 6-10 miles.  I have been walking for a couple of hours each day though, so feel I've still retained a large amount of fitness and willpower to continue.  My legs feel even stronger than when I was purely running all the time.  (Something which I hope will remain with me when I return to running ultras in 2017 and have a need to walk during periods of an event.)
I ran the entire first mile at an easy pace.  There was a steep but short hill at the start of mile two, so I power walked up this and wasn't the only one.  There were three hills in total, with the first one possibly being the steepest, although nothing overly challenging.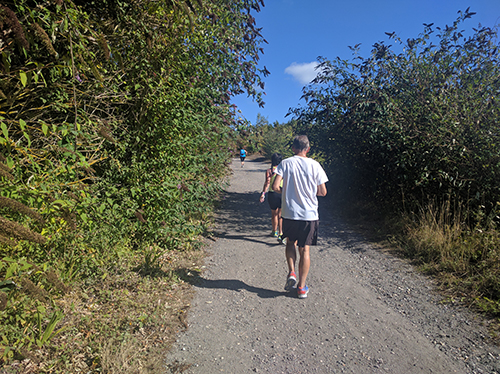 There was a distinct lack of shade out on the course though.  Possibly two, maybe three shady areas.  And by a shady area, I purely only mean that there were two or three large bushes clumped together, casting a shadow on the track.  I thought that there would have been a little more shade out on the course as it was run through such a large park, and I associate parks with trees and woodland, but all greenery was quite low to the ground and not offering very much shelter!  There was a nice breeze out there though, which prevented us from getting over hot.
About half way through my second mile I started getting Braxton Hicks contractions.  They weren't painful so I knew they weren't the real deal(!) but made it uncomfortable to run at any pace, so I let them dictate my run-walk sections for the rest of the event.  As I've mentioned previously, you're supposed to be more likely to experience them if you are mildly dehydrated, and with the heat of the day and the fact that I hadn't grabbed a drink in between the drive over and starting the race that was possibly the reason why they started up for me.  After about four miles I gave Dan a call just to check he was OK with me continuing.  He was happy for me to do so as long as I was sensible and listened to my body, which I continued to do throughout.
At the start of lap two I managed to take the wrong path.  (Only me!)  I had my head down and hadn't really been concentrating so just followed the track, whereas we'd turned off the main path when we'd run the first loop.  I doubted myself when the track bent round to the right, heading up a hill I didn't recognise and paused, only to hear a child from a fair distance behind shout that I was going the wrong way!  I shot him a thumbs up and clambered over the mound in between the two paths and carried on my way.  Luckily, no-one else saw my rookie error(!)
Jenny passed me just before the end of lap two and we set out on the third lap together.  Although I have a very quick walking pace, when she did break into a run for longer periods of time, I was unable to keep up with her if I was having another BHC.
I do still feel very fit, and even if I walked until the end, I knew I would be able to complete six hours at this point.
At the end of her third lap, Jenny walked back to find me and say that she was going to stop at the half marathon distance, so I gave her my car keys so that she could get her things from my car.  I asked if she minded if I continued, and she didn't.  So, after a bite of brownie (my cake of choice from the checkpoint each lap!) and a swig of water I headed back out again for lap number four.
I was still feeling strong.  The BHC had eased somewhat, but my stomach was feeling rather tight from having had so many over the previous couple of hours, so I stuck mainly to a power walk for this lap.  The guy currently in fourth place walked with me for a while and we chatted races and training, as is so easy to do with other runners, even if they are strangers!  He left me after a couple of miles and wished me well for my next couple of weeks which was nice.  Everybody was so super friendly out on the course.  Even though we were running laps, (and laps which came back on themselves as well) almost every time you passed someone they would say 'Well done', or 'Good work' or something similar.  Some of the other runners and I must have crossed paths ten or eleven times, yet still every time we each called out words of encouragement to each other.
After the runner I had been with ran on I did a few calculations and realised that I would actually be able to tick off a marathon within the time limit if I continued at the pace I had been moving at.  Because I'm a fairly quick walker, even when I had been walking for long stints, my walking pace was falling under 15 minutes per mile.  I rang Dan again to get his opinion on whether or not he thought I should continue to marathon distance if I continued to feel good.  It would obviously be my slowest marathon, but would still count towards the 100 marathons I eventually want to tick off.  Again, he had no problems with it as long as I listened to my body.
Once I got off the phone to Dan though, I needed the toilet.  The toilets were positioned on the course in such a way that you either had to scramble down a sharp incline to reach them from about mile 2.5 on the course (a point I had already passed), or head past the checkpoint for a way to reach them in between laps.
I felt a little guilty for leaving Jenny potentially sat out for a further three hours and also, I didn't want anyone to think I was taking excess risks by striving to complete marathon distance.  In the end, I decided I didn't have anything to prove.  I should easily be able to tick off a few more marathons in 2017 and that I would call it a day at the end of lap 4, so just collect my medal, goodie bag and wander over to the toilets without the need to rush back out on the course again.
Each of the times you pass through the checkpoint you get a card punched to say how many laps you have completed.  When you decide to finish completely, you get to ring a bell to signify that it is the end of your race.  The lady on timing then logs your race number, number of laps and time taken to complete.  I was logged as completing 4 laps in 4h 31m 51s.  60th place out of 129 runners.
As the lady jotted down my time she casually asked how many weeks pregnant I was.  When I responded with '35' she told me that in which case I was the most pregnant runner they had ever had at one of their events before.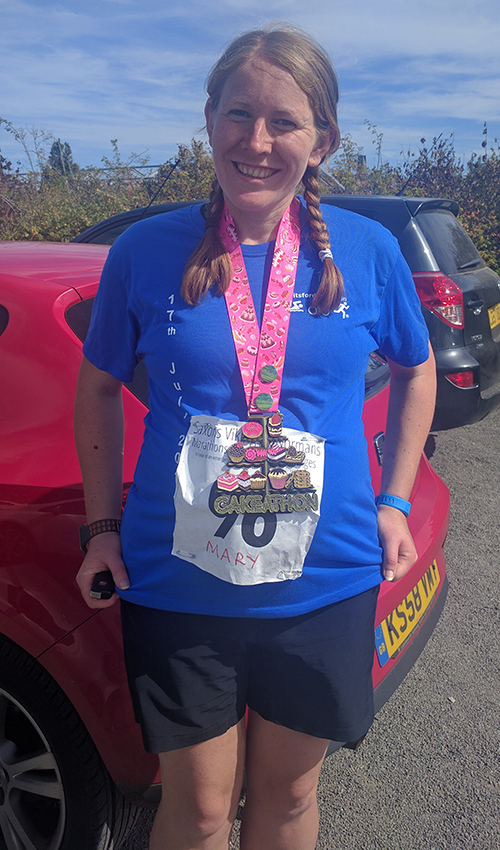 What I presume to be the Race Director also came over to have a chat, and asked if I would like a 'half marathon' badge pinned to my medal as I had completed over half marathon distance.  He then also pinned a 'PB Today!' badge on, as I was the Pregnant Best!  Haha!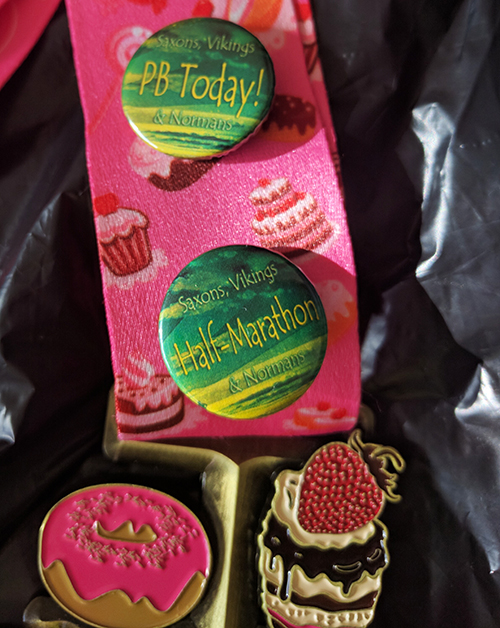 They told me that one of the ladies helping out on the cake stand was also pregnant and a few weeks behind me, but she had stopped running several weeks ago now.  So I went over to go and have a chat with her about running through pregnancy and races in general.  It's nice to be in an environment where people think I'm totally crazy for wanting to run through my pregnancy.  I would have gone totally crazy if I had been unable to run though!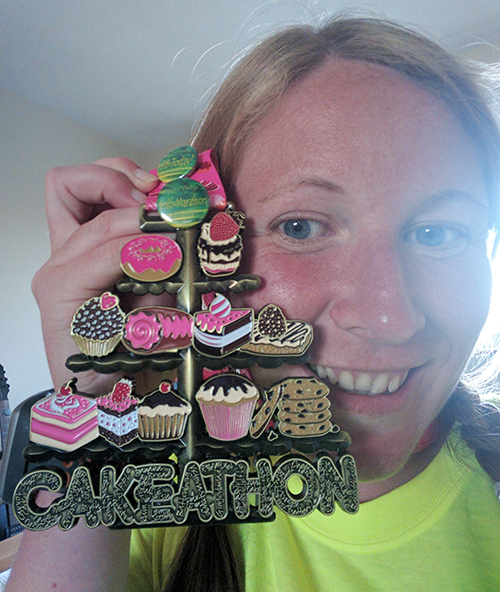 Love this medal!  Check out the size of it.  It is literally as big as my face!
I love the detail on it is well.  There are loads of different varieties of cake written in small letters inside the word 'Cakeathon' at the bottom.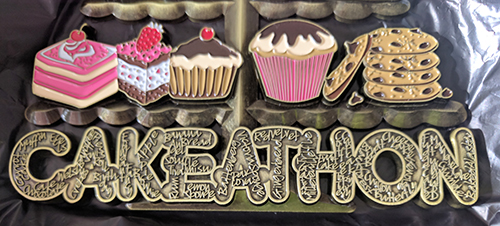 The goodie bag was obviously also top notch and contained two bags of crisps, two large sharing bars of chocolate and two individual sized ones, along with a can of cider.  The lady that gave me my goodie bag at the finish asked if I wanted to swap my cider for coke after seeing my bump, but it was just as the Race Director came over to talk to me, so I never got a chance to respond.  Clearly she thought I needed the cider more in the end!  It's going to have to sit in my fridge for another few weeks yet though!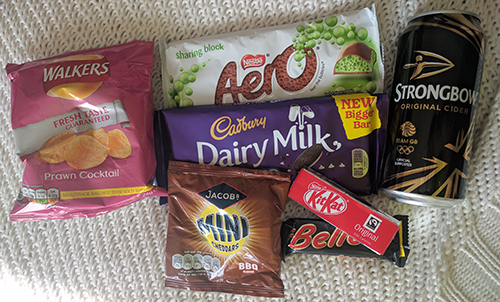 I've just been lusting over some of the other awesome themed events on the SVN website that they put on over the year – Beerathon, Chocathon and the Marathon Day Marathon (run on the 26th of February!)
Cakeathon – have you run it before?  Or is it now on your bucket list of races?!