63 days to go!  Apparently baby is now the size of a bunch of leeks.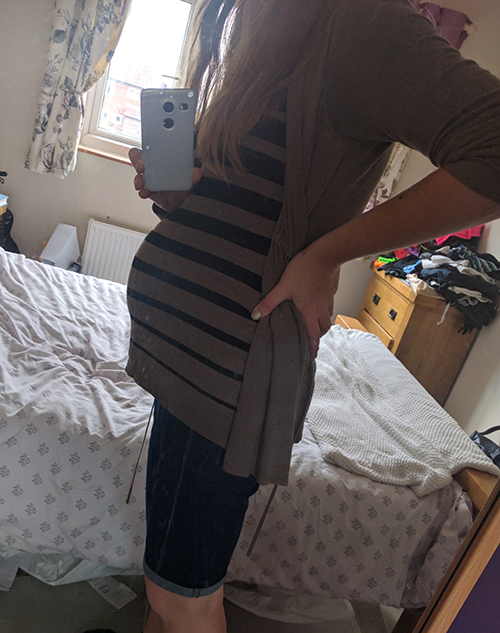 I still don't look massive despite not having long left to go.  I actually went to a party at the weekend where it wasn't until Dan mentioned to someone that I was about to start week 32 of my pregnancy that anyone at the party (apart from our friends who already knew) realised that I was pregnant.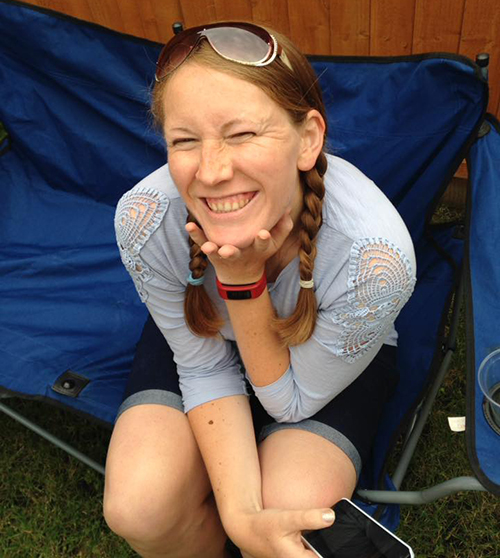 Running:
Wednesday – 4.1 miles
These were tough miles.  The Facebook post stated that the trail run route would be a fairly easy one last week, so as not to destroy the legs of runners attempting the Grim Reaper ultramarathon at the weekend.  But, when I arrived and we headed in the direction of Irchester Country Park I became a little concerned.  We began by going up and down small dirt tracks that remind me of the types you see in bike dirt competitions.  There are about 15 or so small ones (about a metre high) that you drop down and rise back up from.  I really struggled with these as my top half doesn't bend very easily at the moment with my ever-growing belly.
Next up, we headed over to complete the gully runs.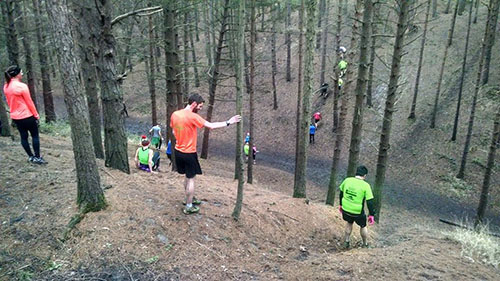 (Picture taken at Christmas time from the top of the gully when I was still able to run down them!)
As I couldn't really take part in this I ended up just hanging around in the valley part with a couple of others waiting for runners to get their fix before we were able to move on again.
I managed to get four bad bites on the bottom of my legs from running around the woods on Wednesday.  I never get bitten, but these bad boys are so itchy and a large circle around each bite seems to have come out in a bruise as well.  Boo!  

Thursday – 5.3 miles
I had initially planned on running with group 5 at running club. (I was running in group 4 before my pregnancy)  But, following the previous night and knowing that the weather still hadn't cooled down at all I thought it would be best to stay in Group 6.  I have no problem staying at the front of this group, but I noticed a massive difference in the effort I was using to continue to do this compared to when I last ran in the group a fortnight earlier.
Saturday – Bedford parkrun (5k)
Full post to follow, but I decided to volunteer as tail runner at Bedford parkrun at the weekend.  I thought this way I could have a nice easy jog around the 5k distance without putting any pressure on myself to run quickly.  However, other than one brief jog when I stopped to chat to somebody this ended up being a rather leisurely stroll at the back of the event.
As well as running, I've been sticking to the 10,000 steps a day challenge that I set myself back in the early days of pregnancy.  There was a worrying moment the other evening when I still had 3000 steps to complete and my Vivofit black-screened on me, but it regained life in time for me to tick off another day of the challenge.  Best get a new battery sorted for it soon though!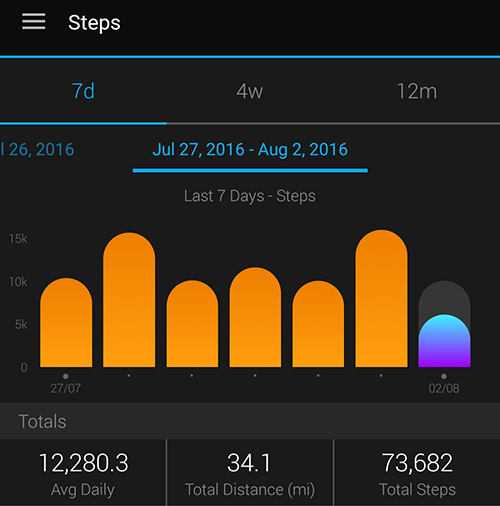 Movement:
Movement has changed over the past week.  Instead of seeing my tummy squirm around on a constant basis and feeling constant kicks in my belly region, I now feel little kick-type movements in the very bottom of my stomach, heading towards my back.  It's very definitely still baby, but completely different to how it has been over the past few months.  All the books say that baby should have started his (/her!) journey with the head pointing down by this point though so I guess that will be why things are no longer feeling quite the same as they once were.  I can feel that there is something up high by my ribs on the right side.  A baby bum perhaps?  I won't know for sure until the next midwife appointment.  There's definitely no kicking legs up there anymore though!
Movement for me is limited now too.  I had to get another runner to tie my laces for me mid-run on Wednesday for the second time!  Going upstairs too quickly makes me feel really out of breath as well and ends up with my heart feeling like it's beating out of my chest.
Sleep:
Sleep was awful this week.  Occasionally I have a really good night, but the majority of nights I was up for at least 2-3 hours in the middle of the night.  On Friday night I went to bed at 11pm, got woken up by 2am and except for maybe a couple of odd minutes here and there, remained awake until heading to parkrun later that morning.  I was exhausted by the evening and we had to head over to Peterborough for a friend's husband's birthday do that night.  I wasn't a huge amount of fun to be around to be honest as I was just so tired the entire time.
Never been so tired! Up to tail run at Bedford parkrun though. Fingers crossed I don't fall asleep on the way round! 🙏

— Mary P (@ahealthiermoo) July 30, 2016
Social:
All of the bridesmaids that I had at my wedding will have a 2016 baby, with one having already had hers in January, and another in April.  My friend Amanda is due in three weeks time and another friend is due end of December/start of Jan.  I headed out for a day at Wells beach with Amanda and Hollie (who had her baby in January) yesterday, knowing that it will probably be the last time that I see Amanda before she has her baby.  We ended up walking for about 6 miles in total and just had a long overdue catch up whilst roaming around the beach and pinewoods.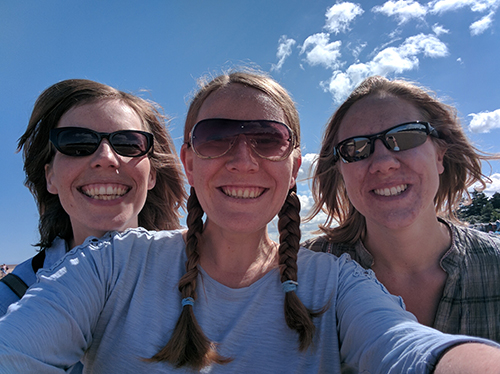 Other:
I haven't experienced any Braxton Hicks or anything yet which people keep telling me to look out for now.  My belly button is looking incredibly stretched, although very much still an inny.  Despite Dan crossing his fingers that it pops out, I don't think it's going to now!
I'm struggling to eat at the moment.  Or, more accurately – struggling to eat large meals.  Everything needs to be in half sizes from what I used to be able to consume.  I went round a friend's house for dinner at the weekend and, no lie, it took me more than 90 minutes to finish the pizza I was served with!  I should have left some really, but was too stubborn and ended up feeling uncomfortable the rest of the evening.  There's just not a lot of space in there anymore for food!
You can read all of my previous pregnancy posts here.