Again, this past Saturday I had every intention of checking out a new parkrun course and adding to my parkrun tourism list.  When Dan decided the night before that he would like to try the Huntingdon course out though, having never been there before, the decision was made for me.
However, Saturday morning came and Dan never woke!  I left it until the last possible minute before leaving but this meant that I then didn't have time to change my mind and head to a different event annoyingly.
Never mind, this weekend was the first weekend where Huntingdon were running their course on the 'Summer route', so I got a change anyway.
The regular course is usually two laps and takes you out into the edge of some woodland, looping right round the start/finish line.  The Summer version is one large lap which heads off in the same direction before crossing a bridge and taking you around the edge of the lake, crossing the bridge back over the water again, looping back and taking a slightly different track to the usual path.  I assumed that we would then loop round back to the finish line as normal, but instead we headed up a long drag of a hill around the back of the wood before a smooth downhill back out onto the finishing grass straight.
I had remained fairly consistent with my pacing from the very beginning, but when I reached the steepest part of the hill I allowed myself to walk for a brief stint.  With my baby belly now getting in the way, leaning forwards for hill work is rather uncomfortable and I find it difficult to manage.
I'd gradually been picking runners off from the very first mile and only one person overtook me on the hill, so I'll take it!  Runners seemed a lot more spaced out on the course this week with it only being one lap, so that was rather nice.  At one point, when I was heading round the Summer course bends of the lake I was the only runner in sight and I did briefly hope that I hadn't taken a wrong turn before catching a glimpse of the runner ahead at the next corner!
I spotted the older gentleman out on the course again this time, and overtook him at about 2.5 miles in.  It was here that I also spotted one of my year 11 students headed in the other direction for a cool down.  I don't think he spotted me.  Definitely not whilst out on the course anyway.  He finished in 20 minutes!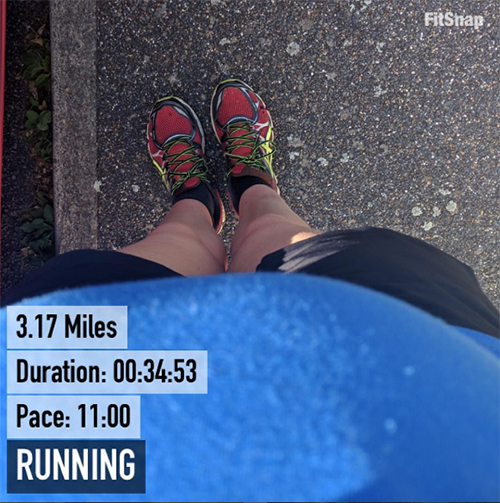 Garmin time: 34:53
Official time: 34:55
Position: 225/284
Gender position: 74/116
Age category position: 7/11
11 minute miles sounds so slow (for me over 5k) – although I know it's all relative.  It's much quicker than I thought I would still be running at by this stage.  More than 8 minutes off my PB though!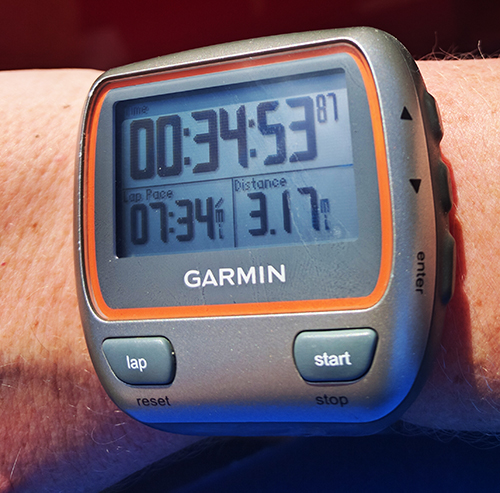 I still managed my sprint finish for the line.  I'm really not sure how my legs still manage to pick up to a pace starting with a 7:xx at the moment.  They feel so, so heavy when I run lately, especially first thing in the mornings.  Being pregnant makes me definitely want to ensure I never pack on an extra stone and a half at any point!  Everything is so much more difficult and I feel very cumbersome when I'm running.  Not good form at all!
Dan has booked two weeks off work as during the next fortnight we have our second wedding anniversary, his birthday and he's also away on a stag weekend.  (Somewhere in all that we also need to fit in doing some more work on our house as well!)  As Saturday was the first of his days off, we decided to have a chill day and headed out to Beckworth Emporium for lunch.
I was starving by the time lunchtime came around, having run parkrun first thing that morning on a couple of mouthfuls of cereal.  (Too much breakfast and it's uncomfortable to run as I'm quickly running out of space in there!)  So I decided to go for a Ham, mozzarella and pineapple panini for my lunch, which was a little out of character for me.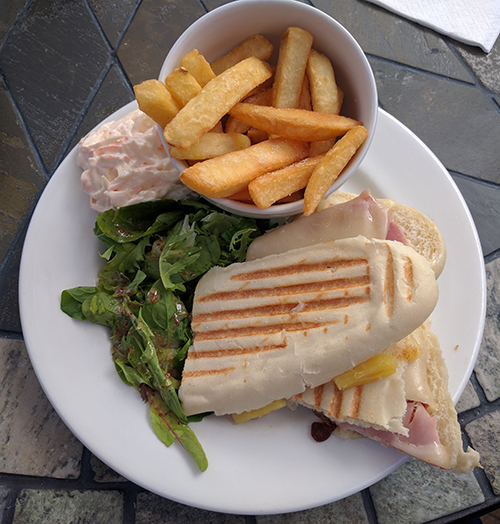 Dan chose the Chicken and chorizo tagliatelle.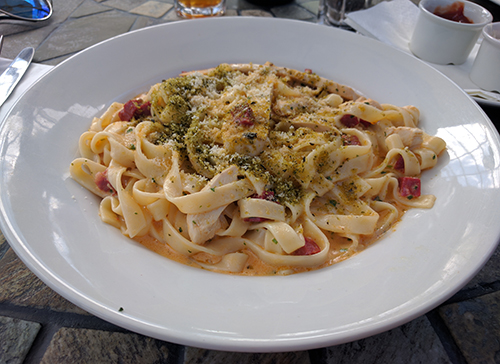 Both went down incredibly well, and we were feeling suitably stuffed afterwards ready for a fairly lazy afternoon.  The reason we'd decided on Beckworth was that I had spotted a free icecream trial mentioned on Twitter, although we couldn't see anything about it when we were there.  We were too full after lunch to have managed to squeeze any in anyway, so no great loss.  Icecream back at home for tea instead!  😉
Does your parkrun have more than one course that they use depending upon the season?
Do you notice the difference in your running when you gain weight?
Do you have any time booked off over the Summer?
Favourite icecream flavour?