At 32 weeks our baby is now the size of a honeydew melon.  (More baby-shaped than the bunch of leeks it was last week!)  Allegedly anyway.  I was measuring as small last time I visited the midwife back at 29 weeks but don't have my next appointment until this coming Friday.  I feel like things have been growing over the past few weeks though.  Even Dan said to me the other day that I was looking much bigger!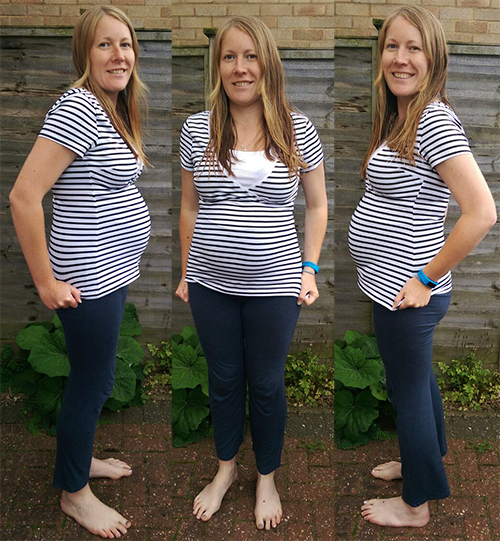 (Excuse the wet hair and lack of shoes.  It looked like it was going to rain so I rushed out to take pictures whilst it was still bright enough and dry enough to do so!)
Sleep:
Sleep has mainly been OK this week…until last night.  I'm currently sat in my office typing this blog post at 4am as I've already been up for two hours and it didn't look like I was ever getting back to sleep!
I have struggled later on in the days with feeling rather light-headed so have taken a few lie-downs in the afternoons and powered through the day in small stages.  Often I feel a little weak when I'm lying on my back on the bed, but if I lie on my left side then the wooziness fades.  I am a left-side sleeper anyway.  I've been glad of having the time off from work this past fortnight.  I'm not sure how I would have managed on some of the days had I been required to stand at the front of the classroom and teach a bunch of bottom set GCSE kids!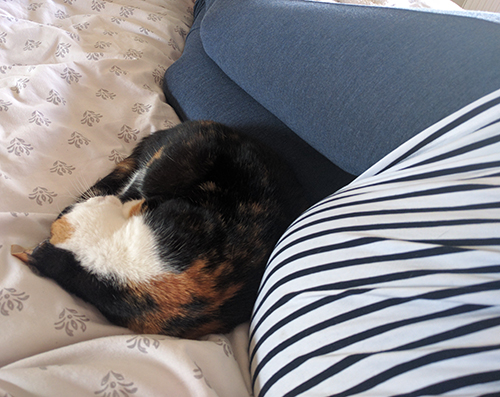 Bella has enjoyed our extra afternoon snuggles on the bed!
Weight:
I weighed myself this morning for only the second time since falling pregnant and I have gained just half a pound since I last weighed myself a month ago.  So, 19.5lbs in total across the 32 weeks.  Again, according to the pregnancy calculator I'm at the very bottom end of the weight gain scale.  I could weigh an extra stone and still be classed in the 'normal' range.  Everything I've read seems to suggest that by this point I should be putting on about an extra pound a week, which isn't something I've found easy to do.
Dan thinks that perhaps the reason I am still fairly small is because I've continued to remain active throughout my pregnancy.  Lots of people I've spoken to said they didn't do any exercise at all throughout their nine months, and used it as an excuse to eat whatever they wanted and put their feet up.  I've tried to remain active on a daily basis (and feel better for doing so), and other than not being able to fit quite so much food in now, my eating habits haven't really changed.  I never craved or binged on anything.
Food:
Some of the reason I haven't perhaps put so much weight on is my inability to eat large meals now.  Monday nights have always been calzone nights in our house, but I haven't made any for several months simply because I struggle to eat the whole meal (which is very filling, no matter how large the calzone) and I'm too stubborn to waste it!  I've still been eating three meals a day, they've just simply been much smaller than in the past as I'm running out of room in my belly!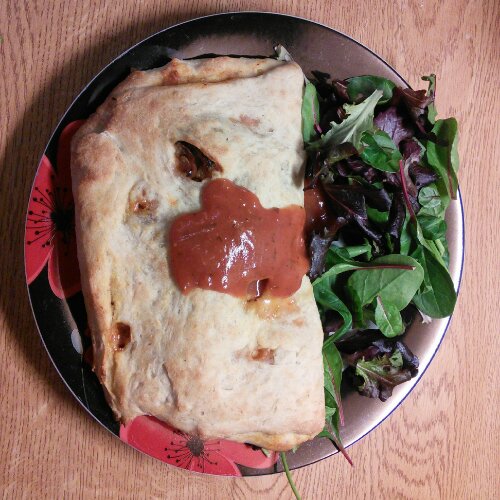 Running:
Another three runs this week…
Wednesday – Trail run with friends (4.3m)
I struggled a little to start with on this run.  There were a large number of us out, with many being from faster running groups.  I felt myself get drawn along too quickly very early on.  Although I was able to hold a conversation with friends I knew I was probably pushing it too hard at certain stages.  When one of the runners mentioned that he was going to break away and shorten the route as his legs were feeling tight (following running 70 miles four days earlier!) I decided to join him, and when we rejoined the others again a little while later the group actually ended up splitting into two with about half the people heading off on a longer route and I was able to run at a much more comfortable chatty pace.
Friday – 8 mile walk
Not technically a run!
I had planned on going along to the pub trail run with friends on Friday evening.  I headed over to take some promotional pictures of our new club trail race in the afternoon – meeting with the race organiser at 2pm…I wasn't expecting to arrive home just before 7pm!  I probably could have made the run which was due to start at 7, but having covered as many miles as I already had, and with it being a long while since I last ate, I thought it would probably be best to give it a miss.
Saturday – Huntingdon parkrun (5k)

Sunday – Run out with Dan (5.5m)
I really enjoyed this run.  I mentioned the other day that Dan had run at the Welly 5 the other week and had been spending more time at the gym.  The gym he uses is at work (a 90 minute drive away) so he won't have the opportunity to use it over the next fortnight whilst he is off work.  He suggested we head out on a run on Sunday lunchtime.  I had wanted to slot a run in on Sunday anyway, but knew I would struggle in the heat of the day.  Instead, I persuaded him to leave it until the evening and we headed out for a few miles of trail/road down around the lakes near where we live.  Things were slow, as I had warned him they would be, but we mixed it up with some walking when the base of my belly began to feel stitchy (mainly when tackling hills).
I have now made the decision not to run any more of the Wednesday night trail runs.  When the group is larger it can work one of two ways – either as a whole the group ends up slower due to doubling back for runners at the back, and stopping to get everyone over stiles/through gates.  Or, the group is carried by the faster runners and I get pulled along at a pace faster than I currently feel comfortable running at.  Although I'm fairly sure-footed, the grass is rather long in a lot of areas at the moment and I have started to get a little worried about tripping and going down.  I really don't want to give up my trail runs, and still plan on running out on my own/with anyone that volunteers to come with me(!) but I think it would be silly to continue running as part of a large group and then have something happen that I could have prevented by being less stubborn!
Running is a massive social thing for me though and it does upset me that potentially I won't see many of my friends for at least another 14 weeks on the trails.  (Based on eight more weeks of pregnancy and then six to recover from childbirth.)  I know this could end up being longer as well, depending on whether the baby arrives late, and how quick my body takes to recover.  I'm still hoping to head out on the Group 6 road runs from running club on a Thursday evening when I can for the time being, but I will miss everyone else.
You can read all of my previous pregnancy posts here.