Another week, another new parkrun course…this weekend I made it over to Milton Keynes for their parkrun.  This was parkrun number 58 for me, and the 9th different course I have run.
If you haven't already, check out Emily's site.  She is running 52 parkruns in 52 locations throughout 2016 in order to raise money for Alzheimer's Research UK and to encourage lots of others to take part in the Saturday morning fun that is parkrun.  What an awesome challenge!
I'm no-where near 52 different parkruns yet but I am slowly making my way through all the local parkruns…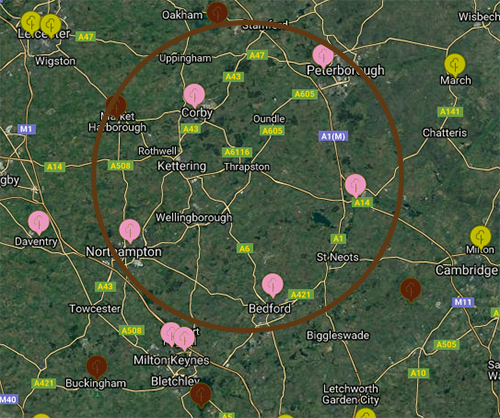 That brown line is all of the locations that are about a 40 minute journey from me.  The pink parkrun markers are the ones I've already been to (Peterborough, Corby, Northampton, Huntingdon, Bedford, Daventry, Milton Keynes and Linford Wood).  The brown parkrun markers are the next five on my list to try, possibly starting with Market Harborough, as this is still within my brown circle.  The other four being Buckingham, Rushmere, Wimpole Estate and Rutland Water.  Most of these are about an hour's drive away, so still doable without sacrificing too much sleep on a Saturday morning! 😉
On Saturday morning of this week I parked up at the Xscape carpark, where I met up with Laura and we took the 15 minute walk over to the start of Milton Keynes parkrun at Willen Lake.
Now Milton Keynes to me is very samey.  It's a relatively new town (arrived in the 1960s) and built with roads in a criss-cross fashion, with like a million roundabouts – one at every junction.  I've run the marathon there three times, the half marathon and 5k there this year, and the EMGP 10k race twice.  The marathon route was different all three times I ran it, and the half, 5k and 10k all encorporated different routes too.  Yet, place me down somewhere along a redway (the MK cycle routes) and I wouldn't be able to tell you at all where I was!  The walk over from the car park to the start was through a huge park that I didn't recognise at all though.  Often used for grazing and apparently there have been cross-country races held there in the past…There were a few hills in sight!  Very pretty though, as all of the parks and walkways around Milton Keynes are.
We timed things perfectly, arriving just a few minutes before the pre-race briefing, which was kept fairly short.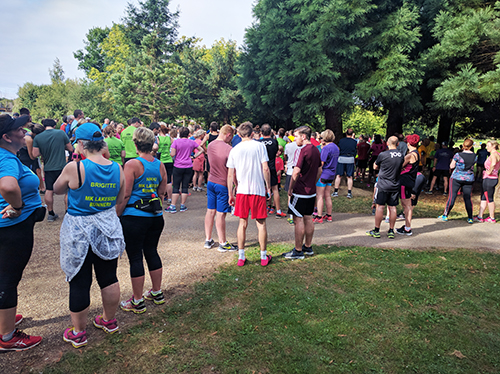 The route is a one-lap course run entirely on the paths with plenty to look at on the way round.  I always prefer a one lap course if possible, rather than a multi-lap course.  It makes the run much more interesting.  One of the runners at our club trained for the London marathon one year by running a one mile loop over and over for her long runs, maxing out at 20 reps of the loop for her last long run!  Although it must increase your mental strength dramatically, I can't say that approach overly appeals to me!
Milton Keynes is a pretty flat area.  The only grumbles I remember there being from runners at the previous races I've run around the area were all to do with the humpback bridges along the redways over the water around the city.  I think there was only perhaps one of these on the parkrun course though.  There were however, 'cross-backs'.  A steep hill, which is climbed using a series of sharp zig-zag tarmac paths almost on top of each other about a mile into the course.  I had been prewarned about these cross-backs but they weren't as tough as I thought they were going to be.  I ran until the very last one, where I power-walked to the top.  (My speedy power-walk meant that Laura had to carry on running behind me though!)  I made sure to stay on the side of the path for the walk but it was frustrating having people stop and slow to a walk dead in front of you on the narrow path.  I presume that it wouldn't be an issue when running at my usual pace though.
Laura and I had purposefully started right at the back, and it was satisfying passing people along the whole route right through until the finish.
There were markers out for '200 metres to go' and so we picked up the pace a bit here.  There was a large group of runners who were just ahead of us and so the aim was to clear them a little bit so that we weren't too congested when crossing the line up ahead.  I didn't get quite the sprint finish I'd been having in previous weeks, but still managed to put a spurt on for the end and beat most of the group ahead of us.  (Some of them also went on to put in a sprint finish!)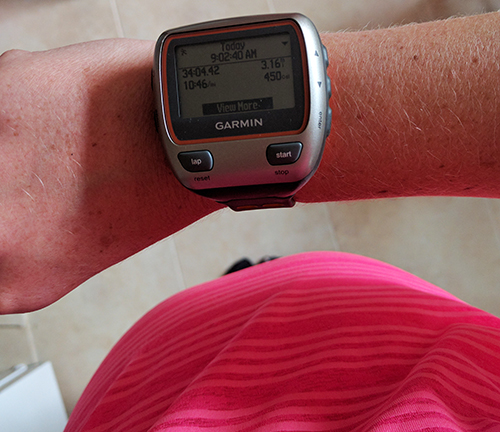 Although I had said to Laura before starting that it was probably getting close to the time where she needed to be running her own parkrun now, as I feel I'm beginning to slow down considerably, (especially as baby seems to have had a growth spurt this past week!), I managed to have a very comfortable, chatty and enjoyable parkrun, completing each mile faster than the last.  (A Royal Flush Negative Split!)
Mile 1: 11:27
Mile 2: 10:39
Mile 3: 10:28
Nubbin (0.16m): 9:11mm
Maybe I haven't slowed as much as I thought I had just lately.  I just checked and this was actually my fastest parkrun time without trying since April!
Garmin time: 34:04
Official time: 34:06
Position: 349/441
Gender position: 112/183
Age category position: 11/18
I couldn't stop for a natter or cake after parkrun today as I was due to get my hair cut at lunchtime and needed to head home for a shower first.
I hate the casual chat for the sake of chat in a hairdressers, but I do love getting my hair cut.  It always feels so much nicer afterwards.  I had started to notice rather a few split ends just recently!  I never get it cut as regularly as I should, so really notice the difference when I do head down for a trim.
Post haircut obligatory shot…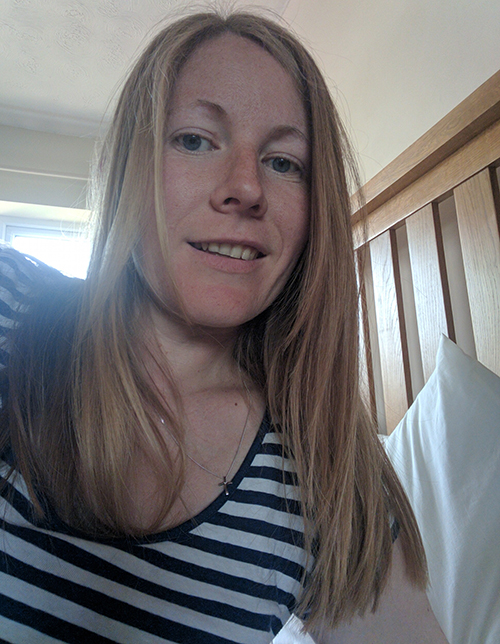 …which was soon followed by an afternoon nap as I'd not had a good night's sleep again last night.
Does your parkrun have any bridges/steep climbs?
Do you prefer a one lap or a multi-lap course?
How often do you leave between haircuts?