So aggggges ago now, way back in May in fact (whoops!), Anna nominated me for the Liebster Award, which is a lovely little award involving fun questions with the aim of finding out more about bloggers and also suggesting new blogs to read and add to your Bloglovin' list!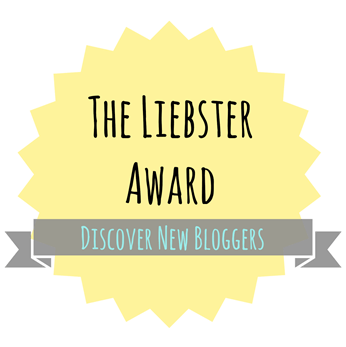 Anna set me ten questions (which I've answered below), and then these are followed by 10 questions for other bloggers to answer for me below that.
Enjoy!  😀
1. If you could have only one meal for the rest of your life what would it be?
Jacket potato with cheese and beans and a side salad.  All food groups covered!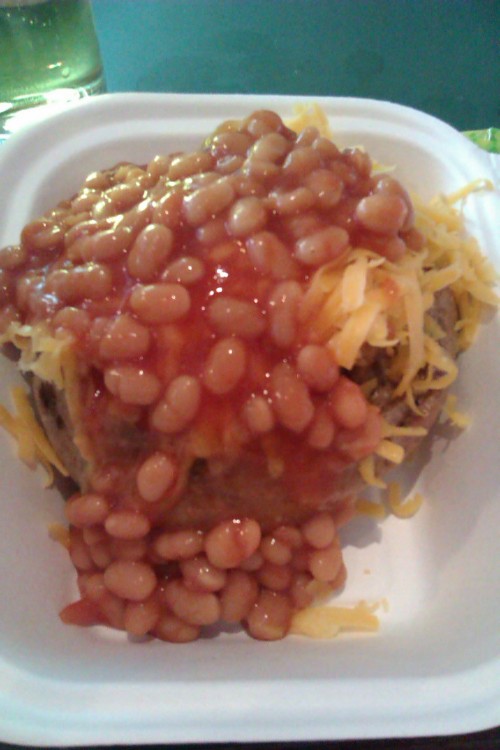 I've really gone off food over the last few months but there's something so comforting about this meal still.  This has been my go-to meal for most of the year as it's pretty light for Summer eating, but pretty warm for Winter comfort too.  During the last half term at school before the Summer holidays I was super busy with all of my GCSE classes and so I regularly picked up a jacket potato with cheese and beans from the school canteen as it required no planning or prep work and I knew I would enjoy it and feel satisfied afterwards.  The dinner ladies know what I'm going for now as soon as I walk through the door!
2. On a similar note, what would be your last meal on Earth?
One of my absolute favourite meals has always been a plate of roasted veg in a tomato-based sauce with a good cheese sprinkled on top for a little protein.  I'm all about variety on a plate so tapas or meals like this are big winners in my book.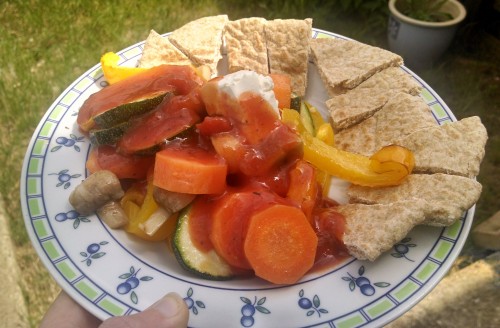 Oh, and obviously the ultimate dessert would have to be Eton Mess.  Nothing beats a good Eton Mess, especially at this time of year!  😉
3. If you could have a superpower what would it be?
I've always wanted to be able to fly.  To have that freedom to get away in an instant and rise up above everything that is happening down on Earth would be pretty cool I think.  I used to have lots of dreams where I could fly by flapping my arms like a bird when I was younger.  It never worked out in real life though(!)
Dan and I really got into watching the TV series Heroes whilst we at uni.  (Did anyone else watch this?)  Although a fantastic concept for a show, ('people all over the world discovering that they have superpowers and trying to deal with how this change affects their lives') the later episodes went progressively downhill before the finale so we didn't hold out much hope for the new series (Heroes Reborn) that came out earlier this year.  We were both pleasantly surprised though.  It's worth a watch!
4. What annoys you the most in life that other people do/don't do?
People who park on double yellow lines!  Guaranteed every time I walk into town there will be at least 5 or 6 cars on the high street parked on double yellow lines and nobody ever seems to do anything about it!  Our town is relatively small and the centre itself is a rather narrow street.  When cars park along the side of the road it makes navigating the street for the rest of us rather tricky, either as pedestrians or motorists.
5. What's your favourite movie?
Terminator II has been my favourite since I watched it in the mid-90s.  I think it's very true about how humans will end up destroying our own race, and I love a film that makes you think.  Other films featuring high on the list are Amélie, Memento, The Butterfly Effect and About Time.  Going to the cinema is one of my favourite things to do.  I just wish it wasn't so expensive!
6. If you had to dress up in fancy dress, who/what would you be?
It depends on the occasion of course.  I really wanted to go as Buffy the Vampire Slayer to a fancy dress school party when I was sixteen and tried to convince my Mum six weeks beforehand that I needed to get my ears pierced, because Buffy always wore big hoop earrings.  My Mum wasn't having any of it though, and I ended up going as a prisoner in stripey pyjamas!  I do have a picture floating around on Facebook somewhere, but I couldn't find it.
Going away to uni though there were lots of opportunities to purchase fancy dress outfits…

(Above: Daphne from Scooby Doo, playgirl, zombie, nurse, Wally and schoolgirl.)
I held a car boot of my belongings on returning home to my parents' following uni and most of the items on that stall were of the fancy dress variety!
7. What's your biggest weakness?
Not saying no to people.  I never want to let anyone down, so always agree to everything asked of me, which always comes back to bite me in the bum and leaves me feeling stressed out.  

8. Favourite exercise and why?
Obviously running!  Walking comes next.  I just generally like exploring somewhere new.  Anything adventurey though, but I don't like heights very much, or things which could fall through.
With running I love that you can set your own goals – whether they are time or distance or even race based, and those goals are entirely individual for you to work towards.  Your progress relies 100% on the work that you put into it.  There's also the great social element of running that you just can't get with a sport like swimming for example!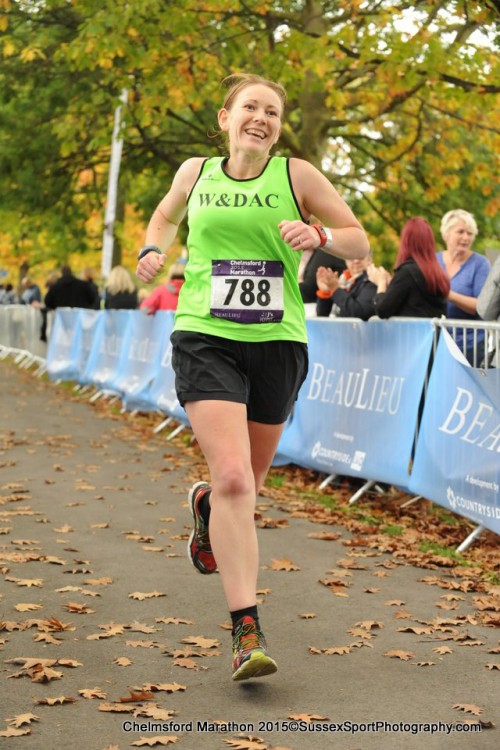 9. If you could go back in time and tell yourself something when you were at school, what would it be?
That it really doesn't matter what other people think and to not worry about being myself and having a voice.
10. If you could only RACE one distance ever again, what distance would it be?
35 miles – the baby ultra distance.  I love this distance!  Slightly longer than a regular marathon, so no pressure for time as most people don't know what an 'acceptable' time would be.
I love that with the ultra distance it's not all to do with speed and that tactics are also involved, – such as when to conserve energy, when and what to fuel with, how long to stop at checkpoints for, etc.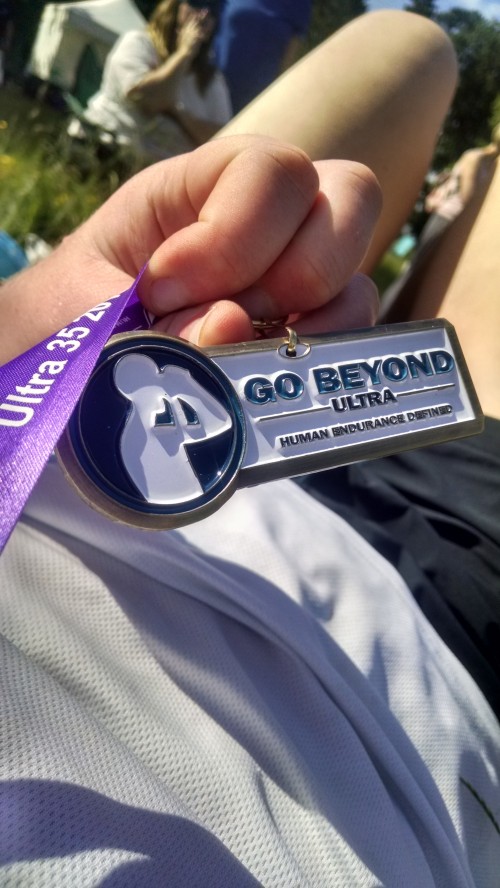 I think Anna and I follow a lot of the same bloggers, so I've tried to nominate people to answer my questions who Anna hadn't already chosen.  These are all a pretty great bunch of bloggers:
Sarah @ Dreaming of Footpaths * Laura @ Run Faster See the World Sooner * Paul @ UltraBoy Runs * Leah @ Naturally Leah * Dannii @ Hungry Healthy Happy
And here are some questions for these guys…
1) What made you decide to start blogging?
2) Have you ever met any other bloggers in real life before?
3) How many blogs do you follow?
4) As today is A level results day, what did you take for your A-levels? (Or GCSEs if you didn't take A-levels)
5) Describe your perfect 'day off'.
6) What has been your favourite running experience?
7) At what point did you realise that you were no longer a non-runner?
8) Are you a fan of obstacle races?
9) What has been your largest fitness expense?
10) What is the nicest thing anyone has ever done for you?
Feel free to answer any of the above questions (mine or Anna's) in the comments, or on your own blog…let me find out a little more about you too!