Every Tuesday since discovering that I was pregnant I have sent Dan an email letting him know how many weeks along the pregnancy is, how long we have left to go and a picture of how big the baby would be if it was a fruit or vegetable.  Every week this gets more and more difficult to do as different charts seem to show conflicting fruits and veg!  I should have just stuck to one chart and worked my way through from the beginning!  Depending on which chart I look at this morning, our baby is showing as the size of a butternut squash or a cantaloupe melon and we are now just 42 days away from our due date.
One of my friends asked during the week how much the baby would weigh by this point, and most charts seem to agree that the baby is about 4.75lbs at the moment.  I'm not sure if this is something that the midwife will comment on or try and assess at the next appointment?
Appointments
No appointments during the past week – I have my next midwife appointment this coming Thursday and they fall every fortnight now until just before I'm due when they take place weekly.
Despite having no appointments this week, I mentioned in my post last week that my midwife had said my iron levels were showing as low when they had tested my blood so I was going to be put onto iron tablets – to take two per day, without food.  Although I've felt a little less weary and dizzy this week, the tablets have not agreed with me and seem to have messed around with my stomach a fair bit.  I didn't take any on purpose at the weekend to see if it was down to the tablets and I felt much better, although my dizziness had returned by the end of the weekend.  I guess I'll just have to put up with feeling pretty rubbish for the remaining few weeks and continue to take them.  I've tried my best to eat as much iron-rich food as well since hearing that my iron levels have been low.
Symptoms
I'm pretty sure I had my first experience of Braxton Hicks contractions on Thursday evening.  I had run out with group 6 at running club and, knowing that we would be gone for more than an hour had purposefully not had anything to eat or drink beforehand, as per my usual pre-run ritual.  About 20 minutes before the end of the run the lower part of my stomach kept tightening up and releasing.  It wasn't painful, but at the same time I was very aware of it and it wasn't due to stomach issues as I hadn't had anything to eat or drink beforehand.  Apparently you are more likely to have Braxton Hicks contractions if you are slightly dehydrated so I guess this is what was happening.  I did wonder what would happen if I started having real contractions whilst out on a run though!
The run leader informed me that one of the group had recently qualified as a midwife (although apparently she doesn't tend to come to many of the Thursday night sessions) so we would be all set if I wanted to continue running right until the very end!
Sleep
Sleep has been a little better this week and the baby seems to have changed from waking up at 2am each morning to 4am.  A much more manageable time!  😉
This happened the other morning though…
4am. Spider spotted in bath. Can't kill it or touch it. Do I wake the husband or sit up and watch it all night?…! pic.twitter.com/yRRJRh6UGk

— Mary P (@ahealthiermoo) August 22, 2016
…I don't do spiders and Dan had returned from a four-day stag do a few hours earlier and had been feeling pretty rough when he headed to bed.  Luckily, in the end I heard Dan stir anyway, so eagerly jumped at the chance for him to dispose of the spider so that I could get back to sleep again!  Another appeared in the lounge last night though.  I can't stand the way they run.  Where are they all coming from?!
Running
I had a couple of really enjoyable runs this week.
Thursday – 4.66m
As mentioned above I ran out with running club on Thursday evening last week.  I'm still running in the lowest group, but feel comfortable doing so.  I'm not pushing myself by being there, but still able to get my social running fix in each week too.  I've had to modify pretty much all of the stretches we do at the end of each run session though.  Touching my toes?…I don't think so!
Sunday – 6.04m (mainly trail)
On Sunday morning I marshaled at our club Go Tri event.  A friend had said he was looking to get a long run in that morning and so arranged to run over to mine (to arrive after I had finished marshaling) and then run 5-6 miles with me, before running home again.  Adding up his mileage, breaking up his run and then company for me on my run too.  Perfect solution! It ended up being pretty warm out and so I opted for a cool-polyester technical t-shirt from the Wellingborough 5 race the other week.  There were only S or XL t-shirts left for marshals from the race, so I ended up opting for an XL, meaning that I would be able to run in it during the remaining weeks of my pregnancy.  Very tent-like, as you can see in the below photo!  It's going to completely drown me when there's no baby left in there!I ran with Tom at the Dusk 'til Dawn race last year and he is planning on running the event again this year.  I took charge of the navigation last year, but this year he will be on his own (and perfectly capable of picking up the pace now that he's not holding back for me!) so I gave him a crash course in following a route on a handheld Garmin (the e-trex 30) whilst we were out on our run on Sunday.  It took me a while to set up a route for us to follow though.

Watching the most boring YouTube video about how to create a gpx file. — Mary P (@ahealthiermoo) August 20, 2016
Is it just me, or do Garmin products come with very few instructions?!  In the end, I just uploaded a route from my watch to the e-trex and we followed that on screen.  The routes are fairly straight forward to follow once on the machine though so there were no problems there.
Although a little warm, it really was a lovely day to be out for a run, and I wasn't ready to be finished after 5 miles, so we tacked an extra one onto the end!
Tri marshaling this morning followed by 6 sweaty trail miles. 😁 Sofa time now! pic.twitter.com/0EltrwKErj

— Mary P (@ahealthiermoo) August 21, 2016
Back in time to watch the Olympic male marathon, which ended up actually being really eventful!
Carrying on as normal
Last week whilst Dan and my Dad were putting the new kitchen units in, I busied myself with chopping down the massive hedge in our front garden between our house and our neighbour's.  It did involve standing on step ladders and leaning over to saw bits off of the larger sections which seemed to concern a few people when I told them what I had been up to!  I'm not one to sit around and do nothing though, and this was something I could do, whereas bending and lifting are no longer practical exercises for me!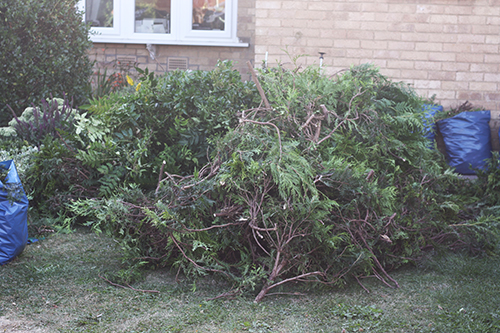 I took about 2-3 foot off of the top of the hedge and this picture of the pile of hedge tops was after maybe only half an hour of cutting!  It literally took all day of me cutting and my Mum helping to lug the branches over onto the lawn ready to be trimmed down to size and placed in rubbish bags.  (Cutting down to size and placing in bags took even longer!  Luckily, a friend has since said that I can borrow some space in her horsebox to transport what's left to the tip, so I won't need to be chopping any more pieces up.)
It's made a massive difference to the amount of light that is let in through our lounge window though.  We can see again!
Shopping
Dan and I finally headed to Tesco yesterday to buy all the little things that they suggest you should pack for your hospital bag.  Most of the time was spent with us wandering up and down the aisles not having a clue where to look for stuff!  How should I know where to find breast pads having never needed them before?!  And nappies?…Am I supposed to know how heavy my baby is going to be when it comes out?  We literally spent so long in the newborn aisle swapping items in and out of our basket!  Finding the snacks and bottles of water for the hospital bag was the easy bit! 😉
We hadn't yet bought any clothes for the baby either.  I think not knowing the gender and with almost everything in the shops coming in either pink or blue has made it seem less real or necessary just yet.  Although, when we started thinking about packing our hospital bag yesterday morning we realised it probably wouldn't be very practical to send the baby home from hospital either dressed as Santa or The Hungry Caterpillar (two of the novelty outfits we have received as gifts)!  So we did pick up a couple of cheap plain white sleepsuits for the first few days, with the plan on buying more clothes once we know if it is a boy or a girl.
Social
Nearly every Monday evening for the past three years, Dan and I have escaped from late night marking or housework and made our way over to our local pub where a pub quiz is held.  We normally perform terribly and usually come as one of the bottom few teams, but we've become regulars there on a Monday night and have gotten to know the other teams that play – all who stop to speak to us if we happen to see them out and about in town.  Despite never having won the quiz outright in points, we have won the monthly draw before (names of teams that turn up for the whole month get put into a hat and are drawn out until there is one remaining – who then win £40).  Last night was the draw for August (no quiz on a Bank Holiday Monday) and we didn't get pulled out until the team before last (this has happened so many times, – getting our hopes up before having them dashed!)  Afterwards, one of the ladies who usually sits opposite our table came over and asked if we had long left until the baby arrived.  I told her that it was 'due on October 4th, so not many weeks to go now!  We should make the September quiz draw but that would probably be it for a little while.'  It does make me sad that we won't be able to attend the pub quiz anymore, but it wouldn't be practical to have a baby in the corner of the pub until 10pm and we don't have family nearby who could babysit.
For some reason my previous pregnancy posts don't seem to automatically link up in the 'Related Posts' section at the bottom of each post, so I've created a new page where you can now find all of my previous pregnancy posts.