35 weeks pregnant and baby is now the size of a winter melon.  (I'd not heard of these before, but apparently they are an Asian variety of melon.)  The baby is somewhere around 18 inches long and 5 1/4lbs now.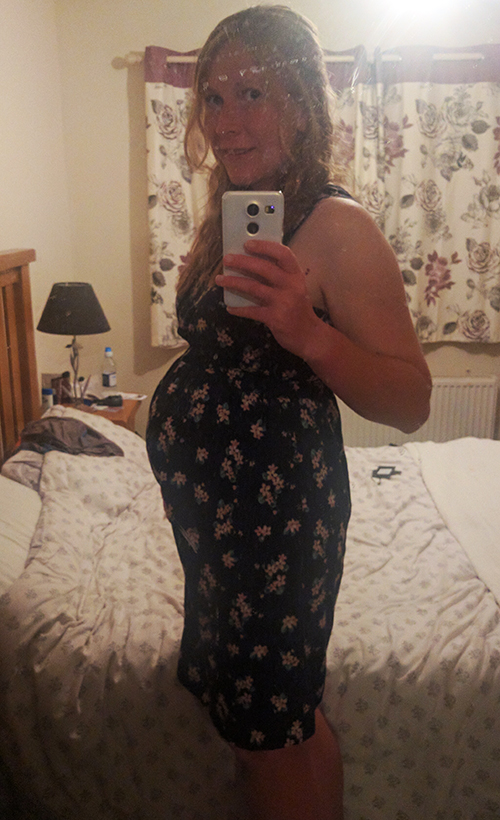 (Poor lighting in the bedroom at night – sorry!)
Appointments
This week my midwife appointment didn't go so well.  I arrived first thing in the morning rather flustered and feeling a little weak, although with no good reason.  The temperature had cooled somewhat by the time Thursday rolled round and I'd had breakfast not long earlier so should have had enough energy to get me through until lunchtime.
My midwife started by taking my blood pressure, which appeared normal and then tested my urine, which showed a trace of sugar.  A trace showed at my last appointment also, when I was told just once was nothing to be concerned about, but if it happened a second time, that I would have the test for gestational diabetes, just to be on the safe side.  As I was at low risk for gestational diabetes in the first place (BMI under 30, no diabetes in my close family) it is not normally offered unless a trace is shown during a midwife appointment.  Following my midwife appointment I had to go and make an appointment for the gestational diabetes test at my local blood clinic a few miles up the road.  (My appointment is booked in for a week on Thursday.  I need to fast from 10pm on the Wednesday evening, then they will take a blood sample from me on arrival on the Thursday morning, give me a super sugary drink (yuk!), wait a couple more hours and test my blood again.  Not an appointment I'm looking forward to.)
When I went to climb on to the bed so that the midwife could locate the baby I immediately felt lightheaded and dizzy.  I got as far as rolling up my top to reveal my stomach before having to roll over onto my left side to try and stop the world spinning.  My midwife brought a cup of water over to try and help make me feel a little better.  After a few minutes I felt well enough to lie on my back again and so the midwife had a feel of my tummy to locate the baby.
Next snag.  On locating the baby, the midwife informed me that it still had it's head up in my ribs and bum sticking out on the right, lower side of my stomach, just like at the last appointment.  By now the baby should have turned and be head down, getting ready for delivery.
Our baby, is not.
I was told that if at the next appointment on Sept 8th the baby was still in the breech position then I would be taken for a scan to determine the exact location of the baby and from there we would be able to discuss delivery options (which I took to mean a cesarean – something I really do not want).  I questioned if there was anything that could be done to turn the baby and was told that often (and in my case), women who are fairly active and work out have much stronger stomach muscles, which can prevent the baby from turning inside ready for delivery.  So I guess it's just cross fingers and hope for the next fortnight.
As the midwife went to collect the doppler from her desk I began to feel really faint again, despite being in a lying down position.  I managed to hold off saying anything until she had located the baby's heartbeat before speaking up and being allowed to roll over onto my side again.  Rather annoyed at my body for feeling so weak and not letting me hear the heartbeat for very long though.  I was fine for the walk home.
The baby doesn't seem to have grown again either, staying at 31cms when measured this week, the same as it measured at 32.5 weeks pregnant.  Again though, the midwife didn't seem too concerned about this.
Social
I had a little mini meltdown after my midwife appointment which had been building for a while.  I know people will expect to be able to come and visit at some point after we have had the baby, but our house still needs so much work doing to it.  Especially the downstairs, where people will be visiting us.  We're really running out of time, having struggled to find a plasterer for so long, which caused delays with everything else.  I had hoped for the house to be finished ready for Dan's birthday a few weeks back, but there isn't a single room complete yet, Dan has already returned to work, I go back on Thursday this week and we have every weekend booked up with something before the baby is due now.  I don't really want people to visit our incomplete house.  (I know they will be visiting us, and not care what the house looks like, but I care.)
Our busiest week is in a fortnight.  We have a wedding in Norfolk on the Saturday, a christening in Peterborough on the Sunday, a funeral in Norfolk on the Wednesday, and then I have volunteered to help crew at the Round Norfolk Relay race in Norfolk the following weekend, also fitting in with meeting up with a friend from Norfolk who had her baby over this past weekend.  I'm not looking forward to all of the traveling over that week – it will be a lot of miles, and also most likely my busiest marking week at work then too.
Just 22 days (maximum) left at work now though.  The two training days at the end of this week, followed by four weeks of teaching.  (This could potentially be much less depending on impending baby-arrival or if I end up having to have a cesarean.)
Purchases
Two of my friends had babies over the weekend – one on Friday night, and one Monday morning.  Both boys.  I feel like I should get a bulk batch of 'Congratulations!' cards in this year!  Of my six friends who were/are pregnant this year (four of whom were bridesmaids at my wedding!) there has so far been a boy born in January, a girl in April, two boys this weekend, Dan and I are due with an 'unknown' in five weeks, with another 'unknown' and a girl due in December.
Dan picked up a large gym ball for me this week as one of the alleged ways you can try and turn a baby before birth is by bouncing on a gym ball for an hour each evening.  I'm not sure how much truth there is in this, but it's easy enough to fit in whilst I'm eating my tea or catching up on emails!  Another supposed way of turning the baby is by hanging off the back of the sofa upside-down with your legs up in the air.  I probably won't have a go at this one quite so much, but I'm prepared to give anything a shot!
I also bought £117 worth of food for meal prep at Tesco earlier in the week (post to follow) so that I could crack on with stocking up my freezer with healthy meals for when I come out of hospital after having the baby.  I actually expected to spend much more than this, but I've already cooked up 17 meals ready for the freezer, with three packs of sausages, a pack of beef and another two chickens to cook up, along with a lot of veg to prep.  Looking forward to not having to live on pizza and chips post-baby and not having to wash up or stand and peel vegetables!  (Although I was rather tired on Sunday evening after standing at the hob for the majority of the afternoon.)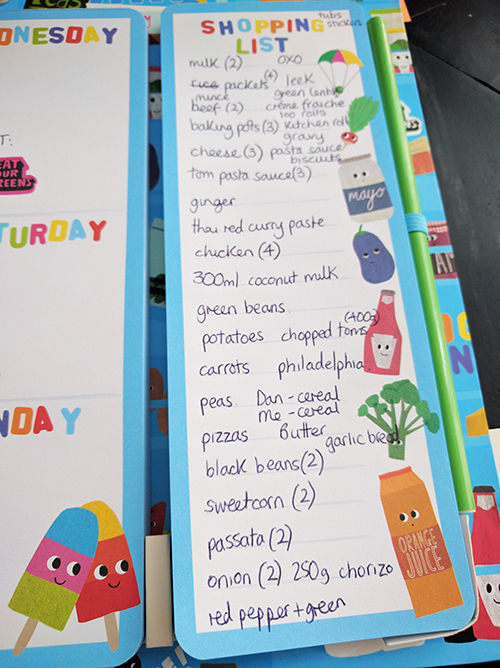 Running
Some good runs again this week, including a new parkrun (to me) at Market Harborough on Saturday in my fastest time since April, despite chatting the whole way round.  Other than feeling fairly slow and cumbersome, I didn't really feel pregnant at all during this run which was nice!
I took a rest day on Sunday as I was due to run the Cakeathon down in Kent on Monday, (full recap to follow) where I decided to stop at four laps (just short of 18 miles), mainly due to not wanting anyone to think I was taking excess risks.  I was tempted to make it up to marathon distance though!  Fab event, with a really friendly team and great bunch of other runners, although it was super hot out there yesterday.  Quite a lot of those 18 miles included long walking sections amongst the running due to the large number of Braxton Hicks contractions my body decided to have.  (Thanks body!)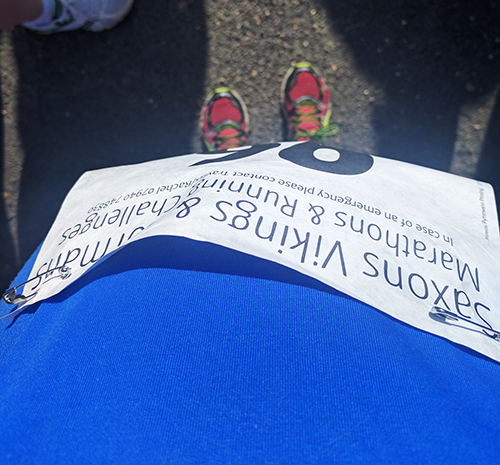 Running has become just two runs a week in recent weeks, mainly due to time constraints, which I can't see changing in the near future. (See the 'social' section above!)
I've still been completing the 10,000 step daily challenge I set for myself way back in the early days of pregnancy though, which I've been logging on my Garmin account.  There were a few days way back when I missed out on my target by a small margin, but I've now completed at least 10,000 steps for the last 46 days continuously and I'm still going strong!  I've been out walking for probably 2 hours each day over the Summer, and I think this has a lot to play in why I still feel so healthy and happy.  I would literally go crazy if I had been confined to the house and was unable to get out in this weather.  (I'm really hoping I don't have to have a cesarean for that reason.)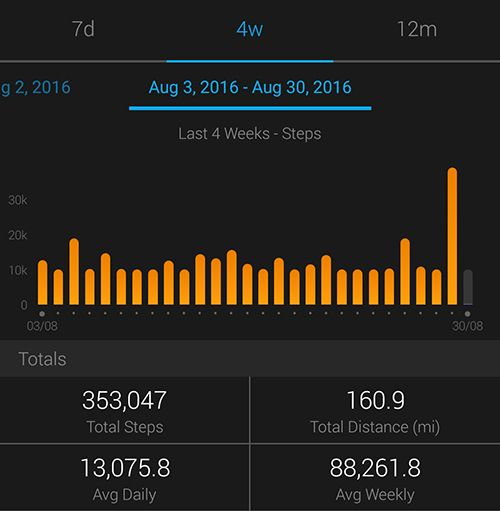 Symptoms
Sleep was so much better this week!  I'm still waking up occasionally with leg cramps, (pregnancy leg cramps are luckily in no way as painful as running leg cramps!) but am able to fall back asleep fairly quickly again afterwards.  I've been going to bed a little later in the evening over the past fortnight, which I think has helped.  Hopefully I'll continue to be able to get enough sleep when school starts up again, as I don't fancy teaching bottom set year 10 on two hours of sleep!
As briefly mentioned above, yesterday I experienced my longest bout of Braxton Hicks contractions (probably over the course of 100 minutes) whilst at the Cakeathon race.  Annoyingly they started at mile two of the event and I wasn't able to run through each one as they were too uncomfortable, instead choosing to run around the times they were taking place.  I could continue to walk through them, albeit at a slower walking pace than I would normally travel.  It's such a weird feeling to have your stomach suddenly turn rock hard whilst running!  I had researched a little online after having some BHCs during a run at 34 weeks and it seems that you are OK to continue exercising through them.  Only if they become actual contractions or turn painful is there the need to stop completely.  As I mentioned last time, they are often brought on by slight dehydration, so the fact that yesterday was such a sunny and warm bank holiday day was probably where they stemmed from.
I'm still lucky enough not to have any stretch marks, although my bump has remained fairly small and compact in size.  I'm much more comfortable with my bump size now than I was.  Worst thing I probably did whilst not really showing a few months back was to click on #28weekspregnant in Instagram and see women looking much more pregnant than I do even now when I now just have a few weeks left to go!  Everybody's pregnant body is different though.
You can read all of my previous pregnancy posts here.
Have you ever set yourself an activity or steps target?
Any upcoming weddings/christenings to go to?  We have three weddings (Sept, Oct and Nov) and two upcoming christenings (Sept, Oct) this year.