I've moaned before about living a 30 minute minimum car journey from all parkruns in the area.  All those people living within running distance of their local parkrun don't realise how lucky they are!
This weekend though was the inaugural Kettering parkrun – a mere 15ish minute drive from my front door.  Kettering on Saturday morning was my 11th different parkrun and 61st in total.  Continuing our parkrun Summer tourism stint, I met up with Laura at Wickstead park carpark a few minutes before the start.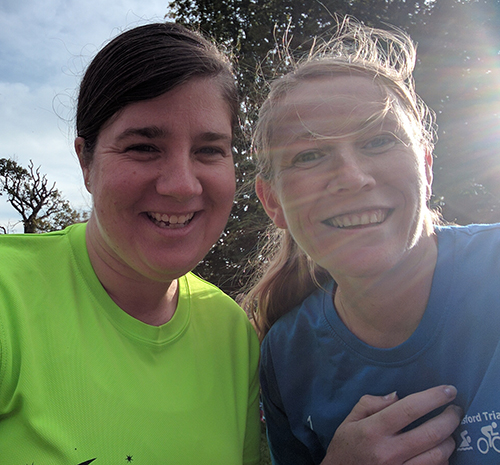 Quite a few minutes before the start in fact.  I didn't realise just how little time it would take to get there and as there was a parking attendant filling one of the marshal roles, parking was a breeze.  In future I think I might even be able to leave my house as late as 8:30am to park up and walk to the start with time to spare.  Lie ins on a Saturday morning once more for me!
Kettering had a great turn out for their first event.  There are several running clubs local to where I live, all with runners currently traveling miles to their nearest parkrun.  Many of whom made the switch from Northampton to Kettering for the inaugural event.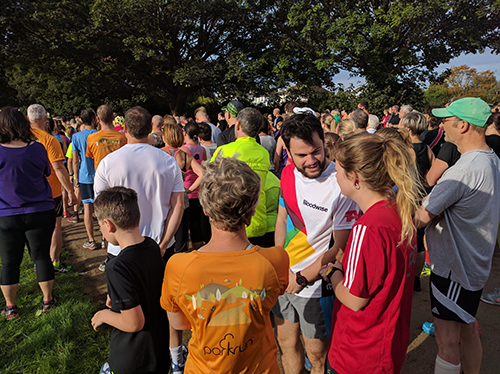 We all received our pre-race briefing at 9am and were set off on our way.  The course is two and a half laps around the park, which has lovely wide pathways, lined with grass – giving even more room for overtaking and finding your place in the run.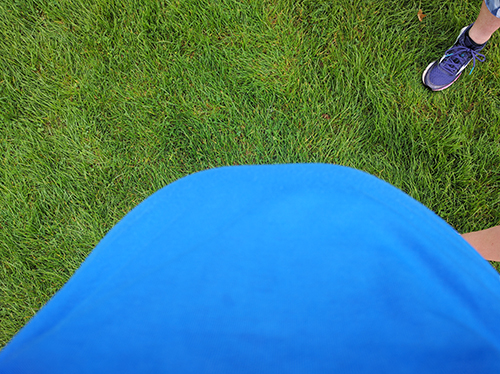 (I can no longer see my feet when I run!)
There was never any bottlenecking or feeling of being crowded out on the course though, despite the large numbers of runners at the event.
The course sets out on a slight uphill, before hitting a slight downhill and crossing over the (small) railway tracks.  There was a board in place over the inner bits of the track.  But, as I commented to Laura, it would probably be better to have a board going fully across the tracks, rather than just the largest middle area, as it could still potentially be a trip hazard when legs were tired on the second lap.
Once you reach the very bottom of the park, you cross a long bridge.  It's one of those bridges where the vibrations of other runners heading across it causes the bridge to swing back up and hit your foot as you are bringing it down for your next step.  Very disorientating!  The second time I went to cross this bridge a dog ran in front of me, causing me to sidestep.  At nearly 39 weeks pregnant, sidestepping on cue was rather a hard task, and I was a little annoyed that the owner of the dog didn't even apologise for not having her dog on the lead.  No harm done though luckily.
The final half lap is on a slight downhill and I found that I could really pick up the pace still.  So I did and came past several people on my way to the finish.  So nice to see a 7:36mm pace recorded for the nubbin and I wasn't even out of breath at the end!
Mile 1: 10:40
Mile 2: 10:29
Mile 3: 10:35
Nubbin (0.2m): 7:36mm
I don't think the course was actually long, but I ran on the right of the track the whole way round (on an anti-clockwise loop) and made no attempt to stick to the 'race line' as such, hence the extra 0.1 mile of distance showing on my Garmin.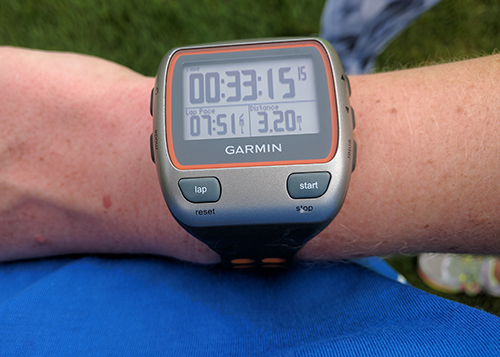 Garmin time: 33:15
Official time: 33:15
Position: 245/331
Gender position: 78/140
Age category position: 6/15
Fastest parkrun since the 2nd April, and still I managed to chat all the way round.  A time starting with 33:xx is never going to win any prizes, but I was very happy with how comfortable I felt running at that pace just a few days before having a baby!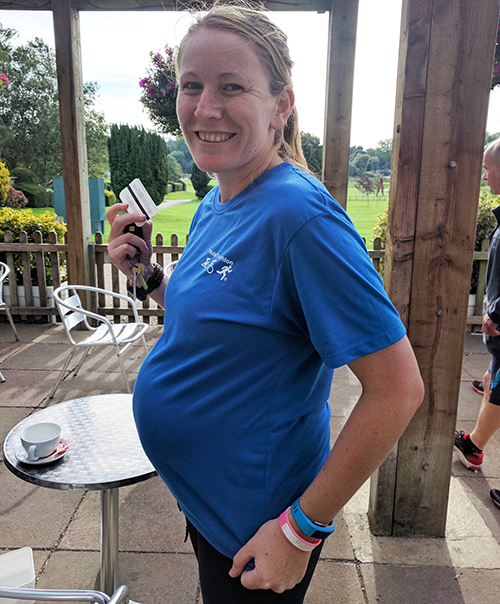 Car parking is free if you get your ticket swiped in the cafe following your run and leave the park before 10:30am, otherwise parking costs £3.
This parkrun is definitely going to become more regular on my parkrun list in future.
That's it for parkrun for me for a few weeks now.  My caesarean is scheduled before next Saturday and the guidelines are not to return to any form of exercise for at least six weeks, with even walking 5k suggested as being a push until several weeks down the line.  I don't want to overdo it and end up taking longer to get back running again, so I'm going to be sensible about things and just marshal for a few weeks instead.  (Although, probably not for the first couple of weekends!)
In the past I've volunteered as marshal, tail runner and photographer.
What's your favourite marshal role?
Any suggestions for best role to volunteer in with a child?!