Because the pink top is just one of two which fit me right now, and it always seems to be the one not in the wash basket on a Saturday morning!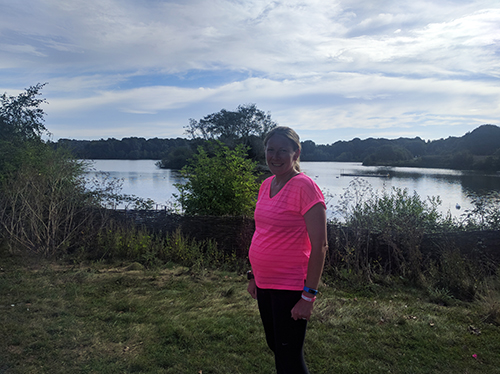 As we headed to a new-to-me parkrun (Market Harborough) last week, it was time for a new-to-Laura parkrun this week, and so she drove over to mine for 8am so that we could make our way over to Peterborough parkrun, held at Ferry Meadows.
I knew that the course had changed slightly since I had last run the event, although I wasn't sure what changes had been made.
The walk to the start is now much shorter, and we began much closer to the cafe than the long walk to the start line that we used to have to take.  I was a little confused when we ran past the finish line on the way out though as it appeared to be in the same location.  Where was the course going to lose the extra metres that we had added on at the start of the event?…!
Peterborough parkrun is run around the lakes and is another lap-course.  Last time I ran, we completed a mini loop around one lake, before two large loops around both lakes and through to the finish.  This time, there is just the mini loop followed by one and a half large loops around both lakes, before runners turn off and head back along a slightly different route to the finish (part of the same way you head out on the starting mini loop but in reverse).  Although the Peterborough course isn't hugely congested, it meant that faster runners weren't having to dodge so many other runners as they were lapping people on their way to the finish and it allowed the rest of us to run as larger groups along the track.
As Laura and I ran over the second bridge on the first lap, we spotted a lady who had fallen over who was now sat on the side of the path.  There were a couple of other runners with her and she appeared to have just fallen and knocked herself.  As there wasn't a lot we could do and everything appeared to be under control, we continued running.  The bridges can be a little slippery at times, but the worst part about running over the bridges is the sensation when they bounce up underneath you to meet your feet as you run along!
Just like last week, the run felt super comfortable throughout and I easily ran another Royal Flush Negative Split:
Mile 1: 11:02
Mile 2: 10:25
Mile 3: 9:55
Nubbin (0.23m): 9:00mm pace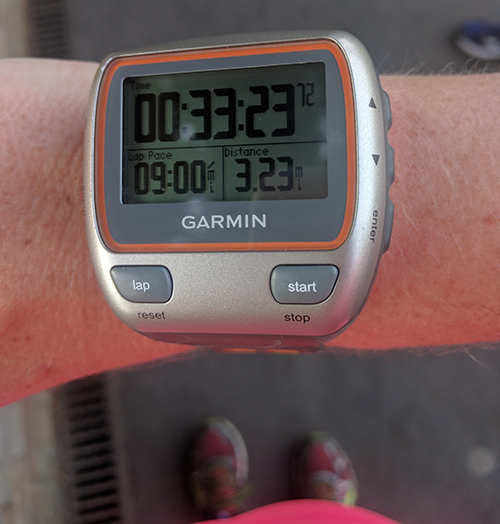 The course clocked up a fair way over on my Garmin – guess I must have weaved a fair amount out there!  I was just two seconds slower than my run at Market Harborough the week before, but had covered more distance, so my pace worked out faster overall.
Garmin time: 33:23
Official time: 33:24
Position: 366/494
Gender position: 80/123
Age category position: 117/195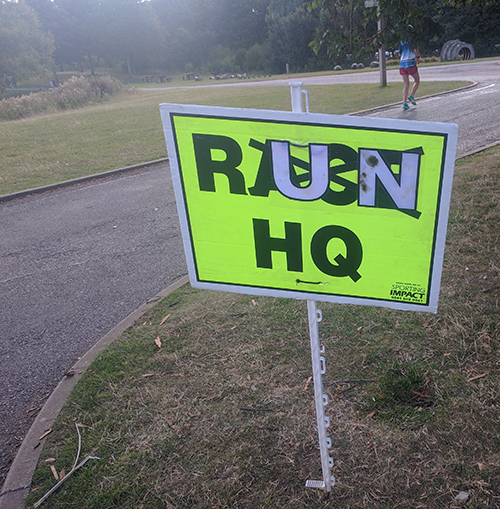 (Love this sign at the start!)
This past week was super busy with the Cakeathon on Monday, lots of final GCSE coursework marking to do ready for school on Thursday, and then with returning to school on Thursday for the first two days of term.  Throw in the fact that my parents were staying over Wednesday-Friday to help with fitting the kitchen (along with a million other odd renovation jobs that still need doing to our house), slotting in a running club committee meeting on the Thursday evening, being back to a 5:15am get up for work each morning, and I was very ready to meet the trail run gang at the pub for dinner following their run on Friday night, and then slot in a parkrun on Saturday morning to escape from the madness of everything else.  Maternity leave cannot come soon enough, despite not being scheduled to begin until October 4th (unless baby decides to come early).
Did you start your weekend with a parkrun?