I'd appreciate it if you could pretend that I was a super organised blogger and had managed to get this post out on time yesterday, instead of heading towards bedtime a day late!
I had all the best intentions to continue posting on the blog 4-5 days each week following the Summer holidays, but frustratingly the first week back at work has been so ridiculously busy I've barely had time to eat some days, set my alarm for stupid-early o'clock on others and am on serious countdown until September 30th when my maternity leave begins right now!
That said, it has been lovely seeing my year 8 form come back slightly taller, with a few deeper voices and tales of their busy Summer holidays.  I also have some lovely year 11 groups this year (along with one awful year 10 class) – Shame I'm only in school for the first four weeks of the year, and won't be returning again until May next year after all of the year 11s will have left.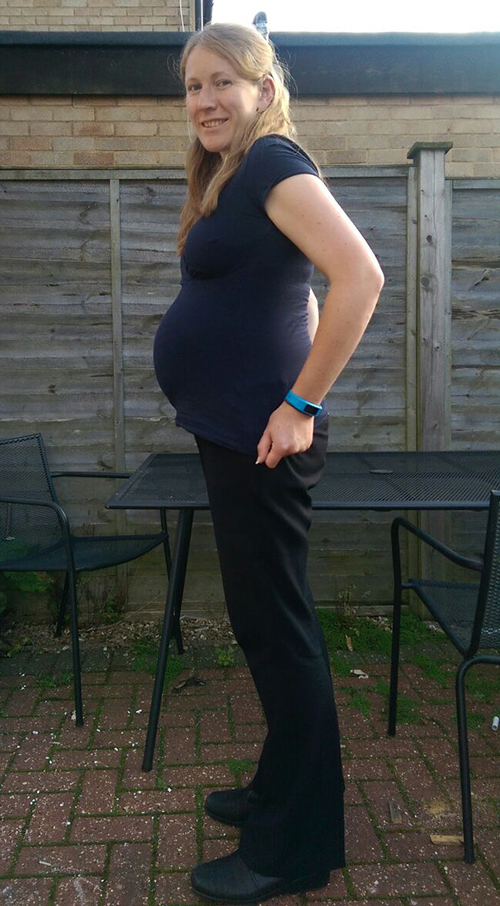 Looks like baby grew again this week.  One of the technicians at work asked if I was starting my maternity leave at Christmas earlier today.  Christmas?!  I'm pretty sure I would no longer be able to walk and just topple forwards if I continued to get bigger until Christmas!
Appointments
No appointments this week, although I am hospital-bound in the morning for my gestational diabetes test, and will be visiting the midwife in the evening tomorrow to see whether or not this baby has turned yet.  I've been bouncing on my ball every time I remember to try and encourage it to spin round, but I'm not too hopeful of it having happened yet.  I can still feel kicks in the bottom of my belly.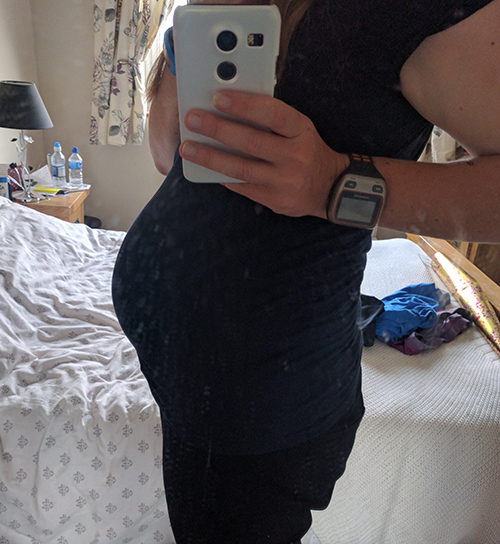 (Every week I take this photo I end up thinking 'I really should clean our bedroom mirror!' and still haven't gotten round to it!)
Purchases
No purchases made for us or our baby this week, but we bought several outfits for my friend's baby who was born over the Bank Holiday weekend.  I pointed out to Dan that we had actually purchased more outfits for my friend's baby than we had our own now!
I worked at the Northampton Half Marathon for Go Beyond again this year on Sunday (post to follow), and was presented with a lovely little bundle of clothes from the team after the race, which was really nice and completely unexpected.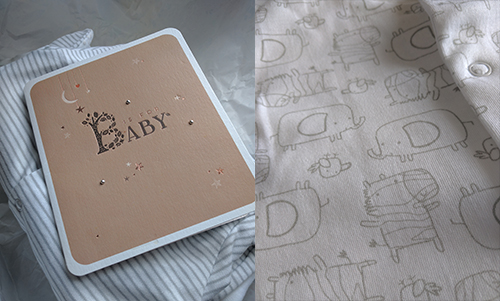 Running
Another two runs this week:
I love that I can still run a consistent parkrun without the need to walk at 36 weeks pregnant, even if it does take me 33 minutes now!  I also ran out for 7 miles of trail with a friend on Tuesday evening to test out a pub route for a future club pub run.  It's a route I've run several times in the past, and led on group club runs, although I haven't run it for a little while now, so I needed to check that the paths were still accessible.  We ended up heading out slightly later than normal and I took my headtorch out for the first time in a very long while.  Running with just one other person it didn't matter too much though, as there was no pressure to keep up with a fast front-crowd and risk losing my footing by going out too fast.  We didn't need to use headtorches for long, but by the time I am back regularly running the evening group trail runs again it will be time to stock up with sets of new batteries ready for weekly wearing once more.  I was happy with my run on Tuesday as well.  It was never going to be the fastest trail run but I was fairly consistent and I only really walked the gradients and rough ground for fear of falling.
Symptoms
I honestly thought that my body was preparing to have the baby on Monday evening.  I was tired from over-working at the weekend, had gotten up early that morning to complete more work, and with it being the first day back at school for students with two new members in our department I was feeling rather mentally drained by the time I got home.  I started experiencing some uncomfortable cramps below my belly which came and went, but progressively got more uncomfortable for at least a good hour in the evening.  I couldn't sit or stand still through them as it was more comfortable to move around.  I rang a friend who already has a couple of babies for advice, but as the night went on, the cramps started to fade and I put it down to my body being rather tired and having had a full-on day at work that day.  I haven't felt anything similar since.  It did wake us up, realising that the baby could come any day now though, with just 28 (now 27) days until my due date.
You can read all of my previous pregnancy posts here.
Have you run with a headtorch yet this Autumn?