This week was a big one in terms of baby, so expect a long post below.  Life has been absolutely manic just lately and with taking on 190 year 11 students for these first few weeks of term, alongside still renovating the house, trying to keep up with running, managing to fit in a wedding and christening at the weekend (both in different counties)…it's been a struggle this week and I've really been looking forward to my bed each evening!  I'm desperately missing blog reading, and the cathartic process of blogging itself, but there literally have been no spare hours in the day.  Perhaps once my maternity leave begins I can have a proper catch up!
Once again, imagine that I was super organised and had posted this on Tuesday morning, not Friday morning…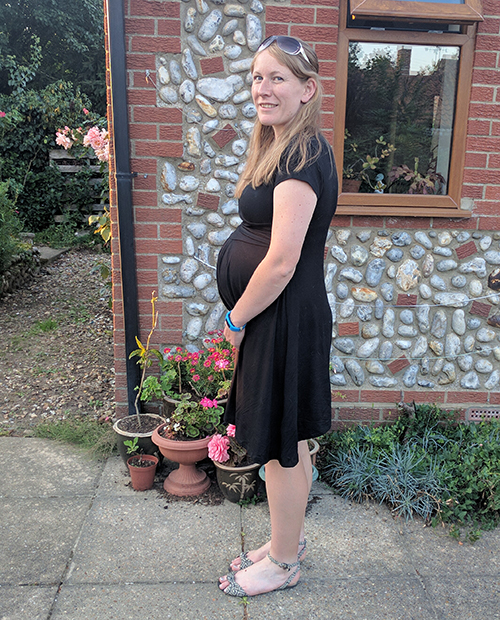 First off, I am now 37 weeks pregnant.  Baby is apparently the size of a striped skunk.  (I gave up hunting for fruits that measured the same size as baby as there didn't really seem to be very many towards the end, so I moved onto the animal kingdom instead!)
21 days until my due date, although my delivery date may be much closer.  More on that to follow though…
Appointments
Last Thursday was a busy day for me with both my Glucose Tolerance Test (GTT) in the morning, followed by a midwife appointment in the afternoon.  I didn't believe that I had gestational diabetes, despite a trace showing up twice.  The baby has always measured as small, and I don't eat a huge amount of sweet items on a day-to-day basis anyway, but I really went off chocolate and dessert in general when I fell pregnant at the start of the year.  To be on the safe side though, the midwife booked me in for a GTT following the two appointments where my samples showed a trace.
A GTT involves fasting from 10pm.  You then arrive at the blood centre the following morning to have a sample of blood taken.  This blood is used to measure the baseline level of sugar in the blood.  After your blood has been taken, you are given a sugar-based drink to consume.  Speaking as someone that barely strays from water or milk when it comes to drink choices and who had been dreading downing a sickly, sugary drink on an empty stomach, it wasn't actually that bad.  I did have to sip it slowly though and it won't be anything I rush off to stock up on in my fridge!  You're then moved into the waiting room, where you have to sit still for two hours until they can take another sample of your blood.  Sitting as still as possible whilst baby feels like it's squirming around in your stomach – high on a sugar rush – is very difficult and I felt rather squirmy myself by the end of it!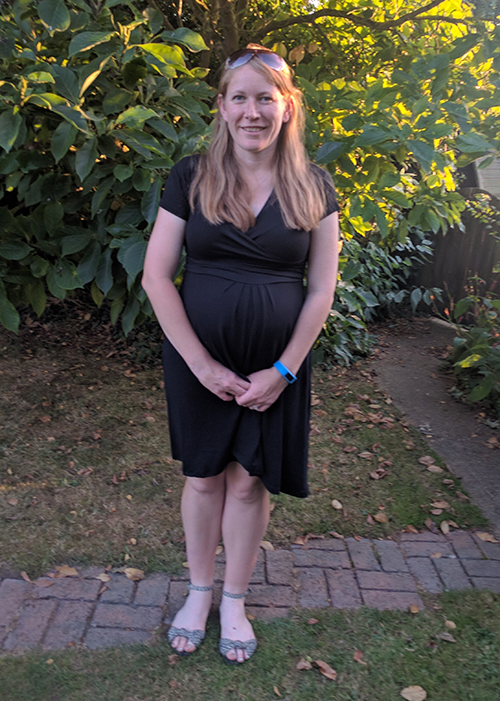 I returned to school for the afternoon following my GTT, only to rush back after my final lesson for a midwife appointment at 4:30pm.  I felt much better at this appointment than I had done at the previous visit.  My sample showed no trace this time, and when questioning my blood results from that morning, I was told that my iron levels had increased marginally from 105 to 107.  Still a lower number than they would like, but heading in the right direction.  The midwife wasn't able to confirm the results from my GTT at the time, but I have since had confirmation that I do not have gestational diabetes.
I told the midwife that I was pretty sure that the baby was still head up, despite my attempts to turn it with bouncing on my gym ball amongst other things.  She confirmed almost immediately that this was the case, and the baby's head was in fact still very much lodged up in my ribs. She located the heartbeat with ease and everything sounded healthy from that respect, before measuring bump at just under 33cms.  For the first time she commented that this was rather small for the number of weeks that I was at.
After returning to my seat she told me that she was going to refer me to a consultant at Kettering Hospital.  Baby should not still be this way up in the 37th week and Kettering Hospital would not let me deliver naturally if the baby was to remain breech.  She explained that the procedure would be to head in for a scan at the end of the following week (today) where they would determine the exact position of the baby and establish whether or not attempting to turn it would be an option.  Attempting to turn can itself become a problem if the waters break or the umbilical cord becomes tangled.
If turning was an option, then they would offer it to me, and if not/if turning failed, I would be booked in for a caesarean at 38.5-39 weeks.  NOT the news I wanted to hear, and I was rather upset on Thursday night following my midwife appointment.  The midwife was so sure that the baby wouldn't turn at this point and that they would also be unable to turn it manually, that I do not even have any more midwife appointments booked in following my scan.
I have come to accept the decision over the course of the week and obviously know that if ultimately the decision is made by the hospital that I require a caesarean, that they know best, and it will be best for both me and baby.  But it still wasn't the easiest to get my head around.  (I will blog about my feelings on this at some point in more detail.)
Purchases
Not a purchase as such, but the midwife handed me a Labour Information Pack at my appointment.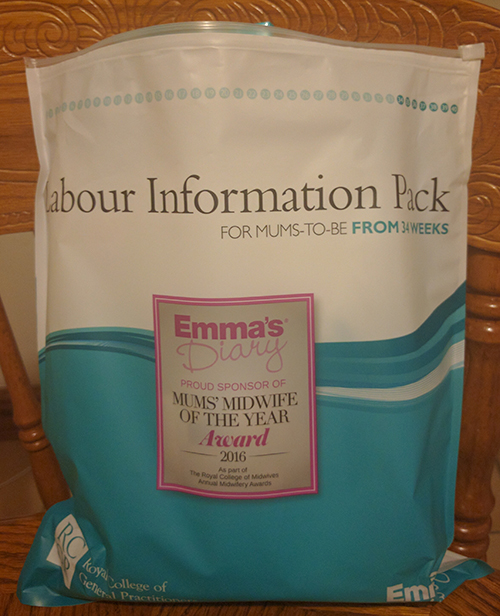 To be honest, it was a bit of a kick in the teeth after literally just having said she probably wouldn't see me again before the baby as I would need a caesarean so I'm not sure what use she thought a 'labour' pack would be if she didn't think I was going to go into labour!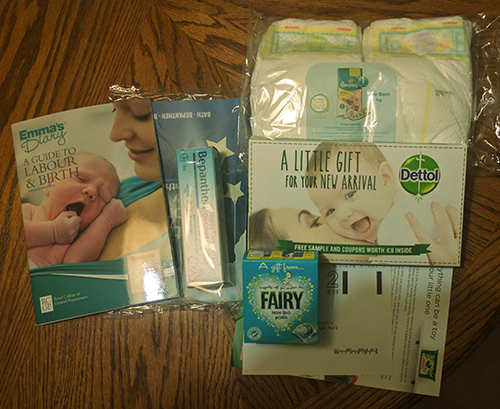 I didn't open it straight away as I took time to get my head around the possible caesarean first.  It contained the usual though – lots of small samples of baby products and a booklet on what to expect during labour.  One of our upstairs spare rooms is pretty much full with samples now!
Social
Although work has been manic Monday-Friday once again, Dan and I still made it to the pub quiz on Monday night, where the regulars all questioned me on how I was doing.
On Saturday we were at a wedding in Norfolk.  Dan offered to drive luckily (on the condition that I was to drive home afterwards so that he could have a drink).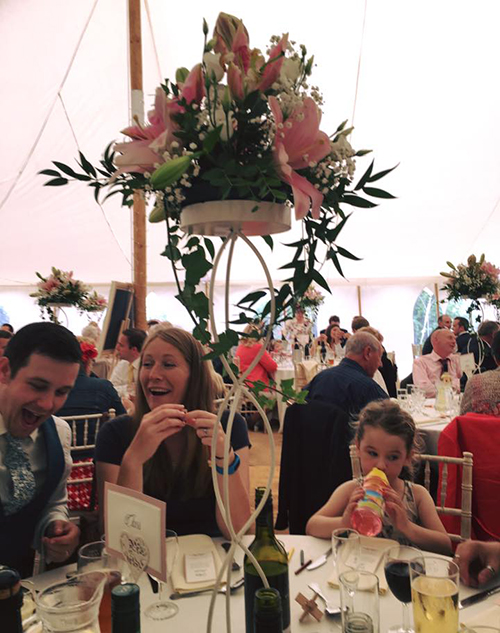 Unluckily, this meant that Dan was then free to drink quite a lot of the red wine (of which we ended up with four bottles on our table?!) as we were sat with friends – quite a lot of them who had kids.  Moment of the evening: when Dan fell over our friend's 16-month-old at the table and poured an entire glass of red wine over the top of her, covering her and her white dress.  She just looked up with wine dripping off her from everywhere!  Luckily her Mum was prepared and had brought a spare dress.  Before swapping them though, she quickly opened up a new bottle of white wine and started dousing her child in that as well!  Apparently white wine eliminates red wine stains!
The wedding was for one of my friends from uni, and it had been quite a while since I had seen several of the crowd that were there on Saturday.  In fact, having not made large announcements about my pregnancy on social media, and not being one to rush to text people when we got our positive test, none of them actually knew I was pregnant until I saw them at the weekend.  It took a friend's partner to say "Oh congratulations, Al never told me you were pregnant!" following the service before everyone else uttered noises of "I'm so glad you said something!" to her and began asking me questions about the pregnancy.  It was really good to catch up with friends who I had spent all my time with at uni and find that we could just pick up where we left off.  Nearly all of them have young children now, and so I heard lots of birth stories and was asked lots of questions about things Dan and I hadn't even considered yet!
Wedding food…(as that always gets photographed at weddings!)
Roast dinner…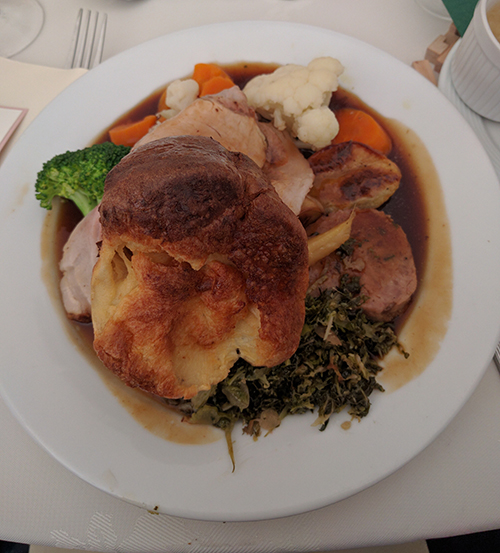 …followed by a trio of desserts (cheesecake, sticky toffee pudding and brownie), all adorned in flowers (which no-one on our table were brave enough to try…were we supposed to eat them?  Or were they just for decoration?…!)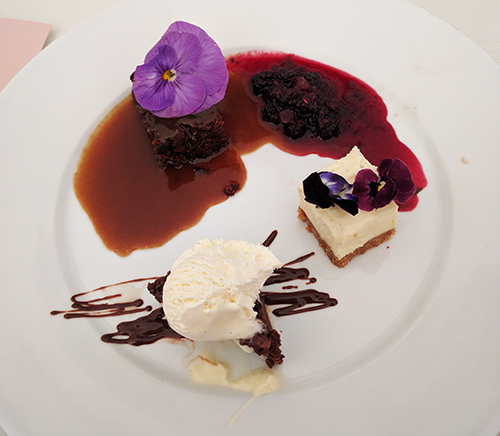 We stayed at my parents' house in Norfolk on Saturday night, before making it back to a different friend's (also from uni) Christening for her daughter.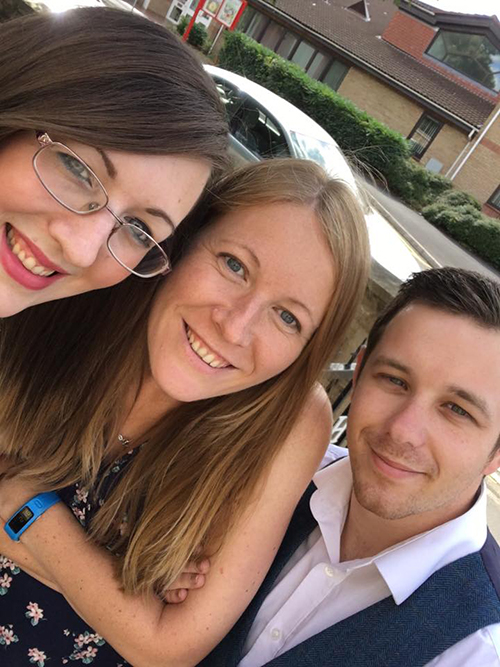 Dan and I were both knackered and had to really put a face on for day two.  Getting in past 2am is not an everyday occurrence for us nowadays and we both struggled to function the next day.  Plus, Dan's car alarm had gone off three times during the night.  Not ideal!
Running
Just the once this week as I couldn't make parkrun on Saturday due to the wedding, and any other spare evenings were spent working on our house or completing work for school.
I still managed to slot in what has now become the regular-10k trail run on a Tuesday night with a  friend though and despite feeling a bit rubbish during the day (the hottest day of pregnancy so far!), managed to surprise myself by running at about the same pace that I have done for the majority of my pregnancy.  I'm quicker to slow to a walk up inclines now, but other than that I'm still running fairly consistently and at a chatty pace, which is nice so that I don't feel too out of the loop from the running crowd.  Although I stopped running the group trail runs several weeks ago now, I feel a bit safer running with just me and a friend as I am able to dictate the pace a little more if necessary and don't feel pressured to have to keep up with the group if any faster runners turn up.
For the first time my legs felt a bit stiff following the run, and stiff again the following morning, although the feeling soon faded.  I don't know if this was perhaps because I only ran the once this week?  I've only just been hitting my 10,000 steps a day challenge over the week as well, purely because of the amount of work I've had on and the lack of time to head out on a specific walk each day.  I'm still fairly active at school though, easily ticking off 5,000 steps during teaching hours at the moment.
Symptoms
Other than leg cramps through the night, I could easily forget that I was pregnant quite a lot of the time I think!  The baby feels as though it has moved down slightly now.  Although it's head is still up, not down, it no longer feels like it is wedged in my ribs and I can do my sandals up again once more!
You can read all of my previous pregnancy posts here.
Could I have eaten those flowers on my dessert?!
When was the last time you caught up with old friends?
Have you been to any weddings/christenings lately?