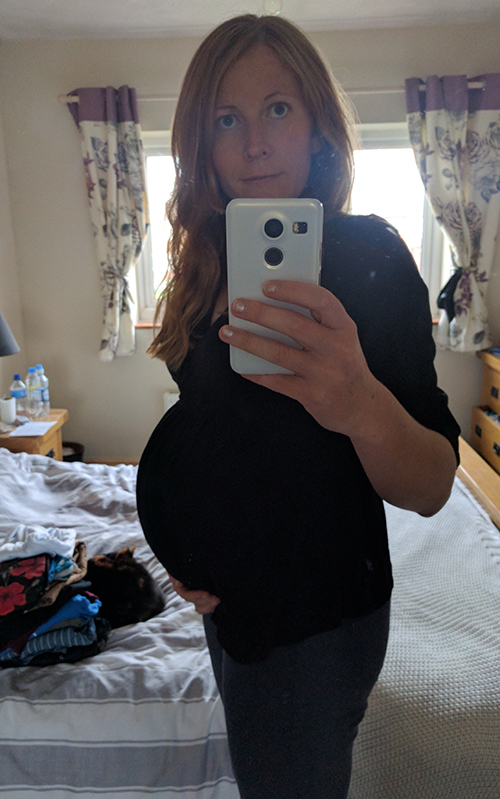 The size of a Pomeranian apparently (a tiny little dog!)  Fourteen days until my due date (or thirteen now, as I'm posting a day late again this week).
Appointments
So Friday was my big appointment.  The one where they planned on giving me another scan to determine exactly how the baby was lying and whether or not they would be able to turn it.  The appointment was booked for the middle of the day, and luckily both Dan and I were able to get the day off from work, so that we didn't have to rush straight over a couple of hours after starting at school.
We were seen almost immediately.  In fact, Dan was still parking the car as I was called in to be scanned, despite us arriving in plenty of good time!  I knew that the baby was still head up and breech, although the head now felt much lower than it had done.  It only took a matter of seconds for the sonographer to confirm this, although she then had to take measurements of the baby for my pregnancy file.  She told us that the baby was measuring at approximately just under 6lbs and when I asked if this was about what it should be at, she told us that yes, it was spot on for 37 weeks (of which we were just over).
We were then sent upstairs to the Fetal Health Unit where we had a slightly longer wait before being taken into a room filled with beds.  Here we were spoken to by a doctor who went through our options for the birth now that the baby was confirmed as breech in the 38th week.  The room contained several other pregnant ladies, all with screens partially round their beds and who were strapped up to baby monitors, which were loudly beating away all at different rhythms.
Both the doctor and the two midwives who spoke to us whilst we were in this ward were lovely and explained in detail what was involved with an ECV (External Cephalic Version) because hospitals are rightly unenthusiastic about the complications which may develop when delivering a breech baby.  Therefore, the best option to encourage a natural birth is for a consultant to have a go at 'turning' the baby whilst it is still inside the mother in order to try and manipulate the baby into a more suitable head-down position ready for a natural birth.  An injection is given, in order to relax the muscles in the Mum and the consultant uses forceful hands to push the baby up and turn them into the correct position.  (All completed from the outside…I told someone about how the procedure worked the other day and they were horrified that a consultant was going to do it from inside me!!!)
The chances of it working are pretty slim.  I was given a 30% chance of them being able to turn the baby, but then of that 30% chance, there was a 30% chance that it would spring back into it's current position again!  There was also something like a 10% risk of the baby becoming distressed, or the cord getting tangled, which would then result in an emergency delivery anyway.
Lots of things to weigh up when making the decision whether or not to try and turn the baby!
They left Dan and I alone for 10 minutes to talk it over.  Despite really not wanting a Cesarean, I had already come to terms with this option in my head.  To try and turn the baby, delay the birth and potentially end up with an emergency Cesarean was not overly appealing to me, but after a long chat with Dan we jointly came to the decision that it was worth a shot and I was assured that I could still change my mind right up until the day.
Next problem was the fact that I was already 37 weeks and 3 days pregnant.  The hospital only books ECVs in on Wednesdays, and they were already fully booked for the following week, the last Wednesday I would have available for turning before hitting 39 weeks (the latest they would want to schedule a Cesarean).  A few phone calls were made, another consultant brought in, and they managed to slot me in for a morning appointment the following week (today).
The consultant commented on the fact that our baby was rather on the small side when marked on the chart.  This is the first time it's really been marked properly on the chart before, and you can see just how close it is to being on the borderline of the 10th percentile.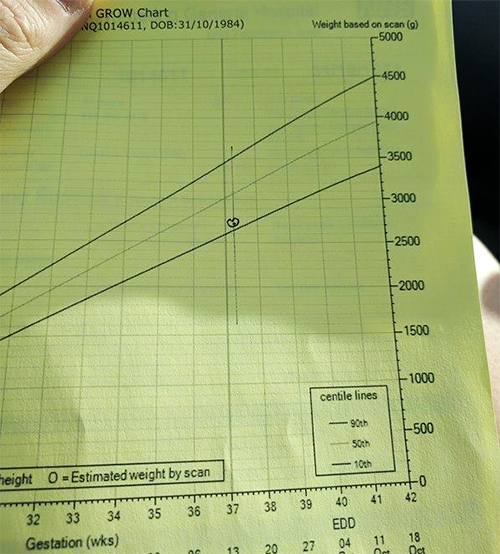 This means that my baby is currently among the smallest 12ish% of babies at this stage.
Had it been marginally smaller, it would have been regularly scanned throughout pregnancy to ensure it was growing enough.  The last two of my friends to have babies have had them measured at just over the 90th percentile (the top thick line)!
Whilst I was there, the hospital also scheduled the pre-op and Cesarean itself.  It seemed very weird learning of our child's birthday 10 days before there were any signs of it being here!
It does mean another day off work for the turning, and finishing work a week earlier than I had initially planned.  I had planned to start maternity leave at the end of the month, but my last working day will now be the 23rd September.  Cue a busy week of trying to fit a two week workload into just four days!
Purchases
No purchases again this week.  I feel like we've accumulated a lot just lately though.  We've had some lovely gifts from people, and unlike a few weeks ago when I worried about having to send our child home from hospital dressed as Santa, we now have plenty of options to choose from for their first outfit!  Many of which are baby boy clothes!  It seems everyone is convinced I'm having a boy, despite us not having found out!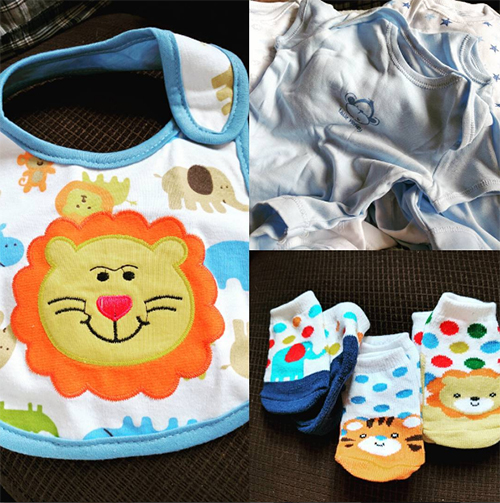 (How cute are those little socks though?!)
I was late home on Saturday night as I'd stayed in Norfolk at my parents' the night before.  Dan was already in bed by the time I arrived back and as I crept up the stairs I realised he'd left the light on in the back spare room (the one we intend on using for the baby).  I opened the door to turn the light off and saw that he'd put together the furniture, put up the curtain rail and curtains, the lamp shade and started to put items away ready for use.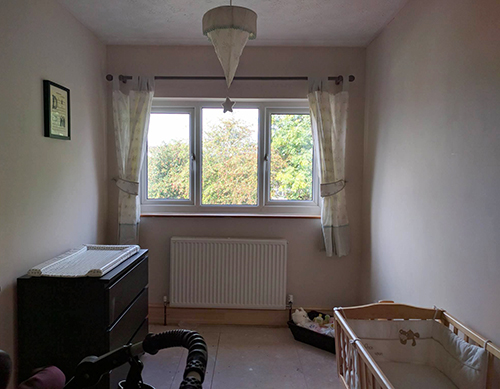 It's still a long way off being 'finished' (skirting needs painting, ceiling needs boarding, carpet needs to go down…) but I feel like I'll be able to find things now once the baby arrives, rather than sifting through mountains of bags of bits that we've been given or collected samples of.
Running
Obviously I'm still running.  Surprisingly it's still going very well too.  (Touch wood!)  I still ran my 6-7 miles of trail on Tuesday night, and at a slightly faster pace than I had done the week before.  I'm pretty sure I'd still be able to keep up with the trail group on a Wednesday evening, but I don't want to take the risk in case something goes wrong, or a bunch of super speedy runners turn up for the session one night.  I think most people stop running before this point because their bumps have grown out so far and have left them unbalanced and wobbly on their feet.  My bump still isn't massive and I struggle to remember I'm pregnant for a lot of the time.  Now that baby has dropped slightly I'm much more flexible than I was a couple of months back and can happily stretch and bend and reach things on the floor again, causing me to forget even more frequently!
I know that it's likely that my booked Cesarean will go ahead, so I'm hoping to get in a few more runs this week before I have to take six weeks off completely to recover from the op.  I'm hoping to still make the new Kettering parkrun this coming Saturday.
I didn't make parkrun again last weekend as I was off helping to crew at the Round Norfolk Relay instead.  Post to follow about this – a team event that circles the border of Norfolk and at nearly 200 miles in total it's definitely a race I'd like to be involved with again next year.
Have you been involved in team relay events before?
Have you had to take time off from running/another sport due to a planned operation?
You can read all of my previous pregnancy posts here.