I started to write this post before going in to hospital last Tuesday, but didn't quite get it finished in time so wasn't able to schedule it for last week.  It should have gone live on Tuesday 27th September, so imagine all of the following a week ago yesterday…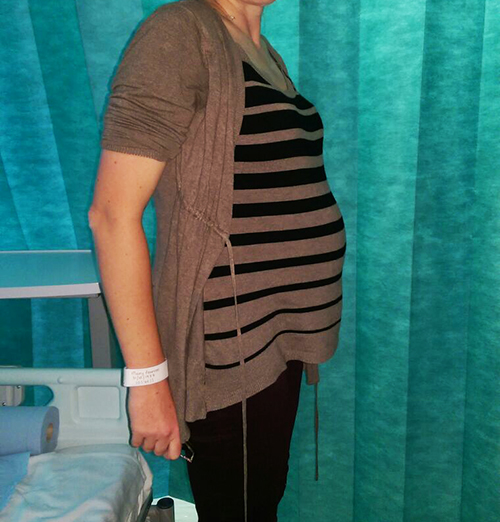 39 weeks pregnant – just one week to go until my due date on October 4th, and in actual fact, at 39 weeks it was the day I had been scheduled to have my baby.
This week was a rollercoaster of appointments and madly rushing to get both housework and schoolwork finished in time.  I've never had such a busy week!
On Wednesday I was booked in for a turning appointment, or ECV (External Cephalic Version).  As Dan couldn't get the time off from work and my parents were visiting for a few days, helping install our new kitchen, my Mum attended the appointment with me.  We arrived early and were seen straight away, just like Dan and I had been the week before.  I was taken into the scan room in the Fetal Health Unit to establish whether or not the baby was still the wrong way up.  (It was!)  A few minutes later I was taken onto the ward and had a band wrapped around my stomach to monitor the baby's heart rate, which also monitored any minor contractions I may be having.  I was left like this for a little while in order that the midwives could determine how calm the baby was, but there didn't seem to be any problems.  I also had my blood pressure taken and about 15 minutes after arriving, the consultant who would be performing the procedure came in to meet me, ensure that I knew exactly what it was that they would be doing and to determine where the baby was currently lying.
Using her hands, she forcibly pressed down hard at the base of my belly, causing me quite a lot of discomfort and announced that the baby already appeared to be about 3/5ths engaged (this didn't mean a whole lot to me, and kind of made me think that perhaps the baby was already more than half way out! – not the case!) She established that baby's bum was already heading down into the birth canal and that it's legs were stuck straight up in front of them, back up towards their head.  She used a portable scanner in the bay to confirm that there wasn't a huge amount of fluid inside me and then turned to give me a realistic run-down of her findings.
With the baby in the position it was currently laying, so far engaged and with very little fluid surrounding it, the chances of being able to turn the baby were very, very small.  The consultant explained how she would have to push the baby up, using a lot more force than she already had, – move the baby higher in my belly and then flip it completely, with not a lot of give in the baby's completely stuck-up legs, and not a lot of fluid to aid the movement either.  She told me that she would go ahead if I wished but that the chances of success were very limited and that in trying to turn the baby, it could result in complications and an impromptu Caesarean there and then.  Having given me the facts, the consultant then left me with my Mum for a few minutes to talk it over.
I had really mixed emotions about trying to turn the baby.  From one side, I really did not want to go down the Caesarean route if I didn't have to.  I knew that the recovery would take so much longer and I was concerned about being unable to drive, lift or run for a long period after the birth, as well as worrying about not bonding with the baby following the operation.
On the other side, having to endure what could be a painful procedure – which had been given only the tiniest chance of success – only for it not to work or for me to be rushed off to theatre, completely unprepared and with Dan more than a two hour drive away, would not be ideal.  I took quite a while to weigh up the pros and cons of each option, turning to my Mum for advice.  After a bit of prompting, my Mum shared that she felt I should not go through with the ECV, and when a nurse came to check my obs a few minutes later, she agreed that I should take on board the comments of the consultant about how unlikely it was that the procedure would be successful, and my decision was made.  In a much more guilt free manner, as everybody had seemed to agree with it.
When the consultant returned and I shared my decision, she also agreed that it was the right one to go for given all the factors, and then sent in a nurse who would go through what would be required the following week for my Csection and pre-op which would take place the day before.
When Dan and I had visited for our presentation scan the Friday before, the 27th September had been pre-booked as our Csection date, – the date we were setting as our child's birthday and when we would first meet them.  It seemed rather surreal at the time, and even more so now, when it was being confirmed and I was signing paperwork for the operation to go ahead.
I had informally moved my maternity start date forward by a week to the Friday of that week (23rd September), and now needed to confirm this with work, as the pre-op was scheduled for first thing on Monday morning.  I spent my last day working late, desperately trying to fit my workload in before leaving so that I didn't have to take anything away with me on maternity leave.  My car was the last one left in the car park.  (Not for the first time!)  Might also have had something to do with the large number of trips I needed to take to the car with flowers and cards and various bits from my classroom that I wasn't sure when I would next need again.
Mine is literally the last car left in the car park, but that's it now, – school is over for the next 8 months! 😀 Woop woop! pic.twitter.com/uCfUrmyF0Q

— Mary P (@ahealthiermoo) September 23, 2016
Final run, and last parkrun for a while when I ran the inaugural Kettering parkrun on the Saturday.
I was super chuffed to run my fastest time for months, despite now being very heavily pregnant and due to have my baby just three days later!  It was a lovely finish to what I would class as a very successful running stint through my pregnancy.  I had hoped to get out again over the weekend for another run, but the list of things still to do before going in to hospital was huge and I just ran out of time.  I finished on a high though, and I shall be back at parkrun to volunteer as soon as I feel comfortable to be able to do so again following surgery.
I wasn't quite sure what would happen at a pre-op, but when I arrived a little before 10am the following Monday morning, I was scanned (yep, baby was still breech!) hooked up to a machine to check the stats of the baby, weighed, had blood samples taken and my own stats recorded.  When they were taking my heart rate and blood pressure I wasn't paying a huge amount of attention, as I'd just had two small canisters of blood drained from my arm.  The nurse told me that she was just going to redo my tests, so hooked me up again and then commented on my heart rate being incredibly low.  I pointed out that I was a runner so it probably would show as slightly lower and she disappeared, leaving me hooked up to the machine.  Returning a few minutes later with a couple of other members of staff to show what she announced to be the lowest heart rate they had ever seen on the ward, topping 54 beats per minute.  I wasn't sure how good this was in relation to other people, but just had a Google and found this chart online…
I'll take being classed as an 'athlete' at 39 weeks pregnant!
Having not weighed myself for a few weeks now, I was curious to see what the scales would show when I was taken to be weighed.  In actual fact, I had gained 19.9lbs in total over the pregnancy – barely anything in the final few weeks, and a gain that was considered to be quite a small amount, although my baby was also showing on the small side, so this probably also had something to do with it.  The nurse commented that she would be happy to be at my weight despite not even being pregnant!  Walking through to be weighed was quite an experience.  The scales were located in the maternity ward – which I had yet to visit, despite being attached to the end of the Fetal Health Unit, which I had visited several times now.  As I was led through I was taken back by the complete silence on the ward.  Occasionally we passed couples in the corridor – the woman would always be barely shuffling along, with the man usually supporting his partner's arm and carrying a baby.  It was the silence which scared me though.  I expected the ward to be buzzing, filled with energy and baby cries, but there were none.  It felt like I was in a zombie apocalypse.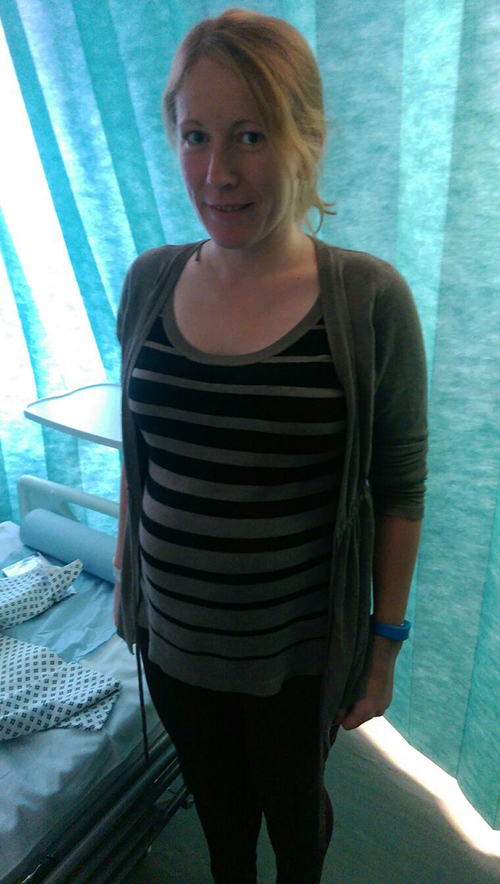 Before leaving the hospital, I was given a bunch of leaflets to read through ready for the following morning, some tablets to take both that evening and before heading in to hospital the following day, and a bottle of hibiscrub to shower with.
When I'd seen friends on the Friday evening and shared news of my upcoming Csection they had tried to cheer me up by pointing out how everyone around me would arrive panting and sweating with hair slicked back across their faces and looking rough as anything as they experienced labour.  Whereas, I would be able to do my hair and slap on some makeup and waltz in wearing a selected outfit looking all stylish.  NOT the case at all apparently!  No makeup or nail varnish to be worn and I had to thoroughly shower every part of my body and head using the bottle of hibiscrub on the morning of the operation.  I was told to avoid a stodgy meal in the evening (so settled for one at lunch instead!) and had three tablets to take before bed, after which I would no longer be able to eat before the operation.  I managed to choke back my tablets with a glass of milk and headed to bed, getting possibly the worst night of sleep I'd had in a long while and worrying how I would be able to take the remaining three tablets without any food and no more than the two sips of water I was allowed before leaving for hospital the following morning.
Although I had already packed my hospital bag a little while ago, there were still a few odd items to include that I couldn't pack until the day, and I'd also washed some clothes the day before which had been left out to air overnight ready for packing the next morning.  Bella obviously also insisted on being packed, and it took a little while to prise her away from the bag in order that I could complete the task.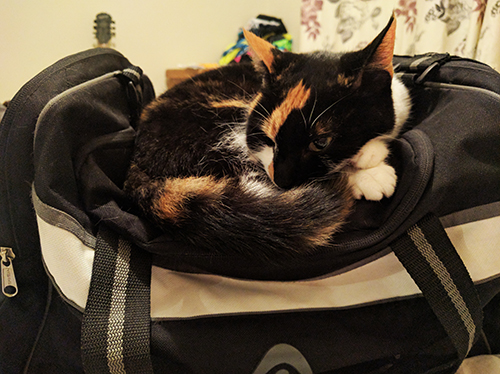 Although I normally finish my pregnancy posts with the Tuesday, I plan on writing a separate birth story as this post is already very long, and there are lots of bits I want to remember from the day itself.  Hopefully I should have something up within a few days.
You can read all of my previous pregnancy posts here.