It had been five weeks since my previous parkrun.
Oscar was now four weeks and four days old.
I felt so much stronger than I had done the rest of the week.
Two friends offered to meet up and help me buggy push then head for cake.
Therefore, – it only made sense that I took Oscar for his first parkrun outing at the weekend!
I knew exactly which outfit Oscar was going to wear for his first trip to Northampton parkrun.  The  week that we came out of hospital, one of the guys who regularly heads out with the trail group I run with had popped round with a few items for O, including a vest which he had had made up in club colours and with our club name emblazoned across the front.  I didn't need to think twice about what to dress him in for his first parkrun visit, even if he wasn't yet running!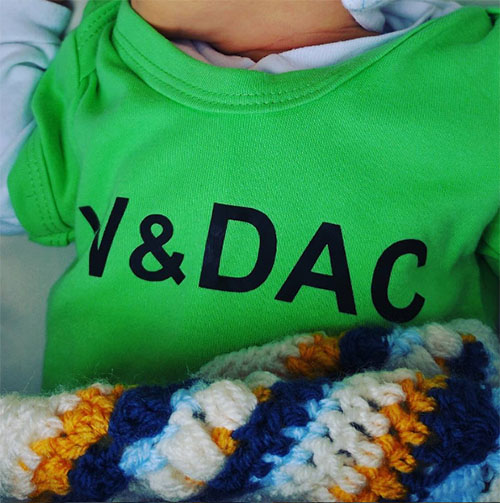 I also knew exactly which top I was going to be wearing as well.  Having received my red parkrun top back in the Summer for having run 50 parkruns.  I was heavily pregnant when it arrived so I was yet to be able to wear it.  Fits like a charm now though and was super comfy on Saturday!  Annoyingly though, it was a little chilly on Saturday morning, so I ended up having to wear my black WDAC hoodie over the top.  At least I matched Oscar in club kit I guess!  😉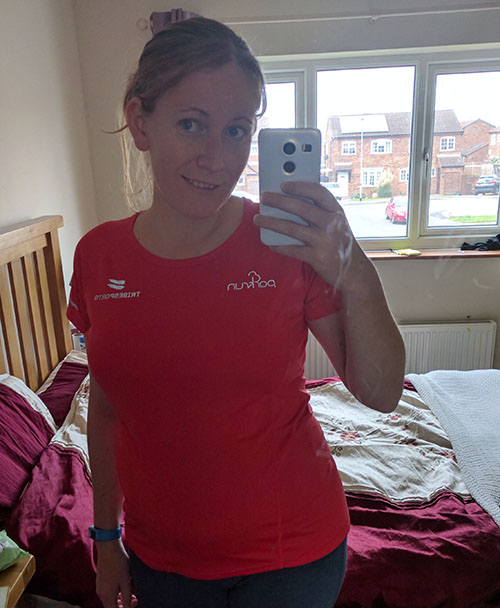 At only four and a half weeks since my operation I was under strict instructions that I was not yet to run.  Women are advised to not exercise (more than a walk) for the six weeks following a natural birth, and anything up to three months before they can start exercising strenuously following a caesarean.  (My fingers are crossed super tight that it's closer to six weeks than three months though if I continue to build up my strength and play it sensible for the next fortnight.)
All week I had been reminding Dan that I really wanted to head to parkrun at the weekend.  Ages ago Dan and I had a conversation about the things we would have to give up or change in our lives if we were to become parents.  Obviously as the female in our relationship I was aware that I would have to give up quite a lot.  Especially as my life often revolves around my miles of running each week.  Luckily, I was able to run right up until the very end of my pregnancy (running a parkrun in 33 minutes just three days before Oscar arrived!)  Good job too, as I'm pretty sure I would have been hell to live with if I'd had to give up running completely during those final few months.
I was prepared to give up running (for a short time!), my job and my sleep, but I really struggled with also having to give up my driving, ability to walk and complete independence following the operation.  It was literally like I just became a slave to the baby for those first few weeks and I lost all identity of Mary.  Whenever most people called or spoke to me, they asked about Oscar…'Was he sleeping OK?', 'When can I meet him?', 'Have you decorated the nursery yet?'.  There were a handful of people who also asked about me, or continued to talk to me about running, or work or regular adult things.  I completely understand that everyone wants to meet Oscar, and that I am his Mum, but I am also Mary, and that hasn't changed.  It didn't help that Dan was still going to football training on Thursday nights, having a kick around with his workmates on Friday evenings before heading home, and then playing football matches on a Saturday afternoon.  None of which I wanted to ask him to give up, but times which I was left at home alone with Oscar, thinking about how I couldn't enjoy my hobby anymore or even get out of the house without support.
The travel system that we have is rather heavy, and with the way our porch bends round from the lounge to the front door there isn't really the option to leave the buggy put together, – it needs to be carried from the lounge through to outside before being put up and that's something I'm not yet strong enough to do.  By the time Dan gets home from work in the evenings it's dark, I'm exhausted, Oscar is due a feed and I need to feed both Dan and myself before passing over responsibility for an hour or two whilst I sneak a quick nap in before Dan heads to bed and I'm on night duty.
I felt rather sorry for myself for those first couple of weeks.
Hence why I was so looking forward to making it to parkrun last Saturday!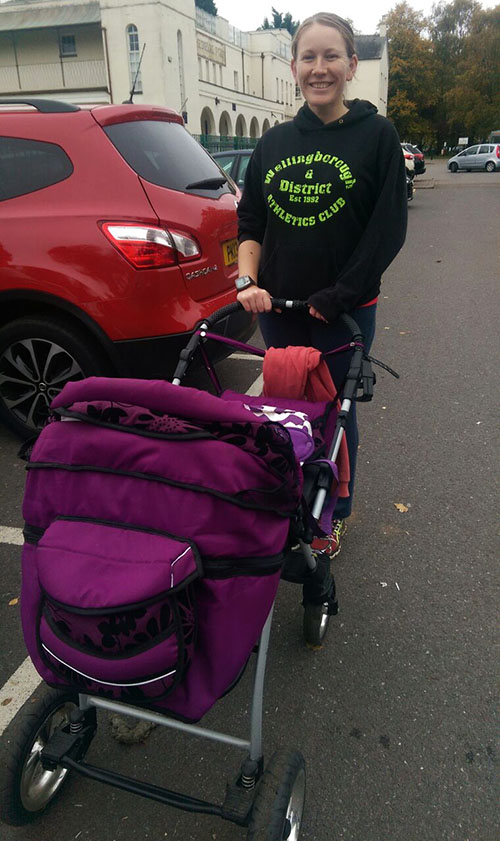 Knowing the parking situation at Northampton and how much faff it is to travel with a baby, Dan and I made sure to leave home by 8am.  Despite this we still ended up having to park on a side street and wheel Oscar through the park over to the start line.  He then cried for a feed within minutes of leaving the car.  Luckily, I'd come prepared and had pre-pumped a bottle for when he woke up which he quickly guzzled down.  (Good job too, as we only just made it to the start in time!)
Dan left me with Laura and Steph who agreed a plan of 1 mile each with the pushchair, with Steph taking on mile number one.  I prewarned them about the pushchair steering which takes a little getting used to.  As a travel system, the pushchair converts into a pram for newborns by pulling the handlebars over the top.  This means that the large steering wheels are then to the front of the system, so it can be a little heavy on tight turns.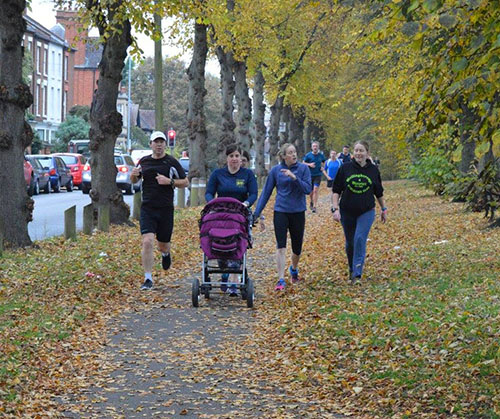 I couldn't believe how Autumnal it was out there.  The trees were so pretty, and so many leaves are already down on the ground.  I feel like I missed all of October, having not been discharged from hospital until the beginning of the month, and then not well enough or unable to get outside for much of the past few weeks.  I was limited really to evenings Dan made it back from work before it got too cold or dark.
How are we in November already?!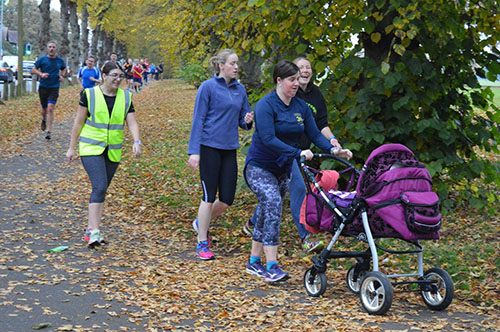 Our little crew of three (four!) were right at the back of the running pack, along with Emma, the tailrunner (also from our club).  The back is where we stayed, although there was a small group of ladies with their dogs not far in front of us.  (Every person you can see in the photos behind us is a runner that is already on their second lap, now going to overtake us!)
We set out at a much faster walking pace than I had anticipated, although I quickly found myself in a rhythm and forgot about the speed as we begun to catch up.
Until Oscar is able to hold his head up (around 6 months) I will be unable to run with him in a buggy.  I haven't decided yet whether or not I intend on running with him after he hits that milestone, or leaving running as my 'me'-time and having Oscar stay with Dan whilst I get my running fix in.
Laura ended up pushing for both miles two and three and then I got the victory nubbin – through the funnel at the end.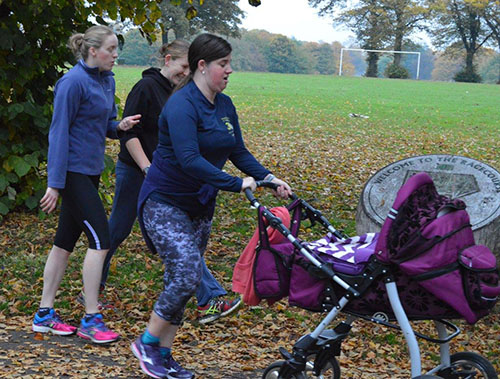 It sounds daft, but I felt so much stronger for having got out and covered the 5k distance.  I was buzzing the rest of the day and had a lot more energy for having been to parkrun that morning.
As I was overdue a catchup with Laura and Steph, and they were both happy to help me push the buggy so that I didn't get too tired, Dan ran his first parkrun for a long while.  As he sped past, lapping us before we turned off for our second loop I knew he would be on for a good time and he was dead chuffed to see a PB of 27:29.  10 seconds faster than his previous PB, set back in 2014.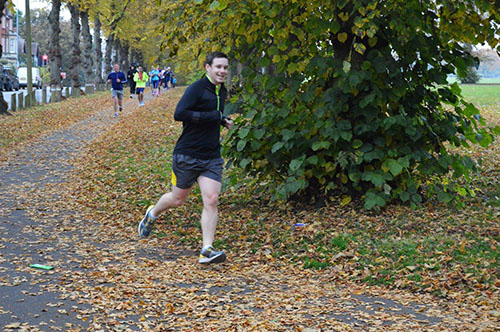 (Above four pictures taken from Mick Turner's facebook, via the Northampton parkrun page.)
Garmin time: 50:15
Official time: 50:15
Position: 245/331
Gender position: 407/409
Age category position: 19/20
Following the parkrun, Laura suggested that we checked out The Good Loaf in town, as Magee's, our usual post-parkrun haunt, is very tight for space and definitely not buggy friendly.  Despite Dan having to lug the pushchair up two flights of stairs to get there, The Good Loaf was incredibly spacious once we arrived and we lounged out with lots of space to spare on a set of sofas in the corner of the bakery to enjoy our post-parkrun cake and drinks.
I went for the Chocolate orange brownie cake to accompany my hot chocolate.  It tasted much more orangey than expected, but was delicious and super fudgey.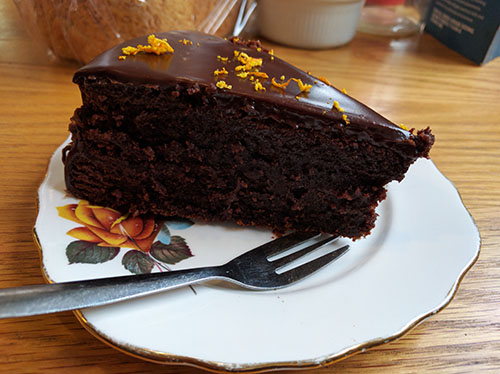 Laura went for the same as me and Dan went for a coffee and walnut sponge.
Several parkrunners head to Magees on a Saturday morning, but it seems that several also make their way to The Good Loaf too.
Laura first discovered The Good Loaf following a fair bit of media coverage when they first opened.  They aim to 'provide real employment opportunities to vulnerable local women so that we can break the cycle of poverty, unemployment and offending.  By working through our structured work placements female offenders will gain practical skills and experience in a real work environment.'  I think it's a great idea to provide paid opportunities to those who might not have the chance to learn skills and gain experience within a business setting.
We enjoyed the cake and comfy seats, and Oscar got cooed over by the staff.  Big thumbs up from us!  The plan is to head to The Good Loaf for any days that I have Oscar on board so become unable to fit in to Magee's.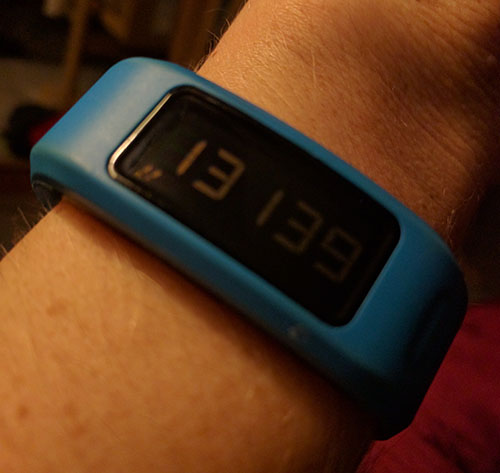 First time in a long while my Vivofit saw above 10,000 steps!
What makes a good post-parkrun pitstop in your opinion?
What are the slowest times at your parkrun?  Do others attend with prams/pushchairs?
Did/would you run with a buggy when your children are old enough?