Let me tell you a little about my Friday morning last week…
I woke to Oscar's crying at 8:20am, realising that I'd slept in and missed Dan leaving for work several hours earlier.  The Health Visitor was due to arrive at 10:30 so I quickly got up and changed Oscar's nappy before breastfeeding for half an hour.  Whilst settling Oscar over my left shoulder I managed to collect all the items for a cereal breakfast one handed and headed into the office to check my work emails amongst other things.  I'm becoming a pro at eating breakfast one handed.  In fact, the other morning, I had Oscar on one breast, was pumping from the other breast, whilst munching spoonfuls of cereal in between uploading resources for school all at the same time.  Talk about multi-tasking!
Oscar needed changing again by the time I had finished breakfast.  This time for something that Dan and I refer to as a 'poo-nami'.  A poo-nami is the mother of all poos.  It's messy, smelly, involves at least one item of clothing being covered in poo and more often than not I resort to placing Oscar in his bath because it's just easier than using a mountain of cotton pads and nappy bags to clean him down.  My eyes were struggling to stay open, my head hurt from lack of sleep and my stomach was grumbling slightly as I had fallen asleep before tea the night before.  So, struggling to bath Oscar alone was not high on my list of fun activities when the Health Visitor was due to come round in little over an hour's time.  I held his legs up so that I may clean his behind…only for Oscar to wee all over his face, and clothes which I'd changed him into just an hour before.
…I pulled out the bath.
Ten minutes later and I was in the office, breastpump on left breast, upset baby on right knee as I'd made him have a bath.  By the time I'd finished pumping, Oscar was crying for his feed.  I hurriedly screwed the teat onto the bottle and held it out for him to reach.  Only to discover that I hadn't screwed the top on properly and my nice clean baby was now covered in breastmilk.
…Another outfit change required!
As I resurfaced from Oscar's room for the umpteenth time that morning I noticed my wedding rings were missing from where I had left them by the baby bath.  Bella had decided whilst I'd been changing Oscar that my rings made a great cat toy and had batted them down the stairs, so I now also had to hunt for them.  Fantastic!
By this point it was now 10:20am.  I had yet to dress, go to the toilet, grab a drink or even draw back the curtains in the bedroom!  It was a looooong day!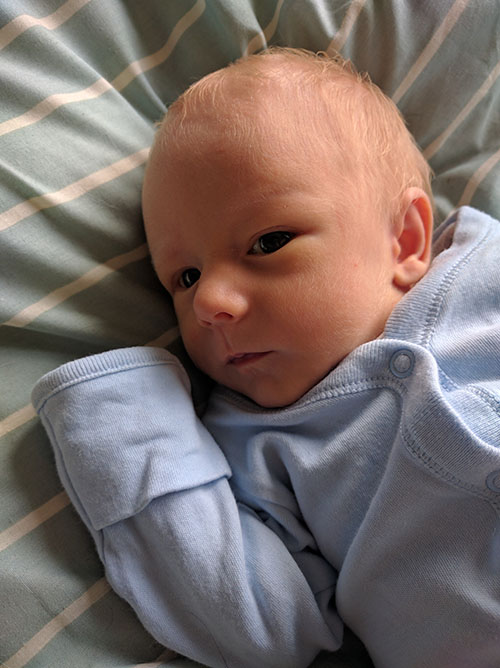 (Looks so innocent doesn't he?!)
I've been thinking a bit about the practicalities of my return to running post-baby over the past week.  Although I'm desperate to get races booked in and to have something to look forward to, I know that I need to be sensible and also realistic.  My thoughts are currently as follows…
Breastfeeding
This is the biggest issue weighing on my mind at the moment and a huge restriction which I hadn't initially taken into account.  Breastfeeding is currently working for Oscar and I (although more on our breastfeeding struggles to follow in another post).  Everything I read suggests that I will still need to be breastfeeding until the end of the first year, and that weaning onto solid foods (and thus cutting back on the number of feeds in a day) won't begin until month six.  October, November, December, January, February, March.  Oscar will be six months at the end of March.  Right at the start of marathon season.  I started scouting around for marathons to enter whilst I was still in hospital, (Like I said, I need something to look forward to!) and it was then that I realised making the decision to breastfeed my baby wasn't such a simple decision to make.  Choosing to breastfeed is incredibly restricting for anybody, even those people whose babies aren't currently on a two-hourly Health-Visitor-invoked feeding schedule and those who won't finish a marathon in much under 5 hours.
I have no idea how regularly I'll need to breastfeed by next Spring when marathon season begins, or if by then I'd be able to go without feeding for five hours whilst I ran a marathon and then tack on an hour or so either side for getting to/from the start of the race.  And if I went five/six/seven hours without feeding, would I end up with massive, sore boobs/leaking milk or would I have to jump into a portaloo and express several times whilst out on the course just so that I was able to feel a little more comfortable?
Kit
I haven't squeezed myself into a sports bra since week 39 of my pregnancy, but that's a task for today.  Lots of people seem to swear by wearing two sports bras to hold their larger boobs in place whilst still breastfeeding to help prevent sagging.  I fear I'll overheat though, or never be able to wriggle free again afterwards!  The rest of my kit should still fit me OK though.  In fact, I weigh less than I did pre-pregnancy now, but with bigger boobs…(I hope my shorts don't fall down!)  An excuse to buy new kit coming my way!  😉
Injury
A Caesarean is major abdominal surgery.
I've had that sentence drilled into me over and over again during the past couple of weeks by a number of health care workers, friends and family members.  I had major abdominal surgery.  It was tough.  A whole lot tougher than I thought it would ever be to even walk again following my hospital stay…but I persevered, things got easier and by the time six weeks was up I had almost forgotten just how bad things had been.  The bar for what I could comfortably do just kept getting higher.
I have a scar from the surgery.  It's about three or four inches long and it has already begun to fade to a pale pink colour.  The scar itself never caused me any problems.  I also have a small mark where a drain was placed for a blood bag.  Again, other than becoming itchy and slightly uncomfortable during the healing process, it has not been an issue.  Instead, it is much higher up across my tummy – where my muscles are, that the tension (and at times pain) has been.  I seem to be pretty much back to my pre-pregnancy capabilities again now.  Although a few weeks ago, I was still having to roll sideways out of bed each morning as it hurt my stomach too much to engage the muscles required to pull myself up from the bed.  I think I mentioned it in a previous post, but I couldn't even engage my stomach muscles to pull the cord for the bathroom light the night I was discharged from hospital!
Running is a different matter, and something I am yet to try post-delivery.  I've been on several longer walks of 5k or more but that is as active as I have been since the 27th September.  I was medically given the go-ahead to run last Tuesday, (although without any kind of examination or real questioning I might add!) but am yet to do so.  I think I'm partly worried I'll mess my body up by returning too soon and cause myself to have a real injury.  I actually ended up being sick all weekend, so I didn't even make parkrun this week but I will be out for a test mile in the next couple of days so will report back.
Time to train
Although technically I'm on maternity leave until the end of next May, I am in a salaried position in my role as an ICT teacher.  One of my responsibilities for the year was to provide resources and a scheme of work for year 11 students within one of the core courses that I teach, for which all other members in my department may use.  Due to my maternity leave starting unexpectedly early (thanks again for being breech Oscar!) I hadn't quite completed this task before leaving just three weeks into the new term.  Rather than rush through and do a sloppy job in the final few days, I decided to work on it from home following Oscar's birth and make a decent job of things, uploading my resources on a weekly basis.  It's perhaps 1-2 hours of work each week.  As always, schoolwork isn't my only commitment, and my to-do-list remains quite long.  The only difference is, I feel like I have much more time to complete everything on it now!
Although I haven't yet been able to manoeuvre our chunky Dyson up and down the stairs to vacuum the carpet, Dan has commented on how much cleaner, tidier and more organised our house has been over the past fortnight since I've started to feel better.  I hate people coming for a visit and then feeling ashamed of how messy or cluttered our house looks.  Usually with Dan and I both out to work or working from home for up to 15 hours each weekday, we often stick to the minimum amount of household chores we can get away with completing in our free time.  It's been nice that over the past few days, a couple of people have dropped by unexpectedly and I've been able to invite them in, safe in the knowledge that there isn't a stack of unopened mail still on the side with three days worth of washing up sat in the sink.  As I said earlier, I've become an absolute pro at completing household chores one handed whilst holding a sleepy baby too!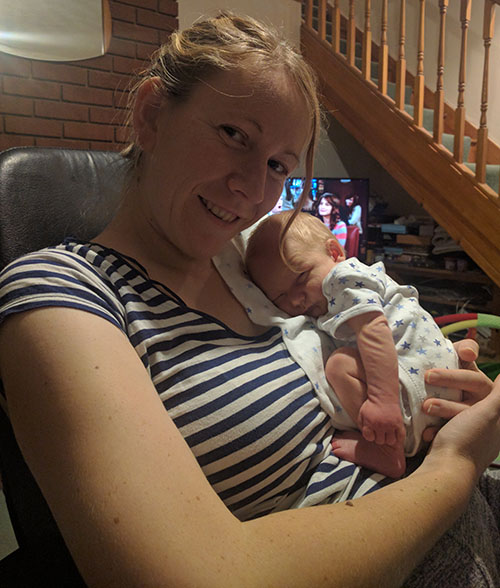 Time on feet
I am an ultra runner.  I run distances greater than marathon distance and that is what I enjoy.  Yes, I love heading to the 5k parkruns each Saturday morning, but they are much more of a social event to me than anything.  26.2+ mile distances are where my heart is.  It's common sense that a 5k casual runner is going to be able to return to their 'normal' running routine much quicker than someone who regularly heads out for distances of 20+ miles on a weekend.
Poo-namis
Oscar dictates timings now, as in the previously mentioned poo-nami incident.  Although I'm getting much better at coping with whatever he throws at me, (luckily not literally yet!) getting ready to head somewhere for a certain time is now much more challenging.  I can already envisage tears when attempting to meet up with the trail group or start a race and Oscar decides to not play ball.
Lack of childcare
Before Oscar, I was always a 'yes person'.  Especially when it came to running and races.  Enter now, think about it later.  Even when Dan and I became a one-car family I could always count on a mate from club to give me a lift, or I would arrive super early for an event so that Dan could head off for whatever it is that he wanted to use the car for.  Now, it's a different story.  I used to train with club on a Thursday evening, but Dan's footy training is on a Thursday evening, so I won't be able to attend as one of us will need to stay with Oscar.  It makes me wish I'd gotten my butt into gear and made all those sessions I'd not attended because the 'rain was a little hard' or I 'fancied a nap instead'!  (Oh hindsight is a wonderful thing.)  With both sets of parents and close family a good two hour drive away, we don't have backup babysitters to hand.  Oscar is too small for a running buggy until about six months of age, so until then, my runs can only work around when Dan is home to look after him.  I can either get up super early to run before Dan leaves for work.  (Oscar currently feeds around 5am, and I am just not feeling a 4am run time through the Winter.)  Or, I can run on the nights when Dan doesn't have anything on after work.  (This should hopefully be more realistic.)  Frustratingly, it will always be in the dark though, unless I can sneak away between Oscar's feed and Dan going to footy on a weekend.
…So much to consider!  When I was pregnant, I naively only really thought that it would be the final few weeks of pregnancy and first few weeks following the birth that would affect my running.  I was so wrong…
Any tips for juggling baby and running?
Are you managing many daylight runs at the moment?