Oscar doesn't spend much time in his nursery at the moment.  He sleeps in his moses basket downstairs during the day and in a little crib next to me in our bedroom at night.  He has the biggest room in the house as his nursery, and although not fully complete yet, (what room in our house actually is?!) we've been able to add some lovely touches with the gifts that friends and family have given him.  I love this hot air balloon and clouds mobile gift he received which hangs in the nursery over the spot where his cot will eventually be placed.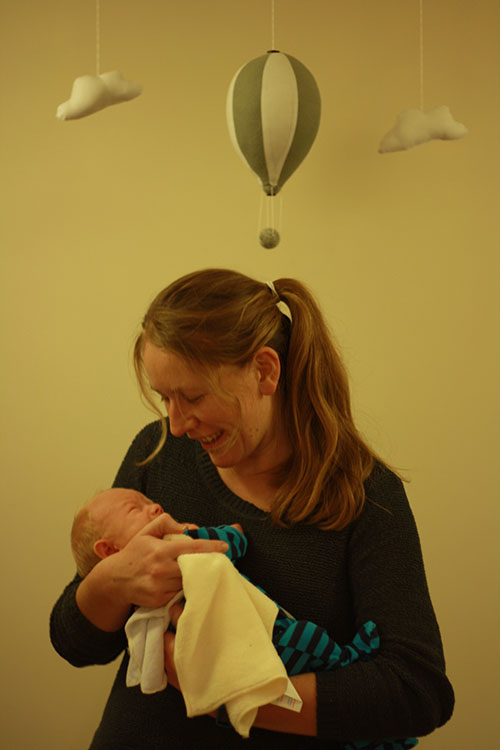 Now that we're past that magic six week mark I've felt the need to get Oscar into some sort of evening routine.  We've spent the last eight weeks listening out for his cry before then running through a mental list of nappy, food, burp, and cuddle – hoping that one of them is the magic answer to quieting him once more.  It's not the best method and it has been accompanied by several sleepless nights when Oscar has been under the impression that 3am in the morning is the time to play!
Not having a clue where to start when it came to getting him into a routine, a friend recommended The New Contented Little Baby Book: The Secret to Calm and Confident Parenting
*.  We've been roughly trying to follow the 6-8 week routine over the past few days, including the section about helping him to wind down with a bath, massage and dimmed light feeding before bed each night.
When HiPP first got in touch way back even before Oscar had arrived I was already aware of them as a company which produced baby food.  My only purchase of their products as a non-parent had been to test out baby food on ultra runs!  I had no idea that HiPP were also branching out into bathtime products though.
Their new free-from baby care range includes:
Goodnight Baby Bath
Foaming Hand Wash (and refill)
Head to Toe Baby Wash
Baby Shampoo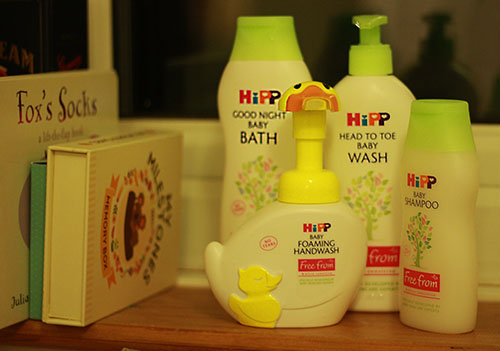 We were lucky enough to be given both a baby bath, and a baby bath newborn insert from friends and family.  Without the insert I would not be able to bath Oscar on my own as he is such a little squirmer in the water!  In the beginning I certainly wasn't strong enough to hold him in place with one hand whilst cleaning him thoroughly with the other.  The insert helps to hold him in place so that I can concentrate on getting him clean without worrying about dropping him into the water or making him uncomfortable.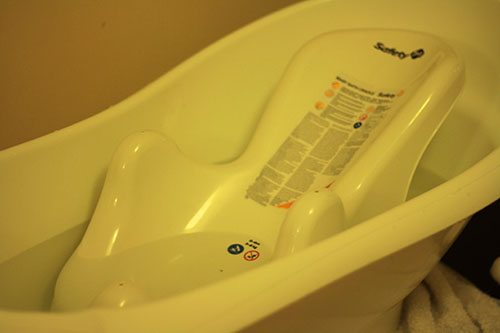 They say that bathwater for babies should be around the 38-39° mark.  This handy Tommee Tippee thermometer floats in the tub and flashes red if the temperature increases above that.  I like my baths to be boiling hot (something I really missed during pregnancy), so my awareness of temperature is probably a little off whack when it comes to testing the water before Oscar gets in.  Therefore, it's very useful to have the starfish thermometer flashing away at me if I have slightly misjudged the temperature so that Oscar doesn't end up getting burnt or uncomfortable in the bath.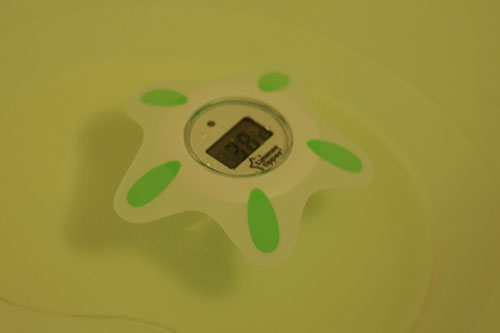 As it's early days we're still getting used to what Oscar does and doesn't like and his way of communicating with us.  Over the past few days we've discovered that he much prefers a fuller bath than one with just a couple of inches of water sitting in the bottom.  A friend suggested that perhaps having only a little water in the bottom made him feel uncomfortable and clammy, like when he had a wet nappy, which I guess would make sense.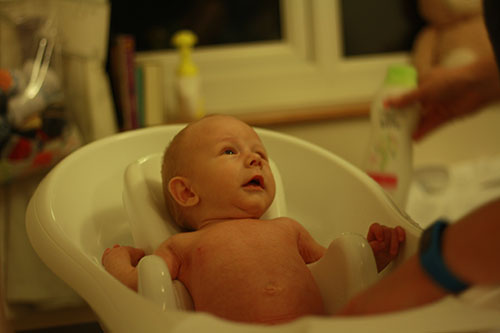 As a first-time Mum, I was advised not to use anything other than cotton wool and water on Oscar's soft baby skin for the first six weeks.  I stuck religiously to this advice, although it did then make me a little nervous that the first time I would be using products, they would be over his whole body.  The HiPP skincare range has been specifically developed to be free from anything sensitive skin doesn't like though; and to minimise the risk of allergies. All of their new bath time items hold the 'no tears' stamp.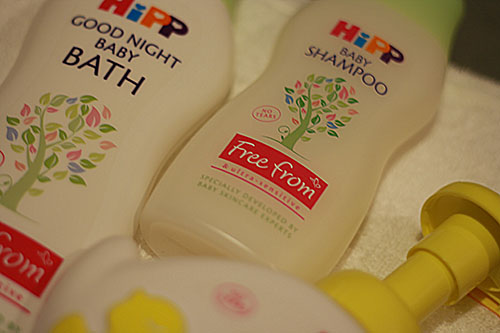 The part about bathtime which Oscar dislikes the most is when I take my hands and attention away from him to squirt a product or grab his towel…check out that face…!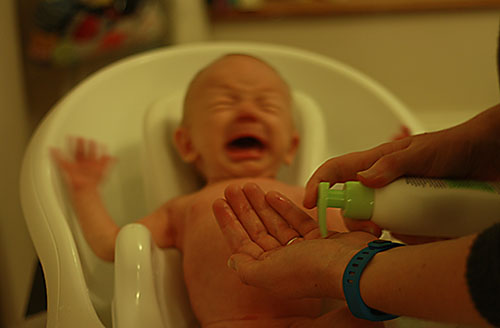 If Dan is around to help with bathtime, we usually operate as a tag team.  One of us takes the top half and covers Oscar's head, neck and arms, whilst the other concentrates on belly, legs and bottom.
First up, we concentrate on washing all of his (very little!) body.  The HiPP body wash has a subtle, but lovely, clean smell, and the liquid easily glided over Oscar's tummy and limbs, enabling me to gently massage his body as I went along.
I loved the ducky handwash.  Oscar is a little young at the minute to appreciate the novelty of having a duck head as the dispenser, but it definitely appealed to me!  Refill pouches are also available for the dispenser, to save having to purchase a new one each time you run out, which is a great idea.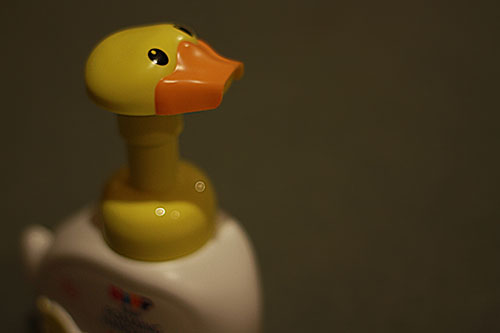 Oscar's hands are always filthy.  He went through a phase of having his fingers in his mouth all the time, although this seems to have died down now.  He still grips his hands into tight little fists though, and when they are covered in a mixture of milk and baby slobber they attract all the dust and dirt in the atmosphere.  He ends up with dark little lines across the palms of his hands where the creases lie and then these grubby little hands end up all over his visitor's clothes when they come to meet him!
The HiPP handwash is dispensed as a foam, which makes it super easy to see which parts of his tiny hands I've missed during cleaning.  There is no need to rub firmly against his hands in order for a liquid to bubble or foam up, and the soft foam easily cleans all of those grubby black lines from his palms.  It's then easy to dunk his hands in the tub next to him to rinse it all off afterwards.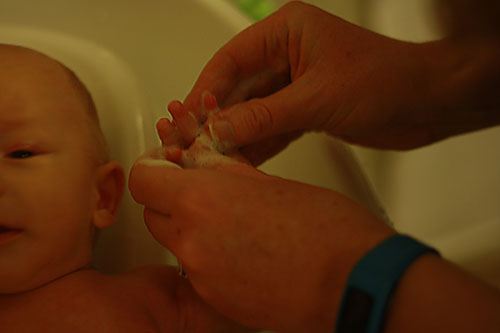 We always place Oscar's bath towel on the heated towel rail in our bathroom before beginning his bath so that we can wrap him up snuggly and warm as soon as we take him out.  There's something really comforting, – even as an adult – about stepping from a bath into a nice warm towel before bed.  If only my towels all came with hoods too!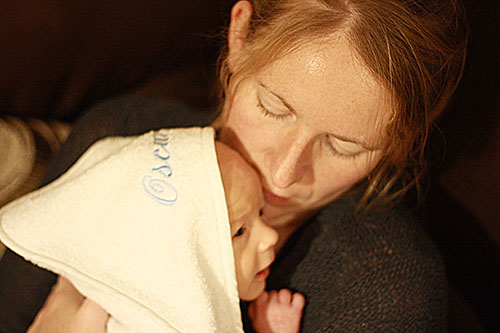 HiPP Organic's free from baby care range is available exclusively at selected Tesco stores from

6th September

Head to the HiPP UK website for more information on their NEW baby care range.
* I received the above HiPP products, towel and thermometer in exchange for a blog post.  However, all opinions are mine and Oscar's. *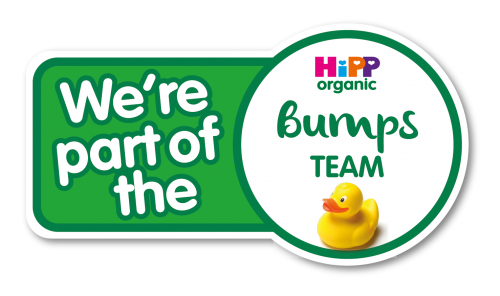 What are your favourite memories of your night time routine from when you were younger?