Breastfeeding is fantastic for so many reasons – but it's also incredibly limiting, especially at night time when I can't put an episode of Dexter on in the background to keep me entertained without waking Dan!  (Although to be honest, as he seems to be able to sleep right through Oscar's cries, I should probably give up tiptoeing around the room in the middle of the night!)
I'm exclusively breastfeeding Oscar at the moment and although I no longer dread the cry indicating that he needs feeding, the time goes by much faster when I can read articles on my tablet during the night feeds whilst I wait for him to be done.  (This sometimes takes up to 30 minutes, and in the early days it could take him up to an hour at a time!)
Here are some articles I have found interesting/funny/entertaining/relevant/disturbing over the past couple of weeks and thought I would share…
I'm not the person you married – This article rung very true when a friend shared it on Facebook last week.  During the week when Dan comes home from work I hand over Oscar, before cooking tea, washing up and then getting on with all those tasks I couldn't do during the day because I required two hands and to not have a crying baby on my shoulder!
On Friday night we actually sat down to watch a film once Oscar had settled down to sleep and all I could think about was 'I need to get the washing up done whilst he's asleep, and I also need to make sure Oscar's changing bag is restocked for our trip out in the morning!'  Needless to say I left Dan watching the film alone, although he assured me that he didn't mind.  (I think he was probably annoyed at how fidgety I'd been during the first 15 minutes anyway!)
The 6 easy graphs of parkrun – Some fabulous graphs displayed on a whiteboard illustrating 'findings' from those who enjoy parkrun.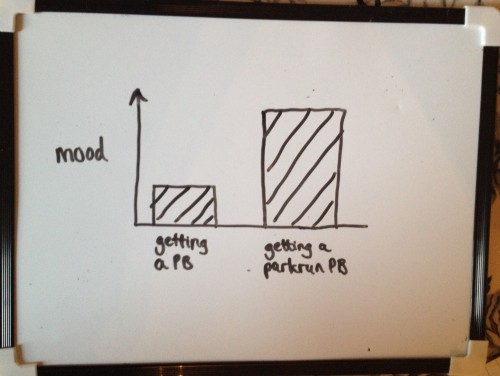 Points league announcement at parkrun – For those who haven't heard, parkrun have decided to stop the points league generated on their website.  Although I can see why some people might be disappointed, parkrun have always 'prided themselves in breaking down barriers to participation and welcoming people no matter what their background or ability', and I personally think this decision is a great one that truly fits with the whole ethos of parkrun.
Exercise and postnatal depression – I spent six weeks feeling trapped in the house with a new baby that I knew nothing about!  Although I have learnt so much about Oscar now, and feel that we have established a solid bond, I was more than ready to get out and about and exercising again once I was given the go-ahead from the doctor.  If only there had been a photographer about to capture my grin as I completed my first run back post birth.
Does treat food always have to be unhealthy? – I find it pretty horrific as a teacher (and now also a parent!) that 26,000 children in the UK had to have rotten teeth removed in hospital last year!  I fully intend on providing natural food choices for Oscar as far as possible, but restaurants are making things harder and harder for when you want to eat out as a 'treat'.
And lastly, not an article, but check out this awesome PB tee* which came up on my Facebook feed the other day.  It comes in ten different colours with both child and adult sizes, and has space for you to add your current PBs for all to see!