I was initially unsure as to whether or not I wanted to run with Oscar when he is a little bigger.  (The advice is to not run with a baby before they are able to hold their head up on their own – at approximately 6 months old.)  However, although I would like to keep running primarily as 'Me-time' and the thing that I do on my own/with my friends, I am definitely coming round to seeing the benefits of purchasing a running buggy so that I may bring Oscar out on my runs…
I will be able to train during the day, whilst it is still light so no need to pull out my headtorch each time.  (Oscar will turn 6 months old just before the clocks change next Spring so it will still be fairly dark in the evenings when I'm able to start running with him.)
I won't be restricted to running only when Dan is around to look after Oscar.  (Work meetings and football training on weeknight evenings and football matches on a Saturday afternoon mean that I'm pretty limited to when Dan can have him at the moment, and if I get an opportunity to run I've just got to go with it!)
I'll be able to train whilst spending time with Oscar. (Even if he does end up sleeping through the run!)
Oscar and I will both benefit from being out in the fresh air each day.
I will hopefully be setting a good example to Oscar in that exercise is good for you but can also be fun.
Running without the buggy will be so much easier than running with it and, therefore, hopefully Hello PBs come race season!
The week before last a friend messaged to ask if I was aware that Wendy, of Running Buggies would be visiting Stanwick Lakes with a selection of running buggies and a wealth of knowledge regarding the different models available.
I hadn't been aware and, at a time when I had only driven with Oscar in the car once before, I quickly added the event to my calendar and messaged Wendy to find out further details.
She immediately messaged me back asking what my requirements for a running buggy would be.  I told her that I would like to be able to run long distances and off-road with ease and that it didn't need to be a buggy that I could have for every day use.  Wendy informed me that the key to off road running buggies is suspension and big wheels, and suggested two models for me to test drive based on my requirements; the Out n About Nipper Sport V4 and the Thule Glide.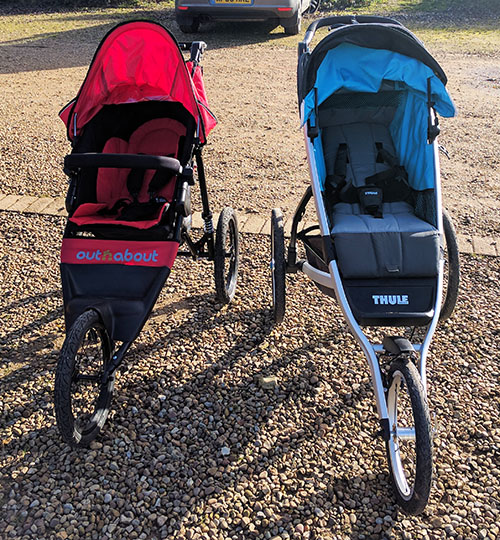 I got out of my car on that Friday morning to what felt like the first proper cold snap of the season.  The wind was brutal – really ice cold.  I'd layered Oscar up as best I could.  He was wearing a vest, sleepsuit, trousers, super thick cardigan, hat and was wrapped up in a blanket.  Despite being 9 weeks old now (7 weeks at the time), the majority of his 0-3 clothes still hang off him and he's still wearing newborn size with ease.  Everybody said it would only be a matter of days or weeks before he would grow out of newborn outfits, although we didn't find that happened for us.  I know some of my friends' babies weren't able to fit into newborn sized clothes at all!  (Luckily the smaller of his 0-3 snowsuits now fits without losing his legs so I have been able to put him into this for walks in his pram over the past couple of days.)
As it happened Wendy was more prepared than I had been for the sharp cold snap and pulled out a spare fleece blanket enabling me to double-wrap Oscar, and holding him so that I may try out the buggies she had suggested.
There were a couple of other parents there, all with children much older than mine who they were able to test out in the buggies.  As Oscar wasn't big enough to go in one yet, I just had to pretend that I was pushing a child around the path at the lakes as I jogged backwards and forwards testing them out!
Before trying the running buggies out I had no idea how they differed from regular buggies and would have not had a clue where to start looking for one if I had been left alone in the shops.  I wasn't aware that running buggies should have a fixed wheel (so that if you hit a bump which lifts the wheel up off the ground whilst running, your wheel doesn't spin off into every direction upon coming back down to land) and that you actually steer by pushing down on the back of the buggy to lift the front wheel up.  It sounds like it should be really hard to steer but in actual fact, when I tested both buggies with 90° turns, it was much easier than I expected it to be.  The buggies all have handbrakes within grabbing distance of your hands for downhill running as well.
The Out n About Nipper V4 comes with a smaller price tag but Wendy pointed out that the sun could often become a problem at certain times of the day and she had often hung muslins over the front of the canopy to try and resolve the issue.  The Thule Glide comes with a higher price tag but consistently seems to help runners break records and definitely felt much smoother to drive.
Wendy was incredibly knowledgeable about all of the running buggies she had brought with her for people to try and was able to answer all of the questions that I had.  When asked which ones she had chosen to use with her children she informed me that depending on what she was doing, she had used them all, which definitely makes her qualified enough in my eyes to advise on the pros and cons of each buggy!  She also recently shared her knowledge with Women's Running magazine on things to look for when buying a running buggy.
I shall be looking to purchase a buggy at some point in the New Year but for the next few months at least, whilst he's still so small, if Oscar has to come with me to parkrun it will be in his regular pram and we will be walking around, having a good old gossip with others at the back!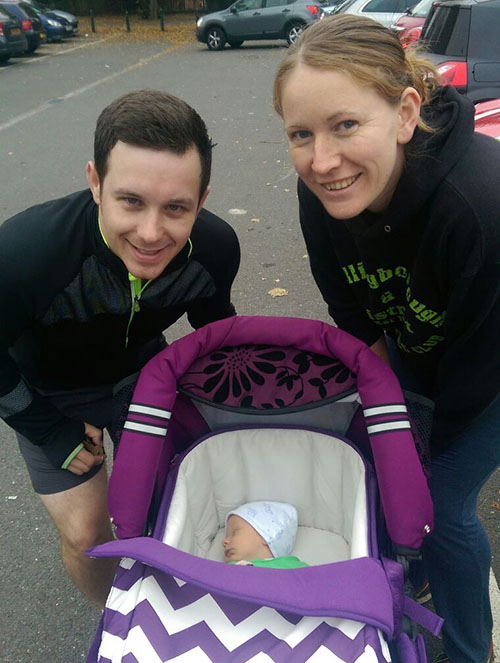 Here he is at his first parkrun with Dan and I when he was four weeks old.
What are you wearing to run in now that it's so cold out?  My tights and long-sleeved tops have definitely made it to the front of my drawers!