Last weekend Dan and I sat down and bought the majority of our Christmas shopping online through Amazon. I had visions of me having lots of time to stroll around the shops to find the perfect Christmas presents for everyone this year. However, the reality is that getting Oscar in and out of the car seat for frequent stops and dragging him around heaving stores in the run-up to Christmas isn't really ideal, so Amazon it was. To be honest, we didn't end up spending a huge amount more than we would have if we had been in town, and it came without the time and stress of having to trawl all of the shops. Bonus!
However, my Amazon suggestions list now strongly features Peppa the Pig and Frozen thanks to my nieces and as the postman has now realised I'm currently a stay at home Mum, I have tended to collect a pile of parcels for the other houses on my street each day!  At least I'm getting to know the neighbours!
Dan is rubbish at shopping for others online because he ends up spotting a million things to buy for himself instead.  In fact, last year he bought a jacket for his brother's birthday and ended up keeping it!
I like to think I'm much better, and I must be dead easy to buy gifts for, as I'm forever saying "Wow, I really like that!" but rarely do I actually buy anything for myself.
This is me going for the less subtle tact today…I'm loving all of these items and they would definitely be appreciated if they were  wrapped up and under the tree on Christmas morning!  😉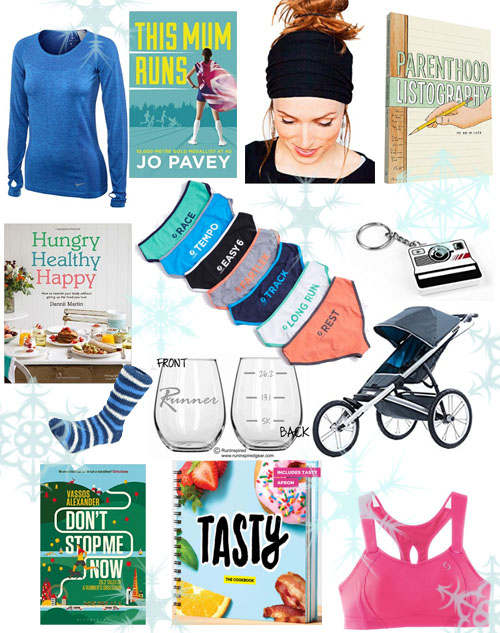 Nike long sleeved top – Because you can never have too many long sleeved running tops at this time of year, and if they have thumb holes, that's a bonus!
This Mum Runs
 – I've still not gotten round to reading any further than a few snatched paragraphs in Waterstones of Jo Pavey's book.  The 'Supermum' who won the 10,000m at the European Championships just months after having a baby.  I'm hoping to pick up a few tips when it comes to juggling children and running though!
Koly Womens Sports Running Headband
 – It's 79p.  You can't go wrong with 79p and I really need something to keep my hair out of my face during training.
Parenthood Listography (Journal)
 – Another snatched glance in Waterstones but as a self-confessed obsessive list writer I love the Listography books.  So much so in fact, that there are quite a few heading out to friends in their Christmas parcels this year.
Hungry Healthy Happy
 – Fellow blogger and new Mum, Dannii had her first recipe book published earlier this year.  I've loved Dannii's no-nonsense, easy-to-follow recipes on her blog but there is something about a loved cookbook on the kitchen shelf.
Runner undies – When I was younger I used to have two pairs of day-of-the-week knickers.  Thursday and Saturday I believe.  I have no idea why I didn't have a full set though?!  I love the idea of laying out underwear in order at the start of the week relating to my training.  Never again forget what training is supposed to be that day!
Bluetooth Selfie Remote Keyring – Selfieme
 – I never took to the idea of the selfie stick, but as I've mentioned in the past, I have been rather frustrated at just how hard it is to get decent pictures which include me in for AHM.  This selfie keyring is a bluetooth operator for the camera shutter on your phone.  Awesome!  It also comes with a stand so that you don't have to balance your phone against a tree with four rocks held up against it…:S
Cozy Toes fluffy socks – We're still waiting for a plasterer to board our ceilings, and until the ceilings are done it makes no sense to lay down new carpet.  No/bare carpet = cold toes!
Runner's wine glass – Also available in beer mugs, champagne flutes and lots of other designs!
Thule Glide Sports Stroller Pushchair – Undoubtedly a little too much money to receive as a Christmas gift, but I can dream…!
Don't Stop Me Now: 26.2 Tales of a Runner's Obsession
 – Vassos Alexander has run several ultramarathons, including the SDW100 which I marshaled at earlier in the year.
Tasty Book – I've followed the Tasty Facebook page for a while, but it was only the other day I saw that they had now also released a cookbook.  Another super easy to follow, throw all the ingredients in a big pan set of recipes.  When ordering the book, you order your seven favourite categories of recipes, so if you're not a big dessert fan, no need to include them in your copy of the book!  (Although lets be honest, who isn't a fan of dessert?!)
Moving Comfort Womens Ladies Juno Sports Bra – I am in desperate need of some new sports bras at the moment.  As I am breastfeeding my boobs are so much bigger and need so much more support!  I haven't tried these bras before but they were recommended to me on Twitter and I like the idea that the straps can be adjusted accordingly from the front.
*Some affiliate links included.
What's on your Christmas wish list this year?