This week has been super busy.  My maternity leave is flying by and I feel like I'm hardly getting anything done that I wanted!  But, I am getting to see Oscar grow up, and it's lovely to be able to watch all the little changes in him as the days and weeks go by.  This week he's learnt to stick his tongue out and it's all he wants to do.  If you stick your tongue back out at him he smiles, chuckles, kicks his legs and will love you forever!
Last weekend I headed over to Northampton parkrun again with Laura and Oscar.  I still haven't been able to properly 'run' a parkrun post pregnancy, but I'm sure that time will come soon.  Dan had been out at his work do the night before so had stayed over in Cambridge, meaning that Oscar had been with me all night and would be all day Saturday as well as Dan planned on going straight to football in the afternoon on his way home.  I didn't intend on missing parkrun, so Oscar made it over for his second event.
I arrived super early so that I could get a parking space, planning to feed Oscar once I arrived.  This sounded good in theory, but the cramped space in the car meant that we were both in an incredibly uncomfortable position in the front seat and when I sat him up afterwards he immediately threw up all over himself and me.  Fab start to the day!  Quick change of clothes for him (none for me – perhaps I should also start keeping a spare change of clothes in the car?!) and then I passed him over to Laura so that I could attempt to lug the pram out of the boot.
The plan was for Laura to run as fast as she was able around the two lap course, hopefully finishing as I started my second lap so that she was able to grab Oscar from me, meaning that I would be able to run the second lap.  We estimated that I would take about 30 minutes to finish the first lap, but I have no idea how we worked out that estimate, as Oscar and I actually power-walked round lap number one in just under 24 minutes.  Laura was nowhere in sight!
Just before finishing the first lap, our club Membership Secretary, Alan, jogged back from his place in the run and asked if he could power walk with us, having already completed a faster first mile and not being fussed about his time for the day.
Laura ended up not catching us until less than half a mile before the finish, having run round the course for quite a way looking for us(!)  When she arrived I handed her Oscar so that Alan and I may run on to the finish.  It felt really weird switching from a power walk to a faster pace with my legs!  Kind of like when you spend ages cycling and then try and walk again afterwards.  They did manage to kick in a little though towards the end, but I'm so conscious that my form is awful at the moment.  I feel all lumbery with my style since having a baby.  Really need to work on that this Winter.
We managed to overtake a few people but to be honest, unlike the first time I had walked round with Oscar at parkrun, we hadn't been at the back anyway.
Garmin time: 41:57
Official time: 41:53
Position: 358/371
Gender position: 134/145
Age category position: 22/23
By the time we were scanned and sorted it was almost 10am and the Magic Mile was being announced.  Laura had mentioned it to me during the week but I hadn't really heard much about the Magic Mile before that.  Once a month the Magic Mile is held at the Racecourse and is simply just a mile round part of the parkrun route.  Results are then posted up on their Facebook page and on the website.
Having never 'raced' a mile distance before I was interested to see what I could achieve and when Laura offered to have Oscar for ten minutes whilst I practised picking up my leg turnover around the course, I agreed to give it a go.  It would have been interesting to have had a go at this pre-pregnancy to see what pace I had been capable of then too.
A couple of the guys explained the course to me on the walk down to the start line, not that I had any concerns about leading the way(!) and then the organiser took a group shot of us all before explaining some guidelines and detailing how the Magic Mile worked.  I wasn't the only one who hadn't run it before.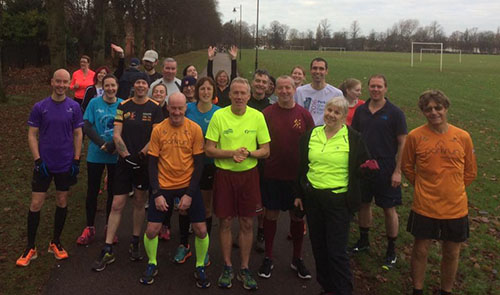 I had no idea what I would be able to run the mile in, although hoped I could still run one in under 10 minutes!  My aim was to run fairly hard, but not to push things as it was still only nine and a half weeks since I had been in surgery having Oscar and I had purposefully been keeping things fairly easy up until this point.
My watch started off showing numbers in the 7:xxs and I knew I was going too fast.  For some reason, despite usually feeling super nervous before short distance timed events, I didn't this time.  Perhaps because I'd never run the mile before, so knew there would be no pressure.  I had already begun to pull things back by the time I passed Laura and Oscar who had parked themselves by the finish line about a quarter of a mile into the course.
It's odd because although I feel like I'm doing everything again for the first time, my breathing is fine and I don't appear to suffer from stitches or lack of breath.  My legs are the ones which struggle – they just don't move as quickly as they used to!  I can also feel my stomach muscles kick in past a certain point which I guess is due to the surgery.  It's not painful, it just makes me remember they haven't been worked in a while!
I managed a rough sprint at the finish and had recovered and was breathing normally again within seconds.  Oscar was having a grumble over on the sidelines so I was anxious about hurrying to note down my time.  Slightly different to parkrun, you are given a finishing token which displays your position.  You then find the corresponding number in a notebook and write down your age, name and club details so that the results can be posted later on in the day.
Garmin time: 8:57.6 (I have no idea how I managed to get it exact, even down to the decimal place!)
Official time: 8:57.6
Position: 20/22
Gender position: 8/10
Age category position: 1/2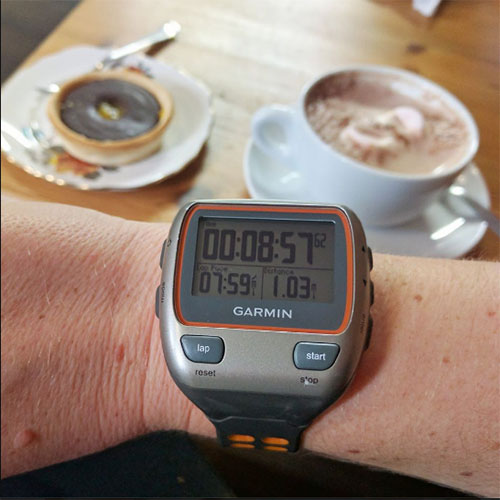 As we had Oscar with us, Laura and I headed over to The Good Loaf for hot chocolate and a chocolate orange tart this week.  I posted the above picture of my Garmin with my purchases in the background of the shot onto my Facebook page which ended up sparking a whole debate over 'treating' yourself with someone who clearly isn't a runner, although that's a story for another day!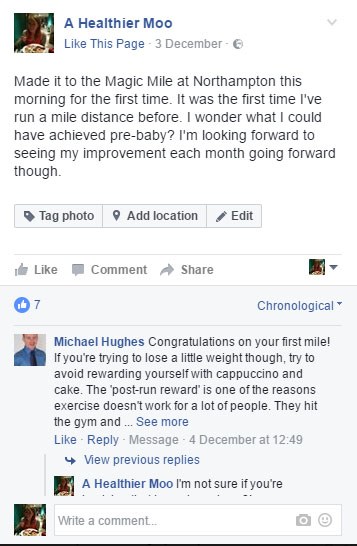 I am planning on making as many of the Magic Mile events as possible as I think once a month pushing over a mile distance will be a great way to track progress over 2017.  I've got my starting point – 8:57.  I know I used to be much quicker pre-baby.  My parkrun PB over 3.1 miles was run at a 8:37mm pace last year.  Now the aim is to get back there and pick up where I left off!
I'm planning on digging out my heart rate monitor this week to start wearing again on runs as that will help me see how I'm improving and help me to judge how hard to push once I start racing again next year.  I'm super excited to start picking things up properly again in the New Year!  Can't wait!
Does your parkrun run the Magic Mile event?
Have you tried it before?