How quickly did Christmas come and go?!  I can't believe we're already emptying old wrapping paper out into the recycling bin and thinking about taking the tree down over the next few days.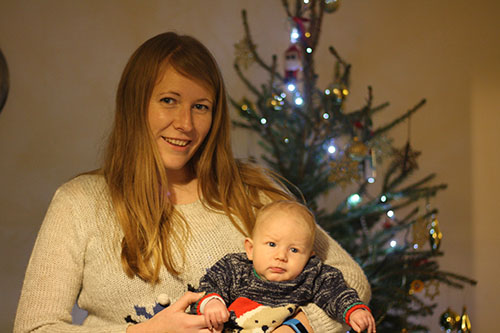 As always, we managed to cram loads in over Christmas week – here's a little run down of what we got up to…
Christmas wouldn't be Christmas without my running club's annual Christmas Eve Run.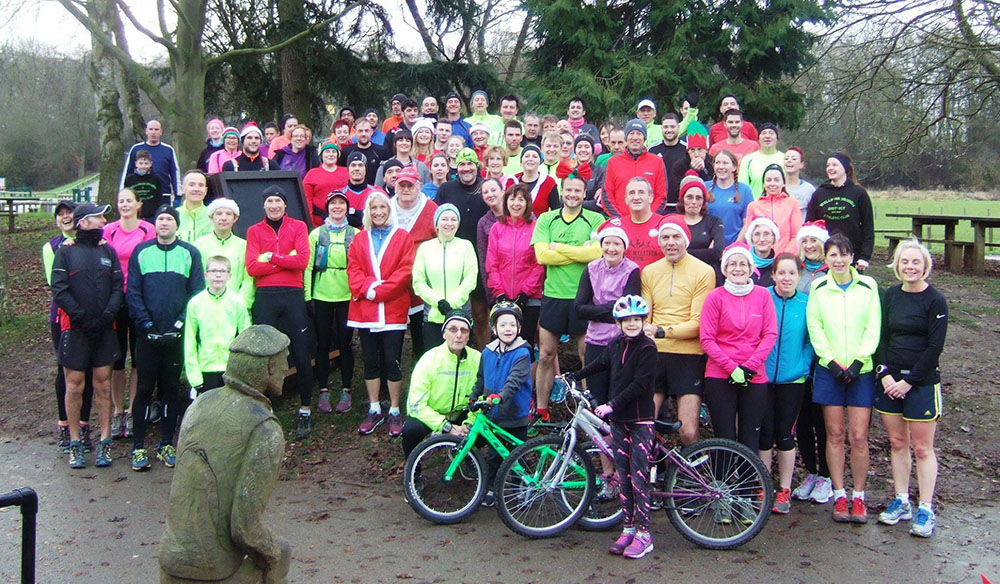 Every Christmas Eve, runners from our club meet first thing in the morning at Irchester Country Park before splitting off into smaller groups and running the trails, finishing at the café for a club-complimentary bacon/sausage roll and a hot drink.  As Christmas Eve fell on a weekend this year it meant that we had a huge turn out.
As always, I stuck to the trail group which Kev led – guaranteed to contain lots of mud, banter and laughs.  Somehow, the communication didn't get back to all the members about just where we were headed and once we set off I turned to see ALL of the club members following!  They had begun to split off away from our little group before the first mile was complete though…not so sure they would have all enjoyed some of the sections we ran along, which included the death-defying gullies which we hurtled down when our legs wouldn't stop!
It wasn't long before the splashing began and I found myself in the middle of a mud war.  The trick is to give all puddles a wide birth and make sure you are running behind the guys, rather than in front of them!  They cheated this year though, and began picking up the mud to throw rather than just kicking it up!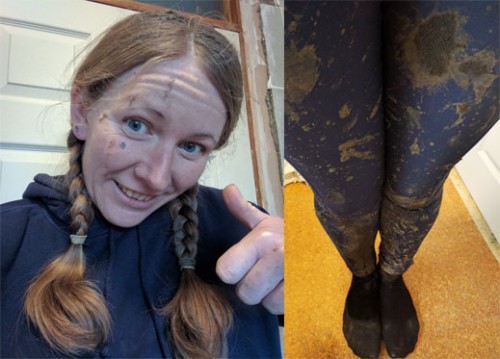 I got a massive clump of mud right on the top of my head.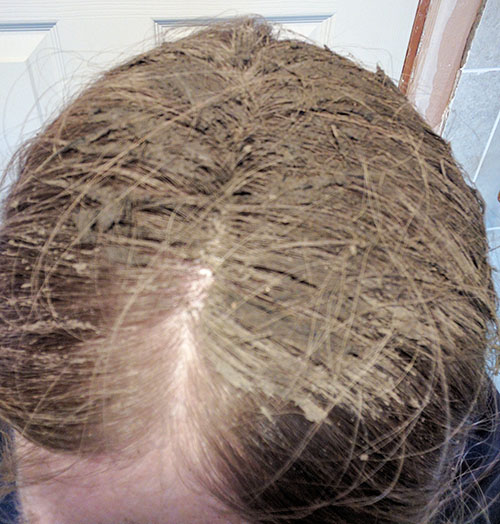 Changed my mind about heading to Tesco for some last minute shopping after that particular hit!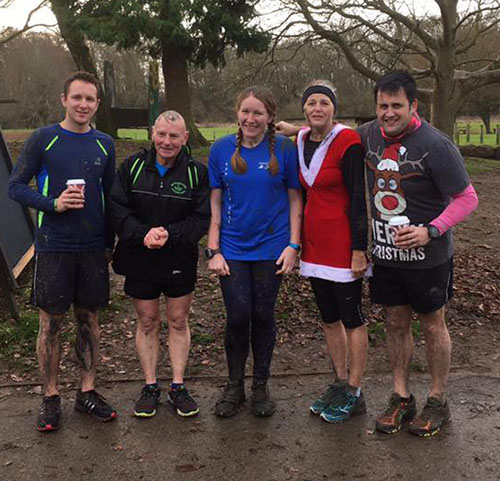 This photo really does not do justice to just how muddy we were after the run!
After a quick shower (where I tried not to shed too many dried flakes of mud on the floor, but in actual fact anyone would have been able to follow my muddy sock prints around the house) Dan, Oscar and I headed to Norfolk where we were spending Christmas with my parents.
My Mum had been lent a cot by a friend so that when we came to visit we didn't need to lug that back as well as the pushchair, a stash of nappies and baby clothes alongside all of the Christmas gifts we were taking back for the weekend.  Oscar has been sleeping from about 10-10:30pm each night right through until at least 6am each morning for the past month.  Whilst fantastic that I no longer have uninterrupted sleep each night, I really want to get him out of the habit of staying up so late as I never get to see Dan anymore because one of us is always having to entertain Oscar in the evenings.
For dinner on Christmas Eve, we headed over to my friend Hollie's house for a Chinese takeaway where there were several of the people I went to sixth form with.  Oscar took a brief kip on a pile of blankets we laid out for him on the floor but ended up being very much awake when we returned to my parents' a little after 9pm, and then continued to stay up until 1:30am the following morning!  I had to wake him up by 8am, and pointed out that it will probably be the only Christmas morning where I will have to wake him up!
My Mum had requested that Oscar and I join her in church on Sunday morning, and so Dan dropped us off with the pushchair and a bursting bag of baby 'essentials'.  They did all end up being essential on Sunday to be fair though.  Oscar remained quiet for the first 10 minutes of the service before needing to be fed, then burped, then played with, then changed at the back of the church as his clothes were by this point covered in poo!  Oh the joys of having a baby(!)
Christmas day passed by in a blur.  We always eat lunch before retiring to the lounge by mid-afternoon to begin opening presents.  That part took slightly longer this year as between us we had to open all the presents for Oscar as well.  He had just the right amount of soft toys and books for Christmas.  I really don't want him to end up having so many presents that he ends up opening them for several days afterwards like I've seen on so many Facebook statuses this week.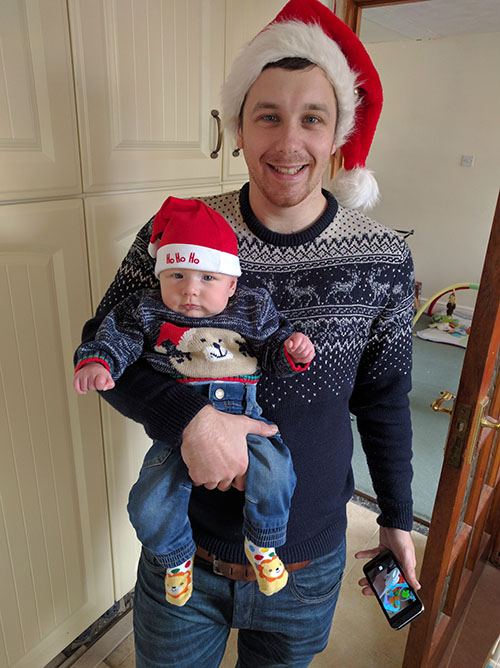 Another big meal for tea that evening.  All this food for just one day!  My belly was feeling rather full by the time we returned to Northamptonshire that night.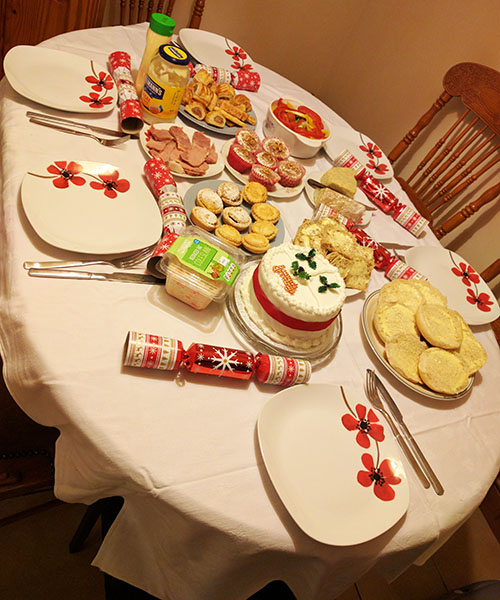 I managed a super long lay in on Boxing Day after Dan took over from me following the morning feed.  That lay in was required after several late nights of wrapping presents and then entertaining Oscar until late on Christmas Eve, with a whole week of setting my alarm early to express before Oscar wakes.  I felt so much better for the lazy day on Boxing Day.
Then on Tuesday morning I met with several club mates to run the course of the trail race that my club is putting on in February next year.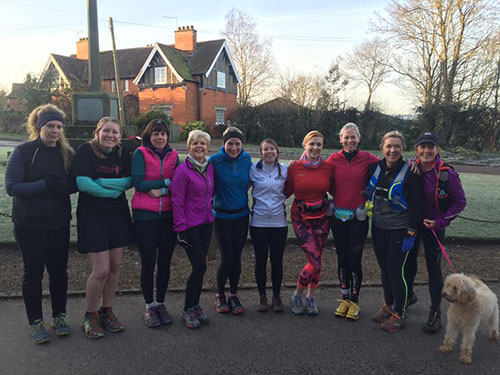 There were a load of guys out too, but we got a female-only shot first of all.
As there were so many of us it was rather slow to begin with as we waited for everyone to cross over stiles so that we were able to cut through to the starting point.  We soon settled into a steadier pace though and it was a gorgeous day to be out on the trails.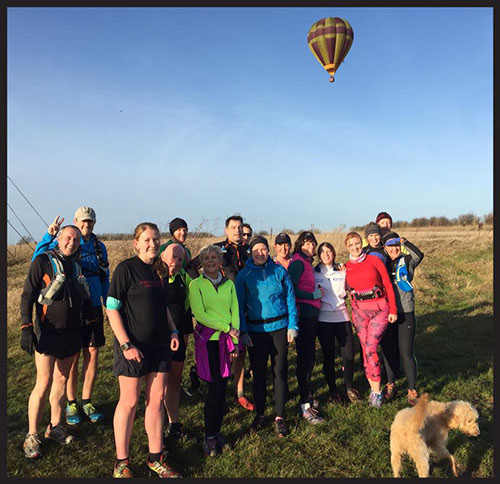 There were loads of hot air balloons out as the skies were so clear.  Although everyone had pointed out my bare legs at the start of the run, I was rather glad to be in shorts by the end as it wasn't too chilly at all.
I didn't bother with trail shoes (still not clean!) as it had been slightly frosty in the morning and so the ground was neither wet nor tacky.  Instead soft, yet firm enough to run on.
A lovely 6.8 miles to start the week off with! 

Have you been in a hot air balloon before?  I've never been but it's something I'd love to do.
How was your Christmas?