Making my way to all of the extra parkruns over Christmas break has been something I've looked forward to for the past few years.  Last year I ran the New Year's Day parkrun double for the first time.  We started at the Huntingdon course, before rushing madly over to Peterborough.  I am sure most of the people sat in cars on the A1 that morning were wearing running kit!
This year was the first year since 2012 that I hadn't been able to run parkrun on Christmas day, but I made up for it by fitting in three parkruns the following weekend instead.
#1. Bedford parkrun – New Year's Eve
Bedford was the first of the three.  Our club men's captain had announced on Facebook that he was headed over to Bedford for the New Year's Eve parkrun, and several others from our club decided to follow, – me included.  With a 15k obstacle course race lined up for the end of January, Dan also decided to come along for the run.  As I wasn't bothered about running hard, (knowing I had another two parkruns to come the following day) I offered to push Oscar round if Dan collected him from me once he finished so that I may run the final half mile or so of the event.
Having run the course before I chose to skip the briefing and find a spot right at the back with Oscar before things got too busy.  This was the first time we had taken Oscar out using the travel system – his car seat fixed into the buggy.  This meant he was sitting in a more upright position and was able to see his surroundings much better.  Oscar loved this.  He usually falls asleep within minutes of me putting him into his cot-insert, but this time he was awake well into the second mile, eagerly beaming at everybody that ran by us.  I think he was rather disappointed when people failed to stop and smile back at him.  He'll learn the draw of a PB one day!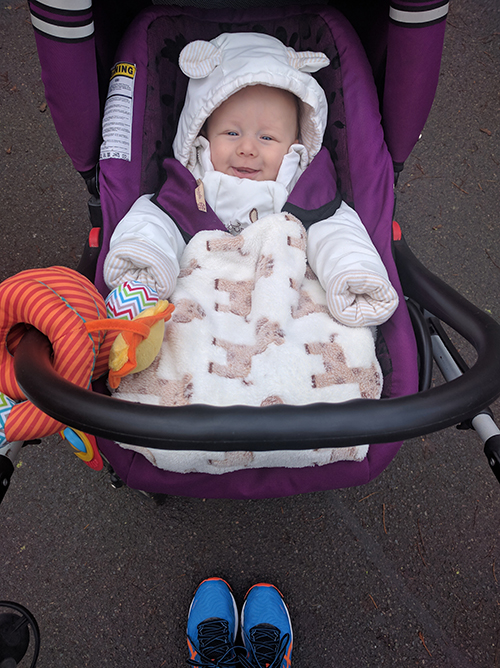 Bedford parkrun is a course of two and a half laps around the perimeter of the park.  Despite starting from the very back of the pack, Oscar and I overtook quite a few run/walkers as I power-walked past with the buggy.  The pack was rather slow to get moving to start with and I had to hold back slightly, afraid that I was going to run into the back of somebody.  Once we were moving and into a rhythm though it was fine.  Bedford parkrun is ran entirely on tarmacked paths and so it was easy to swerve out to overtake others.
Dan came sauntering back to claim Oscar just as I was coming to the end of my second lap, with less than half a mile to go.  I pushed the pram out towards him so that he was able to collect it and then picked up the pace.  I expected my legs to feel heavy and for them to struggle with the switch from walk to run but they didn't.  Knowing that it was less than a mile to the finish now I decided to see just how quickly my legs were capable of turning over once I conquered the mini hill at the far end of the course.
Mile 1: 14m 25s
Mile 2: 14m 43s
Mile 3: 10m 32s
Nubbin (0.12m): 6m 51s pace
I was super happy to see that somehow my legs were capable of a sub 7mm pace towards the end.  Perhaps my leg turnover is starting to return again!  It's only a couple of months now until I will be able to run whilst pushing Oscar, so it will be interesting to see what pace I can run 5k at with a buggy.
Garmin time: 40:28
Official time: 40:25
Position: 441/468
Gender position: 176/191
Age category position: 18/19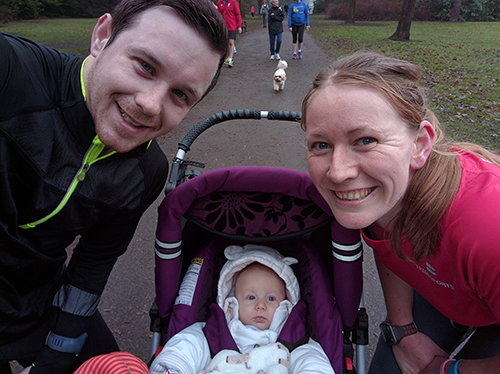 Pearson family photo at the finish!
#2. Linford Wood parkrun – New Year's Day (8:45am)
Linford Wood was the second parkrun of the weekend, and the first of the two that I visited on New Year's Day.  Several members of our club were heading over for the 'parkrun double' – A parkrun at Linford Wood before running the 2.3(ish) miles to Milton Keynes parkrun.  The plan was to run that course and then back to our cars at Linford Wood again.
Knowing that I was running late that morning (when am I not?!)  I headed straight to the start, missing the briefing once again.  Laura found me and we headed out at a fairly easy, chatty pace.  The last time I ran Linford Wood parkrun I had been 30 weeks pregnant, so I easily snagged myself a new course PB which again should be easy enough to beat next time I run the event.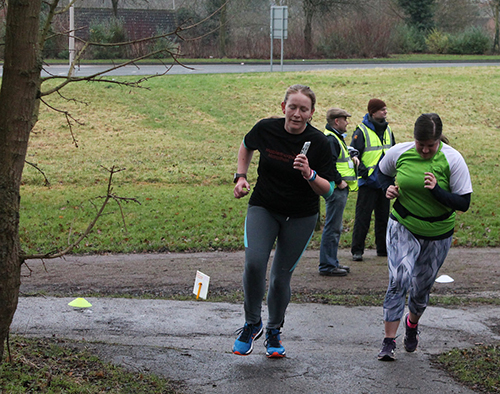 (Unflattering shot from the parkrun Flikr group – where did my massive ears come from?!)
Garmin time: 32:34
Official time: 32:32
Position: 275/333
Gender position: 81/124
Age category position: 8/14
Myself and the seven others from our club planning on running the New Year's Day double all followed Laura (some more trustingly than others!) to the start of the Milton Keynes parkrun through the edge of the park.  It wasn't overly cold, but we knew we needed to keep moving so that we didn't stiffen up between parkruns.  It ended up being about 2.3 miles between the two.
There was a nice representation from five of the six club groups, which was lovely to see.
#3. Milton Keynes parkrun – New Year's Day (10am)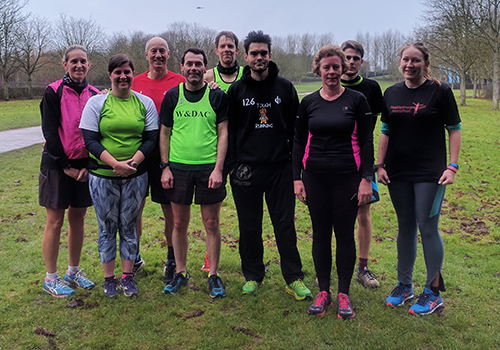 Again I ran at Laura's pace for the Milton Keynes parkrun.  Laura hadn't run any long mileage in a while and the furthest I had run since having Oscar was only about 7.5 miles up until this point so I was in the unknown too!  My body seemed to remember how to cover distance though luckily and this was another super easy jog round.
Garmin time: 34:59
Official time: 34:59
Position: 363/422
Gender position: 114/163
Age category position: 10/14
It absolutely tipped down on the route back to our cars and our group of nine slowly diminished as people sped up and shot off back towards their cars and home again.  I was shivering by the time I arrived back, and glad that I'd remembered to leave extra layers in the car.  A shame I hadn't thought of adding a towel to my bag though!  My contacts were on the brink of being washed out as I hadn't been able to find my running cap that morning either.  I am considering leaving a bag of running bits in the boot of my car for days like this.
Do you keep any spare running/workout kit in your car?
Did you head out to any of the extra parkruns over the holiday?