I feel like I've managed to get into a rhythm with running again now.  I'm not entirely back to where I would like to be, but if I schedule in 5 or 6 runs for the week at the moment, I manage to get out for 3 or 4, and that's definitely better than nothing!
The weekend before last I traveled over to Northampton with the intention of meeting Laura for the parkrun, followed by my second Magic Mile.  However, when I was only leaving the house at 7:50am (after a feed which had dragged on) I texted Laura to let her know that I would no longer be able to make it in time for the parkrun.  Stupid parking at Northampton Racecourse!
As I drove towards the Racecourse I noticed large numbers of runners along the streets.  I wondered briefly if any of them knew about parkrun, rather than having to run on their own on a Saturday morning at about the same time – before realising that they were in fact all running to the parkrun!  Turns out, with lots of football events on at the park that morning, and what turned out to be the highest attendance Northampton parkrun has ever had (516 people) there was no parking to be had anywhere near to the start.  I ended up parking a 20 minute walk from the start line, although it didn't really matter as I knew by this point that I definitely would not be able to get out and set the pushchair up ready to go in time to run.
I cheered a few runners on out on the course before taking Oscar on a slightly longer walk round to the finish line so that we could see everyone come through at the end.  Once over the line, Laura took Oscar so that I may have another go at the Magic Mile for the second month running.
As tough as I had found the event back in December, I found it easy this month.  I was a little nervous beforehand, worried that I wouldn't be able to better my time from the previous month and that no improvement had been made, but I needn't have worried.  I tried not to set off too quickly, and kept a rough eye on my heart rate monitor as I ran.  I'm not entirely sure what heart rate I should be running to over a mile distance (I'll have a look ready for next month), but knew it should be around 170-175bpm for a 5k, so tried to stick to the lower end of that as a base level.  I focused on a quicker leg turn over and, knowing that there was a gradual incline across the park towards the end of the mile distance I made sure to leave some in the tank!  This had been the part where I had struggled the previous month, but it was plain sailing across the middle this time round.  Dare I say it, but I could have gone quicker(!)
Still, I finished in 8:25 (official time 8:26) – more than 30 seconds faster than my time a month earlier.  30 seconds off a mile time?  I'll take that!  😉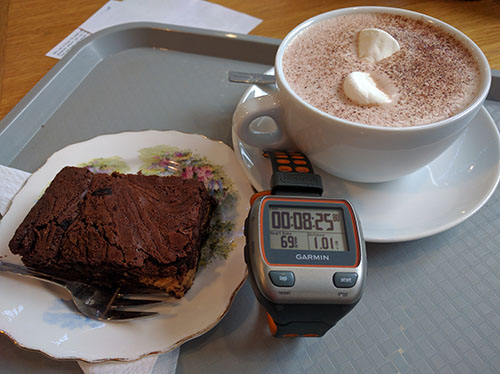 Oscar joined Laura and I for a brownie and hot chocolate in The Good Loaf afterwards.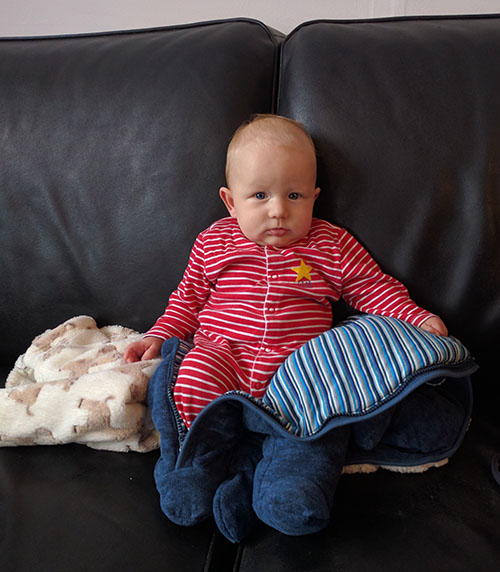 Just milk for him though.  Laura has given him several desserty-pots of baby food for him to have alongside our cake when he is a little bigger so that he doesn't feel left out!
I didn't manage to get out for a run on Monday or Tuesday last week.  Dan was off work for the week and we had plasterers in working on our ceilings.  Evenings were spent shifting furniture between rooms and hoovering and cleaning down everything that was exposed to the dust!
Wednesday was my first run of the week.  I had planned on going along to the organised club trail run but for a couple of reasons ended up not getting round in time and so set out for a run on my own around the streets of Wellingborough instead.
Now I like to think I know Wellingborough fairly well, having regularly run round the town with my running club for the past five years.  However, it turns out I'm not that good at piecing together parts of runs, and trying to avoid dark alleyways and dodgy sidestreets that are fine to run along in large groups was an almost impossible task.  By mile four I found myself on a dual carriageway with no footpath alongside, just a footpath sign pointing to a track which headed through a field away from the lights of the road.  Without a headtorch on me, neither the dual carriageway nor the field track was an option so I ended up running back through a different housing estate and trying to use signposts to point me roughly back in the direction of Tescos, where I had parked.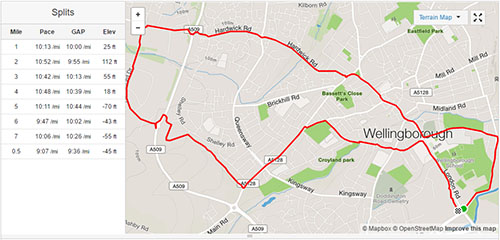 The plan for the run was to head out for about 6 miles at an effortless pace.  Without a headtorch I planned to run on feel alone and I was surprised at just how easy I found the run.  It was one of those runs where you feel like you could literally run forever.  If I hadn't needed to return for Oscar I would have turned this into a mid-week ten miler!
By mile 5 I was pretty certain where I was again and so decided to extend my stride for the final half a mile, easily averaging a 9:07mm pace.
Saturday was parkrun time again.  I was really looking forward to it last weekend.  Despite having visited parkrun numerous times since Oscar was born, I was yet to have a chance to run comfortably 'hard' at one.  I've either had the buggy with me, or been running with injured friends and I was eager to see what I was capable of now that I was able to run again.
The plan was to head to Kettering parkrun – the last event I had run before Oscar arrived.  At 39 weeks pregnant I had still easily managed a time of 33 minutes whilst chatting and I was looking forward to being able to see where my 5k time was at post-baby.  Dan had agreed to come along with Oscar so that I didn't need to worry about driving, feeding or pushing, and being super organised that morning saw us arrive at the gates to Wickstead Park before 8:30am…Only to be greeted by the core volunteer team telling us that the route was too icy, and that they had made the decision to call off the event!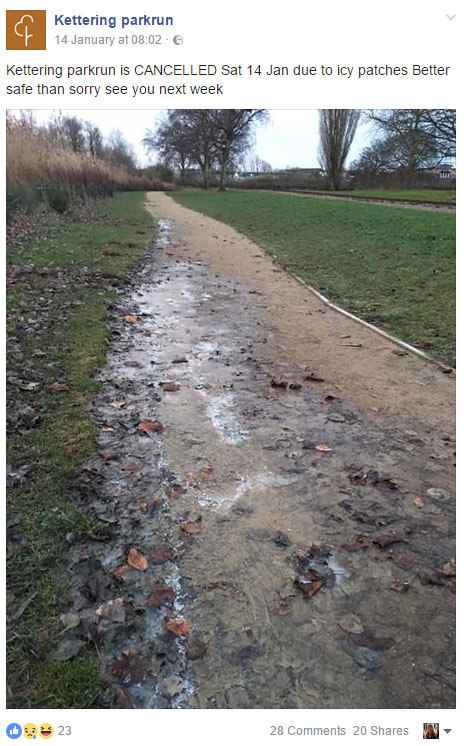 They had posted on social media earlier that morning, but I hadn't thought to check before leaving the house as it didn't seem too cold out.
I understood completely why they had made the decision to call off the event, but I was so disappointed.  I'd really been looking forward to running there that morning!  I hope the disappointment didn't come across in my voice as they tried to suggest we head over to Corby for a parkrun instead.
Despite wearing my new road shoes and with trails being a much better choice for Corby parkrun, Dan decided that he would ferry Me over to Corby instead.  I still wanted to get a parkrun in and there wasn't really another course close enough for us to make in time by this point.  Although the Corby parkrun is my favourite, it is partially off-road and with a steep climb that you repeat twice, – it definitely isn't a fast course.
The Run Director mentioned that due to a small patch of ice on the tarmac, there would be one section of the course where runners would be guided onto the grass alongside the path, but other than that the previous night's cold snap hadn't affected the run.  There were to be three pacers – 25, 28 and 29 minutes.  I decided to try and stick to the 28 minute pacer but play things by ear as the run progressed.  I hoped that relying on a pacer would take the stress out of trying to remain consistent and I could just focus on enjoying the run.
As it was, the 28 minute pacer set off rather quickly.  I completed my first mile in 8m 25s – the pace for a 26:10 5k and he was still a fair way ahead of me at this point!  I decided to just carry on running at a comfortable pace after this rather than worry about where he was.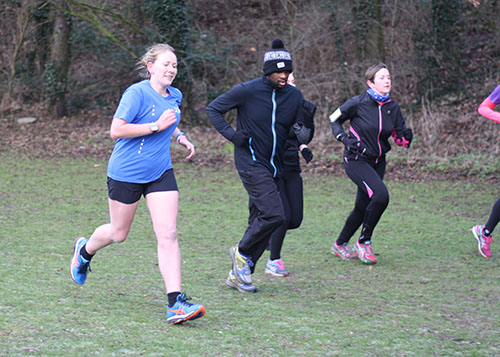 Dan took a few shots of me out on the course.  Always handy to have a personal photographer when you write a blog! 😉  Looking through the photos I feel as though my style has improved somewhat over the past few months.  I've always been a very 'lumbery' runner – lazy with my legs – but I feel as though I now have a lot more power in every stride and the photos Dan took seem to back up this theory.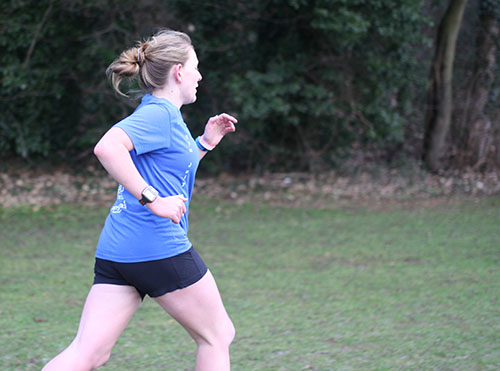 I knew I was running well, but during the run I had no idea what my course PB was.  I'd forgotten my mobile in the rush out of the house that morning, and obviously had intended on going to the Kettering, rather than Corby course so hadn't thought to look it up beforehand.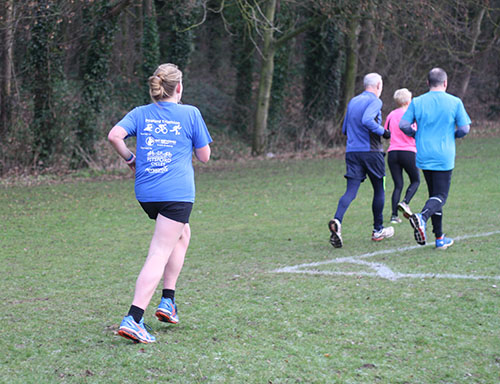 I felt like I managed to pace myself well for the remainder of the run and I still had enough in the finish to kick a littl, – finishing just behind two women who I had been yo-yoing with the entire way round the course.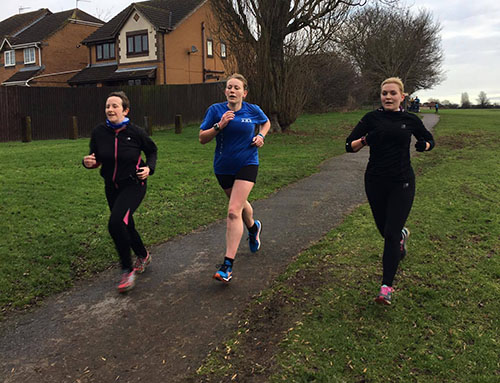 Mile 2: 9m 23s
Mile 3: 9m 26s
Nubbin (0.16m): 7:47mm pace
Garmin time: 28:30
Official time: 28:30
Position: 72/133
Gender position: 16/51
Age category position: 2/4
Turns out I was only 13 seconds away from my course PB.  In the wrong shoes, desperately needing a wee and fifteen weeks after having a baby.  I was rather happy with that!  

Have you ever turned up at a cancelled event?
Do you run along alleyways alone at night?