This post is delayed partly due to me hoping that there would have been some cross-country photos posted online, but there doesn't seem to have been any.  (The rest of the delay is purely down to laziness!)
Last week was parkrun #69 for me.  Laura has recently undergone surgery and currently unable to run so offered to be tailrunner at Northampton parkrun.  She hadn't walked as far as 5k since her operation, and as I ended up with Oscar in the buggy for the morning I offered to walk round with her at the back.  Not a great deal to report about the event – just chatting at the back and walking a 5k really!  Laura wrote about it in more detail than me though.
Garmin time: 53:01
Official time: 53:00
Position: 486/488
Gender position: 210/212
Age category position: 36/37
I didn't even take a cake picture afterwards!  The only thing really note-worthy from the event was that it was ridiculously cold!  I dressed Oscar up in a vest, sleepsuit, fluffy jumper, woolly hat, snowsuit and two blankets for the parkrun and at one point I spotted a few tiny flakes of snow falling from the sky.
The following day was the final cross-country race of the Three Counties Cross-Country season.  I missed the first three of the series as they fell too soon following the birth of Oscar for me to be out racing, but I made it to the Letchworth event just before Christmas and was looking forward to the final event to be held at Sharnbrook last weekend.
With a bit of enthusiasm drummed up on social media, there was to be a much larger turn out of runners than there had been representing our club at the Christmas event, which made me a little nervous.
Frustratingly my phone battery died on arrival at the school ground where the race was to be held, and despite seeing several supporters out snapping photos, I am yet to see any posted online, bar a couple of set up shots from one of the marshals.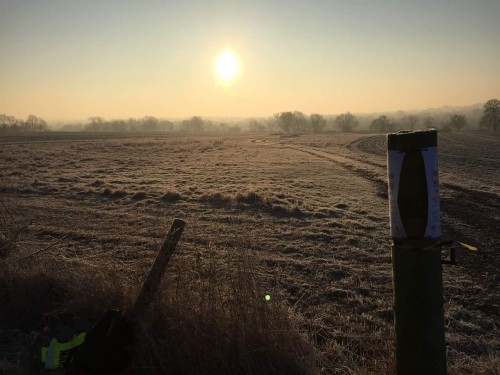 It was pretty fresh out there, although I had decided to just stick to my standard cross-country attire consisting of shorts, a t-shirt and my club vest.  It didn't take too long to warm up though, and after a lap of the school playing field we were launching ourselves down a steep slope and out through the neighbouring fields with feeling in fingers once more!
Last year, – the first year the course had been part of the series – it had been incredibly muddy.  So, so very muddy!  This year there had been very little rain in the weeks leading up to the event, although there had been a lot of thick mist which had settled early in the mornings that week, giving everything a rather damp feel, without things getting too boggy.
The ruts were still there along the tracks, but now with added ice along the top which meant for some slippery running.
I always think that the back runners at cross-country have a much tougher time than the front runners as by the time all the front runners have been along the course it ends up churned up and much more difficult to run in.  This time round though, the front runners were all hitting the ice first.
The route was slightly different this year, and included a couple of fallen trees as jumping obstacles!  I didn't fully trust my legs, especially as many in front of me considerably slowed for the obstacles, denying me of any real run-up.  I opted to quickly clamber over them instead.
The toughest part of this course is the final sprint across the long field at the finish.  It's churned up from all the runners ahead of you and this year the mud was that horrible sticky type of mud which just makes your trainers become more and more heavy until you stop to pick out the mud with a strong stick.  Visibility is good across the final field so you have the rest of your clubmates cheering you in the whole way and there's no chance of slowing down.  You must speed up for the finish, and right at the very end there's a bit of a bank just before you cross the line requiring that last bit of effort for the finish!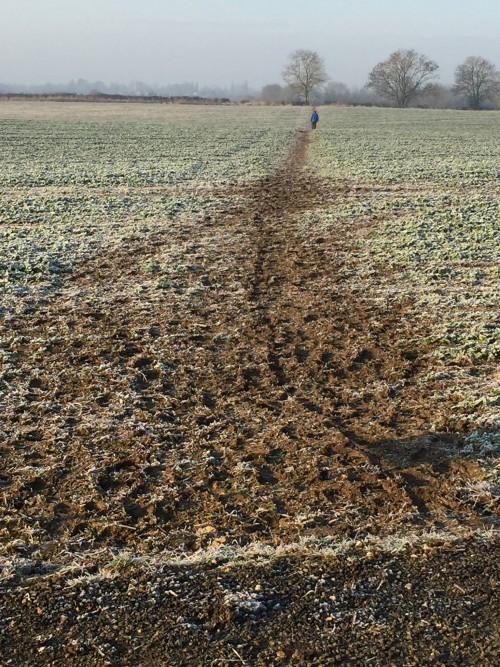 (Photo credit – taken pre-churning!)
I'm so happy that I remained consistent and ran the entire way, finishing about where I expected to position-wise.

Position: 295/336
Gender position: 82/118
Distance: 5.75m
Garmin time: 57m 46s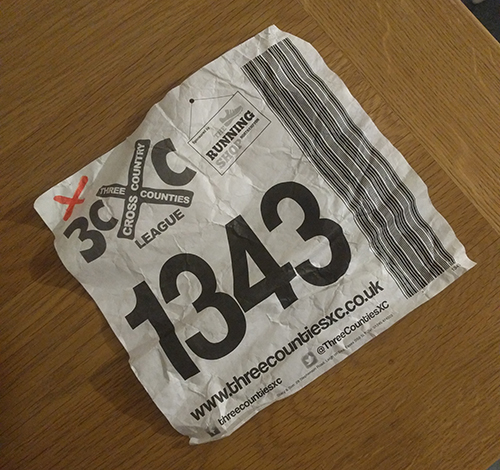 As I'm sure I've explained before – cross-country doesn't record times, but rather finishing positions.  The aim is to beat other runners of the same gender.  You get a certain number of points depending on your finishing position.  The higher the number points, the lower down the table you come.  Each scoring team at this league consists of eight male runners and four female runners.
I will never be fast enough to score for our club, as we have quite a strong cross-country team.  However, I am fast enough to push the scores of some of the other teams down and any clubs who cannot make the twelve runners required for scoring receive the number of points given to the final finisher plus one.  (Hope that made sense!)
This past weekend I was back to Northampton parkrun again.  This time without Oscar, as Dan had him for the morning.  It's the first time I've had the opportunity to actually run the whole way at Northampton parkrun since Oscar was born and I was looking forward (although also slightly nervous!) to picking up the pace and feeling slightly uncomfortable on the run.
I perhaps didn't set off as far forward as I should have done, erring on the side of caution, although I instantly regretted this.  It's been a long while since I ran with the 26-27 minute runners and it has become so overcrowded at that point in the runners.  It was still perhaps 10 runners wide at the first corner of the run (about a quarter of a mile in) and I struggled to push myself into a spot onto the path from the grass verge.
Mile 1: 8:18
I planned on running to heart rate, trying to stick to about 170bpm.  As always, it took a little while for my heart rate to pick up at the beginning of the run.  I usually capitalise on this if it's only over 5k and get in a first fast mile.  However, it was so difficult to weave in and out around the other runners that I ended up settling back a little, knowing that I could have gone a little faster.
Mile 2: 8:44
By the end of mile 2 my heart rate was getting a little higher than I would like and had sat around 175bpm for a little while.  I decided to pull it right back and walk up the final hill to 'reset' my heart rate before continuing the rest of the run.
Mile 3: 9:18
Nubbin (0.16m): 8mm pace
I was very happy to see a time starting with a '27' on my watch as I crossed the line.  My best ever parkrun time at Northampton is 26:37 so I am still a minute away from where I used to be (back in 2015) but I do feel like I'm starting to get back to where I came from now.
Garmin time: 27:37
Official time: 27:38
Position: 215/461
Gender position: 44/193
Age category position: 8/24
As I was without buggy we could go to Magees this week, the first time in ages.  I did take a picture of that cake!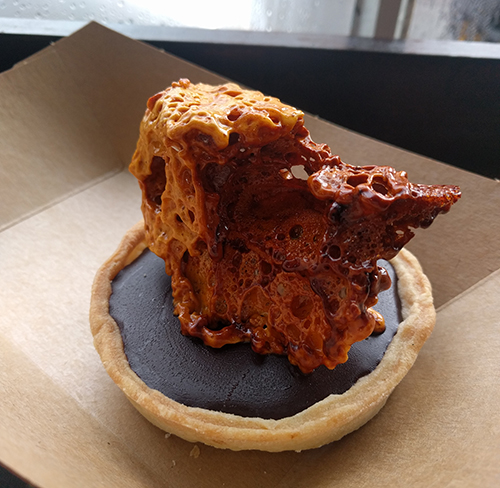 Have you struggled with a particular pace being overcrowded on a race/parkrun?
Have you run a race where there have been tree jumps/other obstacles before?!