I had such a great week of running the week before last, and then this last week all my running plans went to pot!
After the trail race on Sunday I was straight back out again with strong legs for 6.5 road miles on Monday night.  A good start to the week at least!
Tuesday was always going to be a rest day.
Wednesday was supposed to be the club trail run, but Oscar hadn't settled at all during the entire day and I had gotten nothing done.  I really just needed to hand him over to Dan as soon as Dan walked through the door home from work so that I could catch up on life admin and cleaning, so that is what I did.  I must admit, the driving rain and wind screaming outside our porch door really didn't make me regret my choice that evening!
Thursday was Storm Doris day.  Dan had to work late and I really didn't fancy tackling Storm Doris in the pitch black hours after Oscar had gone to bed.  Oscar also finally spent his first night in his own bedroom, so I kind of needed to be at hand in case he didn't agree with us that he was ready!
Friday – Dan and I were taking Oscar to meet up with some of Dan's work colleagues at Nandos in Cambridge.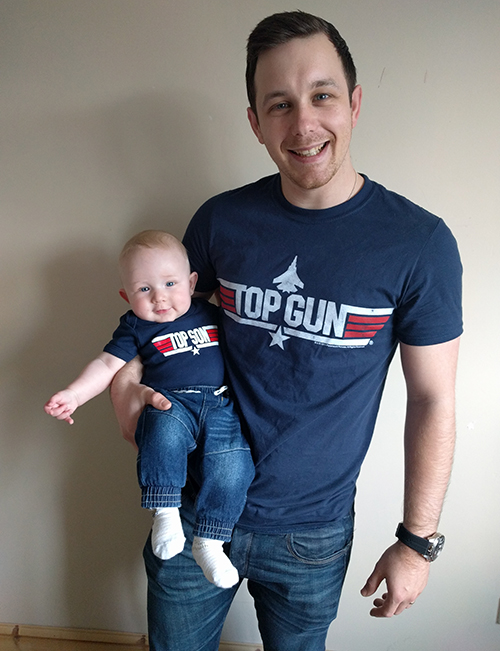 I did melt a little taking this photo on the night.  A few people pointed out that I should have a 'Top Wife' t-shirt to go along with the theme, but I think there's probably a fine line between 'cute' and 'loser!  Haha!
The plan was for me to run on our return from Nandos, whilst Dan watched Oscar along with the football on TV.  An accident on the A14 meant miles of tailbacks and not returning home until gone 9pm with a then-grumpy husband though as he had missed most of the football!  By the time Oscar was fed and changed I was too exhausted to even consider going out, especially knowing that I had to get up early to make parkrun the following day.  An early night for me!
Saturday – I finally managed to get a run in!  I was Oscar-free for parkrun this week so got up a little earlier and arrived at the Racecourse in Northampton with plenty of time to park (or to manage to grab the last parking space at 8:10am!) so that I could fit a few warm-up miles in to start with.  I ended up just short of 3 miles run at sub 10mm pace in the end.
I decided not to run around the park for my warm-up miles as I've run around the park so many times for parkrun before.  Instead, I headed off out of the far end of the park and planned to just keep turning left until I ended up back where I started.  After twenty minutes though and with me still unable to recognise any of the streets I was running down, I started to get a bit of a panic on!  As I was sporting my bright red '50 parkruns' t-shirt it was clear that I was out to run parkrun that morning – so if I was heading in completely the opposite direction I would have looked a bit of a wally!  Luckily I finally stumbled upon The Good Loaf and found my way back from there.  Sometimes it pays to know all the bakeries in town! 😉
There were several branches and large twigs strewn across the paths of the parkrun in places and one (fairly) large tree lay completely across the path at one point early on in the run.  I had been aware of this before rocking up to parkrun that morning as Dan had spotted it on his Facebook feed the previous evening.  The tree was runnable round, but it didn't make for a fast course on Saturday.  This was partly what made my mind up to get some extra miles in beforehand and then take the parkrun itself fairly steadily.
So I ran round and chatted with Laura for a fairly easy 32 minutes and 7 seconds instead.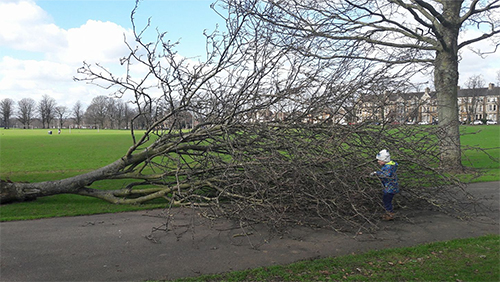 (Picture from the Northampton parkrun Facebook page)
Garmin time: 32:07
Official time: 32:07
Position: 391/549
Gender position: 115/222
Age category position: 26/38
Laura and I both commented on how busy the course had felt the whole way round and we only just managed to cross the finish line before the end of the funnel queue spilled out past the line.  It was another new attendance record at Northampton this week with 549 runners!
That was parkrun number 73 for me.  No bakery afterwards this week as Laura and I were meeting our friend Steph at Beckworth Emporium for cake later on after showers instead.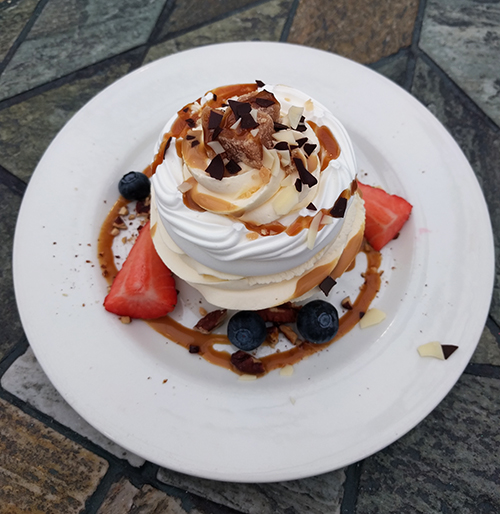 And what a cake it was!  Berry pavlova?…Yum!
Sunday – I felt rather guilty asking Dan if I could head out for an organised long run two Sundays in a row, but he did say I could!  Running from home never takes so long or is as faffy so I don't feel quite as guilty on those days, but I much prefer running with others at the weekend.  Organised runs or races mean I end up being away for a lot longer and I need to be a little more choosy about which events/social occasions I attend now that we have Oscar to look after.
On Sunday our club trail run was headed round the course route from the half marathon we had run the previous week.  The dozen or so of us ran the two loops of the course in the opposite order though – running the 8 mile loop first, followed by the shorter 6 mile loop.  The idea was to double check that no rubbish had been left behind from the race and also clarify the route where several of us had gone wrong the week before.
I had intended on running wearing my running bag the week before (The Ultimate Direction PB vest) so that I could get used to running with it ready for my upcoming ultra and also check that it still fit over my boobs since having a baby!  Annoyingly, having not needed to wear it for the best part of a year I couldn't put my hands on it come race morning, so had to go without.  I did manage to find it for my long run on Sunday though.

I replaced the water in the bottles and discovered two naked bars, a running cap and an emergency £5 in various pockets of the vest!  Gotta love finding emergency cash in places you'd forgotten you ever stored it!
I found running with the bag so much tougher than I remembered.  Obviously it should be tougher carrying extra weight and it was a fairly warm day on Sunday too.  I could still easily run the 14.8 miles we covered, but it wasn't at the pace I would have run at usually.
We did manage to establish that we had gone wrong on the course the previous week though – not that someone had moved the tape as previously reported.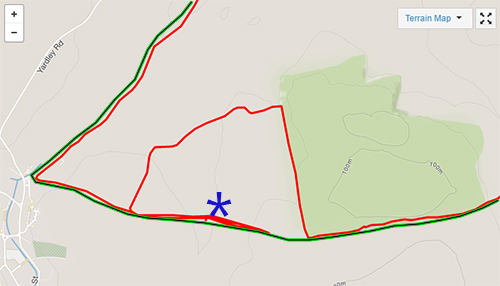 It's kind of hard to describe but using the map above to help I'll give it a go!  Last week we came in from the right hand side of that map (the red line).  We headed right, along the outside of one of the field boundaries and all the way back up the hill towards the way we had come in.  Here (marked by a blue star above) there were a couple of pieces of red and white tape marking the course on our right so we were convinced that we were following the correct path.  We went up and back down that hill two more times before heading back out of the field to the bottom left on the map above following somebody's instructions over the phone.  What we actually should have done on the day is followed the dark green line along the left hand side of the field, heading down the hill, with the tape on our left hand side guiding us out the other way!  Great way of adding extra race miles in though!  Whoops!
Were any of your running routes affected by Storm Doris/Ewan?