The last two months I have been able to get out to the Magic Mile following the parkrun at Northampton.  It was great to see the improvement I had made between December and January, where I knocked 31 seconds from my mile time.
Unfortunately I wasn't able to make the Magic Mile this month.  Dan and I were Birmingham-bound for two friends' birthdays at the weekend and needed to be in Birmingham by 12:30.  I could just about make the slightly-closer Kettering parkrun if I headed straight home to shower and change afterwards, but I definitely would not have had time to head to Northampton and run the Magic Mile, which doesn't take place until 10am.
Anyway, I was looking forward to running another parkrun without baby in tow.  The last time I ran the parkrun in Kettering I had been almost 39 weeks pregnant and it had been the first event held at that park.  I was curious to see what my body was capable of now, but knew that basically, I only had to beat 33m 15s in order to get a course PB.  Pretty much guaranteed!
It was rather cold when I woke up on Saturday morning.  Although, as always I dressed in a t-shirt and shorts and whacked the heating up full blast for the drive over.  I did worry briefly that perhaps the event would be cancelled due to the ice like it had been last month when I had tried to make it over.  But the barrier into the car park lifted as I arrived and a whole stream of cars followed me in to the grounds.
I briefly chatted to one of the marshals whose daughter also goes to Oscar's swimming class and then the Race Director stepped up to give us our briefing and count us down for the run…
"3…
2…
WAIT!  We have pacers!…"
False start!  He pointed out the two pacers that would be out on the run that morning and then we had a second, more successful count down to the start!
To be honest I went into the parkrun a little too relaxed.  I was cocky and thought I'd be able to easily hit a time somewhere in the region of 27 minutes on Saturday.  Whereas in reality I had felt rather light-headed for most of the Friday morning and I hadn't gotten much sleep that night either.  Laying in until nearly 8am meant I then hadn't had time for breakfast, and having stayed out late at a 40th birthday party the night before with just two sandwich triangles for my dinner wasn't the best of plans.  Within minutes my heart rate was showing as in the 180s.  (I usually try to run a parkrun at 170bpm and it usually takes me about a mile before I come close to hitting that bpm).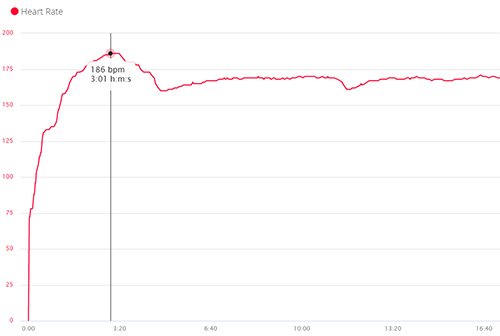 This was whilst running downhill as well, so I knew I needed to pull things back.
When my watch flashed up with 8m 36s as my first mile time split I knew I wasn't running very well as it felt like I had been running much faster than that.
The course was much more 'off-road' than I remembered from having run it back in September.  Back then it was at the end of a hot Summer and I guess now we are mid-Winter and have had a fair amount of drizzle over recent weeks.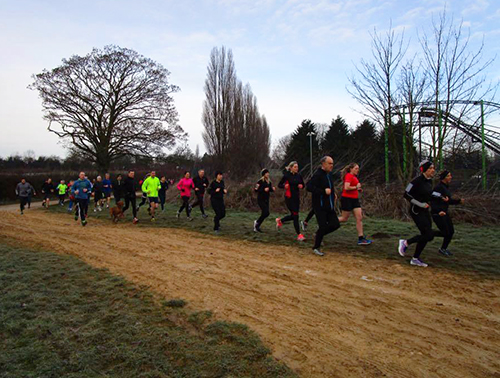 (Image from the Kettering parkrun page)
I really don't remember all that dirty, muddy track ever being there before.  Should have worn my trail shoes!
The Kettering parkrun course is run over two and a bit laps, and you cross the pontoon bridge twice.  I skidded as I leapt onto it for the first lap and almost went down, deciding at that point that I would be better to take little steps and sacrifice a few seconds of my time, but remain upright!
I was fairly confident that I was on track enough to still course-PB and so, in the interests of keeping my heart rate low I decided to walk up the slight hill after the muddy, grassy bank.  The woman at the top looked at me walking amongst all the runners and told me that I still had to do the distance again yet.  I felt like shouting out "I had a Caesarean 18 weeks ago!" but resisted.
Lap two was just as muddy, just as slippery on the bridge and just as cold.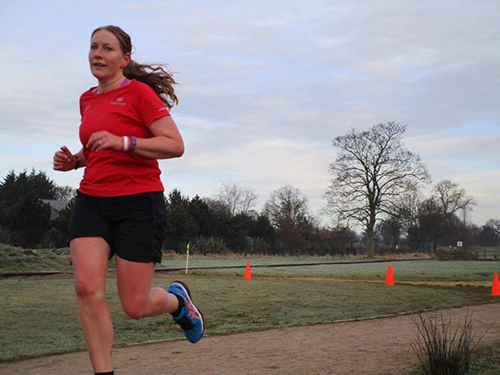 (Image from the Kettering parkrun page)
I think this picture captures just how much my legs were not impressed at the decision to wear shorts that morning!
Once you're on the final bit-lap though, it's pretty much all downhill to the finish, as my splits indicate…
Mile 1: 8:36
Mile 2: 9:26
Mile 3: 9:56
Nubbin (0.13m): 6:13 pace
A perfect example of rubbish pacing!
Garmin time: 28:49
Official time: 28:52
Position: 125/263
Gender position: 26/116
Age category position: 1/6
Somehow I still managed to come in the top half of the results table despite my poor run and even came first in my age category(!)
Are you still wearing shorts for workouts at this time of year?
Any courses to mention with a great downhill finish?