Oscar turned four months old at the end of January.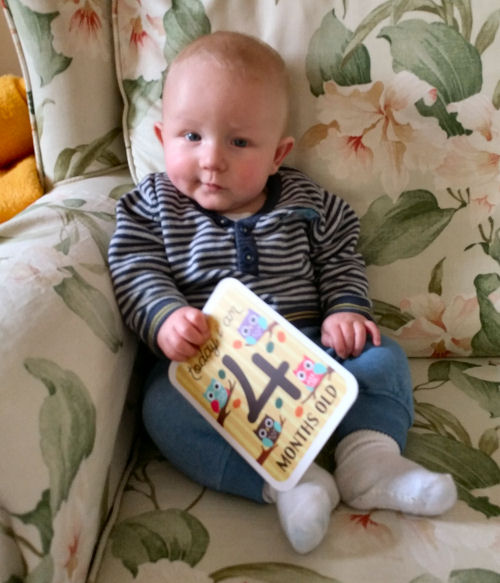 Man, that went fast!  Yet, at the same time, it strangely feels like he has always been here and I couldn't imagine life without him now.
From the very beginning I was adamant that I was going to keep my own identity and not just become known as 'Oscar's Mum'.  Ask anyone to describe me and I'm pretty sure that somewhere in their description the words 'runner' and 'teacher' will feature.  I didn't want to lose those parts of me when Dan and I decided to have children – especially not the runner part.
Fitting in runs has been tougher than I first thought it would be.  Luckily Dan has been very supportive and welcomed having Oscar so that I was able to run from very early on.  Unfortunately the new job Dan started after Christmas means that he is no longer back in time for me to make running club on a Tuesday or Thursday training night, but I can still make the informal Monday road and Wednesday trail club runs which don't start until the slightly later time of 7pm.
Before Oscar, all I needed to do was throw my clothes on and nip out of the door but now there's so much more to think about before heading out for each run.  I will never take being able to run for granted now, for sure.
Breastfeeding is the biggest issue.  I have to schedule Oscar's feeds throughout the day so that it falls just right in that I can feed him before I leave.  Mess the feeding schedule up and it could all go to pot.
Sleep is another issue.  Since December I've been getting some early morning runs in before Oscar wakes up.  If I set my alarm for 4:45am I can usually express, throw some clothes on and head out for three or four miles before he wakes.  It can be a proper challenge though…Let my alarm ring for too long and he wakes.  If this is the case, sometimes I can feed him and put him back down again, but he doesn't normally drift back off unless he can hear me breathing in the bed beside him.  If I lie down in the bed with the lights out to encourage him to return to sleep, I often then end up falling asleep myself.  Game over!
There have been a few times where I've gotten out the door only to realise I'm not wearing my heart rate monitor/Garmin/headband.  By this point I'm not turning around and risking opening the bedroom door again so the run goes without data/unrecorded/my head gets cold!
At the start of each week I've written a set of if-all-goes-OK runs in my training calendar.  The aim is to get out for at least three – hopefully four – of these runs each week.  I usually schedule five or six in order to hit this target!  I'm also back on the 10,000 steps a day train.  I just feel so much better in myself on days I move around more and I think it's much better for Oscar to get outside at some point every day.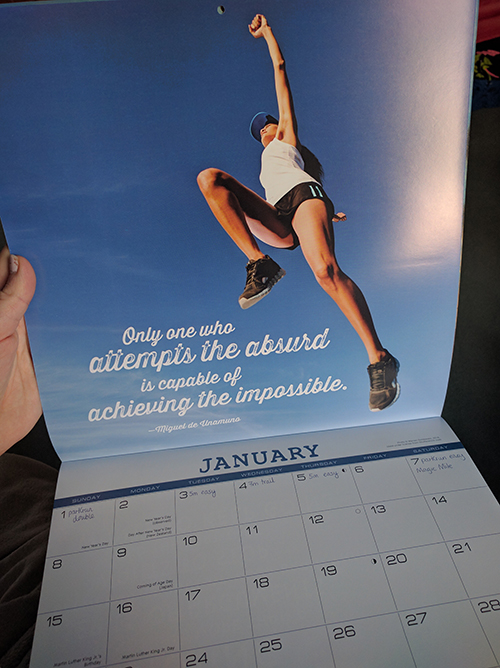 I've had to improvise when it comes to my training plan a couple of times.  Dan was late home from work on trail run night the other week and then Oscar didn't settle on his return.  My '7 mile trail run with friends' became '5x solo 1mile loops around the estate I live on', so that I was near to hand if Dan needed me.  I guess that sort of run could be good for me mentally as it was rather dull and I had to power through at one point.  In a weird sort of way I actually enjoyed it.  It was nice knowing that if I wasn't feeling it I was only ever 4 minutes away from my front door.
I have a feeling that some of my long runs are going to turn into mile loops from my front door so that I can be around if Oscar wakes up or Dan needs me.  They're not ideal runs, and I do miss running with other people on these occasions but miles are miles at the end of the day and there is a fifty mile race fast coming up on my calendar which requires my mileage to start increasing!
The last couple of weekends have been rather manic which has made fitting runs in even more challenging.  As neither of my parents are very well at the moment I've made the decision to return for a visit back to Norfolk every Thursday and Friday for the remainder of my maternity leave.  A couple of weekends back we stayed in Wolverhampton for Dan's Nan's 90th birthday and this past weekend was once again in Wolverhampton for two 30th birthdays, having been out in Northampton for a 40th birthday the night before.  This really is the year of the big birthday!
Oscar's head control is so much better than it was.  The guidelines for taking a baby out in a running buggy all suggest six months and full head control.  He's getting stronger every week.  He's not yet fully rolled over, but come very close from going back to front on more than one occasion when lying on his changing mat.  He definitely needs to remain within arm's reach now!
It will make things infinitely easier to fit runs in once Oscar can go in a buggy as I will be able to run during the day.  Oh, daylight runs, how I have missed you!  I feel like I am forever running in the dark at the moment.  And there's no point in me weather watching, as even the heaviest of rainfalls doesn't stop me if that hits my time to run!
6 incredibly wet marathon training miles – DONE! #ukrunchat pic.twitter.com/NUoMXKkTKA

— Mary P (@ahealthiermoo) February 6, 2017

The only weather which does stop me completely in my tracks is ice first thing in the morning.  I'm not going to risk breaking my leg for three measly stupid-o'clock-in-the-morning miles.
How do you make sure you fit in your runs during the week?
Do you manage many daylight runs this time of year?