I managed to get out with my Garmin strapped firmly on several times last week.  Always a challenge when there's a baby involved!  I'm trying to increase my running frequency over the next couple of weeks.  I have an ultra coming up in April which presents enough challenges now that I'm a Mum without worrying that my mileage has been much lower than pre-pregnancy.
Monday was my first run of the week.  I usually get up early on a Monday morning and run before Dan heads off to work but I had already arranged to head over for the Monday evening group club run last week instead.  It's the first time that I had run out with the group on a Monday night.  Before Oscar, Dan and I always used to head over to our local pub quiz on a Monday night, but we can no longer attend that now that O is here.
It absolutely tipped it down on Monday and at one point we were showered with freezing cold hail too.  I hate the feeling of hail hitting your face and your face being sent into completely numb shock!  I should have woken up early and got my run in first thing perhaps after all!  We didn't bother with a cool down upon reaching our cars – it was quick goodbyes and car heaters turned up full blast for all before I drove quickly home for a nice warm bath and my tea.
Wednesday was the club trail run and we covered a further six miles across muddy fields and footpaths.  I'm feeling so strong on the Wednesday night trail runs just lately and it has really boosted my confidence to be running so far towards the front of the group of runners that I run out with.  My core strength has improved loads from carrying Oscar regularly during the day and I swear this is why my trail running has improved so much.  I would say that across trail I am definitely running back where I was pre-pregnancy, perhaps even stronger now.  (Good job my upcoming ultra will be run over trail!)
Saturday it was time for parkrun.  Annoyingly I managed to leave my breast pump at my parents' house the day before so had to bring Oscar along, despite Dan offering to have him for the morning.
It was raining slightly, and there was even a bit of snow at one point, so I wrapped him up well with lots of layers, two blankets and a rain cover.  He was definitely very snuggly under all that lot and loved watching the other runners go by!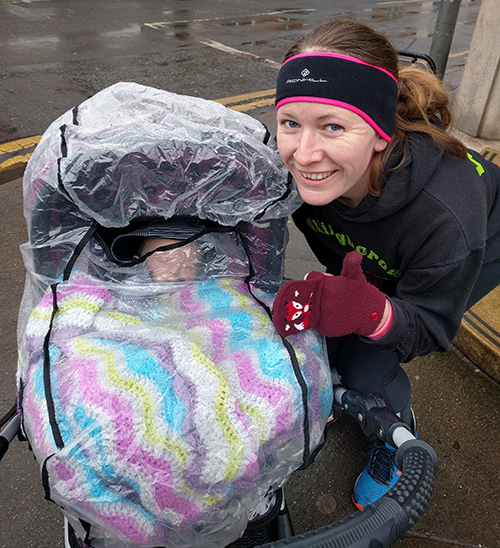 Garmin time: 45:08
Official time: 45:11
Position: 405/416
Gender position: 154/160
Age category position: 28/30
Quick side note to say that the blanket pictured above is the second one my friend Hollie has crocheted for Oscar.  Isn't she super talented?!  I would love to be able to make something like this!  I did recently knit a monkey for a friend's new baby, but I've never managed to master crochet or clothes.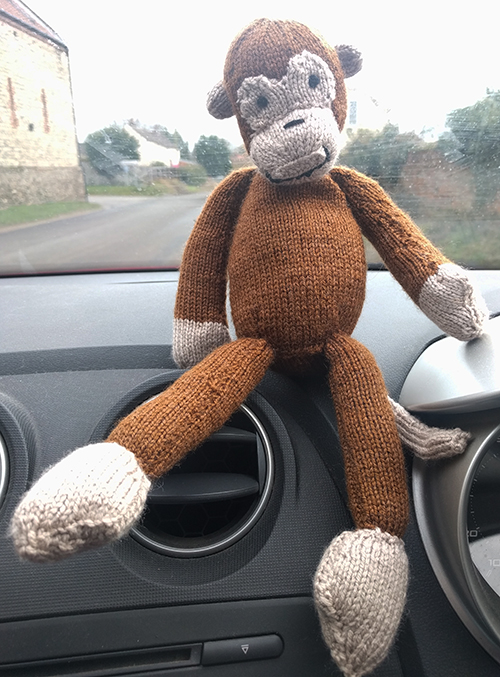 There's something special I think about receiving hand made gifts.  All the time and effort that went into creating them and the thought that goes along with it too.  Jane sent Oscar a lovely set of booties and a hat that she had made when he was first born in our club's green colour.  When he gets a little bigger he will be fully decked out in WDAC green with his knitted items along with the mini club vest he was given from a friend.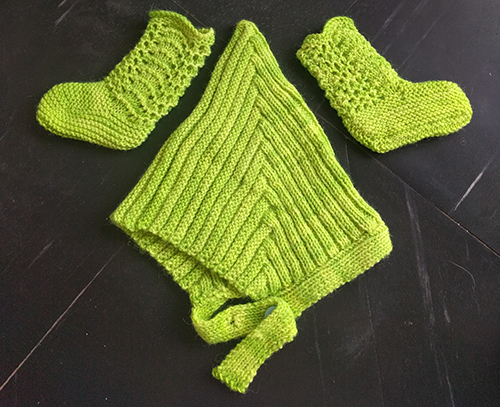 On Sunday there was a six mile trail run organised.  I knew that if I got up early enough I would be able to feed Oscar twice before leaving, park a little way away at the local Tescos, run to the meeting point and then get in an extra couple of miles around the park before meeting up with the others.  5:30am alarm set for a 9am meet up!  I don't think I'll be accidentally leaving my pump at my parents' house again!
There had been a lot of rain around these parts last week and it was fairly muddy once I hit the park.  Stupidly, I picked some of the muddiest trails for my warm-up run too.  It was down one of these muddy trails that I felt my foot slide out from under me and in slow-motion saw my right leg go down into a large muddy puddle!  Somehow I managed to keep my left leg standing so I never fully went in, but my right leg was absolutely covered!  Usually if you don't pussy-foot around the edge of puddles and run straight through you miss the slippery mud, but on Sunday the bottom of the puddles seemed to be just as treacherous.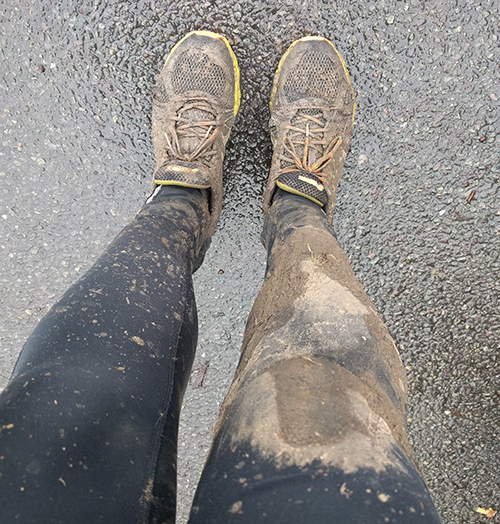 At least it was during my solo warm-up run when I fell so no-one was around to see me go down.  No hiding from it though with all that mud on my leg advertising my fall! One of the other ladies slipped over later too so it wasn't just me.
I had to nip into Tesco for a few bits after my run so mooched around the aisles with my mud covered leg on show.  It wasn't until I got home that I also had flecks of mud across my face – even covering my lips and eyelid!  Nobody stopped and stared at me anyway!
Annoyingly, despite feeling fine after the fall and for the remainder of my 10ish mile run my right thigh has felt rather bruised yesterday and today.  Going downstairs has been a little uncomfortable and it really doesn't help that Oscar has been insisting on practising standing on the top of my legs this week!  Two days of rest and I'll see how I am tomorrow evening at the trail run again.
As well as managing to fit several runs in last week, I also headed out on lots of walks with Oscar in the baby carrier.  I was gifted the We Made Me Pao Papoose 3-in-1 Front and Back Baby Carrier* from my work colleagues when I headed off on maternity leave in the Autumn and it has really come in so handy.  Once you know how to get it on and how to strap Oscar safely in, it's so much quicker and easier than lugging a pram around.  It also means that we are able to go offroad without the worry about whether or not a buggy will fit down little tracks or if there will be any stiles to cross!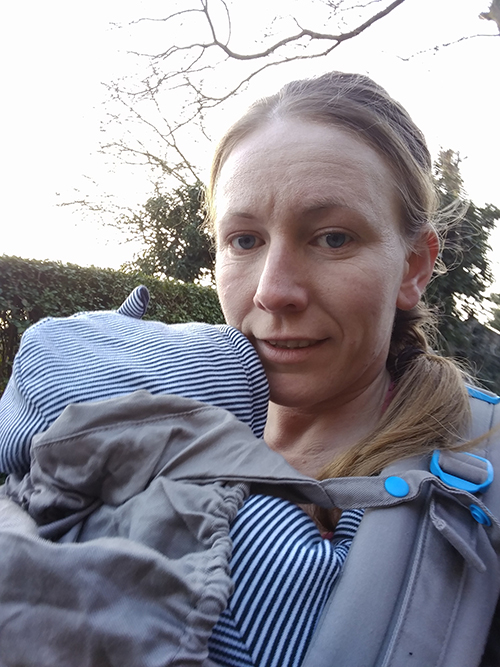 I'm really hoping that Oscar will grow up as an outdoorsy-child and not one obsessed with computer games or watching YouTube on the iPad.  Dan and I aren't big television watchers.  I never have been really – always having preferred to be outside and doing something rather than sat down stationary in front of the box.  I hope I'm setting a good example to him with everything that I do.  I can only try my best, right?
Did you have an active childhood?
Do you mind going shopping in your running gear?