It was two years ago when members of our club first started talking about organising a trail race at local venue, Castle Ashby.  The idea grew and grew and eventually became a reality.  Then, when places were released towards the end of last year, the event was a complete sell out within three weeks!

Although I would normally be one of the first to put my name down to help marshal at a club event, I decided that this event was one that I wanted to run and would be a good aim for a first race back following my pregnancy.  (In actual fact I ran two cross-country races first, but of distances of no more than 10k.)  Despite not being able to marshal on the day I helped in other ways before the event by setting up the website with online booking and helping to design the medal.
Of course, trail distances are never actual race distances, and the half marathon that I was entered for was an alleged 14.4 miles – more than a mile further than you expect of a road half!
As always, with Oscar it meant that a great deal of organisation was required in order to be able to get there in the first place.  It was a 9:30am race start which required a 5:30am get up for me in order to then express, feed Oscar, shower, change and have breakfast before heading over to register at the event.  I went for a breakfast porridge and blueberries.  Probably a bit stodgy for my liking had I been planning on running a fast road race, but it was spot on to fill me up ready for the trail race.
My Mum had asked earlier in the week if I planned on 'racing' the event.  I hadn't really thought about it until she asked, but knew that I wanted to run it to the best of my ability on the day.  I always race better on my own than I do in a large group so the intention was not to run with anybody but to just enjoy being out and about in the countryside in the perfect race conditions that we were lucky enough to have last Sunday.
As it was a club event I knew that I would know all the marshals out on the course, which is always a lovely boost.  There were also several of our own out running the event who I saw on the way round.
@wdacrunner this is terrifying! Loads of proper athletes looking very serious. Oh and some chickens. pic.twitter.com/xAlq5ASo6e

— Karen Shakespeare (@KazShakespeare) February 19, 2017
As always seems to be the way at races, I seemed to manage to get into the background of several other people's photos!
There was a hen party running the 10k event, and they were all fully dressed for the occasion!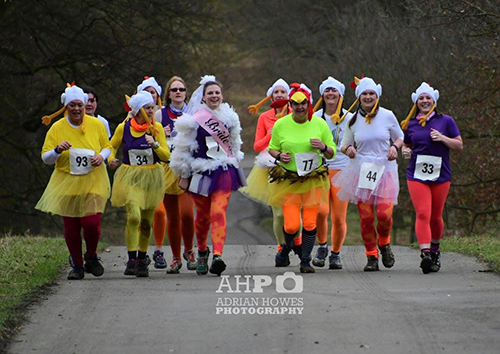 It's a fast start down the Castle Ashby drive, before we immediately came upon heavily rutted ground alongside a row of trees.  People were still in the process of finding their place in the pack at this point so I did a fair bit of overtaking here.  There were quite a few non-trail runners who perhaps began to realise at this point the enormity of the event they had entered!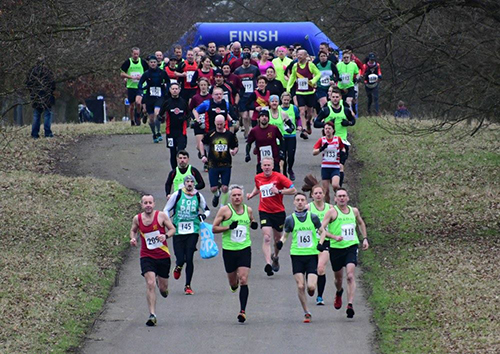 (Picture credit)
All of the half marathon and 10k runners set off at the same time, with the canicross entries setting off 5 minutes later so as not to trip up runners in the mad dash from the start! I ran an incredibly strong first 10k.  With it being a trail race my intention was to walk the steepest of hills from the beginning just as I would in an ultra so as not to tire myself out.  There were only two or three hills where I felt the need to walk and then, thanks to my long stride, I was still overtaking runners anyway.  There was a stile two miles in, but by the time I arrived at it there were only a couple of runners in front of me, so there wasn't too much hanging around.  I never run in gloves, but decided to on Sunday, and it was at this point that I threw them to a marshal for me to pick up again later on.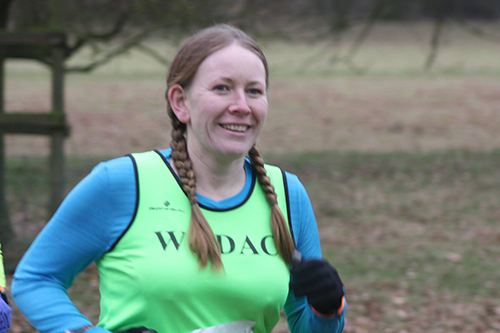 There was a drink station just after the stile where quite a few runners had stopped.  I decided to carry on and make use of the next drink station instead, although regretted this decision not long after!  I had intended on running with my race bag as practise for my upcoming 50 miler but I could not find it anywhere on race morning so ended up going without extra nutrition on the way round.
If I was a running bag that hadn't been used in nearly a year where would I be?…

— Mary P (@ahealthiermoo) February 19, 2017
The 10k was 6.7 miles and I would have finished in about 72 minutes (judging by the 10k runners heading off to the finish as I turned off into the field for a second, different loop).
The second loop was much tougher going, with thicker, more slippery mud and steeper, longer hills.  I stopped for a chat with the marshal on the checkpoint at 8.5 miles and downed a cup of pink liquid after enquiring what it was.  He asked if I was still breastfeeding, to which I replied that I was, and only thought afterwards as I headed off over the next hill that I probably should have paid more attention to what I could and could not take on board as a breastfeeding Mum.  I had a very minimal amount in my cup luckily anyway.
There was another runner from my club not far ahead of me, running with two other local runners who I kept in my eyeline for the next few miles.  They were always just heading round the next bend.  That's the thing about trail races – you can sometimes go for miles and not see anybody at all – it's not like a road race!  It doesn't bother me as long as I know where I am going though and the guys from our club had done a good job of winding red and white tape along the route and adding arrows to the hedgerows at major turns.  At 12.5 miles I could see that Amy (the other runner from my club) had stopped at a crossroads along with four others and was motioning to me that she didn't know where to go next with her arms in an exaggerated shrug.  I shouted that I didn't know this section of the route and that if there wasn't any tape marking to turn then I would presume we kept going.  So they did.
I caught them at the top of the hill as they realised that if we continued they would be running back into the field we had initially come out of, and we hadn't seen any other half marathon runners heading back in that direction on our way in.  Amy, along with two guys attempted to bring up the course map on their phones whilst I headed back down the hill with another lady to check out the other options at the crossroads.  There was no tape marking any turn-off from the track so after a bit of debate we headed back up the hill to join the others once more who were still undecided as to which direction we should be going in.  There was tape just before the crossroads so we didn't feel as though we had gone off course.  Annoyingly as I had ended up not taking my bag I hadn't brought my phone along so couldn't ring for help with directions.  About 10 minutes later a large group of about 8-9 others joined us, many of whom were from our running club.  One of them decided to give Gary, the Race Director a call and he directed us back up the hill the way we had initially come from and across a grassy field towards a stile.  It looks like somebody had moved the tape into the wrong place on the course!
In total I think we lost about 20 minutes of time with faffing and I ended up with 15.8 miles on my Garmin by the end of the course instead of the 14.4 miles that the course was advertised as.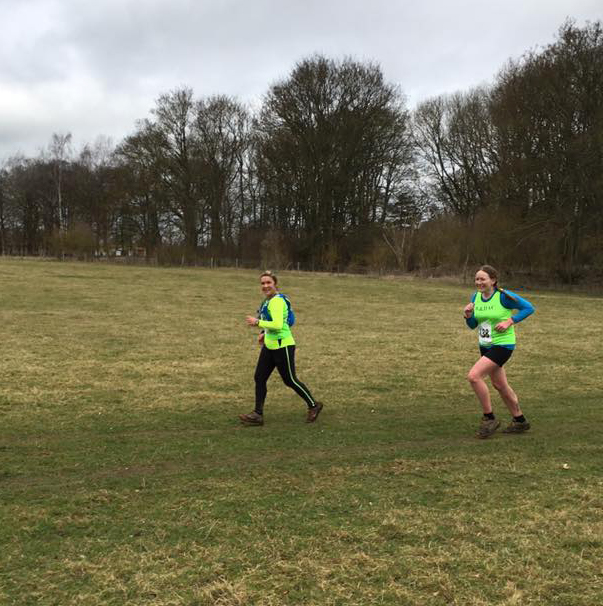 I had company for the final few miles of the course now though as by this point there was a massive group of us, although we had managed to space out a fair bit again by the time we reached the finish.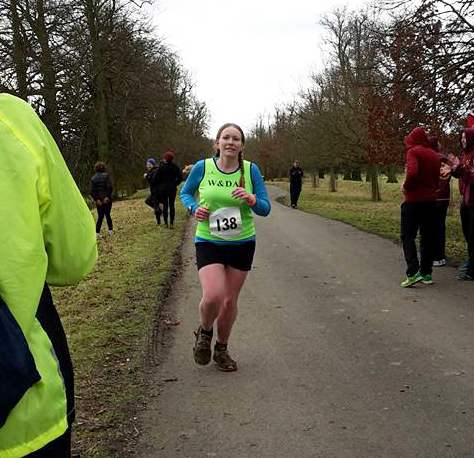 As fast as the start had been – heading down the Castle Ashby drive – the finish was slow, as we had to run back up the drive on tired legs!  I made it though and was handed my medal, a cup of water and a raffle ticket to exchange for a jacket potato and hot drink in the cafe.  I needed that hot drink!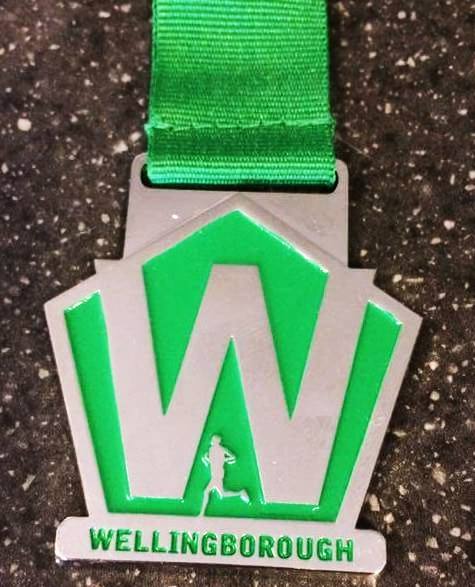 Distance: 15.81m
Garmin time: 3h 17m 20s
Official time: 3h 17m 20s
Position: 65/81
My legs were a little stiff at the finish and so I managed to convince Laura (who had been marshaling) to order my jacket potato and drink whilst I found us some seats.  Here I spotted Katie and Lorraine who had also just finished so we had a quick chat whilst warming our insides with hot food!
I was really looking forward to feeding Oscar (was in desperate need by this point!), having a long warm bath and chilling out with my little family in the afternoon, but Dan was feeling poorly so handed Oscar over as soon as I walked in the door and headed off to bed.  I was still covered in mud and had to make do with sitting on the floor for the next few hours until Dan began to feel better!
I did finally manage a quick shower though and threw my compression socks on to ease my legs a little.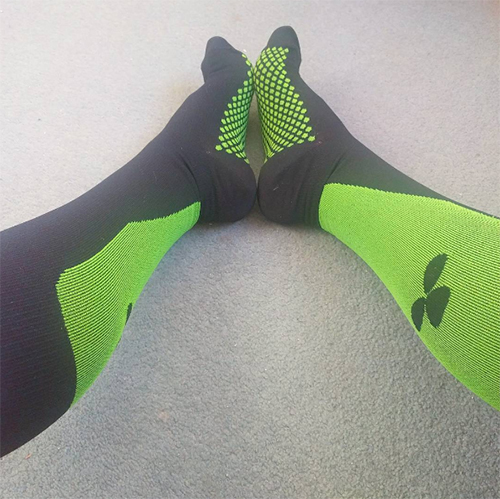 My legs felt fine the following morning and were still feeling strong when I headed out for 6.5 easy road miles later on the Monday evening.
I was not quick by any means on Sunday, but I was most definitely strong and following my Monday evening run I am finally feeling really confident about the upcoming 50 mile ultra.  I know there are people who think I am probably a little silly/crazy for entering the SDW50 in April but I am really looking forward to it.  I am incredibly stubborn and I know that I am still capable of completing that distance over that terrain.  If I end up having to DNF it will be due to Oscar/feeding logistics rather than my ability to complete the race.
Do you wear compression socks following tough runs?
Have you ever gotten lost during a race before?
Does your club put on any races?