This weekend was a busy one. For the first time since the start of the year I didn't spend my Thursday and Friday in Norfolk with Oscar at my parents' house. Instead, Dan joined Oscar and I for Saturday and Sunday so that we could celebrate my Mum's 70th birthday back in Norfolk with my family.
We met up with my Mum, along with my Dad and brother at Saturday lunchtime for a lovely meal at The Hare Arms in Stow Bardolph.
I had a gorgeous vegetarian halloumi burger with fudge cake for dessert.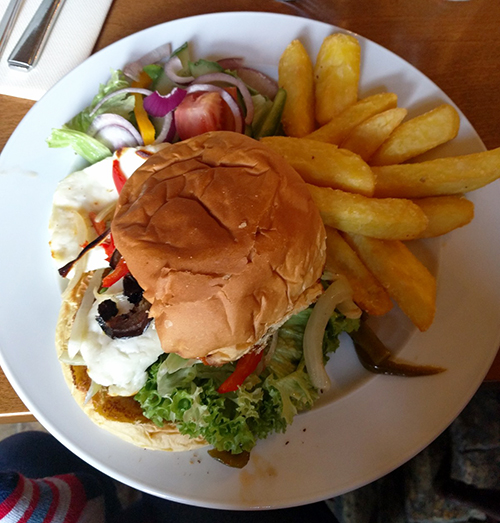 (Best picture I could manage whilst trying to stop a five month old pulling the lettuce from my burger bun!)
The pub part of the building was fairly busy, but we were placed in the back room with just one other young family. It had a more restauranty feel in this room and Oscar really found his voice chatting and squealing with his Nanny, Grandad and Uncle Mark. There were several peacocks in the grounds of the pub and Oscar enjoyed watching them shake their feathers through the giant windows on either side of the room we were in.
Before we headed over for the meal on Saturday lunchtime I made it over to the Racecourse in Northampton for my 74th parkrun. My friend Lindsay had a baby last July. I'd helped her get into running a couple of years ago and it was great to see her progress from somebody who struggled to get round the 5k at all, to somebody who ran 10k non-stop and who achieved her first sub 30 minute 5k parkrun! She had initially been signed up to run the Milton Keynes half marathon last Autumn before finding out that she was pregnant and deciding not to continue her training through her pregnancy. Since Stanley has arrived though she has once again begun the couch to 5k program and has begun to fit in jogging with him in a buggy on the school run now that he is a little older.
So when Lindsay said that she was able to make parkrun at the weekend I offered to run with her. Initially she told me she aimed to achieve a sub 38 minute parkrun, but when I arrived she had changed her mind and said that she would be happy with anything under 40 minutes.
Ran with a friend who was aiming for sub 40 at her first #parkrun post baby this morning.
She smashed that! pic.twitter.com/gg0ILRLRK8

— Mary P (@ahealthiermoo) March 4, 2017
She smashed that time goal. AND she chatted the whole way round, so I know she's capable of much more now!
I knew that we would roughly have to stick to 12ish minute miles to achieve Lindsay's initial goal of under 38 minutes, and was prepared for her to walk large sections of the course, but she didn't take a walk break until we came to the hill for the second time (at 2.2 miles) and only took three small walk breaks in total, with her pacing staying so consistent!
Mile 1: 10:51
Mile 2: 10:43
Mile 3: 10:54
Nubbin: 9:54 pace
She was pretty chuffed to finish with an official time of 33:25!  (And rightly so!)  You can read her recap on her blog.
Garmin time: 33:37
Official time: 33:30
Position: 408/542 (Just seven short of the attendance record and Northampton had problems with lots of people ducking out before the finish this week, so I'm sure they would have smashed it otherwise!)
Gender position: 134/228
Age category position: 19/29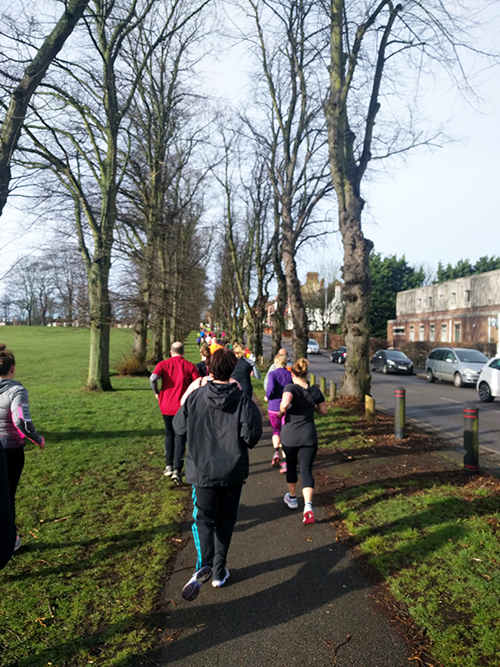 This is me trying to show how busy it was at parkrun, but it's not a very good shot.  It was pretty rammed out there again this week though!
I had planned on going fairly easy at the parkrun so that I could run the Magic Mile afterwards. One of my aims this year is to run Magic Mile on the first Saturday of each month as often as possible so that I can see how my speed returns post pregnancy. I ran my first MM back in December, and annoyingly had to miss February's event as Dan and I were away, so this was the third time of running it.
December (Month 1): 8:57
January (Month 2): 8:26
March (Month 3): 8:09
48 seconds off my mile time over three months!

Unfortunately there were a few problems with the timing at the event this month – I believe somebody called through to the timer's phone mid-run! So we had to submit any Garmin times we had along with our names and positions at the finish. I submitted 8:09 before remembering that I had fumbled with my watch and not been able to stop it immediately after crossing the line, so I was probably a few seconds faster than that in reality.
It was a little frustrating as I had secretly hoped that my mile time would start with a 7, but it wasn't meant to be obviously! Although I was so close. Fingers crossed for a 7:xx time in April!
There was still the tree across the path from Storm Doris which we had to avoid (although the majority of the smaller branches had been removed since the previous week by this point). My Garmin actually reads that I ran 1.03 miles (every 0.01 of a mile counts on a mile distance!) at an average pace of 7:55, so according to my Garmin I ran a sub 8 minute mile!


It's weird, because you expect running fast to hurt but in actual fact I found it very easy to distract myself for those eight minutes and just concentrate on continuing to turn my legs over as fast as I could. It never actually 'hurt' as such and I felt that my legs were going at their top speed on the day which was rather satisfying!
I was exhausted on Saturday evening and left Oscar with Dan to put to bed after he had finishing watching Match of the Day.  Oscar had other ideas though.  Having been rather excited at seeing family all day, he was now overtired and not ready for bed!  I took over from Dan and got him down a little after midnight, before being woken not long after 4am the following morning!  Luckily, my Dad was up and offered to take over from me.  I gratefully accepted the offer and quickly headed back to bed for another hour or so before he could change his mind!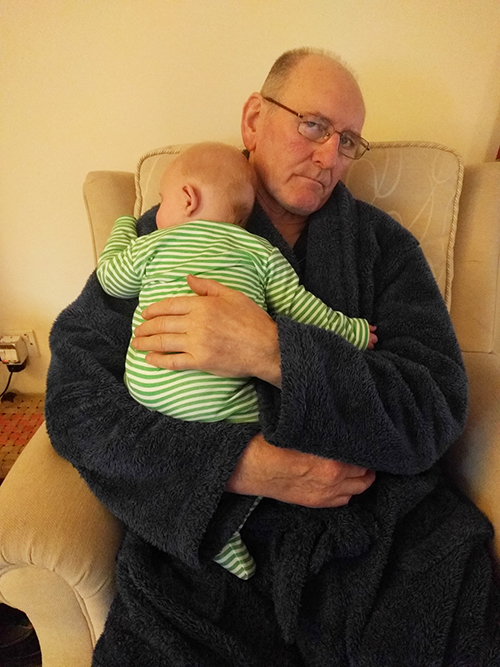 Dad apparently introduced Oscar to Peppa Pig and when I came down for the second time that morning they were both drifting in and out of sleep on the chair in the lounge!
Part of the reason I had been so eager to hand Oscar over and return to bed was that I was due to run the Hunny Bell cross-country that morning – only a few miles from where my parents live.  I'd seen the race advertised the previous year but had been a few months pregnant at the time, so decided not to enter.  I was really looking forward to it this year though, and it promised to be a muddy one!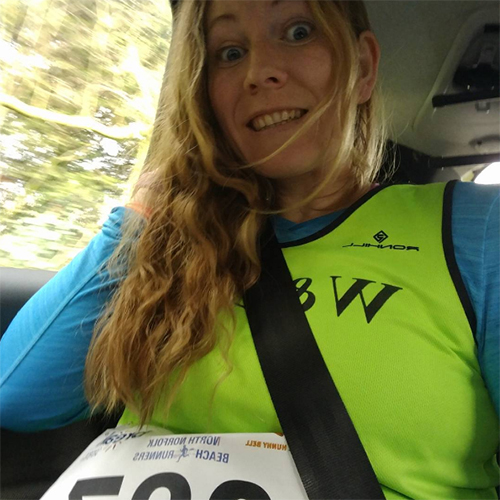 I'm so looking forward to getting my club vest out for a few more events this year!
It was a lovely morning as I arrived at Hunworth village hall.  I'd arrived rather early (9:30ish for a 10:30am start).  I'm used to knowing loads of people at local events, and it felt rather bizarre to be stood alone sheltering under the overhang of the hall roof as the wind started to pick up.  I found somebody in the same situation as me though and we soon struck up a conversation, as I find is so easy to do with other runners.  A little later on we added two others to our loner-crowd too!
In actual fact I did end up knowing three others at the event – all people I knew through my Mum – and I happened to bump into them all before the race began.
Not knowing many people at the event has it's good and bad points and I was looking forward to a pressure-free run without having to worry about where I placed in comparison to others.  I'd roughly estimated that it would take me about 50 minutes to finish the hilly 5ish mile course (Somewhere I read it was 4.7 miles, somewhere else said 5 and another place said 5.1, so I wasn't really sure how far we'd be running in total!)  Both my parents, Dan and Oscar were hoping to come and see me finish.
I was a little concerned that the ground would be rough going, as the car park field at the event had been rutty with large tufts of long grass which overhung the tufts and made it difficult to judge where to place your feet.  Luckily though, the ground was very good out on the course.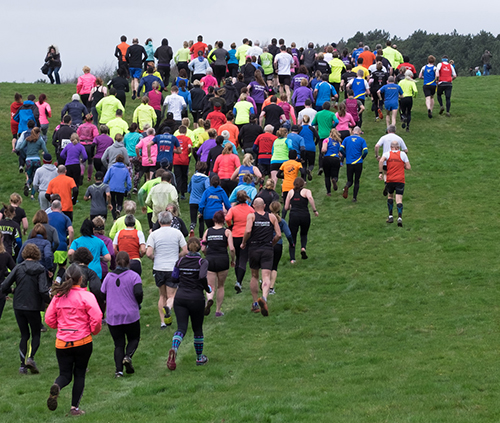 (Picture from the Hunny Bell XC Facebook page)
We started with a steep grassy uphill which soon wound round back down and through into woodland.  It was narrow in places but I think there was only one real point where there was a bottleneck on the course.  Coming out of the far end of the woodland involved a climb down some steep, uneven steps, which those infront of me chose to walk.  I imagine that the front runners had ran down them and I was glad that the decision had been made for me that I was to walk, as there was no getting past the runners ahead anyway.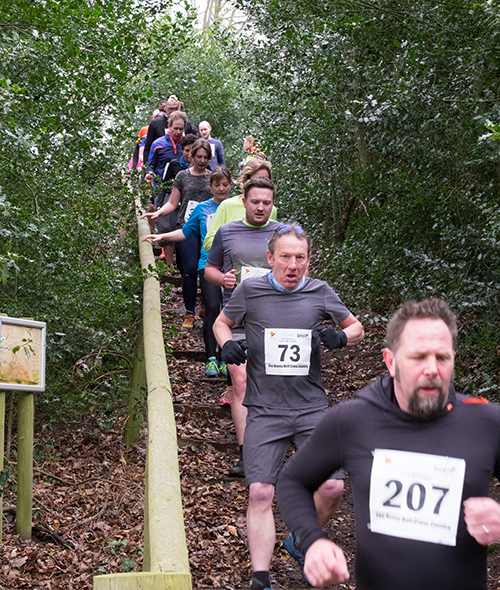 (Picture from the Hunny Bell XC Facebook page)
The course was one small lap and one large lap.  As we returned towards the end of the mini lap we had to climb high to the top of a hill where there was a water station before running right back down again to the bottom and starting lap number two.
The second lap headed out on a narrow track where I did get stuck behind one lady for a little while before the path widened and I was able to overtake.  There was a also a long, steep hill which seemed to go on forever alongside the edge of a field.  There ended up only being one really muddy section out on the course and this was at this point.  I could see runners up ahead tiptoeing around a large muddy section but I just splashed straight through the middle when I reached it! 😉
The end of the second lap was the same as the first.  Although I couldn't see the finish as I ran up the hill, I could definitely hear it and there was a woman not too far in front me.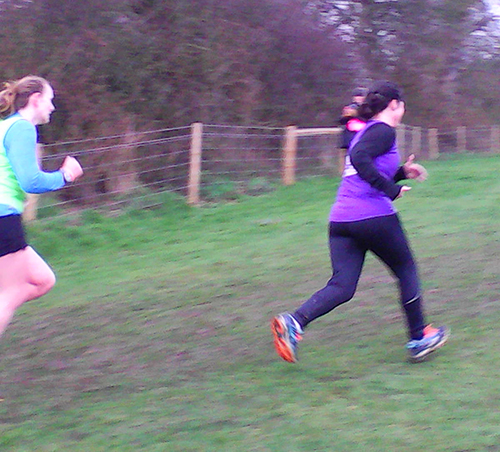 I opened up my stride and aimed to pass her, before realising that there was a really sharp and muddy corner about 100 metres before the finish!  I scaled back my stride slightly as I'd taken the corner too tight to continue at the pace I was running at.  The woman just pipped me over the line, but we had a good sprint finish for it!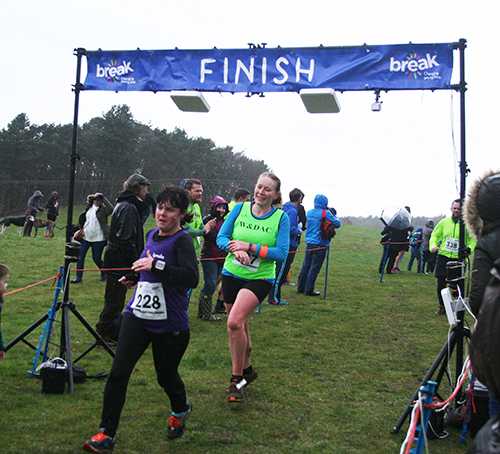 It started raining literally as I crossed the finish line.  Dan had stayed in the car with Oscar but both my parents had come to see me finish which was nice as they don't often get to see me race.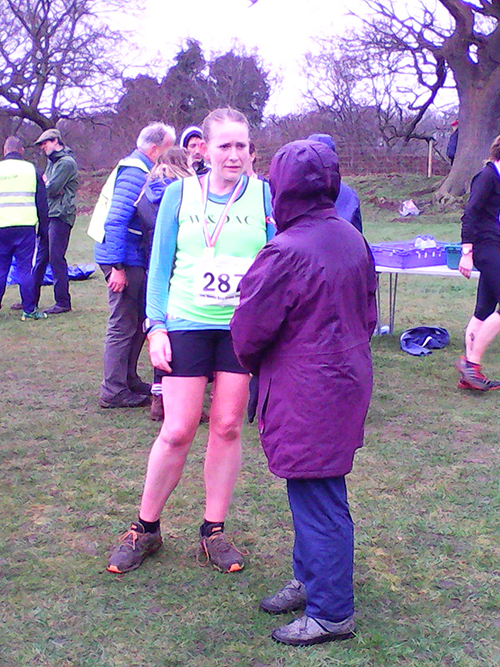 My official time was 47:54 and I came 202/310.  55/114 Senior Female.
We were chip timed for the race (hence why my left shoe is untied in these two photos!)  I'm not entirely sure there was a need for chip timing though, as the race ended up being 4.65 miles so not a 'real' distance and it appears to only be a gun to chip time anyway, rather than chip to chip time, so it would still have made a difference how long it took me to get over the start line.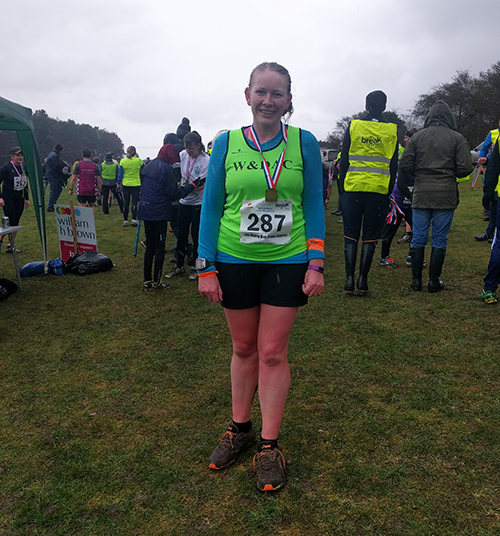 It was a great race though.  Beautiful course, friendly marshals and superb organisation.  Already penciled in for next year! 😉
What do you call your Grandparents? Do you call both sets by the same name?
Have you witnessed runners ducking out of the funnel at the finish before?
Do you make conversation with runners you don't know at events?
Do your parents watch you race?