The running buggy arriving has been a complete game changer for me.  No more having to get up at 4:15am to fit runs in, or running solo in the dark from home during time that I should actually be spending with my family.
Having a running buggy and Oscar now being big enough and sturdy enough to fit and come out for a run with me is fantastic.  It means I can get my runs in during daylight hours (although that wouldn't have been an issue for too much longer now that the evenings are getting lighter anyway) and combine my daily outside time with Oscar along with my runs.  Does it bother me that I'm not able to run at my regular training paces?  Not really.  I'm pretty sure that running up hills and off-road whilst pushing a buggy and a 15 pound baby will see an improved pace for me on days that I don't run with it!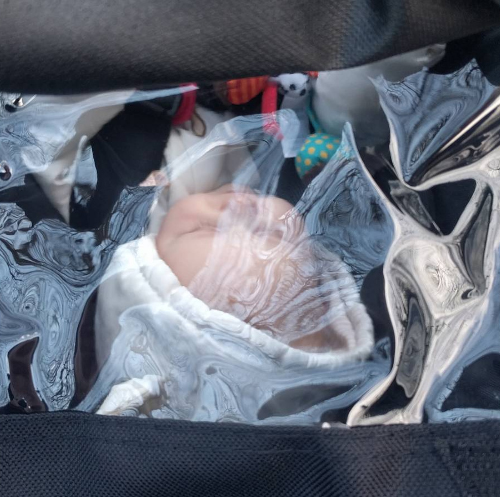 I will get round to writing a proper post about the buggy and how I'm getting on with at some point.  I've kind of become a once-a-week blogger over the past couple of months as I've struggled to find the time during the week to sit down and write.  Dan and I are trialing something slightly different with Oscar's bedtime at the moment though and the past few nights have seen us baby-free from 8:30pm rather than our usual 11pm (or even later!) so fingers crossed for some more free time heading my way over the coming weeks!
Oscar's new buggy was ordered on the Saturday, arrived on the Tuesday and immediately unboxed and put together!
I have a slip through my door to say my parcel (hopefully running buggy!) has been delivered to my neighbours but they've gone out! Argh!

— Mary P (@ahealthiermoo) March 7, 2017
Yay! The neighbour has returned and it WAS my running buggy! Now I just need Oscar to wake up from his nap…! pic.twitter.com/CEHdApcOc2

— Mary P (@ahealthiermoo) March 7, 2017
I headed out on a test run with it the following afternoon and Oscar slept through almost the entire run.  This was a good job as it allowed me to practice running whilst pushing without the extra worry of him no longer being able to see me when heading out.  I probably should have practiced heading out with him facing away from me in his regular buggy first, but it didn't seem to faze him too much.
Thursdays and Fridays I spend in Norfolk at my parents' so the next time I ran with the buggy was when I went to Northampton parkrun at the weekend.  As the park has been so crowded during recent weeks I wasn't sure how easy it would be to navigate the paths whilst pushing a buggy.  During my test run on the Wednesday I had repeatedly stopped to alter features of the buggy, check on Oscar and even picked up Dan's lunch for the following day from the Co-op on the way back home again!  Ignoring my stops I ran somewhere in the region of an 11 minute mile pace and running with the buggy was much, much easier than I had anticipated it would be.
I ran with Laura at parkrun again and the aim was just to keep running and chatting as I went round.  This I did!
I still need to learn the boundaries of the buggy.  A couple of times Laura pointed out that the buggy wheels were very close to the runner in front!  I hate getting stuck behind another runner when I'm running on my own and am dreadful at clipping the heels of other runners with my own feet.  It's going to be 1000 times worse now that I've also got to maneuver the buggy!
Garmin time: 32:41
Official time: 32:41
Position: 402/547
Gender position: 122/221
Age category position: 19/34
I didn't expect to finish in 32 minutes, and feel that if there had been clear pathways and I hadn't been chatting as much as I was, I probably could have finished around the 30-31 minute mark instead.  I hadn't really thought properly beforehand about the sort of finishing time I would come in at, but thinking about it now, I would have assumed I would be closer to 35 minutes whilst pushing the buggy.  Apparently not the case!
Northampton parkrun is having a real problem with parking at the moment.  With nearly 550 runners descending on it each week and somewhere in the region of 40-50 car parking spaces, which now also have to be shared with Saturday morning footballers, there isn't a hope of me parking on the car park unless I leave before 8am.  I have friends that live in Northampton who leave at that time to get a space!  This week there was added drama when a van with a flat tyre was blocking several spaces in the already small car park.  Lindsay, among others ended up helping to push the van across the car park so that cars were still able to park.  Nightmare!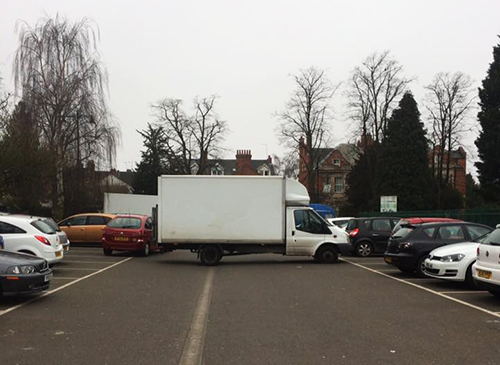 (Lindsay's pic)
Oscar got to have another ride in the buggy that afternoon when Laura offered to take him so that Dan and I were able to head over to Harlestone Firs and have our photograph taken.
A while back I saw a competition on Facebook for a 'Day in the Life' free photoshoot.  Maxine, from Do You Realise? photography had some new photography gear and wanted to update her portfolio so was offering a session where she would follow your family for the day and take shots of all the little things you took for granted but had never thought to capture.  I loved the concept, but I didn't win that competition.  Rather luckily, Dan said, as it would have meant an incredibly quick tidy and finish up of our ongoing building site!  I followed the Do You Realise? Facebook page and when another competition came up for a couple photoshoot, I entered that too.  This time, winning!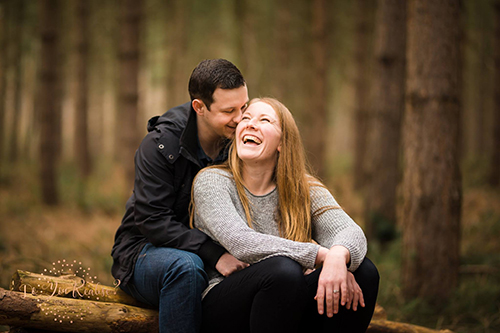 Maxine was fab.  Really friendly and down to earth and made us feel super relaxed.  It was literally just like we had headed out on a walk through the woods with friends.  Although we had professional photos taken for our wedding back in 2014 I'm not really a big fan of any of the photos of just Dan and Me.  I love the day shots and the shots of our guests, and the photos of us with our guests.  The photos of just us were just too posed and felt awkward though.  Something I never felt when out in the woods on Saturday.  This is the only photo I've seen of the shoot so far, but I am confident that the rest will be just as fab!
Are there any parking problems at your parkrun?
Have you ever had professional photos taken before?