Firstly, the parkruns.
Both at Northampton, both with the buggy.
Last week I headed over to run with Laura and Steph, who has been out with an injury for almost a year now.  Every runner's worst nightmare.  Steph was hoping to run the whole parkrun and then intended on rewarding herself with a new pair of trainers if she succeeded in doing so.  Spoiler alert: a new pair of trainers were purchased!
We started at the back and kept things super slow so that we could catch up on the gossip.  I can't remember the last time I ran properly without chatting at parkrun to be honest.  I'm due a proper hard run soon I'm sure!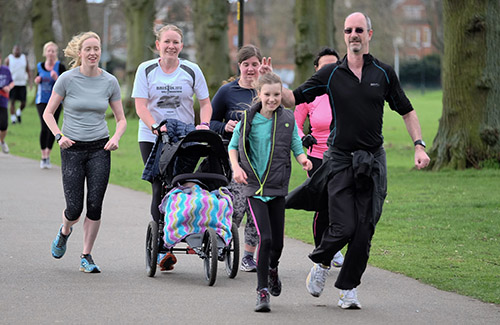 We used to regularly have a photographer at Northampton parkrun but it's been a bit hit and miss for the last year or so and it was nice to see one out and about last weekend.  He was literally everywhere as well.  Popped up so many times out on the course!  According to a post he shared on the parkrun Facebook page, he took more than 2000 images during the run!
Garmin time: 35:37
Official time: 35:42
Position: 449/539
Gender position: 173/234
Age category position: 22/27
We obviously headed to The Good Loaf for cake afterwards, although for some reason I forgot to take any pictures.  Very unlike me!
As I was loading up the buggy back at my car again, a tiny little mouse came running out from underneath my car and just pottered around on the pavement.  He kept stopping and looking at me, but really wasn't scared at all.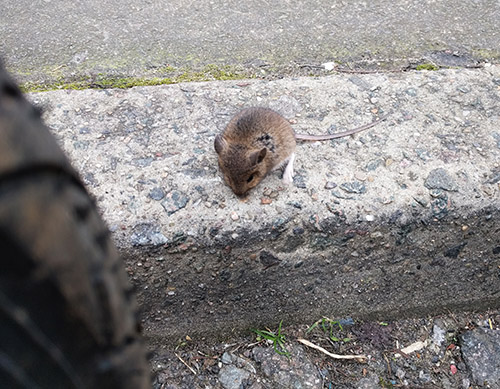 This past weekend, Oscar and I headed to Northampton parkrun again with Laura and this time Dan joined us too, although ran his own 'race'.  Now that Dan has decided to give up football on a Saturday morning he thought it would be a good idea to get back out to parkrun for as many events as he can make, starting with the one at the weekend.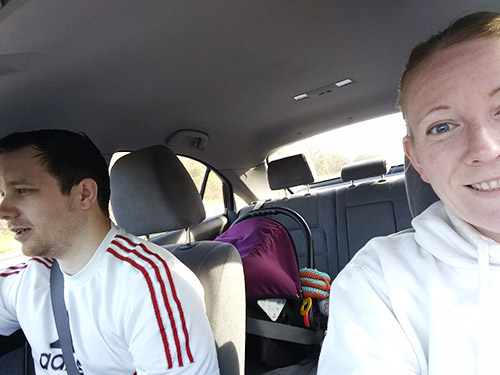 On the drive over Dan asked if I would like him to head back and collect Oscar from me once he had crossed the finish line.  I said that he could do if he wanted, although we may not be too far behind, depending on how busy it was that day.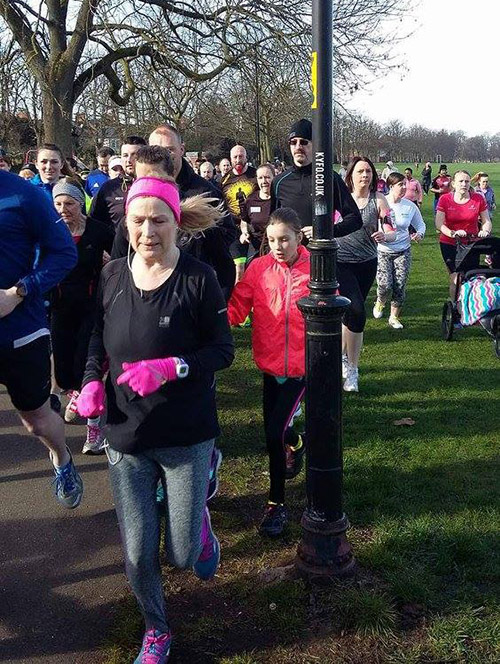 It was pretty busy.
We got very stuck behind other runners at the beginning.  I've naturally got a very long stride and it's very hard to keep clipping it continuously.  The paths are very narrow at Northampton and so I kept whizzing Oscar out on the grassy verges and over the bumpy bits where I was able, so that I could overtake runners who stopped or slowed as we went along.  Oscar didn't seem to care though.  I get the impression (from all the fab smiling he does as everyone runs by) that he adores being in the buggy!
Garmin time: 31:40
Official time: 31:43
Position: 361/523
Gender position: 105/217
Age category position: 17/31
I was really surprised to see 31m 40s on my Garmin as I crossed the line, as once again I'd chatted the whole way round and we really had been going so very slowly (for us) at the beginning of the run.  Dan finished in just under 31 minutes and didn't make it back to relieve me of the buggy!
We had a busy weekend actually as Dan, Oscar and I met friends, along with their 11-month-old baby at Beckworth Emporium for lunch.  Well, we met them at 2pm, and were seated a little after 3.  The queuing was insane!  Luckily, the babies behaved.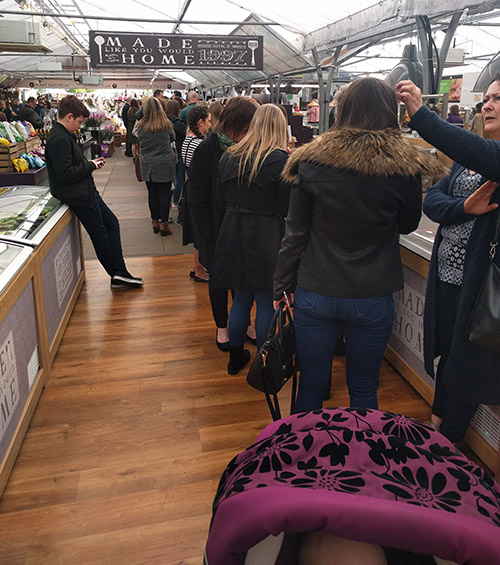 I definitely deserved burger and cake for my lunch/tea by the time we were seated!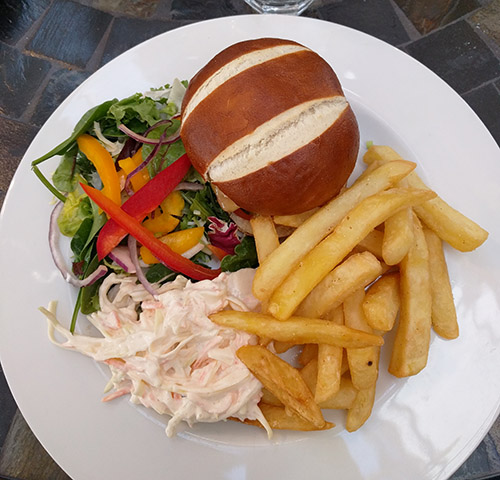 That fudge cake was a killer though…I wolfed it down as Oscar needed feeding by that point, but by the time I got up I could barely move I was so full!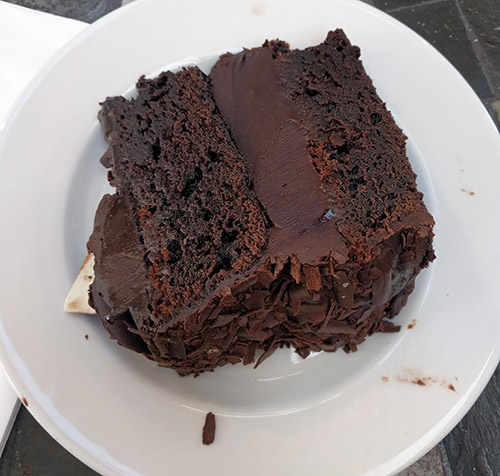 On Sunday morning Dan managed a lay in, and then I got him breakfast in bed.  (I thought it was supposed to be Mother's Day?!  Haha!)  We had planned to go swimming so that Dan could see Oscar in the pool, as, other than his first swimming lesson back at the start of January, Dan hasn't seen Oscar in the water.
Oscar absolutely adores swimming.  Over the past three months his confidence has grown so much in the pool and he is now perfectly happy to dive in from the side of the pool, go underwater, and he kicks his legs and doggy-paddles with his arms.  He's pretty easy to spot in the pool as he's the one that will be shrieking with excitement each lesson!
We stopped in at Asda to pick up some coloured plastic balls and a plastic watering can for him to play with in the pool and although he was quite distracted by all of the other children in the public swimming pool, Dan still got to see him enjoying the water which was nice.
We followed our swim up with a picnic at Irchester Country Park, where we were going to give Oscar his first experience of the swings, but it was so incredibly busy as it was such a lovely, sunny weekend that we decided to give it a miss and headed out on a little walk instead.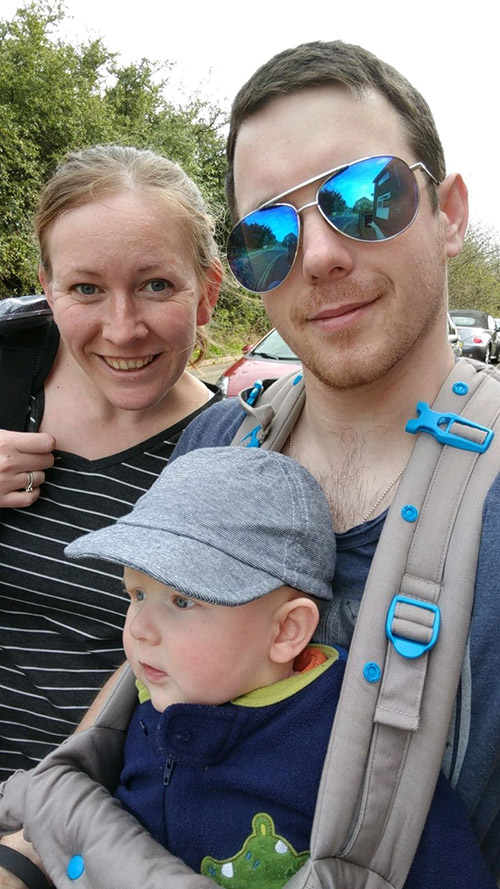 On Sunday I also handed in my notice at work.  I've been at the same school for the last two and a half years, although it feels like much longer.  Despite having been on maternity leave since the end of September, I still find myself logging in to the system every couple of days to work on resources for Year 11 (my subject responsibility), and I check my email daily.  I just can't switch off as a teacher, despite not being in the classroom!
It was a huge decision for Dan and I to make, but ultimately I know that we have made the best decision for our little family.  I will still be returning to school at the end of May to work my notice until the end of the school year, during which time Oscar will attend nursery, but after that I will become a full-time stay-at-home/work-odd-jobs-from-home Mum.
I was so worried about sending the email with my resignation that it took me more than two hours to write the message, and then nearly another 30 minutes before I felt able to hit the send button!  The response from my Head of Department summed up how I was feeling though, and I'm sure she won't mind me sharing this paragraph…
"I know that you won't have made this decision lightly.  I also know that you couldn't possibly be just an 'OK' teacher and just an 'OK' Mum, so it's about priorities.  It's so important to be happy in life Mary."
I want to be the very best Mum that I can be to Oscar, and I don't feel like I would be able to do that with 60+ hour working weeks and without any down-time to run or write.  I don't know quite how things will work out come-September, but I do know that we will adjust just fine and our new way of life will become the new normal.  I'm looking forward to the next chapter!
Just recently there have been several things that I have wanted to write about that I feel don't really 'fit' this blog.  AHM has always been a) very run-focused and b) written more like a diary.  I feel like at the moment there are quite a few 'topics' I want to write about.  Some of them baby, some of them just life-things, and they don't really fit here.  I hurriedly set up a new baby blog back when I first announced my pregnancy online, although decided to continue writing on AHM as my pregnancy journey often had a running-focus.  I think I'm now ready to start running the two blogs alongside each other though, so if you would like to read about a slightly different side of my life, then please visit me over at From Teacher to Mum.  It's very new, I haven't played with the design yet and I'm not sure how often I'll post at the moment.  Getting long blocks of time in front of the computer with a six month old is pretty tough!  I still intend on writing about Oscar-things here when it is running related though.
How did you spend Mother's Day at the weekend?
Did you learn to swim as a child?
When did you last hand your notice in at a job?