This coming Saturday I'm entered to run the South Downs Way 50.
Initially aiming for the 100 mile version this year, I sensibly decided to downgrade to the 50 mile entry instead last August.  Way back before Oscar was even close to arriving and when I was still the size of a whale.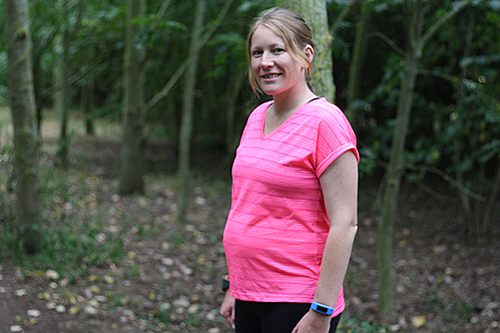 It's crazy to think that he was six weeks away from being born in that photo taken last August!
Running 100 miles is still very much on my agenda sometime in the future.  Perhaps next year?  Definitely before Oscar starts at school anyway.
I'm going to come straight out and say it – I haven't trained enough for the 50, and I'm not training anywhere near as much as I would have liked to be training by this point.  I was regularly running 50 miles a week pre-pregnancy.  Lately it's been somewhere in the 30s, and they aren't all quality runs as often Oscar has to come with me, or I have to rush back to feed him.
Getting higher mileage in has been made so much easier over the past few weeks though since I've been able to take Oscar out in the running buggy.  (If only he had been born a few weeks earlier I would have managed to get a few extra quality training sessions in!)  I went from having to run in the evenings or super early in the mornings (quite often alone and rushed) to being able to head out easily during nap time each day!  As long as it's not raining that is!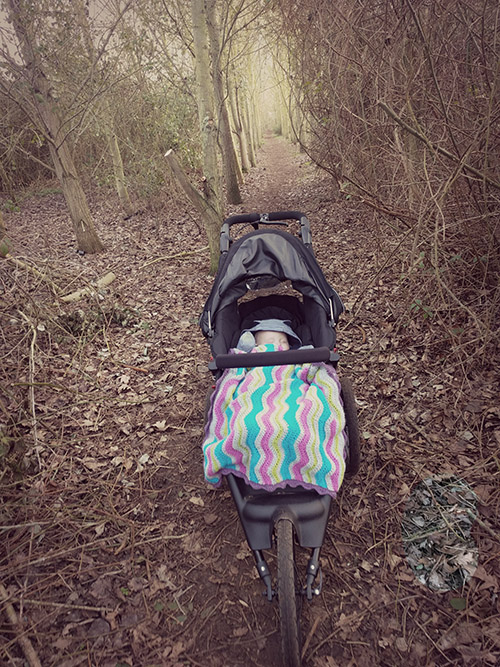 Until a baby can fully support their own head, the advice is not to use a running buggy for runs.  This is usually somewhere around the 6 month mark.  Oscar has been sat up, fully supporting his own head from just before 5 months and so I've been taking him out for the last few weeks in the buggy, despite him only officially turning 6 months at the start of last week.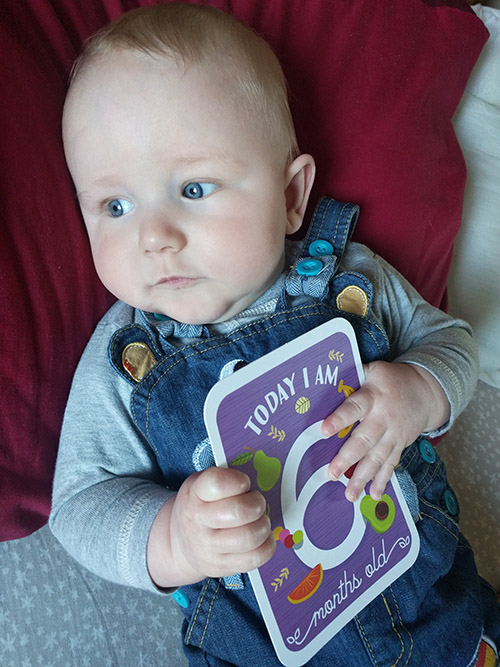 My regular running week now looks something like this:
Monday/Tuesday/some Wednesdays – 1-2 hour buggy run during nap time
Wednesday – Nighttime trail run with club (and conversation with real-life talking adults!)
Thursday/Friday – Rest days as I tend to be in Norfolk on these days
Saturday – parkrun with the buggy and occasionally also a short 30 min buggy run in the afternoon
Sunday – long run (usually without the buggy, but sometimes Oscar comes along too)
On days when I don't take Oscar out in the buggy I tend to take him out on a long walk in his baby carrier.  I feel that it's important for him to get lots of fresh air during the day and I swear it helps him to get a better night's sleep too.  It also means I'm getting more time-on-feet and whilst carrying extra weight as well.  Bonus!
The training run I've struggled with the most just lately has actually been the Sunday run.  It's hard to commit to weekend club long runs as they require me to ensure I feed Oscar at just the right time before leaving and to have expressed for Dan to feed him whilst I've gone.  If I run out with the buggy or on my own then I also end up feeling guilty for taking Oscar away from Dan when he could be spending time with him on his day off.  I've run a few 10-11 milers during the weekdays to make up for poor Sunday runs – either on a trail night (running to the club trail run starting point and back again afterwards) or out with the buggy.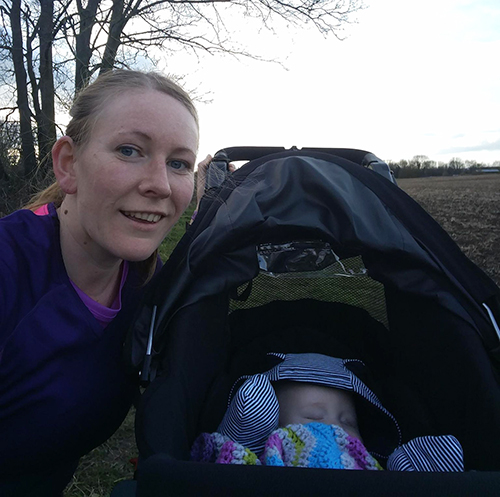 I was in very good shape (for me!) the year before I fell pregnant.  I fell pregnant at the end of December 2015, and that year I had PBd in 5k, 5m, 10k, 8.1m, 15k, marathon, 35m and 70m.  I was definitely going out on a high!
I have no idea what I would have been capable of running 50 miles in back then.  I ran the first 50 miles of the 70 in 12h 22m 46s, but running 50 miles of a lapped 70 mile event and a point-to-point 50 mile race are two very different things.  There is a 13 hour cut-off at the SDW on Saturday that I'd like to think I am capable of achieving.
I feel so much stronger on the Wednesday night trail runs now than I did before I was pregnant.  Running with the buggy has definitely made me stronger and I notice the extra power I seem to have when I'm not running with the buggy!  A few people have commented on my speed over trail during the past few weeks which has been a nice confidence boost too.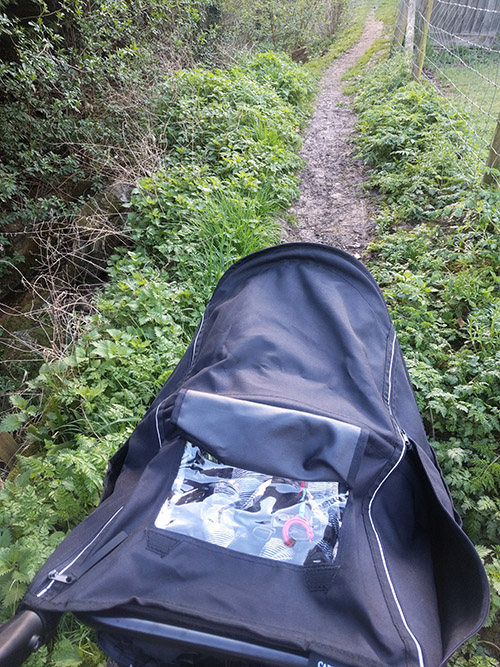 I prefer running on the trails, and although the buggy is made to go off-road, there have been several 'I want to explore that footpath' moments just recently that have resulted in footpaths like the above – totally unrunnable with a buggy.  There have also been some which have seemed buggy appropriate, only to end in a stile!  So we've had to turn around and come back out the way we came again.
Despite my training mileage having been much lower than I would like, I'm not too worried about the distance of the event on Saturday.  My biggest concern about the coming weekend is actually not being able to carry enough supplies to express and store milk on route and to have the time to be able to do so.  For any non-parents, not expressing is not an option as it becomes too painful!
I need to double check the kit list after I hit the publish button on this post as well.  I know I still need to purchase a waterproof jacket to stuff into my kit bag.  As well as hunt out my foil blanket amongst other things.
To make matters more challenging, Oscar has been a bit poorly over the past fortnight and it was suggested by his Health Visitor that I cut dairy products from my diet for a while to see if this improves things.  I've replaced cows milk with almond milk in the fridge and chocolate has been banned from passing my lips for the time being.  Thanks for that Oscar…you do know that Easter is coming up?!  I haven't noticed any changes in Oscar or myself since cutting back on the dairy yet, but it's not best practice to change my diet so close to race day!
I'm travelling down with another runner on Saturday morning and will be leaving a little after 4am from Northamptonshire.  Good job I'm used to those sleepless nights and early morning starts!  I think I'll be heading to bed when Oscar goes at 8:30pm the night before!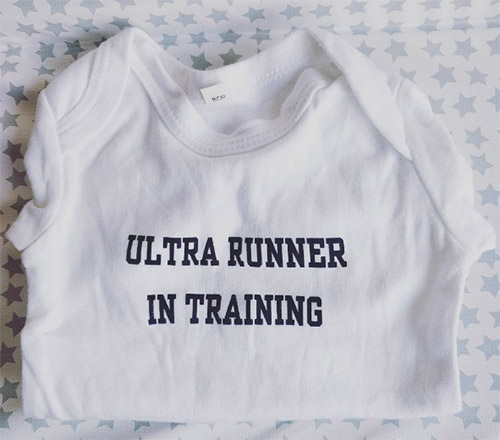 To sum it up…
– My long runs haven't really been long.
– I still need to purchase some of the compulsory kit from the kit list.
– I will need to express about seven times whilst I'm away from home.  At least five of those times will be during the race itself.
– Eating limited dairy (i.e. altering my diet) the week before a big event isn't ideal.
– Race day will begin at 4:10am when I leave my house for the journey to Worthing.
+ I have increased my time-on-feet over the past six months – usually whilst holding on to a baby who forever seems to be getting heavier (17lbs and counting!)
+ I am mentally strong.
+ Sleep deprivation and keeping going on tired are things I just 'do' now that I am a Mum.
+ Running with a baby/carrying Oscar in a baby carrier will help prepare me for carrying my race pack (which feels so much lighter than it used to!)
+ I have run regularly on average 4-5 times per week since Christmas and have been out on long walks with the baby carrier on non-running days.
I have no time aims.  I just want to finish the event, six months post-birth, boobs in-tact and not feeling weak.  My last 70 mile event will count as a qualifier if I wanted to run the SDW100 in 2018, but this qualifying event runs out if I don't attempt the 100 miles before 2019.  The SDW50 on Saturday will count as a qualifier until 2020.
Is running a 50 mile race six months after having a baby possible?  I'll let you know on Saturday!  Ultramarathons are run using at least 90% mental strength, right?…!
What has been the most undertrained you ever felt before an event?
Have you run along the South Downs before?