My come-back race following pregnancy was a 50 miler.
That may seem daft, but I needed to set myself a real challenge – something that would be achievable if I was determined enough, yet still challenging.
Yeah, I've been to parkrun a handful of times since Oscar was born six months ago, and I did run our club trail half marathon back in February.  But running the trail half was just that – a 'run', rather than a race and, knowing so many of the other runners and marshals out on the course meant that I didn't really push myself the way I usually would in a race environment.
I was watching the weather forecast for several days in the build up to Saturday's 50 miles.  Somehow I always seem to pick marathons and ultras that fall on ridiculously hot days and the 2017 South Downs Way looked like it wasn't going to be an exception.
I was traveling down with another runner from my club, – Kev – and in order to arrive in time I needed to be out my door and in my car on the way to his house by 4:10am.  I was convinced that Oscar would wake when my alarm rang at 3:40 but he slept soundly through.  Good job actually, as I barely made it round in time as it was.  When I did finally make it into the car, I got 5 minutes up the road before realising that I had forgotten my trainers!  Quick spin of the car and back down the street I went.  Luckily there isn't too much traffic in our town at 4am on a Saturday morning!
Kev's sister who lived nearby was going to drop us down to the start and pick us up again at the finish so that we didn't have to worry about the logistics of returning home from a point-to-point race.  (We all know how well I manage to organise myself for those!)
I've run several ultras now but I think this is the only one I have ever been nervous at before the race began.  I wasn't nervous about the running – more the 'mumming' and the fact that I was still breastfeeding, yet spending the best part of a day (ended up being just short of 24 hours!) away from home.  My handheld pump and two large bottles took up a large portion of my ultra bag meaning that there was no room for the leftovers from the standard pre-race takeaway pizza I'd ordered the night before.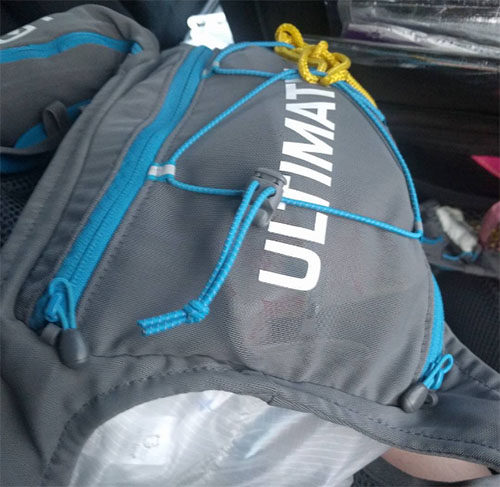 It's taken me several ultras to get my nutrition right (for me) Not being able to take my salty pizza, not having a bag drop on route to leave any chocolate milk, being unable to use any gels (due to breastfeeding) and without a supply of nuun tablets (they no longer stock in the UK) were all factors leaving me in the unknown for Saturday's event.
We had our kit checked on arrival.  Centurion had opened up registration the night before to ease the load on the registration desks, and it obviously did the trick, as it never felt over-busy at the race HQ.  After carefully packing and repacking my bag numerous times the day before I was dreading have to unpack it all for somebody to check through again, but the lady on registration only wanted to see that I was carrying two headtorches and a base layer in my bag and didn't look for any of the other kit.  Several of the items I had initially intended on taking with me on the run had ended up getting downgraded to the drop bag which I left for Centurion to transport to the finish once the race had begun.  This included my suncream – after I had coated (or so I thought) my arms, legs and face.
Expressing was done at the last possible moment and took much longer than I initially thought it would, meaning that the majority of other runners had already headed down to the starting field by the time I emerged from the toilet block.  Along with two others from our club, Kev and I listened to the race briefing whilst the sun felt like it burnt through our clothes.  There wasn't a cloud in the sky and it was so warm, – it wasn't even 9am yet!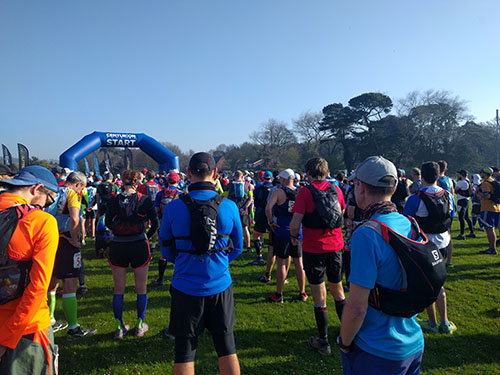 When the race started I presumed the running field would quickly separate and for runners to be very spaced out as I've come to expect from ultras.  This wasn't the case at all though.  There was a narrow exit to the field, so within minutes we were all walking to avoid bottlenecking, and then the track the exit led out onto was narrow, rutted and stony, – causing runners to stay bunched together.  It was probably a good 18-20 miles before there was ever any stretch of the run where I wasn't within a couple of minutes of another runner.
As it always does, the first mile went by quickly.  I don't mean to sound like one of those people, but 50 miles doesn't sound like a long way now.  Having covered the distance before, I have confidence in being able to complete the distance.  With ultra events it becomes so difficult to compare times as course profiles are so varied, and different weather across different years can play such a big part in how well you do on the day.  It means that I find the pressure is much less than over a fast 5k race.

I walked the uphills, ran the downhills and ran/walked the flat depending on how technical the track was.  My aim in any ultra is just to keep moving.  Another concern for this time round, as I knew I would need to stop at some point in order to express.
Just before mile 10 I felt my sock rubbing on the heel of my right foot.  At the very last minute, I had decided to run the race in an old pair of road shoes rather than my usual trail shoes.  The thinking behind this was that it hadn't rained for weeks, so the ground would be hard, and my feet were likely to swell in the heat – with my road shoes offering more comfort and flexibility than the trails do.  I've never had an issue with any of my Asics trainers (road or trail) rubbing before, and I think on Saturday the rubbing was probably due to the steep climbs combined with the heat of the day.  When I paused to readjust my sock (initially thinking it had just slipped down below the trainer line) I realised that it had rubbed right through!  The socks I was wearing were fairly thin (so that my feet didn't sweat too much) and luckily also fairly long, so I folded down the top of the sock over the now-missing sock heel and hoped for the best.  At this point, just over 40 miles still to go did sound like a lot!
In actual fact, the left heel ended up rubbing through entirely as well.  Although I didn't actually realise this until I made it back to the changing rooms at the end of the race.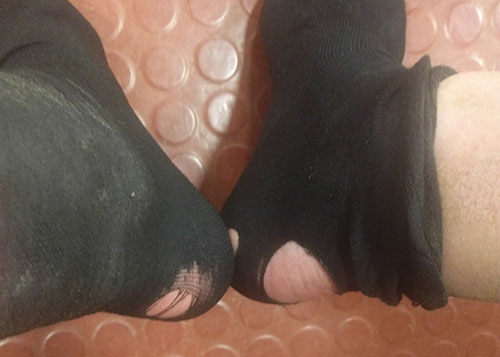 Kev caught up with me at this point and we ran together for perhaps a mile here before he ran on ahead.  I saw him again leaving the first checkpoint as I arrived but then not again until the finish.
The first checkpoint was at mile 11.  Those first 11 miles flew by, and felt so, so easy.  I knew the first major hill was coming up after that checkpoint.  Initially I had considered stopping to express here, but it was so manic and busy that there was no opportunity for that to happen.  There were people coming in to the checkpoint constantly and it was a flurry of activity.  I snatched a couple of slices of watermelon (so satisfying) and a handful of ready salted crisps to get my salt fix and continued on my way, having to stop for what felt like forever before I was told it was safe enough to cross over the busy main road.  I pulled out the sole mini carton of chocolate milk I'd stashed away in my bag.  I figured it would probably taste pretty horrid later on in the day by the time it had warmed up and so what better time to enjoy it than now?!  I'd already munched through two nakd bars on my way to the first checkpoint.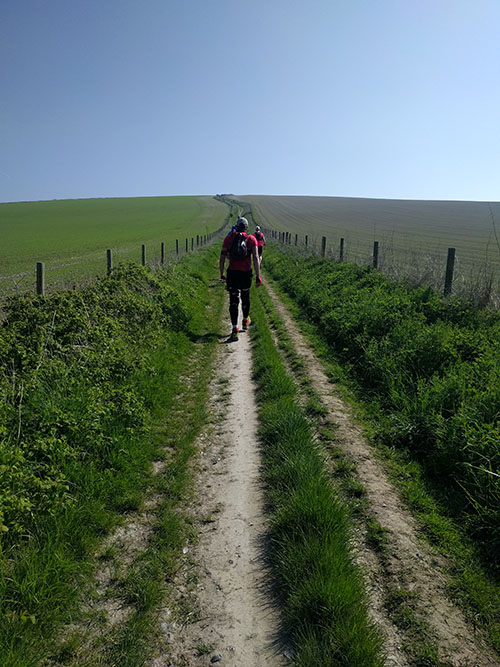 There was a photographer nearing the top of the first big climb.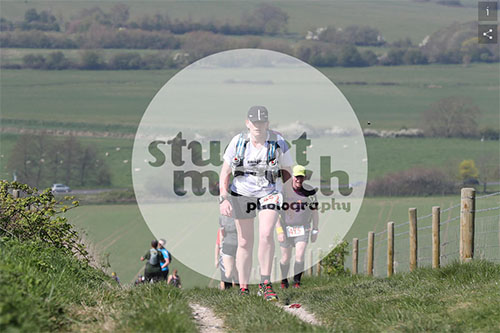 It was a pretty steep climb – I couldn't see anyone attempting to run up it although I'm sure some of the front runners must have done!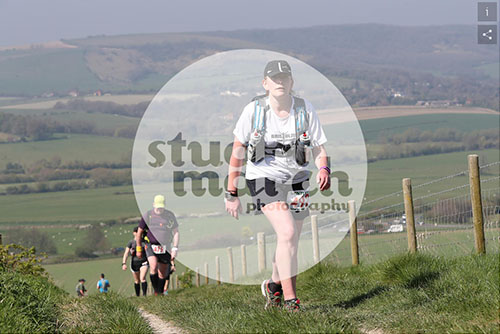 Along the top of this ridge was the only point which I pulled out my phone to take pictures, although I wish I'd taken more on the day.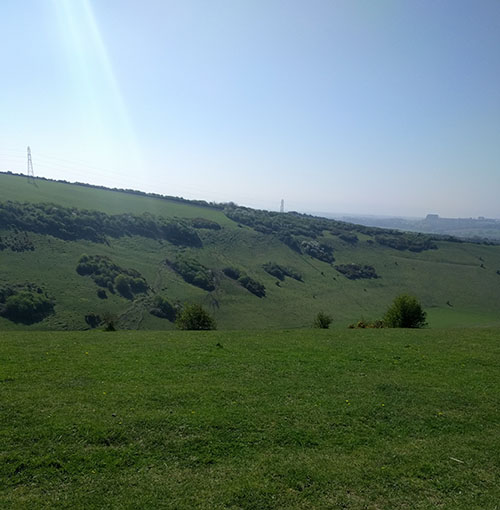 You can see how bright the day really was in this photo.  There is literally not a single cloud anywhere in the sky!  I could already feel the tops of my legs starting to burn by now, but there wasn't anything I could do about it.  The following day it was easy to spot areas I had missed when applying the suncream!
As I hadn't expressed at checkpoint one, I intended on expressing at checkpoint two (16 miles), and then again later on in the race, but when I reached checkpoint two, it was a very small area with nowhere to get out of the way and go unseen, so I just grabbed a couple of scotch eggs and ran on, thinking that surely there would be a wooded area or secluded spot I could stop at before the next checkpoint at mile 26.
Turns out the South Downs are the most open area of land I have ever come across.  There was nothing but track, grass and the odd gorse bush for miles and miles.  Apart from dozens of families out for a day in the sun that is.  Families who probably wouldn't appreciate if I sat on the side of the track with a breast pump in hand!
I chatted to several other runners along the way – something I love about the more relaxed nature of trail/ultra running that you just don't get in road races.  At one point I shouted a runner back from up ahead as he had sped off down the wrong track.  Probably saved him a few miles!
Mile 27 ticked over on my watch before I turned in for checkpoint number three.  This one was held in a barn, and I think I rather surprised the sole female marshal I could find when I stated that I was still breastfeeding, and would really appreciate if I could nip behind the combine harvester in the barn out of the way to express!  Luckily this was fine, and so I grabbed a couple of ham wraps and my recently filled water bottles and lowered myself to the dusty ground behind the machinery.  I quickly called Dan here whilst I expressed to see how he had been getting on with Oscar and to let him know that I was doing fine – much better than expected in fact and I still felt super strong.  Dan told me that he had dressed Oscar suitably for the day and sent a picture.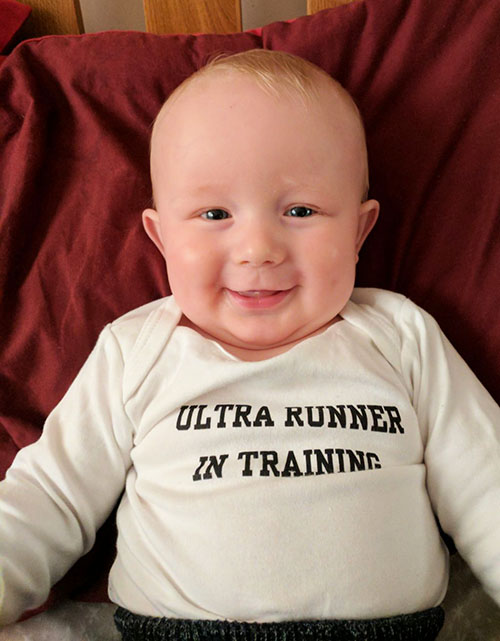 With expressing and repacking my bag again afterwards I was in the back of the barn for a total of 25 minutes.  It felt like forever, and my legs agreed when I tried to get up.  I never sit down in races, especially not for that long!  One leg began to cramp, and then the other one joined in as I writhed to the opposite side.  Not an enjoyable experience!  I lay back down and fully stretched before using the combine harvester to pull myself up.  Oh, so classy!
Mile splits (up to mile 27): 12:38, 14:06, 11:03, 11:18, 12:16, 15:11, 10:48, 11:06, 10:47, 12:09, 10:29, 15:35, 17:49, 12:46, 12:38, 14:46, 10:32, 18:57, 13:18, 16:44, 14:40, 14:22, 13:59, 14:31, 13:05, 11:05, 15:23
…I had intended on writing this recap in just one post, but as I'm at a 2000 word count already, with still so much to say, why break a tradition?!  I'll split this post into two!…