This is part 2 of my South Downs Way 50 recap.  You can read the first half of my recap here.
My aim in any ultra is always to keep moving.  It's one of my strengths.  When others stop to eat or adjust their kit I glide by.  It's a classic case of the hare and the tortoise.  I may not be quick, but I am fairly consistent, and the key to ultras is consistency and being strategic with your pacing; which hills to walk and at which points to eat, etc.
However, because I have always kept moving throughout races, it came as a real shock to my legs when I asked them to get moving again after my 25 minute long pumping stint at mile 27 of the race!
By mile 29 my right leg had begun to cramp up – something I'd never experienced actually during a run before.  I put it down to a lack of salt intake and having stopped for so long without stretching out.  I immediately moved over to the fence along the side of the track I was running along and stretched out, whilst reaching for some salty pretzels in my bag and vowing to try some Tailwind alongside water at the next checkpoint.  Luckily, this was the only bout of cramp I had and ten minutes later I was back running strongly again.  I actually remember thinking at this point "I've only got 21 miles left until the finish now so it's not too much further.  It's only a little bit of cramp.  I'll be fine!"  Good old ultrarunner mentality hey?!
The next few miles were spent constantly overtaking other runners.  I'm guessing I was passing all those people who had overtaken me whilst I was back lying behind a combine harvester! 😀  I chatted to a few runners along the way, and spent a fair amount of time just soaking up the scenery.
The next checkpoint was at 34 miles.  You had to climb a large number of steps up and over the train tracks before climbing back down again on the other side.  Race numbers were noted on the approach, and I can remember being really frustrated that the tables of food and fluid stretched past the turning on the other side of the tracks, so I had to move an extra few hundred metres to top up my bottles with Tailwind and water and collect a scotch egg for munching before heading back on track for the next section of the course.
When I had set off hours earlier I begun by drinking sips evenly from each bottle, to keep my load fairly even on my back.  As the race went on though, I worked out that it made more sense to drink fully from one bottle before moving onto the second, so that if I did not need to top up two bottles, I could just hand over one to be refilled at checkpoints and move on again quickly.
Checkpoint five (41.6 miles) was at Alfriston and in a chapel just off of a tiny side street.  It would have been very easy to miss had it not been for the marshal stood outside directing runners in.  My legs were starting to feel a little weary now and I really didn't want to stick around for too long, yet at the same time I wanted to hang out for long enough to take plenty of fuel on board.  As I arrived a fabulous marshal brought out a fresh plate of watermelon and when I commented on how delicious and appealing it looked, she piled a plate high for me, bringing it over to the pew I had perched myself on.  Had the pew been slightly wider, I would definitely have laid out at this point for a full stretch.  I really didn't fancy my chances of getting up off the floor again though, so my stretch had to wait another few hours.
On arriving at the checkpoint I frantically asked the question "How far am I ahead of the cut-off?" to be told that I was a good hour in front of cut-off at this point and had nothing to worry about, which was great to hear!
I was walking the uphills, run/walking the flats and running the downhills where possible (a few were too technical to run).  I know that I can run 50 miles.  I've covered that distance before.  It no longer sounds like a long way and I know which strategies work for me over that type of distance (although I have never completed an actual 50 miler before, but I have run further).  My concern was that I would end up timed out due to the amount of time I would need to stop to express on the course so hearing that I was so far ahead of the cut-offs was such a relief.
On the climb out after this checkpoint I started chatting with a guy, Chris, and we ran together for several miles.  I lost him after a while as he was much faster than me along the flat, but I could make up some distance on the downhills and caught him again as we ran back through a wooded area.
I really dislike planning to run ultra or trail events with others, but I do enjoy chatting to people who I find end up running at a similar pace and who I often then end up leap-frogging a large majority of the race with.  Ultra runners are so very friendly, and it's a great way to learn about other events which you might not have heard about otherwise.  There is no pressure to stick around or keep up if you haven't agreed to run with these people, so I find the whole experience much more relaxing and enjoyable than when you feel pressured to run at somebody else's pace because you made an agreement to do so weeks ago.
I rang Dan when I had about 7 miles to go, just to check that he had been getting on OK for his first full day with Oscar and to see if he had been tracking me online.  Things were fine obviously, but it was nice to have a bit of mental time out from the race for a few minutes.
There were some amazing views out on the South Downs, and as the sun started to set the views only got more stunning.  I really wish I could take better landscape photos on my phone, because the photos I did take really did no justice to the scenery we were privileged to see that day.
I was running with Chris again as we headed towards the final checkpoint.  The last checkpoint is less than five miles from the finish and requires you to climb some steep steps up to claim food and drink.  There was somebody out on the road taking our numbers and guiding us in though.  Neither of us needed to top up on anything for the final few miles, so agreed to carry on running along the section of road and give the steps and food station a miss, walking briefly to strap headtorches onto our foreheads as the light had started to fade by this point.  Another chap joined us as we finished our climb up the side of a steep hill that looked as though it would be more at home in Australia than the South of England.  On chatting to him we discovered that he had been the sweeper of the final section the year before so knew where we needed to turn down off for the climb back down into Eastbourne for the final few miles.  Luckily it was well lit anyway and there was somebody up on the ridge directing runners towards the narrow track that led back into the town.  Chris picked up some speed here and the other guy who had joined us held back to chat to the marshal so I was on my own again from then until the finish.
The track was through thick trees and was really very narrow, – to the extent that at some points I questioned whether it was actually a track at all, and considered that I may be better off just heading straight down the side of the hill and picking out my own path rather than struggling to squeeze through bushes and along paths my feet barely fit on.  I knew the last few miles of the race ended in a downhill, and had saved plenty of energy to run these, but they really weren't very runnable miles at all and I ended up walking/stumbling for the best part of a mile here!
Once I reached the road I switched my headtorch off as I no longer needed it with the streetlights now shining the way for me.  I picked up the pace a little, whilst still keeping things fairly calm as I had no idea just how much further it would be to the finish.  In a short distance race you've probably got a fair idea of how much further you need to run judging by your Garmin, but over 50 miles, a few odd steps here and there really mount up and even if your Garmin reads 50 miles, you could still have several miles to go!

Every time I turned a corner in the road, or crossed at a crossing I thought the finish gantry would be popping up at any minute, but it actually ended up still being a couple of miles away!  Eventually though, I turned into the Sports Park.  I knew that the final 400 metres were run around the track, but I wasn't sure how to get there and ended up actually asking a marshal as I ran past!  Even then, as I headed towards where I could now see the red track, I was convinced I had to pass through a small turnstile to get there.  It wasn't until I was almost upon it, that I discovered the side of the track was in fact open.
Immediately upon my feet touching the surface of the track I heard the other three runners from my club cheering me in.  Two of them; Mike and Guy ran across the middle of the track to pace me round to the finish line.  I still had a fair amount of energy in reserve so managed to pick up the pace here to 8mm and Mike exclaimed that he was struggling to keep up with me!  (He must have stiffened up, as he had come in hours earlier in 8h 46m!)
On crossing to a loud cheer I was given my medal and a t-shirt and asked to pose for some photos.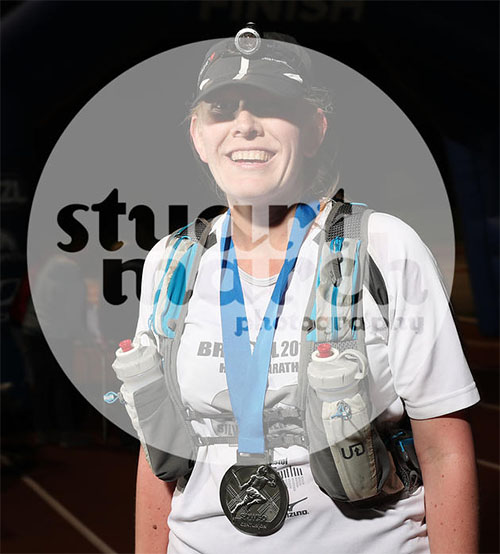 12 hours, 06 minutes and 50 seconds, six months after having a baby.  I'm very happy with that!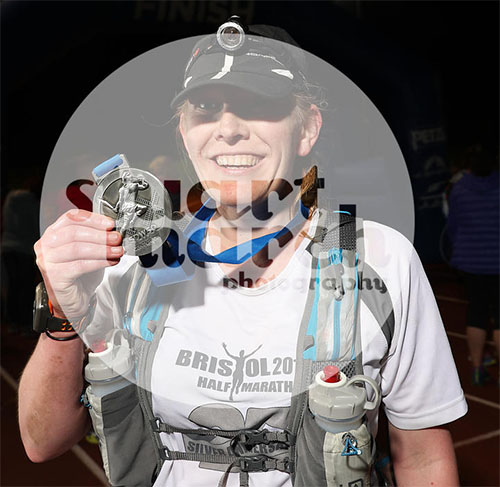 I didn't realise quite how dirty my arm had been from getting down on the floor of the barn until I saw this photo afterwards!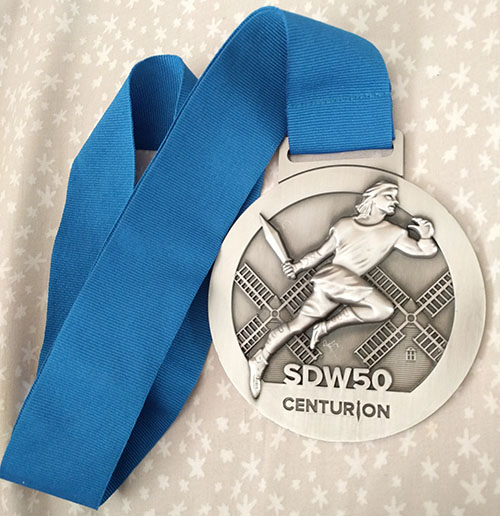 342/364 finishers.
30 runners dropped at checkpoints on the day, and there had been 640 runners initially signed up for the event.
I headed to the changing rooms to swap into some fresh clothes, but stiffened up fairly quickly.  In fact, the guys sent Kev's sister in to check on me after I still had not emerged 20 minutes later.  Everything was taking so long to do!  I was muddy and grubby and really in need of more than a baby wipe wash!
It was such a satisfying feeling though, and that 100 miler I was talking about before I fell pregnant last year?  It's definitely back on the cards again now! 😉
Have you run a point-to-point event before?  How did you handle the logistics of it?
Do you stiffen up quickly after a race?