The East Midlands Grand Prix is a running series over here in the Midlands consisting of eight short-distance races over the course of nine weeks (there's a break during the May half term week).  Races are all 10k distance or less (3x 10km, 1x 6mile and 4x 5mile events) and take place on weeknights (usually a Tuesday or Wednesday evening).
Having not really focused on any kind of speedwork since Oscar, and the only tempo-based sessions I'd attempted being the Magic Mile events on the first Saturday of each month, I decided to enter the EMGP series this year to force my legs into remembering how to turn over a little quicker again.
The whole series costs just £53, and I've entered twice before; back in 2014 and in 2012.  The fact that the races fall mid-week is great, as it means you can still feel part of the racing game, without having to dedicate a whole day at the weekend to each event.  Races start at 7:45pm, and in the past the mid-week dates have clashed with year 8 parents' evening.  Also, the first race (Silverstone 10k) has always fallen either just one or two days after I've run a marathon, so I've given it a miss in the past.  This year, it turns out that as I hadn't run a particularly strenuous marathon on the last Saturday in April, I didn't worry too much about trotting round the racetrack at Silverstone for a 10k a couple of days later on the Tuesday evening.
Race #1: Silverstone 10k
For some reason, Silverstone starts 15 minutes earlier than the other seven events, at 7:30pm.  Because it was the first event in the series, it also meant that I needed to arrive in plenty of time, allowing myself to find where I needed to be and to collect my race number for the rest of the series.  I just need to rock up with time to queue for the loo at the rest of the events now!
Although I hadn't run the Silverstone 10k before, I had run the half marathon there back in 2012.  I hadn't been running for too long at the time, and I turned up cocky and sure of myself that I was going to run a fast race.  It ended up a ridiculously hot day, I ran the first mile in about 9 minutes.  It felt easy, – I had burnt out and was run-walking by mile 5.  Lesson learnt!  Luckily the race photos from that event have long since come down from the photographer's website, because there were some particularly rough shots of me sweating my way round the course that year.  I've run hilly trail half marathons as fast as I ran the flat Silverstone track in 2012!
My main memories of the half were that it was incredibly dull for somebody not at all interested in cars, and just how long I queued to get out of the car park at the end.  (It took me more than 90 minutes to get out!)  But, with a shorter race distance and much less people running, I assumed that neither would be an issue this time round.
I was a little nervous before the race began.  I wasn't sure where I should place myself.  I've been a year out of the local race scene, so although there were several faces I recognised on the start line, there were also plenty I did not, and I wasn't sure of my own abilities now having not run a 10k distance hard in a long while.
I settled myself somewhere near to the back, although still far enough forward to soak in a bit of the atmosphere.  There were more than 1000 people at this 10k, – making it the largest in our local area for sure.
Not knowing my current race pace, the plan was to run to heart rate.  Between 165-170bpm – and then to pick things up for the end if I still felt comfortable.  I quickly settled into a pace which displayed in the region of 165-170bpm on my Garmin.  It felt comfortable but at the same time I felt like I was working to be where I was.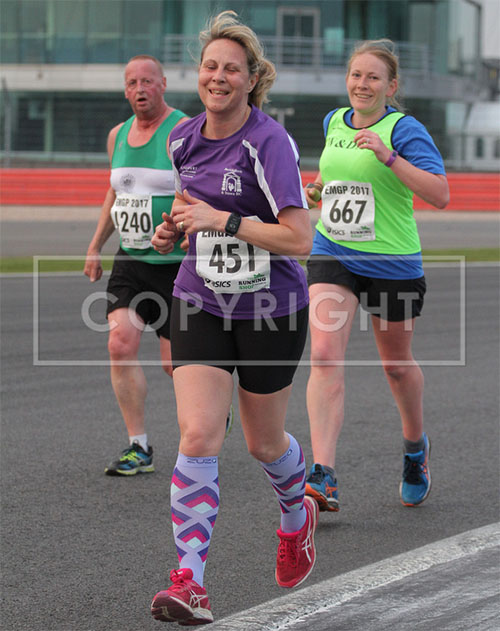 I overtook a fair number of people but remained consistent in my pace.  A few people had mentioned to me that I would be able to run with Oscar in the buggy at Silverstone.  Although I was initially tempted, it would have made for a very late bedtime for him, and I kind of wanted to give myself a starting point to progress from at the 10k distance for this year.  The race welcomes buggies and wheelchair competitors, as well as able-bodied runners.  I do feel that the wheelchair competitors should either have a different start time, or a lane solely for their use.  The event is two laps around the famous track to make up the 10k, and as wheelchairs were coming through past other runners they would shout out (for example) "Keep left!" or "On your left!"  It made it very stressful as a runner to know which side they wanted you to be, especially if you had just caught the word 'left', as I did a couple of times.  At mile 4, one of the women running just in front of me was knocked into from behind and then struck to the ground as she struggled to move out of the way of a wheelchair in time.  I questioned that she was alright, along with a couple of other people, but she was up and running again within a matter of seconds, despite looking a little shaken.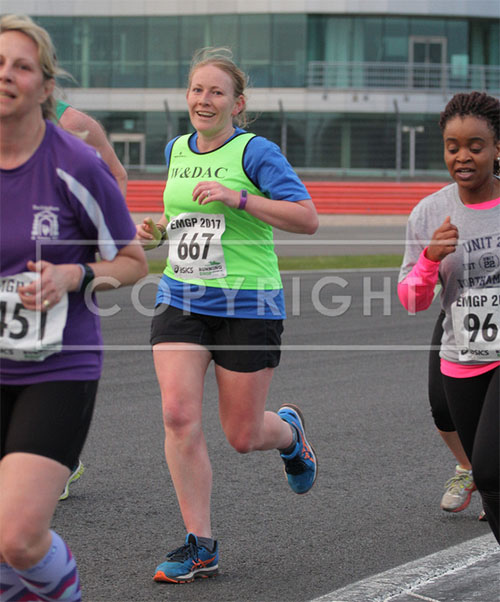 Ugh.  My form in these pictures is terrible.  Really high shoulders and feet slumping into the ground.  But, I do look happy in these shots at least.  I seem to have learnt that there's no harm in smiling for the camera!
I kept checking my watch to ensure that I was still within the correct heart rate zone, and had a feeling that my pace would see me achieve a new PB if my watch data matched the distance of the course.
The course measured slightly over distance, at 6.33 miles, (probably due to the wide tarmac surface and repeated turns).  Had I stopped my watch at 6.2 miles exactly, it would have been at 57minutes and 47seconds after the start, which would have been a new PB.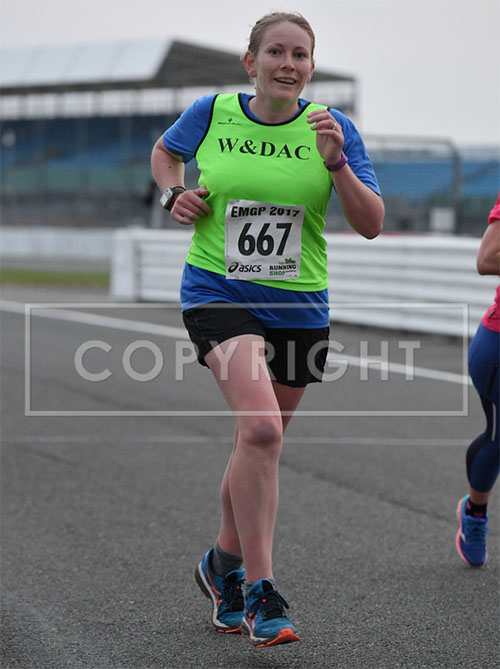 As it was though, I was still more than happy with my time, having not run a 10k for so long.  It will be a great starting point to measure my progress across the series.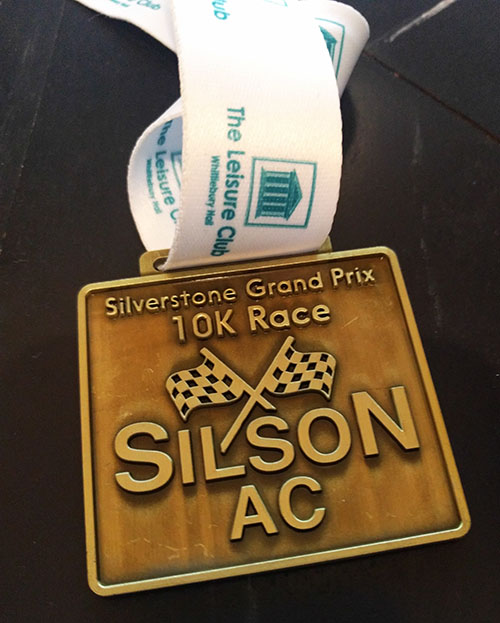 Official (chip) time: 58:44
Garmin time: 58:56
Position: 955/1219
Gender position: 273/455
Category position: 91/162
I waited until the last of our club runners were over the finish line before turning and heading back to my car for home.  Frustratingly, I then queued for nearly 45 minutes before I was even able to get out of the car park and back onto the road!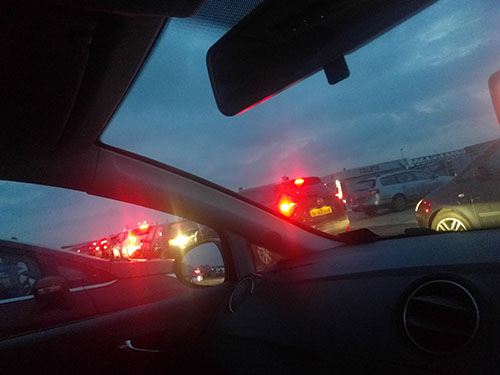 Silverstone 10k: the race where you spend longer queuing to get out of the car park than you do running the actual race. #runnerproblems

— Mary P (@ahealthiermoo) May 2, 2017
All race photos from Mick Hall.
Race #2: Blisworth 5m
Although I am still on maternity leave (only until Friday!

) I agreed to mark six classes of year 11 coursework from home during my leave for some extra pennies.  The deadline for entering marks was last Monday and so the previous week had been spent with very little sleep.  Oscar goes down to bed at 8pm, which would then serve as my start time for marking.  I tried to get 7-8 hours of marking in every night before Oscar woke again at 6am the following morning.
I was not fun to be around that week!
Hence, when Friday night rolled around and I felt completely exhausted and fed up I decided that it would probably be best to give Blisworth a miss, even though the race is one of my favourites.  I undoubtedly would have had a rubbish race, which would have left me in a miserable mood.  So I passed that day, and ticked off some more marking that night instead.
Blisworth 2015 recap
Race #3: Rugby 6m
6 miles is a really random race distance, one I've only ever seen as part of the East Midlands Grand Prix series.  I've run the Rugby 6 race twice before, and also Bedford 6, another 6 mile race which used to be part of the series a few years ago.
Going by my time for the Silverstone 10k a few weeks earlier, I knew that I should be in with a good chance of beating my 6 mile PB (58m 31s from 2012) last Wednesday evening.  The Rugby 6 is set on a hilly course though.  It starts off on a long, rolling downhill, before several short, sharp uphills appear, the worst of which is a long hill only a mile before the finish.
Once again, I aimed to keep my heartrate at around 170bpm throughout the race, including during the hills.  I've fallen into the habit of counting to 100 over and over again during races to keep my mind focused, and it seems to be working and helps to keep the turnover of my feet consistent.
I did find it hard to keep myself from running off at a tougher-than-170bpm pace.  Whenever I try to bring my effort levels back down I always find my form suffers.  I end up putting more emphasis on landing on my feet and my hips then twist out to the side.
Previously there hasn't really been anyone at the same level as me during targeted club races, – other runners have either been much faster or much slower.  However this year it seems I am the same speed as a couple of the others, and three of us finished the 2017 Rugby race within 18 seconds of each other.
Official time: 56:27
Garmin time: 56:25
Position: 301/319
Gender position: 90/102
Category position: 19/21
A new PB of more than 2 minutes.  I was very chuffed with that!
This week is the Corby 5 mile race.  I haven't run this event since 2012, and all I can remember from it is the fact that it finishes on a very steep hill!  Why do race organisers do that?!
Have you taken part in any races where wheelchairs also compete?
What random race distances have you raced?
Any tips on putting in less effort but retaining form?