I have about ten half written race recaps and reviews in the Drafts folder of my blog that I'm gradually working my way through!
Today though, I want to recap the first two weeks of my marathon training plan.
In my last blog post I announced that I intended on following the Hanson's Marathon Method* to work towards a sub 4h 30m marathon at Mablethorpe this October.  My current marathon PB is 4:54:08, but I have always felt that I should be capable of a much quicker time.  The year I did achieve my PB was after following a specific training plan (on the back of a 70 mile race) and I loved the structure that the plan gave.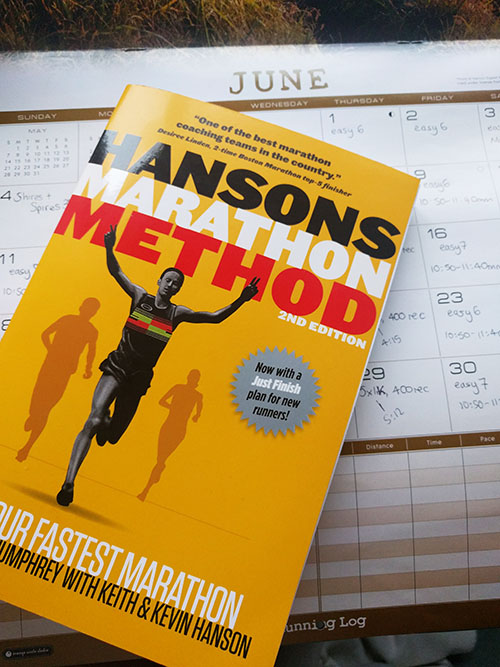 This will be my first time working through the Hanson's Marathon Method plan and although I plan to stick to the scheduled paces and runs as closely as possible, I will definitely be doing some day-swapping, and cutting back on the miles during the early weeks as necessary.  The first week of training began the day after I ran a 35 mile ultramarathon, so I let my legs off a little bit(!)
The paces I've chosen are targeted towards a 4h 15m marathon time.  I will be aiming for anything under 4h 30m at Mablethorpe in October.  In the weeks before starting the plan I tested out a few of the sessions and found that I can run the paces required for the 4h 15m target time comfortably, and so I plan on continuing with the slightly faster speeds to give myself a little leeway time on the day.  If I need to knock them back a little later on in the plan, then I will look to do so.
Week 1 planned: (5 runs)
Monday – Off (extra rest day scheduled due to racing an ultra the previous day)
Tuesday – Banbury 5 (run to heart rate – 170bpm)
Wednesday – Off
Thursday – 6m easy (10:50-11:40mm)
Friday – 6m easy (10:50-11:40mm)
Saturday – 6m easy (10:50-11:40mm)
Sunday – 8m easy (10:50-11:40mm)
Week 1 actual: (4 runs)
Monday – Off
Tuesday – Off
The first week back at work and juggling sending Oscar to nursery and picking him up in the evenings was harder than I thought it would be.  A 4:15am get-up time is never fun, although this week I've managed to slide things around in order that I can set my alarm for 5am instead.  I've been pushing it to get in to work on time each morning though.  I arrived home on Tuesday night absolutely exhausted and within five minutes of announcing that I would not be driving the 55 miles to Banbury I fell asleep on the sofa.  Right call made.
Wednesday – Off
Thursday – 5.8m at 10:56mm pace.
A lovely chatty run out round the streets of Wellingborough with Laura and Steph before the running club committee meeting.
Friday – 5.3m at 10:41mm pace.
Saturday – Corby parkrun at chatty pace.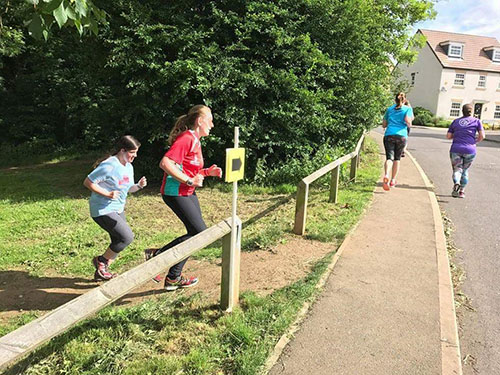 I headed to Corby parkrun with Laura for a change of scenery.
[Official time: 30:27 Position: 95/182 Gender position: 20/81 Age category position: 3/13]
Sunday – 3.79m at 11mm pace.
It was 9:30pm before I even got out of the door on Sunday evening.  Dan and I had spent all day with Oscar at an Open Farm day in Peterborough.  It was lovely to have the day out as a family, and we continued tag-teaming for Oscar's evening routine.  When he was in bed, it was a quick rush round the house to tidy and clean and put the washing on for the following day before I could even get changed for my run.  Nearly 4 miles wasn't the 8 I had in the calendar, but it was definitely better than no miles.
Week 2 planned: (6 runs)
Monday – Off
Tuesday – Harborough 5 (run to heart rate – 170bpm)
Wednesday – 7m easy (10:50-11:40mm)
Thursday – 8x600m (8:20-8:27mm), 400m rec (12:20-12:30mm)
Friday – 6m easy (10:50-11:40mm)
Saturday – 6m easy/buggy parkrun at chatty pace
Sunday – 10m long (10:29mm)
Week 2 actual: (5 runs)
Monday – Off
Tuesday – Harborough 5
Oscar was overtired when I picked him up from nursery, and wouldn't let me put him down long enough to get changed to run or for me even go to the toilet.  As soon as Dan was back from work I had to madly rush around the house to get all of my bits together in time.
Annoyingly, as soon as I arrived (three minutes before the start and desperately needing to pee) my Garmin flashed to say that the battery was low and by the time the gun went, there was nothing left at all on the display.  I'd planned on running to heart rate, but in actual fact I am guessing that my first three miles were run at parkrun PB pace.  I then got a stitch and had to walk for a stint as it was so painful!  I've not had a stitch in years!  I had a rough fourth mile, but overtook several people in mile 5 to finish in 47m 32s.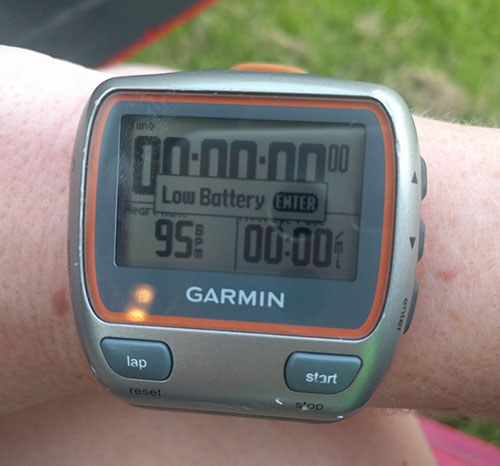 Wednesday – Off
We had a carpet fitter coming to measure our bedrooms on Thursday evening after I returned from nursery pickup.  By the time our house was looking as presentable as a house occupied by two full-time working parents and an eight month old whirlwind can look, it was close to 11pm, I was pretty knackered and had no intentions of heading out for 7 miles.
Thursday – 8x600m, 400m rec
1.5m warmup at 11-12mm pace (11:09mm)
8:21, 12:24, 8:26, 2:25, 8:32, 11:57, 8:20, 12:26, 8:30, 11:54, 8:24, 12:09, 8:24, 12:18, 8:23, 12:41
1.5m cooldown at 11-12mm pace (10:59mm)
I loved, loved, loved this session!  I have always loved runs where I have to meet (achievable) set paces for each split and this run reminded me of that.  I managed to teach myself how to set up paces for split distances on my watch and my Garmin beeped every time I was running too slow or too quickly which took the guesswork out of my pacing.
Friday – Off
Run was replaced with sleeping on the sofa by 7pm.  Two weeks into my return to work, super early morning starts and organising an extra person every day had definitely taken it's toll by this point.
Saturday – buggy parkrun (in 32m 25s) and 4.01m easy (10:52mm) to make up a little for the lack of run on Friday.
Both runs were incredibly hot!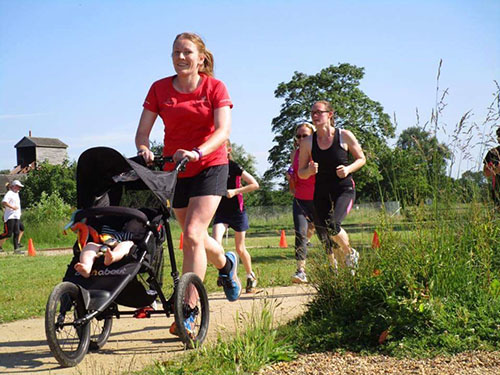 I got quite a few comments from other runners when I ran past them up the hill whilst pushing a buggy!
[Official time: 32:25 Position: 230/367 Gender position: 82/173 Age category position: 9/14]
Sunday – 8.09m (10:26mm pace)
Although I was nearly two miles short of the planned distance for Sunday, I was incredibly chuffed with how close I was to my target paces, and especially chuffed with how consistent I ran for miles 3-7 of the run.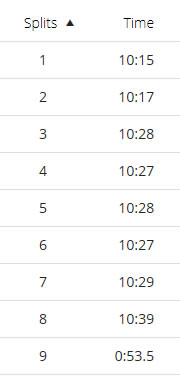 Because (once again) I left it really late to head out on my run, (it was 8:50pm before I headed out the door!) I needed to cut the run short slightly in order to get round and ready for school the following day.
So what have I discovered during the first fortnight of my Hanson's Marathon Method training?
I am loving the set plan with exact paces to follow (especially when it comes to speedwork and long run sessions).  It makes planning for the week so easy.  I know exactly how far I should be running, and at exactly what pace.
I spend most of the time in the build up to each run feeling incredibly guilty that I am running instead of doing housework or seeing my husband.  (I tend to run late at night after Oscar has gone to bed so it doesn't impact on time spent with him.)  I need to stop faffing and just get out and get the full run done as soon as I hand Oscar over to Dan for him to put to bed.  I knew that this plan required for high mileage before I began.  Things will definitely be easier once I finish school for the Summer at the end of July and I feel like I have more time again.
If I cut a run short because I'm feeling guilty, I end up feeling cheated as I haven't completed the run I intended, but I didn't spend quality time at home either.  The aim for this week is to make sure that no runs are cut short!
Do you enjoy sticking to a training plan?
How many days do you tend to run each week?