It's been a while since I posted any details from the parkruns I've run.  Over the past few months I've gradually ticking off more parkruns, getting ever closer to that magic number 100.  I have just 16 left to go now before I can apply for my 100 runs t-shirt.  I haven't made much of a dent in achieving the parkrun tourist status this year though.  In total I have run 12 different events, so still have another 8 to go before I can buy my cow cowl.
I did just find an amazing parkrun tourism tool which has whet my appetite for more tourism.  It allows you to enter your parkrun ID and postcode and then shows you the nearest 10/20/30 parkruns to where you are based.  You can also choose to not include those parkruns which you have already run so you can see where your best options are to head to next.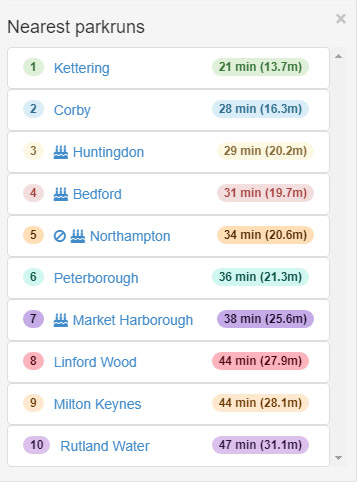 I've already run the nine closest parkruns to me so it looks like Rutland Water will be featuring on my results list next!  Wimpole Estate is another one I need to tick off in the near future as well.  I've had lots of good feedback about the event just lately.
Here is where I've been on my six most recent parkruns…
parkrun #79 – Northampton
6th May
Northampton parkrun is a great course for running with the buggy.  The paths are wide and although it is a super crowded course at the start, the numbers toward the back soon start to thin out.  There are wide grass verges for most of the distance, so even if I feel rather uneasy about pushing the buggy along the path at the start of the run for fear of clipping somebody's heels, I can always stick to the safer option of running on the sidelines until the crowds start to thin.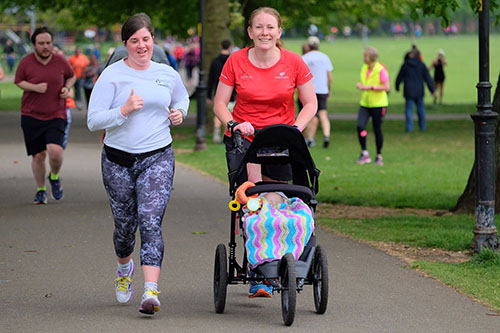 I use my parkruns with Oscar to catch up on all the gossip(!)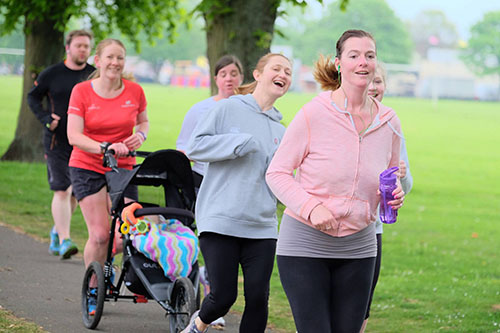 (Photos by Martyn Haworth posted on the Northampton parkrun Facebook page)
Official time: 32:55
Position: 459/609
Gender position: 148/256
Age category position: 21/36
Magic Mile #4 – Northampton
6th May
I completely ran out of time to write about this event back in May but for the first time ever I WAS FIRST LADY across the finish line!  Something which I am sure will never happen again and was purely down to the luck of no fast ladies being around to run the mile that day.
I am counting it though.  I didn't even realise until the results were published the following day that I had been the first female through the finish!  Granted, there weren't a huge number of runners.  But first lady = first lady…right?!
Official time: 8:09
Position: 18/29
Gender position: 1/7
I finished in the exact same time I had during my previous Magic Mile back in March, which was much better than I thought I would do.  My legs had a marathon and a 50 mile ultra in them from recent weeks, and I had completed very little work at any speed since the previous event.  I would like to think I could beat this time now though.
parkrun #80 – Corby
13th May
So, when I said that Oscar-parkruns are used to catch up on gossip, I haven't actually stuck solely to this lately.  Most of my parkruns have been gossip runs!  An easy run at chatty pace to keep the legs ticking over and to keep my social side happy on a Saturday morning.
Official time: 29:40
Position: 64/131
Gender position: 16/58
Age category position: 5/8
parkrun #81 – Sheringham
3rd June
I woke up to this on the Saturday morning…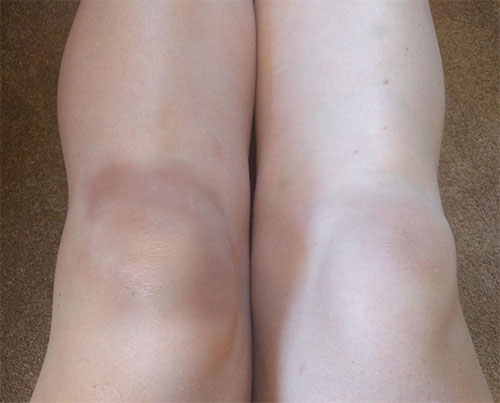 My knee had been a little sore to kneel on for the past few days, but had not been sore when walking or running and there was no evidence of any bruising or damage at all.
…until the Saturday morning.  The day before I was due to run the Shires and Spires 35 mile ultra.
I quickly snapped this shot and posted it on my Facebook wall alongside a brief paragraph detailing the above information.  Immediately afterwards I switched off my phone and chose to ignore any advice given until after I'd tested out my knee at Sheringham parkrun.  (True runner stubbornness right there!)
The Sheringham parkrun is tough – there's 'Heartbreak Hill' at mile 3 and the course is run through woodland, over lots of lumps and bumps!
I ended up hanging around for my Dad in the morning as he was going to take Oscar for a walk in the buggy so that I could run child-free for a change.  He made us late though and the engine was barely off in the car before I was yanking the running buggy out of the back of the car, giving Dad the fastest lesson in how to steer and brake with Oscar strapped safely inside and then legging it down to the start line.  I wasn't the only one and despite several minutes of flat-out running I still managed to turn the final corner just in time to hear '3-2-1′ and see the runners shooting off into the distance.  The woman who had been a few metres in front of me slumped into a defeated walk at this point.  I eventually caught the back runners and began picking runners off along the way.
When I ran through the finish, Dad was there eagerly telling me that he must have run at least three miles with Oscar as he had walked so fast during the last half hour.  I did point out to him that parkrun is only 3.1 miles, of which I had run all the way and that he had been there at the finish waiting for me to cross the line, so I doubted that he had walked as far as 3 miles, but I don't think I got through to him!
Official time: 31:20
Position: 108/201
Gender position: 25/73
Age category position: 3/6
I had several responses to my Facebook knee query by the time I turned my phone back on again, including a message from a physio associated with the club who informed me that it was very easy to catch the structures in the knee without really noticing at the time.  Even though it was most likely only a very small catch in the knee, because I kneel on the floor so much as a new Mum it ends up looking much worse as the bleeding inside the knee spreads over much greater knee surface from repeated kneeling with Oscar.  Because Dan had been away during the week I had bathed Oscar alone every evening, likely putting the extra pressure on my kneecap, distributing the blood further across my knee surface.  (I went on to run 35 miles the next day without issue.)
parkrun #82 – Corby
10th June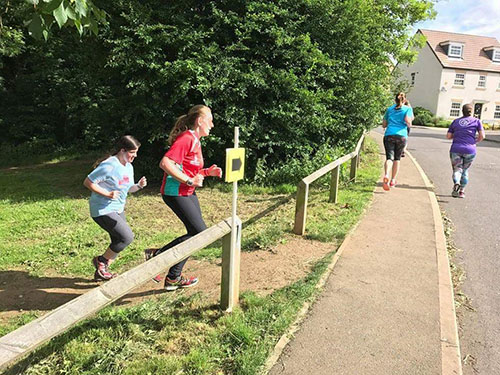 Laura was volunteering at the track in Corby again, so I decided to head over and join her for a social chatty run before her shift began.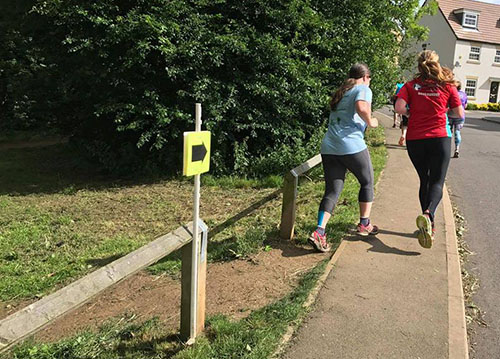 Official time: 30:27
Position: 95/182
Gender position: 20/81
Age category position: 3/13
parkrun #83 – Kettering
17th June
Several runners from my club were planning on running over to Kettering for the parkrun and then back again to make up their long run for the weekend.  Since having Oscar I can't really commit to running long runs at the weekend with others so I said I would meet them over there for the parkrun part of the run.  Running the group long runs isn't fair on Dan, or Oscar whilst he is in nursery all week (since I've been back at work).  I want to see some of them both at the weekend!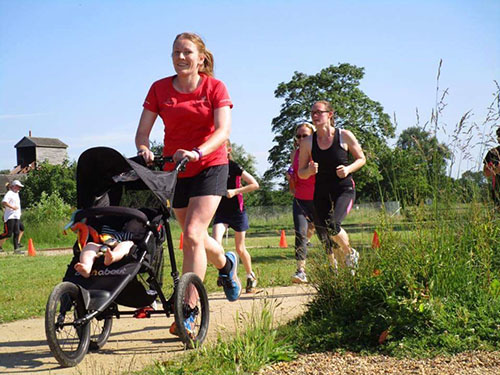 Official time: 32:25
Position: 230/367
Gender position: 83/176
Age category position: 9/14
A lady from Oscar's 'Stay and Play' group was there running without her baby and I chatted to her briefly at the start, and again as I passed her out on the course.  She muttered at me as I ran past her pushing O in the final mile, but I hope us running past helped her to achieve the course PB she achieved a few minutes later.

parkrun #84 – Huntingdon
24th June
I still hadn't fully made up my mind as to which parkrun I was headed to by Saturday morning last week.  I had put a shoutout on Facebook for parkrun recommendations but despite several suggestions, none really took my fancy.  I set out intending to run Kettering parkrun but when it came to it, my body went into work-mode when I got into my car and I found myself heading in the direction of the school I work at, so Huntingdon became the new plan.  I hadn't run the course in a while anyway, and I knew there would be some new, pretty trails for me to run the extra three miles I needed to tack onto my parkrun that morning in order to make up the six miles on my training plan for the day.
I ran the parkrun much harder than intended in the end.  I should really be running parkruns at 10:50-11:40mm pace, as Saturdays are one of my 'easy run' days.  I'm finding it so hard not to push myself around others when I'm running solo though.  I really must make an effort to run slowly this coming weekend.  It's much more important to make it to the start line of the marathon in October at the moment than to cut a few seconds from my parkrun time.
At the end I got my barcode scanned and was about to start jogging back to the car when a familiar face looked up from the grass and waved hi.  I automatically smiled in response and returned the greeting, whilst racking my brains as to who this person was!  Lately I've chatted to several people at events who I follow/follow me on Instagram/Twitter, but I couldn't place this lady at all.  Later that day I eventually worked out that she was one of the TAs from my school.  I just hadn't connected her with running, as I have always seen her in a school environment before!
Official time: 28:53
Position: 157/297
Gender position: 37/118
Age category position: 3/14
Have you seen people you know from outside of running at events before?
What is your parkrun tourism total?