Last week was my fourth week following the Hanson's Marathon Method* training plan.  Although I'm trying to slot in my runs as best as possible I haven't stuck strictly to the plan, tweaking it in a few places from time to time as required.  My return to work with a young baby and house improvements still to be made has meant that these first few weeks of the plan needed to be fairly flexible to fit around my schedule.  Once school finishes for me at the end of July then training should become a little easier to slot in though.  (Hopefully!)
The main structure of my training week comes from the book, and I try to follow all advice given from within the pages, with all my paces based on a 4h 15m marathon finish time.  (I am aiming for a sub 4h 30m marathon in October.)
Week 3 planned: (5 runs)
Monday – Off (extra rest day as racing the following day)
Tuesday – Weedon 10k (run to heart rate – 170bpm)
Wednesday – 6m trail run with friends
Thursday – 6x 800m with 400m recovery
Friday – Off
Saturday – 3m easy, followed by parkrun (10:50-11:40mm)
Sunday – 8m easy (10:50-11:40mm)
Week 3 actual: (3 runs)
Monday – Off
Tuesday – Weedon 10k
I accidentally picked up my old heart rate monitor as I madly rushed out of the door.  Old, as in it no longer sends my heart rate data to my watch and so, despite planning to run to heart rate for the race I ended up needing to run on feel once again.  Weedon 10k is a ridiculously hilly course, with two particularly big hills at miles 2.5 and 4.5.  Luckily the race finishes with a long downhill, but the first proper hill of the event really took it out of me for the rest of the run!
Total time: 61:22, which I was happy with on such a hilly course!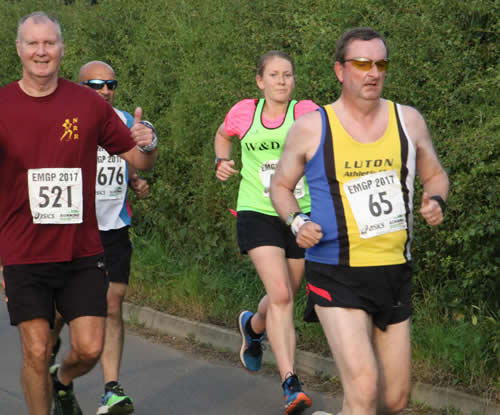 (Photo by Barry Cornelius of Oxon Races.)

Wednesday – 6.19m trail run (12:43mm)
Pace includes all stops and stile climbs!
Thursday – Off
I just did not have the energy or drive to get out for speedwork on Thursday evening.  I replaced speedwork with a two hour nap once Dan returned home from work.  That nap did me wonders.
Friday – Off
Saturday – 2.07m easy (10:45mm), followed by parkrun (28m 53s), then 0.69m easy (10:59mm)
I headed to Huntingdon parkrun on the Saturday, slotted in a warmup and then a cooldown to try and get in some extra miles.
I really want to continue attending parkrun throughout marathon training, but I really struggle to keep the pace consistently easy at parkrun at the moment unless I have somebody to chat to.  I feel like I am constantly battling with myself to not end up racing against previous times I've run.  This week I ran parkrun at 9:10mm pace, which is way too fast for my prescribed easy pace of 10:50-11:40mm, and definitely wouldn't have done my legs any favours.
Sunday – Off
On Sunday I headed to Norfolk for the day with Dan and Oscar to see my parents.  We ended up setting off from Norfolk to return home again a little later than originally planned.  That, combined with a diversion on the way home meant that we didn't arrive back in Northamptonshire until fairly late, with washing still to be washed and bags still to be packed for the following day.  I felt like I'd already had a fairly rubbish week of training, and so skipped the workout.  (Which I obviously immediately regretted as soon as I got into bed.)
Next week is another week…
Week 4 planned: (5 runs)
Monday – Off (extra rest day as targeting a race the following day)
Tuesday – Milton Keynes 10k (run to heart rate – 165bpm)
Wednesday – 7m trail run with friends
Thursday – 5x 1k with 400m recovery
Friday – Off
Saturday – 3m easy, followed by parkrun (10:50-11:40mm)
Sunday – 12m long (10:29mm)
Week 4 actual: (5 runs)
Monday – 5.19m (11:24mm)
Tuesday – Milton Keynes 10k (run to heart rate – 163bpm average)
PB, PB, PB!!!  I didn't want to all out announce it beforehand, but I was fairly confident that I would be capable of PBing at Milton Keynes on the Tuesday night.  All the recent extra runs I've been fitting in and base building at slower paces has seen my running improve.  My running was set at 8:xx pace for quite a lot of the time that I stuck to my 165bpm goal.  I would never have believed how easy 8:30-9mm pace could feel over a 10k distance this time last year!  My previous 10k PB had also been set at Milton Keynes 10k, two years earlier.  That time I had PBd by 8 seconds, and was ecstatic on the night.  So – imagine my beaming smile last Tuesday evening when I crossed the line in 56m 40s – giving me a PB of nearly two minutes!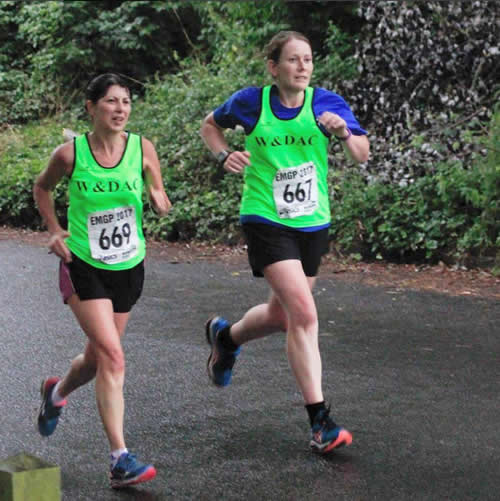 Wednesday – 6.93m trail run (11:48mm)
Thursday – Off
I start off with such good intentions at the beginning of the week, but by the time Thursday rolls round often all I want to do is curl up on the couch and sleep.  This Thursday involved housework until 11pm though.  Boo.


Friday – Off
Saturday – Off – we headed to Dan's parents in Wolverhampton on the Saturday and so it ended up being a rush in the morning to get round in time.  Dan had left his car in Northampton following a work night out on the Friday, so I had to load Oscar up and drop Dan off to pick his car back up again before we headed to the Midlands.  Had Northampton parkrun been on in the morning, all would be fine and I could have slotted my run in, but as it was, the Racecourse where Northampton parkrun is held was being used for something else, so no run was had.


Sunday – 5.86m with Oscar in the buggy (12:46mm) AM, 8.05m (11:02mm) PM
The AM run was a substitute for missing the Saturday run, and the PM run was a shortened version of Sunday's run.  Although annoyingly, heading out in a rush I didn't check my training plan properly and missed that it was supposed to be run as a 'long run' rather than an 'easy run', and I should have run at a pace 30 seconds quicker per mile than I did.  Never mind, – can't win them all!
So weeks 3 and 4 complete now.  My biggest challenge is keeping the momentum going by a Thursday evening, especially as that is a speedwork night and one that I should not really be missing.  I have been racing for the past few weeks though which luckily does keep my legs ticking over, but the East Midlands Grand Prix series has finished now, with Milton Keynes being the last race of the series, so I am on my own again!
My second biggest challenge is keeping the pace slow and steady at parkruns.  It is so, so easy to get carried away and drawn along by everybody else at parkrun.  I can easily zone out and happily run my easy runs at 10:50-11:40mm on my own back at home, but when there are people around, it instantly becomes so much more difficult to do and I end up running too hard on what should be an easy run day.  I plan on getting some parkrun tourism in over the Summer and hopefully I will feel less pressured to run hard on unknown courses with people around who I do not know.
My easy runs are definitely paying off, and are absolutely not 'junk miles' as proven by this week's PB!  Whenever I think about how much effort it is to get out late at night (when my runs so often are nowadays – seriously, if you follow me on Strava you will see that the majority of my runs are 9-10pm!) I look at how much my running has improved and how much easier it is to hit faster paces than it initially was and it gives me that extra little bit of incentive to get out there.
Do you find it difficult to run 'easy' runs as slowly as prescribed?
What time of day do you tend to head out for a run?