This is an updated 'Day in the Life' post, as my routine has changed so much since writing my last one.  These timings are from one day last week, and this day is actually a pretty standard weekday since I returned to full time work back in May.
2:45am – Oscar usually (but not always) wakes me up by calling out to me at about this time.  He wants a feed and so I go and collect him from his room before bringing him back to the comfort of my bed where I can feed and play a quick logic puzzle game on my phone whilst waiting for him to finish drinking.  If he doesn't fall asleep on me during this feed he still tends to be very sleepy, and after about ten minutes or so I can usually transfer him back to the cot in his bedroom where he drifts off fairly quickly again.  I try to stay awake in my bed until I can no longer hear him rolling around or chatting and then I turn my bedside lamp off before instantly falling back to sleep.  On a good day I might only be up for 15 minutes in total.  On a bad day, it could be an hour in the middle of the night.  On this occasion Oscar was fairly quick and I was able to switch my bedside light off 20 minutes after having initially woken.
5:00am – I set my alarm for this time to give myself a chance to get ready without Oscar in the morning.  I never appreciated in the past just how easy it was to get round when there wasn't a baby around to slow me down!  I get dressed and grab my own breakfast at this point.  My go-to breakfast at the moment is stodgy porridge topped with blueberries, as it only takes three minutes to prepare.  Anything which is quick and easy at the moment is a winner!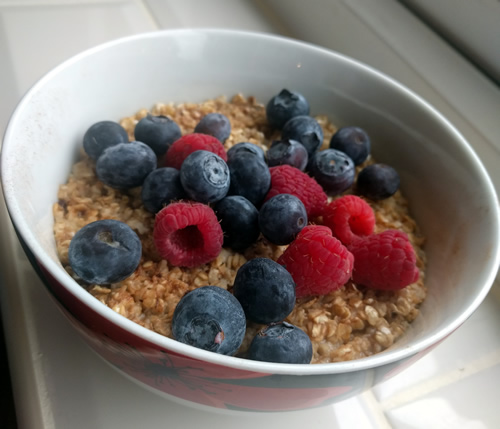 I also nip outside to water the plants in the greenhouse.
5:25am – If Oscar hasn't already woken by this point, I push his door ajar and then chat to him quietly from outside his room so that he wakes 'naturally'.  He won't eat breakfast immediately upon waking, so once I've changed his nappy I take him downstairs, place him onto his playmat and pull out a selection of toys for him to play with.  (Nothing too noisy, as Dan is still fast asleep, and I'm nice like that! 😉 )  I spend a little time playing with Oscar so that he is nice and settled before breakfast.  He is usually in the best mood in the mornings and I resent having limited time with him before I have to leave.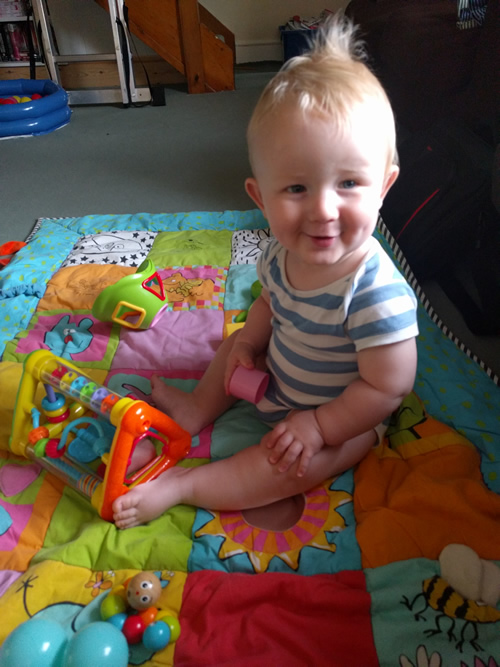 6:00am – After feeding Bella (our cat), I make breakfast for Oscar and then pack up lunches for both Dan and I.  I try and vary Oscar's breakfast every day.  On this day I cut up some fresh strawberries and spread them along with some almond butter over a warm slice of toast which I cut into thin strips to make it easy for Oscar to pick up.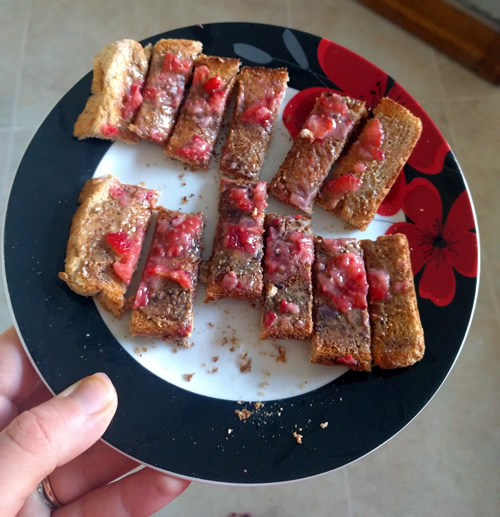 Oscar is going through a phase of hating being put into his highchair, and unhelpfully tries to make himself as spread out as possible with both his arms and legs, whilst squawking loudly at me.  Eventually I manage to strap him in and he spies the toast, immediately falling into line and reaching out for it.  Whilst Oscar is eating his breakfast I organise his nursery bag and a backup set of clothes for the day, pulling a bag of breastmilk out of the freezer to defrost if required.  On this day there is enough already expressed in the fridge, so I don't need to defrost any more.  I pile up my lunch, phone charger, Dan's lunch and Oscar's nursery bag, milk bottles and coat by the front door, before expressing and placing fresh milk in the fridge for the following day.
6:30am – Dan emerges from the staircase and takes my spot at the table whilst Oscar finishes up his breakfast.  I kiss both of them on the head, confirm the dates for the milk so that Dan can let nursery know when he drops Oscar off at a little before 8am and then drive into work.  When I first returned to work I aimed to leave home by 7am each morning, but leaving that half an hour later resulted in an extra hour or more of travel time, so I gave that up rather quickly!  My journey in is rather dull.  I tend to listen to Heart radio most days as the radio presenters are Blue Peter presenters from my childhood.  (I actually met Katy Hill once!)
7:15am – This is usually the time I arrive at work.  The first 5-10 minutes after I've arrived is spent switching on the classroom computers and, at this time of year, opening the windows and turning on the fans in the classroom, before checking my emails and prepping for my lessons that day.  If I don't have a high volume of lessons, I might be able to sneak 5-10 minutes of Twitter/blog reading time in, but this is very rare nowadays.  I don't manage any blog time on this particular day.
8:15am – Students from my form start arriving from this point, so I bring up the activity planned for form time onto my computer screen and then jot down a list of notices which I need to share with my form.  There are two teaching periods before morning break, and this morning I am only teaching one of them – a year 7 programming lesson to a lovely group of students.  I love teaching, but I especially love teaching programming, as I find it so satisfying when students 'get' how to write the code.  Programming is like one big puzzle which you have to solve!
10:45am – As all year 11 and 13 students have finished for the year, year 8s and 9s have exams and year 10s are off out on work experience placements for the next two weeks I don't have any further lessons today.  The time is needed to prep for the next academic year within the department though as there are so many changes being introduced to the school in light of the new 9-1 GCSEs.  (Grades A*-G and levels 3+ will no longer be referred to, and instead all of our resources and worksheets must reference the new 9-1 system.)  It feels like a lot of changes in paperwork for the sake of it to be honest, especially when the first set of files (out of hundreds of the resources in our user area) all mention curriculum levels and final grades, requiring an hour of checking and changes just to themselves.  With three new courses in our department next year, there are also a whole load of new resources to be created and with only a few weeks before the end of term I briefly wonder how we are ever going to fit all of the required work in before the holiday.  I really hope I don't have to work over the Summer.
1:05pm – A quick ten minute break for lunch, – although I've already picked at most of mine by now.  It's rather nice to have some adult conversation.  I did miss that whilst I was off on maternity leave earlier in the year.
Lunch is standard since returning to work.  My lunch 'requirements' are that it has to be something which will keep me full and something I can pick at for long portions of the day.  I am all about the variety…and picking!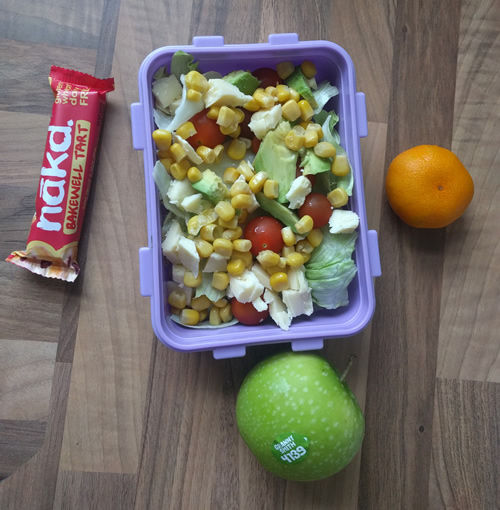 We have two 'work experience' students with us this week (students whose actual work experience placements fell through at the last minute).  Luckily, as well as being Core Computing students, they also both take ICT as an option, and so I use the rest of the afternoon to help them improve their coursework in the subject.
3:00pm – As students start to leave the site at the end of the day I fight my way back upstairs to my classroom, where I give it a quick tidy, shutting all windows, turning off the projector and wiping the board clean.  The worst part about being a Computing teacher is that other teachers always use your room and they never leave it how they found it!  I used to stay in school until 5:30pm before having Oscar so that I wouldn't have to take work home with me, but now I try to leave no later than 3:10pm as otherwise there is a high risk of not arriving back to pick Oscar up from nursery in time.
3:50pm – Traffic has been awful along the A14 just lately and I can often be seen rushing madly from my car to the nursery doors hoping that I haven't interrupted the babies in the baby room during teatime (4pm).  When I collect Oscar he grins excitedly and starts chatting away, lifting his arms up high above his head for me to pick him up.  Nursery fill me in on his day, telling me that he had adored playing in the water table that afternoon (taking his sunhat and filling it with water over and over again!) and had also been out in the buggy to see the farm animals earlier in the day.  They also give me a quick run down of the times they gave him his milk bottles, what he ate for lunch and the fact that he had given them an explodapoo at lunchtime, so they've popped his dirty clothes into a bag inside his nursery bag.  I thank them, collect his nursery bag and lift him into his old baby seat in my car.  Because Dan drops Oscar off in the mornings and then continues on his way to work, it doesn't make sense for him to return home in order to leave the car seat for me to collect after I finish work for evening pick up.  I'd never make it on time then anyway.  So Dan keeps Oscar's current car seat in his car and his old baby car seat is strapped into my little Ibiza.  I think we're going to get away with this arrangement for the remainder of term but when I return in September for my final few weeks I fear I'm going to have to walk the 2.5 miles home with Oscar in the buggy each night before then running back out to collect my car later in the evening.  (Our initial plan.)
4:10pm – Depending on what activities Oscar was involved in at nursery that day he tends to be rather tired and irritable by this point.  A horrible whingey sound comes out of his mouth until I can get him into his sit-in walker in the kitchen.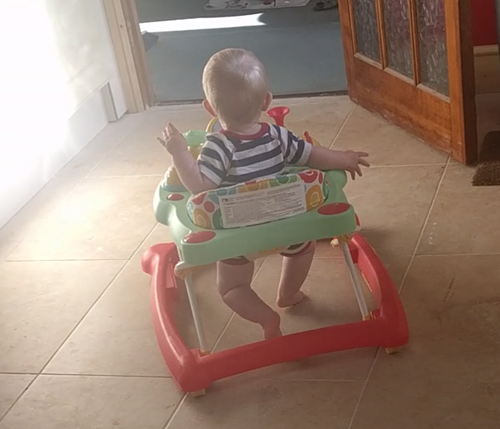 It's then a race against time to try and keep him amused whilst making tea as quickly as possible so that I can get him fed before he decides that he's waited too long for his dinner!  He managed to make it until about 4:35pm today before the whinging begins.  I cut him a couple of small strips of cheese which seem to keep him occupied for a few moments whilst I quickly complete all tasks where I need both hands!  After that I pick him up and place him on my hip to finish the cooking.  It's not ideal, but I can't listen to him whinge all evening!
4:45pm – Tea time!  I have always had my dinner on the late-side since starting running.  Often it would be 9-10pm before I sat down to eat in an evening.  This obviously isn't practical now that we have Oscar though, and I want to do my best to demonstrate good table manners when possible, so I now have my tea at this super early time with him.  I also get Bella her tea at this time.  Tonight Oscar has spaghetti with mushrooms, broccoli, sweetcorn, chicken and chopped tomatoes.  It all disappears rather quickly!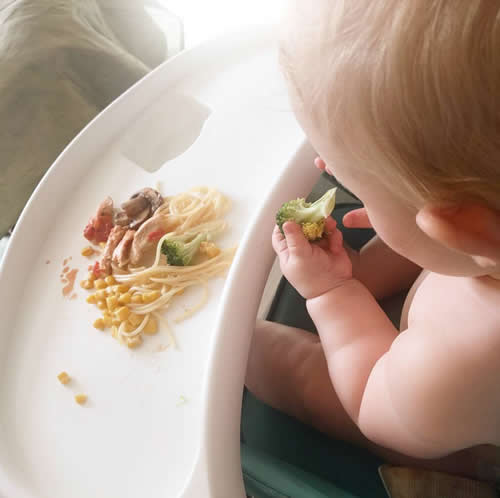 5:15pm – Once Oscar has finished his tea (usually indicated by sweeping his arm across his highchair through all the food) I get him out and roughly brush him down on the plastic mat we lay underneath the table.  He then walks holding onto my hands for support to the bottom of the stairs where I pick him up and carry him upstairs to the bathroom and place him into the bathtub.
Oscar loves bath time and any playing with water in general.  I always place a selection of plastic balls, a mini watering can and squirty animal toys into the bath with him and I am sure that he would literally stay in the bath all night long playing if I let him!
5:50pm – After drying Oscar down and getting him changed into a clean nappy, vest and sleepsuit it is time for a story on our bed.  At the weekends Dan reads to him and I love sneakily watching them from the doorway as Oscar is always so captivated by the book and the voices which Dan puts on.  My voices are never as good it seems!
7:00pm – After a little more playing it is time for Oscar's last milk feed of the night.  If he's had a busy day at nursery he often falls asleep during this feed and I can then transfer him to the cot in his bedroom.  Tonight it's not so easy and it takes me half an hour to convince him to go to sleep.  Dan has the knack of always getting him to fall sleep within minutes.  I think I am often too impatient at this time of the evening as I know just how much I still have to fit in before bed!
7:30pm – Dan arrives home just in time to help me soothe Oscar to sleep and then I quickly whizz around the house trying to complete as many basic housework chores as possible.  During the week I stick to the necessities – mainly washing up and washing/drying clothes.  I also clear away Oscar's toys from earlier in the day, clean down his high chair and mat, and sometimes hoover if it's been a particularly messy meal!  Tonight I just quickly use a bristle brush to sweep the worst of the food away.
8:00pm – Anywhere between 8pm-9pm I head out on my run for the evening.  I aim to run 4 nights during the working week, but it's much tougher to slot them all in than I first thought it would be, and I often end up running twice on a Saturday to make up for a run I missed out earlier in the week.  Tonight I get changed and am out of the front door by 8:30pm, but I only have a 6 mile easy run (10:50mm-11:40mm pace) on my training plan so this is more manageable than the days where I'm due to run 8 or more miles.  The run goes well, and although I've been finding it hard to keep my runs this slow and steady, these sessions have definitely been paying off and I can feel that my endurance has improved no end just lately.
10:00pm – I always grab a glass of milk on arriving back from my run, and take 5 minutes to upload my run to Strava and just chill for a brief moment before grabbing a shower.  I hate not showering in the mornings, but I just don't have time at the moment, so I wash my hair and quickly plait it to sleep in so that it doesn't look too wild in the morning!
11:15pm – I like to be in bed by this point and on this occasion, I manage it with ten minutes to spare.  Rather than an extra ten minutes of sleep (which is probably what I should have used the time for) I scroll through my social media channels quickly before turning my bedside lamp off and waiting to hear Oscar calling out for me a few hours later.
****
So that's what I get up to on weekdays just lately.  I do wish I had a little more 'free time', but I get the opportunity to head out for a run most nights, so I can't really complain!  I know that I definitely would not be able to maintain this lifestyle permanently though and I'm very glad that the end of term is now in sight.  I have returned as a full time teacher until the end of August, although after handing in my notice and negotiating some pay, my contract has been extended slightly until the end of September, so that I may help the new Second in Department to settle into the school and department.  Had the four weeks I am returning for been immediately on the back of the seven weeks I initially returned for, I would have outright turned down the extra work, but with the Summer holidays off in the middle, I hope that I will be able to muster up enough enthusiasm and energy for my final four weeks in September.
Major kudos to anybody who does manage to work full time and parent successfully around that whilst maintaining hobbies, seeing their partner (notice the lack of any time I get to spend with Dan during the week!) and keeping on top of housework!  I am hoping that once the Summer is here, I will be able to complete a couple of my easy runs whilst pushing Oscar in the buggy during the morning, so running won't take over every evening during the week.  It's so hard juggling everything and maintaining a healthy balance in life.  Is a healthy balance even possible any more?
Do you have any tips for fitting everything in to each day?!