So, I wrote a post a little while back about entering the East Midlands Grand Prix weeknight series of races which took place during the final half term of school (very inconveniently timed with my return to work!)  There are eight races in total.  I wrote about the Silverstone 10k, Blisworth 5m and the Rugby 6m (PB) in my first post about the series.  I'll jot down some notes about the second half of the series below.
I wish I'd had a chance to blog about the events sooner though, as I always find it hard to go back and write about a race later on, especially if I race several events in quite quick succession.  I'll do my best to remember as much as I can about each race, but if you want the events summed up in a few bullet points, see below.
* There were eight races, of which I ran six.
* I PBd twice during the series (at 6 miles and 10k).
* I nearly missed the start of every event bar one due to traffic/leaving late/getting lost.
* Once my watch died before the beginning and once I forgot my heart rate monitor.
Those four bullet points pretty much sum up my last six races!  But if you are after a little more detail, then read on…
Corby 5m
What sort of sadistic Race Director starts a 5 mile road race on a steep hill, and then finishes the race on that same hill too?
The Race Director at the Corby 5 race, that's who!
If a race starts with a steep uphill, you can usually fairly safely assume that you will be finishing on a downhill, in order to get back to the same spot.  However, the Corby 5 runs up a steep uphill at the start, then has a nice, fairly flat/slight downhill couple of miles, before throwing in a couple of hills and ends by running back up that same steep hill that featured at the start of the race before running through into the car park and across to the finish.
I had only run the race once before – in 2012 before I began blogging – but I still remembered those hills!
Nevertheless I planned on giving it my best shot.  There is a nice downhill section into the village in mile 2, and I took advantage of this, knowing that my legs wouldn't enjoy the steep climb back up to the finish for the final quarter of a mile!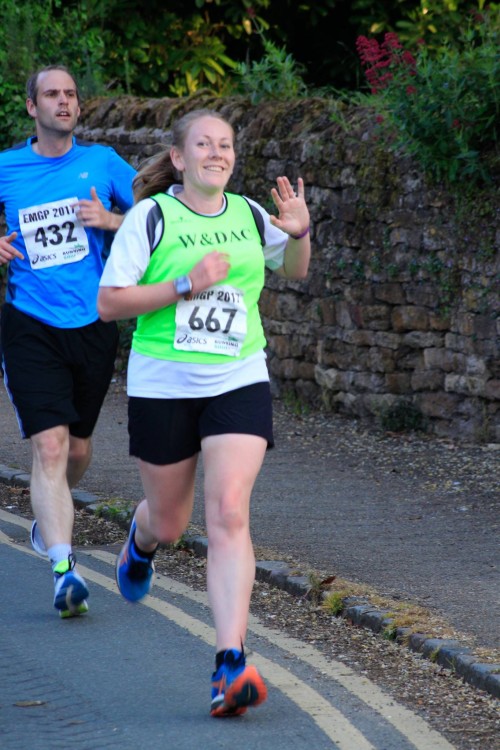 Towards the end of mile 4 I hit a hill and couldn't maintain my heart rate, so decided to walk a short portion of the race.  I chatted to another runner as I broke back into a run again.  The other runner hadn't run the event before so was quizzing me on whether there were any more hills.  I hate to be the bearer of bad news, but that final hill is tough so close to the end!
As always, my club was super supportive and were all there crowded around the finish cheering everybody in.  It's much easier to produce a finishing kick when you have everybody in front of you screaming your name!
Official time: 48:14
Garmin time: 48:13
Position: 319/360
Gender position: 96/129
Category position: 24/33
More than a minute faster than when I had run it back in 2012.
Banbury 5m
The Banbury 5m event fell the day after I returned to work full time (I had been in for odd days only before the half term holiday).  Oscar had started full time at nursery the day before and, unsure yet of what time I needed to get up each morning to ensure that I was round and ready to leave Oscar in a state suitable for nursery and me fed, showered, and looking presentable with food for the day meant that I was getting up at 4:15am.  Two days in – by the Tuesday evening – I was already absolutely exhausted from lack of sleep.  Oscar gets up once during the night, and I had been going to bed late to try and get my work complete before morning.  It left me without much sleep and within minutes of arriving home from work on Tuesday I announced to Dan that I would not be driving the 55 miles to Banbury (the furthest distance to travel of all the races) and promptly fell asleep on the sofa, where Dan woke me several hours later!
Harborough 5m
This was a new-to-me event, as both times I've raced the series in the past I believe it has fallen on parent's evening.
For some reason Oscar was super tired when I collected him from nursery.  He whinged and whined every time I tried to put him down so that I could get changed or go to the toilet.  Dan arrived home from work at about 6:20pm and I madly dashed around trying to collect everything I needed for the race and get out of the door.
Unhelpfully, as well as leaving late, one of the roads the satnav sent me down to get to the race start was shut and the satnav wasn't picking up any alternatives, with the diversion signs being no help whatsoever.  I am so reliant on the satnav when it comes to getting anywhere, so I rang Dan and got him to quickly talk me through what alternative route I needed to take.  Luckily, as navigationally-challenged as I am, Dan is the opposite, so he managed to get me to the car park for the race with three minutes to spare.  I dashed out of the car desperate for the toilet, pinning my race number on as I ran over to the mob of green vests I could see by the start.  Somebody called out to welcome me and I screeched back "Where are the loos?!" before rushing in the direction I was pointed towards!  What a welcome Mary!
Quickest wee in the world (only possible because so many people abandoned the line fearing they were going to miss the race) and I managed to make it to the back of the pack just in time to hear the starting shout.
Not so lucky when it came to my watch though.  I had switched it on to find signal as I arrived, only to see this screen…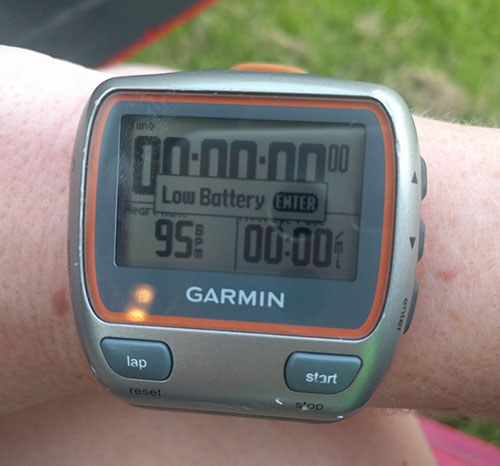 …it never even made the start line. 

The aim for the race had been to run to heart rate (170bpm) but now I would have to go entirely on feel alone, something which I still haven't been able to judge very accurately since returning from pregnancy.
In actual fact, I think the first three miles of the race were run at parkrun PB pace (8:35mm ish).  It resulted in a really bad stitch, meaning I had to break into a walk, and then even slow that walk down for perhaps quarter of a mile!  That fourth mile would definitely have been nothing to shout about so perhaps it's a good thing I don't have any Garmin evidence of it!  My last mile was strong though.  There was a fairly long, drawn-out gradual hill in the final section, and playing it sensible, I was able to pass several of the runners who had zoomed past me during my feeling-sorry-for-myself walk.  I haven't had a stitch in years, and it was so, so very painful!
Both the start and the finish of the race were a lap around the grassy field – always difficult to remain strong when your legs are tired, you go from road to thick, long grass and you have everybody watching, but somehow I managed to overtake three runners during the lap to finish in 47m 32s.
Position: 280/312
Gender position: 84/107
Category position: 16/21
Weedon 10k
The one and only event where I made it with plenty of time to spare!  Although as I stood waiting to go, somebody asked if I needed to collect my number, as I wasn't wearing it!  Quick jog back to my car to find it required!
I hadn't been able to find my heart rate monitor anywhere in the mad rush before leaving the house.  I normally hang it over the bed post at the bottom of the bed, and when I arrived home that evening I discovered that it had fallen off and gotten tucked under the bottom of the bed annoyingly.  I threw my old heart rate monitor in to my kit bag in a hopeful attempt to be able to have some sort of data to base my pace on, but it is my old heart rate monitor for a reason, and it refused to pick up on my Garmin at all, so I ended up offloading it to another club runner's husband at the start instead of running with it and annoying me the whole way round.
It was another hot day and it wasn't until we were stood on the start line receiving the race briefing that the Race Director told us all there would be no water station on the course, as there had been a few marshaling problems.  It didn't really affect me, as I wouldn't take any water on for less than 10 miles anyway, but there were a few restless runners around me despairing and wishing they had brought water with them for the race.
Weedon is a race known for it's tough hills, with a large hill at both 2 miles and 4.5 miles.

The first hill always seems short and sharp, and there are people stood at the top cheering, so it's hard to slow down too much as you have an audience!  I find the second one tougher mentally though – perhaps because it's getting towards the end of the race by that point.
A few of the runners around me seemed to struggle a lot with the hills, and one guy asked me after the first hill if there were any more hills on the race.  I told him there was another tough one, although I couldn't remember if it was at mile 4 or mile 4.5 at that point.  Two marshals stood up by the water tower were also asked by a nearby runner if there were any more hills, to which they responded "See the water tower?  That's the highest point on the course!"  Although the top of the tower might have been fairly high, we didn't run up there, and there was still a pretty tough hill to come!
The end of the race is all downhill though, and once you hit the downhill it's easy running until the last 200 metres, which head up a steep hill towards the finish funnel.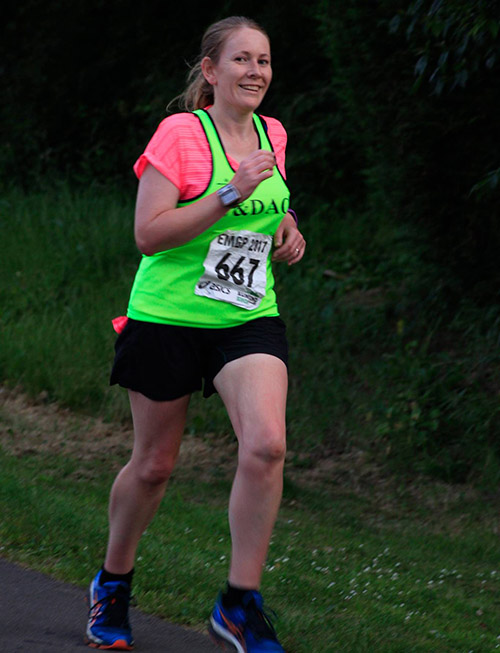 Poor form in this downhill shot though…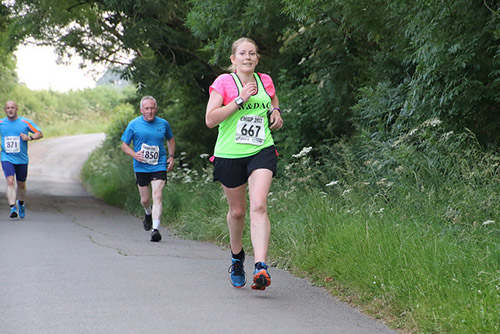 …but clearly I perfected my spot-the-race-photographer smile during this race!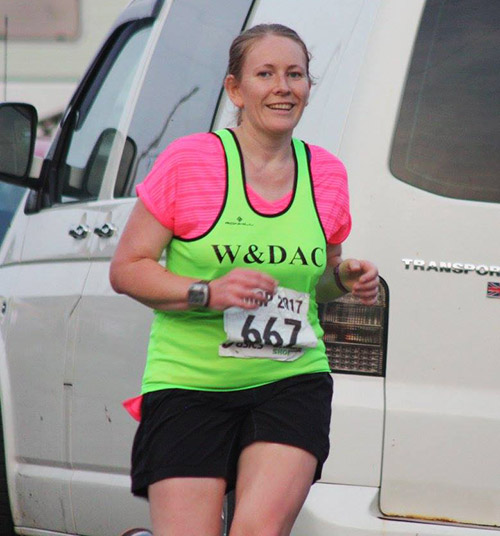 Official time: 61:22
Garmin time: 61:20
Position: 290/324
Gender position: 73/97
Category position: 18/24
My initial plan had been to run to heart rate (170bpm) but unable to do that I was then happy on a hilly course, on a hot day to come away with a sub 10mm pace time, which I achieved.  It was also a time more than 3 minutes faster than the previous time I had run the event back in 2014.
Milton Keynes 10k
This was a stepping stone 'target' race for me.  Milton Keynes 10k was where I had achieved my previous 10k PB (58:27) and where I knew I had the best shot of improving my 10k time this year.  The course is fairly flat (if you don't count the numerous redways) and is not overly crowded with a fast, flat, open finish.  I knew that I was in with a shot of coming away with a PB if I ran a smart race and didn't get carried away at the start.
It was back to my usual problem of getting there on time though.
Leaving late, combined with a bad road traffic accident on the way meant that once again I arrived with just minutes to spare(!)  The start line is a short walk from the race HQ, and I arrived with just enough time to nip into an empty loo as I passed and tag along with a group from my club who were then walking over to the start.  One of the runners hoping to get under an hour asked me what time I was aiming for and I admitted that I was hoping to PB, but that my current time was 58 minutes.  I got the impression that they planned on staying with me, and I secretly hoped nobody would try chatting to me during the run – I wanted to focus and run strong!  I started chatting to one of the club's membership secretaries and all of a sudden everyone started running forwards.  The race had begun, without our knowledge and so we hurriedly pressed buttons on Garmins and leapt into action.
Like several of the races, the start line is on a field, and so a wide path of runners set out, before narrowing as we came out onto the road.
I counted steps and also kept checking the numbers flashing up on my Garmin, trying my hardest to ensure they stayed between 165-170bpm.  I was struggling to run fast enough to bring my heart rate up to 170bpm, so decided to aim for 165, and reassess at the halfway point if needs be.
Mile 1: 8:45 – 146bpm
Mile 2: 8:51 – 168bpm
Mile 3: 9:08 – 167bpm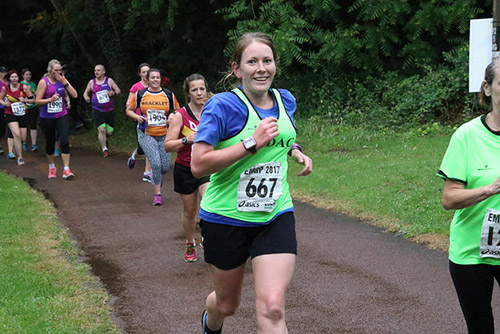 I was still feeling strong.  I passed a few runners from my running club who have finished other races in the series ahead of me.  I knew I was on target for a good race, and really did not want to spoil it.  My head kept trying to work out the sums over and over, but I can never work out timing math when I'm trying to run!  At least it kept my mind busy!
At mile 4 a bus drove past quickly through a deep puddle and soaked me and another lady that was running alongside me.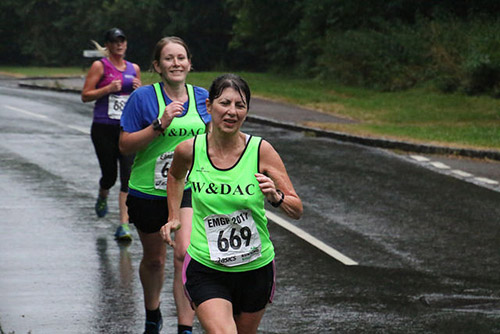 Mile 4: 9:20 – 168bpm
Mile 5: 9:06 – 164bpm
Mile 6: 9:12 – 165bpm
As my watch ticked over to 6 miles, I pulled alongside Margaret and puffed out that I was heading towards a new PB, as way of explaining why I was overtaking a runner from the same club.  She pushed the pace up a notch to challenge me further and I managed to keep with her, pushing past just before hitting the final field and managing to finish six seconds in front of her.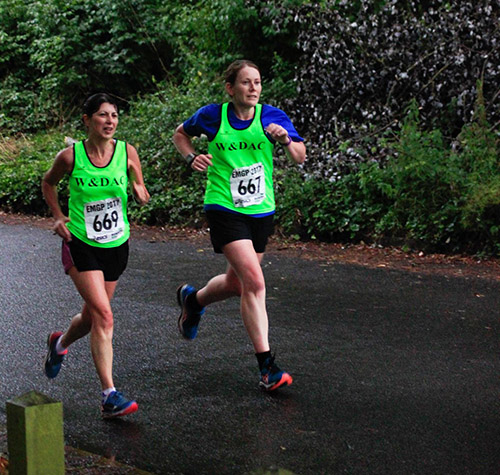 Nubbin (0.27m): 8:11mm pace – 170bpm
I was obviously super happy and crossed the finish line beaming!  It was several minutes before the crowd I normally finish with began to trickle over the line.  I had PBd by nearly two minutes!
Official time: 56:40
Garmin time: 56:36
Position: 394/456
Gender position: 96/136
Category position: 28/35
My watch shows that I ran an average of 9:01mm pacing over the whole distance, so the obvious challenge to set myself for MK10k next year in 2018 will be to get the pace down to something starting with an 8:xx!
A great way to finish the series!
MK 10k 2014 recap
MK 10k 2015 recap
Overall standings:
11th senior lady (out of 16) with 105 points.
To score, runners must take part in at least 5 events out of the eight.  You are given scores relating to your age category for each race.  So, the first Senior lady is given one point, the next two points, and so on.  At the end of the series, each runner's lowest five scores count and the lower your total score, the better.  (The winner of the series actually only scored 5 points, as they won all races they entered within their age category.)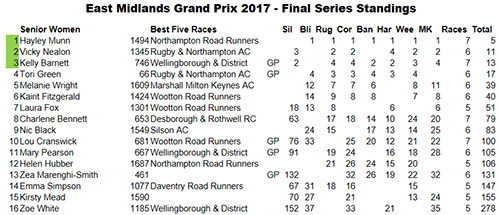 Because I ran six events, my highest score (Silverstone) was disregarded when working out my total.
When was the last time you PBd?  Was it by much?
What is your favourite race distance?
Have you ever missed the start of a race before?