Oscar and I travelled over to Norfolk to stay with my parents at the start of last week.
I obviously packed my running clothes for the trip(!)
The nights seem to be getting darker and darker at the moment.  Is this even Summer at all?!  It certainly doesn't feel like it!  I had aimed to head straight out the front door on an easy 6 mile run on the Monday night after putting Oscar down to bed.  We have Oscar's routine perfected when back at home; tea at 6pm, followed by bath, book, boob and bed.  He's in bed and asleep somewhere between 7-7:30pm each evening, and then there isn't a lot that will wake him until morning.
It's a whole other story when that routine changes though…
I had hoped to be out of the house by 8pm at the latest, having already changed into my running clothes and armed with my Garmin, ready to go as soon as Oscar's head hit his sheet.  Oscar had other ideas though, and refused to be put down in the cot in the corner of my old bedroom.  I gave up after a solid 40 minutes of fighting him and returned to the lounge where my Dad sat watching TV.  After repeated attempts to calm Oscar, he did eventually begin to settle and so my Dad offered to take Oscar on his lap until he fell asleep.
It was almost dusk already outside and the idea of running alone round the quiet villages in the middle of nowhere with very little signal on my phone didn't sound too safe to me.  Instead, I grabbed a fluorescent jacket from the coat cupboard and drove the eight miles to Fakenham, the town where I went to school many years ago, where there would be streetlights and people nearby.
The run started off like any other.  I rang Dan as I set off.  I had an easy six mile run on the plan, to be run at 10:50-11:40mm pace.  The change of scenery was nice.  Because so often Oscar has to come out with me on my runs back at home I've been running along Stanwick Lakes a lot lately.  The tracks there are wide and car-free, ideal for buggy running.  Also ideal for when I want to hit paces during speedwork.  Boring however, when you end up running the same route for 80% of your runs each week!
I ended up being on the phone to Dan for the first four miles of my run.  As he hung up I debated whether to turn right and run the remaining two miles of my run out past my old high school, or to turn left and take a shortcut back to my car, as the quickly-darkening sky was clearly threatening heavy rain at some point that evening.
I wimped out and took the left turn.  I could always make up the extra couple of miles somewhere during the week and although I hadn't heard anything from my Dad by this point, there was always the chance that he was getting rather fed up of Oscar's whinging by now!
I'd parked in the car park at Tesco in the town centre and as I made my way back towards my car I felt a sudden hard pressure on my back and was thrown forwards as I ran, my head dipping down towards the road.
It took me a little while to realise what had happened.  Initially I thought somebody had come out of the pub I had just run past and tapped me sharply on the back.  I glanced up as a white-grey van with dark writing sped off in front of me.  Perhaps they had seen what happened?
I reached my arm behind my back and pulled it back round in front of me, feeling slime between my fingers.  The base of my back really stung in several places and I came to the realisation that somebody had thrown a handful of eggs at me from the passing work van.  Confirmed as I pulled my hand round for the second time, this time complete with small pieces of egg shell which had stuck to my back.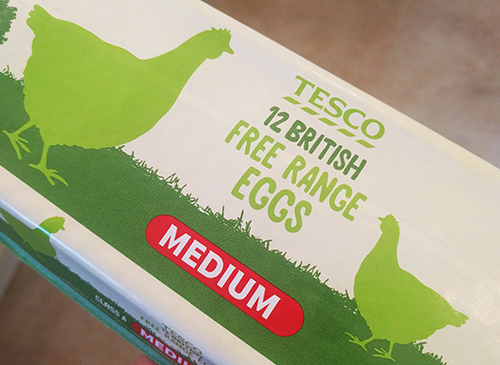 I was upset and angry – mainly at myself for not realising what had happened in time to catch any of the details on the side of the van.  I angrily posted a tweet and Facebook status on the Run Mummy Run private Facebook page, describing what had happened, incase anybody else was unfortunate enough to be in the area, and also to have a little rant.
How dare somebody spoil my weeknight run which I had been enjoying so much.  How dare they throw eggs at me from a work van?
It was at this point that the rain began.  Lightly at first, but it was soon pouring down.  I ran the remainder of the journey back to my car, my adrenaline pumping – and then made the impulsive decision to drive a lap of town on the hunt for the van.  The rain was heavy by now though, and nobody was out at all.  It was a wasted mission it seemed, so I turned my car back in the direction of my parents' house and headed for a much needed shower.
On returning to my old home I discovered my Dad asleep in an armchair, my Mum asleep on the sofa, their dog asleep on my Mum and Oscar asleep on my Dad!  On the way to the shower I stopped in my brother's room, who confirmed that there were indeed several dark red raised marks at the base of my back.
By the time I was out of the shower, Oscar had woken everyone else up (and then went on to stay up until 3:30am!

).  My Dad, along with several of the commenters on the Run Mummy Run Facebook post convinced me that I should report the incident to the local police, and so, perhaps an hour after the event took place I found myself on the non-emergency police line, detailing what had happened.  I fully expected there to be nothing that could be done, but they seemed to take the incident seriously, giving me a police case number and marking the incident as an 'assault', even calling me back a little while later to confirm extra details.
I must admit, the incident doesn't make me want to go rushing off for a run around Norfolk on my own any time in the near future.  Which is a shame, as there were lots of trails I was hoping to explore this year.
Have you suffered from abuse on a run before?
If so, how did you deal with it?